FOOD SERIES #627: BEEF TENDON AND WINTER MELON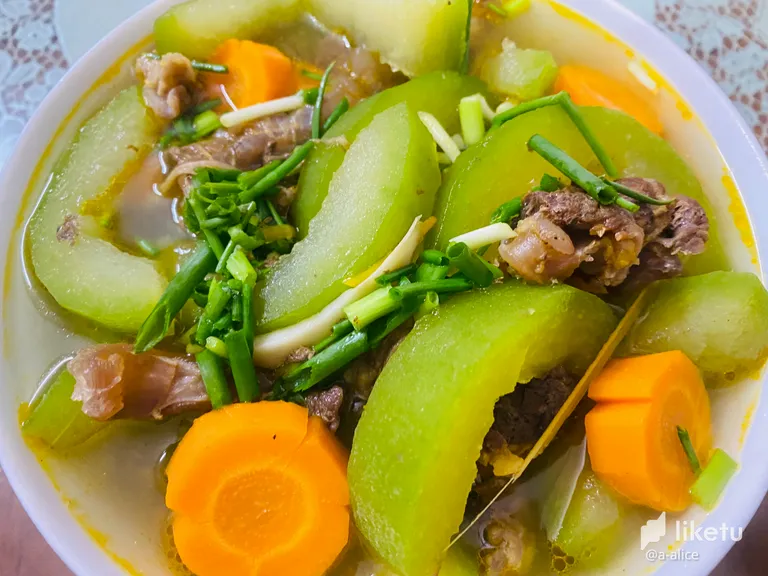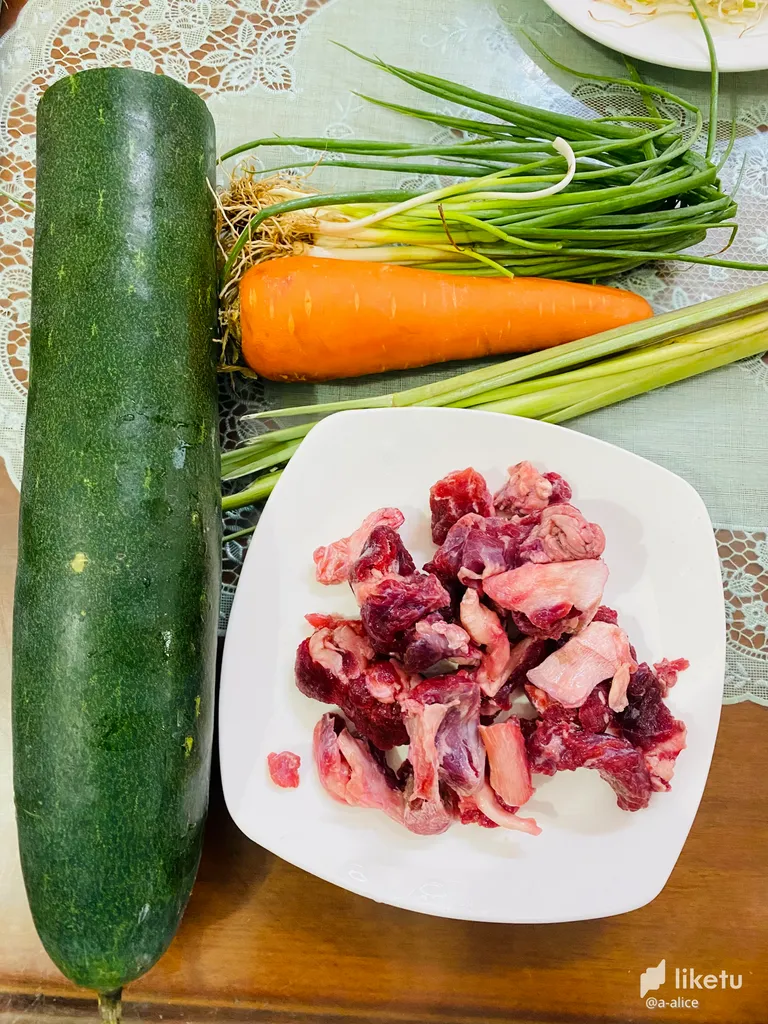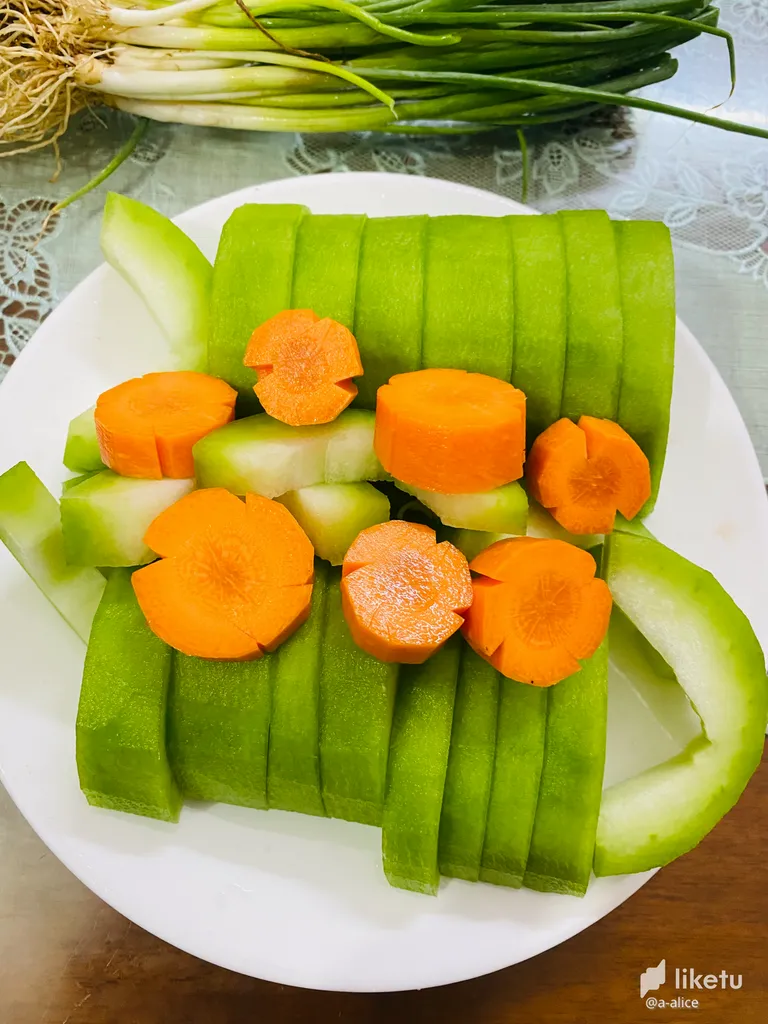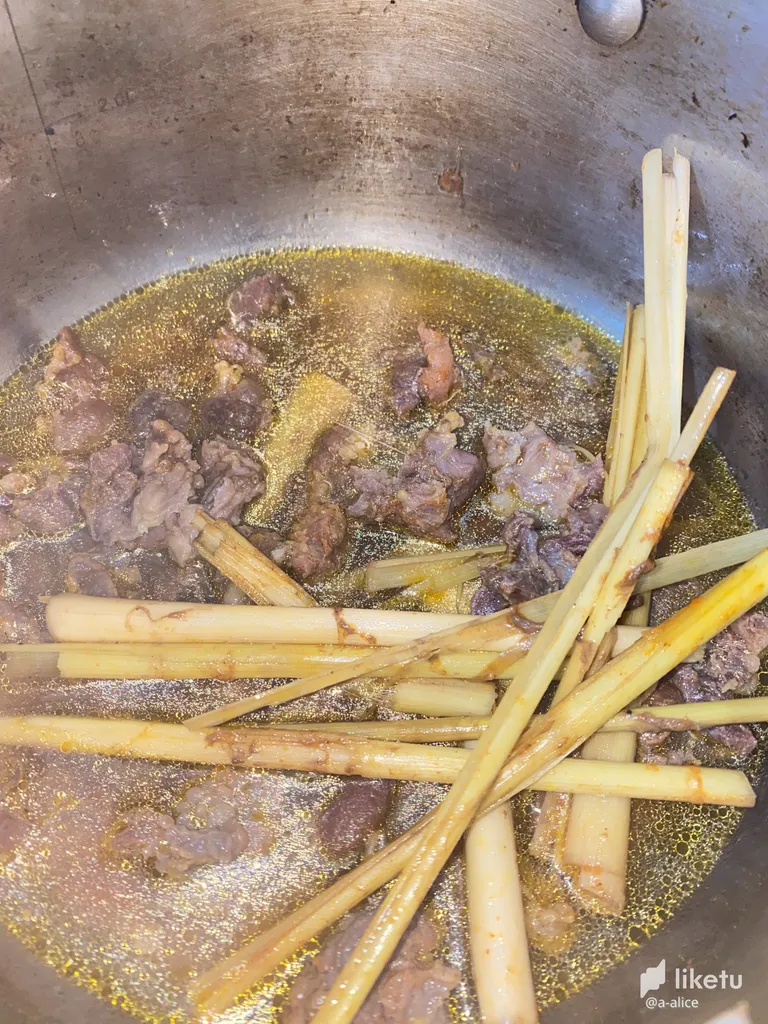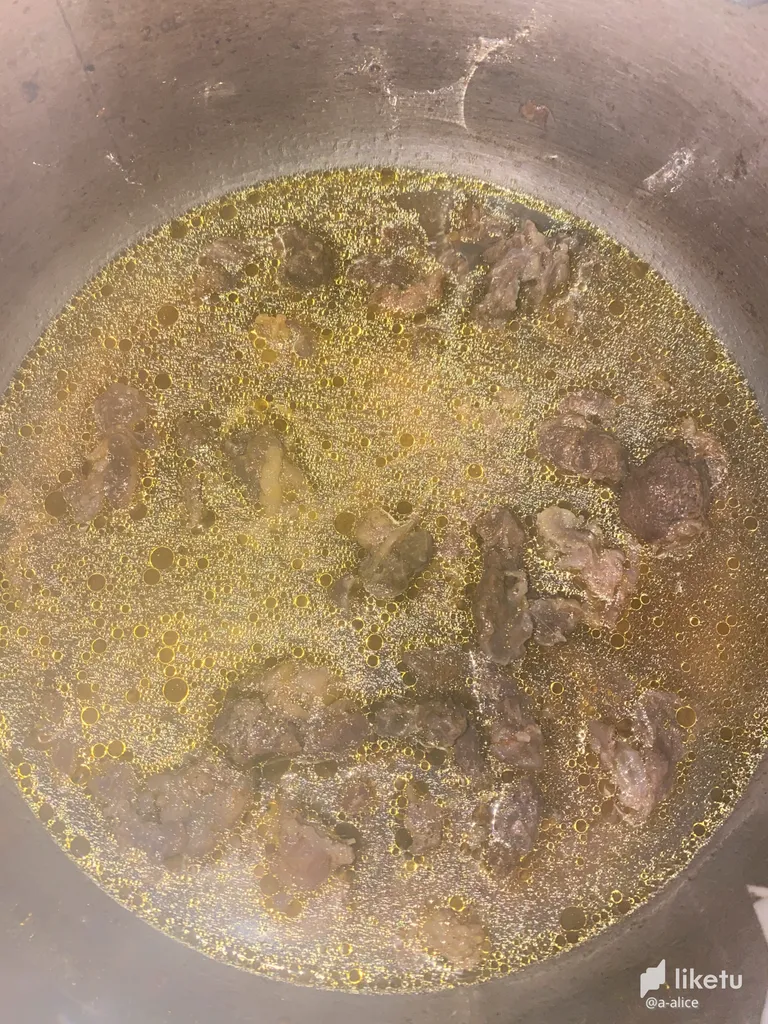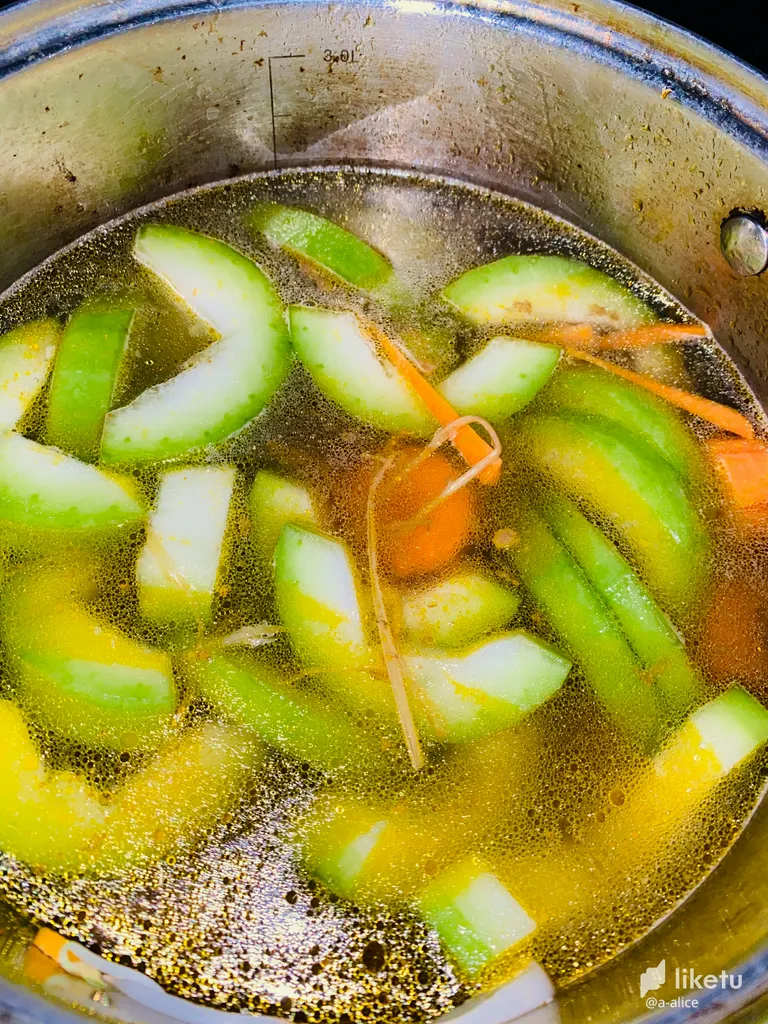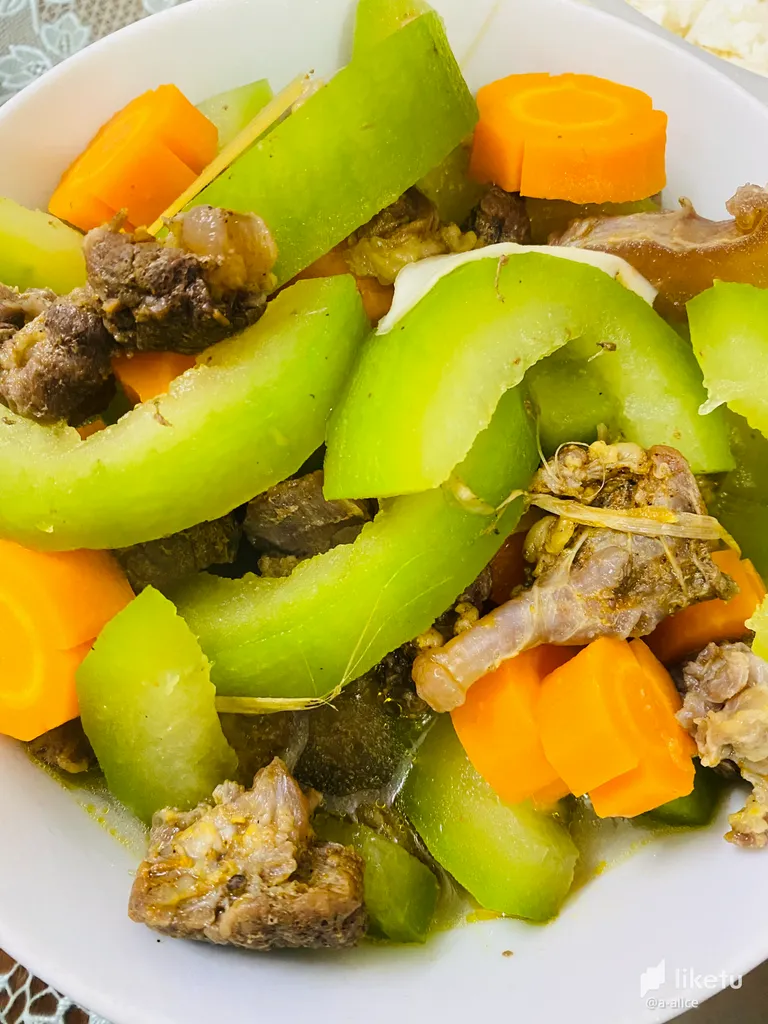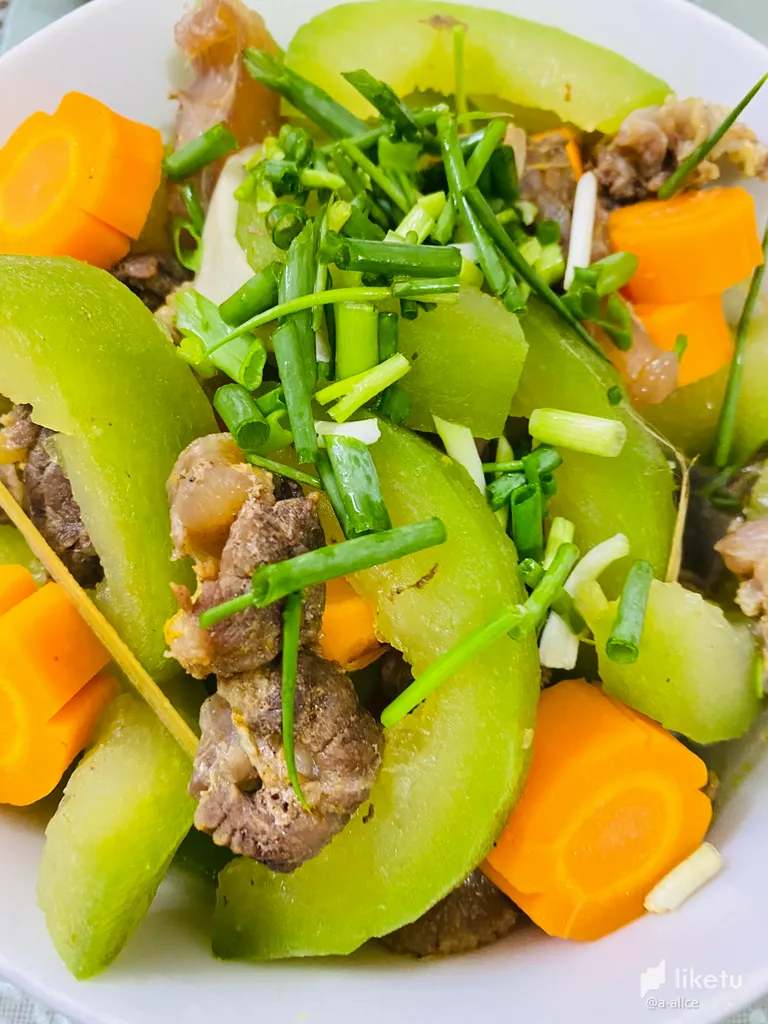 Beef tendon winter melon soup is a yummy dish that is often served in Vietnamese households. This fruit is a yin food that can help reduce summer heat, so winter melon juice is the most favorite drink of people. I prepare a lot of soups during the hot summer months because it is great to have something to a bowl of cool soup and nothing does it better than soup. Crispy, succulent beef tendons and fruits make for a healthy and light soup.
Food ingredients:
Beef tendon
Carrot
Lemongrass tubers
Cashew oil
Winter melon
Green onion
Thành phần thực phẩm:
Gân bò
Cà rốt
Củ sả
Dầu điều
Bí đao
Hành lá
Step 1:
Rinse the beef in a mixture of salt water and vinegar, then rinse the beef again with water. Cut beef tendon into bite-sized pieces, then blanch in boiling water for about 30s, then drain. Marinate beef tendon with salt, MSG, lemongrass, and cashew oil for 30 minutes. Put beef tendon in the pressure cooker, add water to cover the beef tendon, simmer until tender, about 20 minutes.
Rửa sạch thịt bò trong hỗn hợp nước muối và dấm, sau đó rửa lại thịt bò với nước. Gân bò cắt miếng vừa ăn, chần qua nước sôi khoảng 30s rồi để ráo. Ướp gân bò với muối, bột ngọt, sả, dầu điều trong 30 phút. Cho gân bò vào nồi áp suất, thêm nước sao cho ngập mặt gân bò, ninh gân bò cho đến khi chín mềm khoảng 20 phút.
Step 2:
Peel the winter melon, then use a knife to remove the entire white intestine inside the winter melon, cut into pieces 1-1.5cm wide. Cut the carrot into the shaped flower. Rinse green onion under running water and cut off any wilted or damaged slimy skins on the white parts.
Gọt vỏ bí đao, sau đó dùng dao cắt bỏ toàn bộ phần ruột trắng bên trong của bí đao, cắt thành từng miếng rộng 1-1,5cm. Cắt cà rốt thành hình bông hoa. Rửa sạch hành lá dưới vòi nước chảy và cắt bỏ phần vỏ trắng bị héo hoặc hư hỏng.
Step 3:
Transfer beef tendons to a regular pot, remove lemongrass, then add water, bring to a boil, then drop the winter melon and carrots into the pot, cook until they are soft, then turn off the heat, add green onions.
Cho gân bò vào nồi thường, bỏ sả khỏi nồi, sau đó cho nước vào, đun sôi rồi thả bí đao và cà rốt vào, nấu đến khi mềm thì tắt bếp, cho hành lá vào.
100% images and content belong to me with iPhone, hope you like it ^^
---
For the best experience view this post on Liketu
---
---