Weekend Prompt - Love, lust and Desire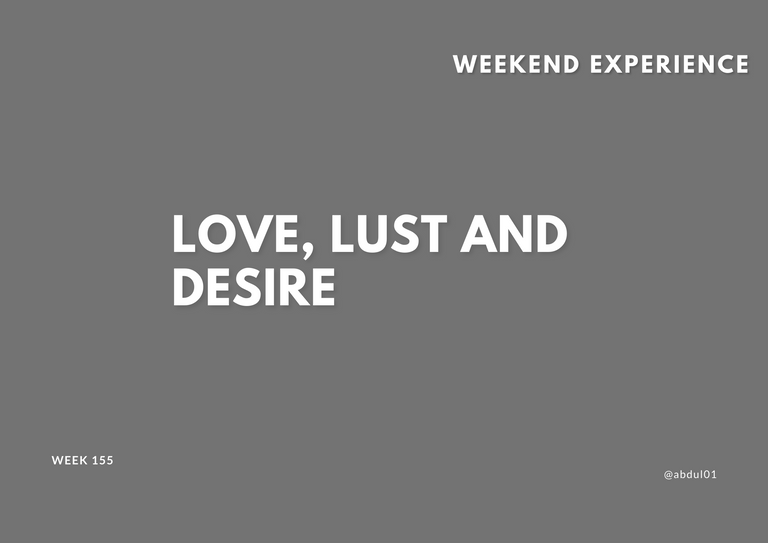 It's a weekend. A weekend to rest and restore energy to push the force and dream on Monday. These weekend prompts are just confusing that I don't even know which to choose. It's been a while since I joined it let's see if can do my best to the prompt I'm choosing.
Shooting my cat or dog, I can't say anything about that. I don't have a cat neither do I have a dog. I don't even know which I will choose to shoot. For the "would you rather" part, they are questions I have never thought of but I know if I was to go for that one, I would have made a weird pick. Good bad? Everyone has a chance to change and when they do they have their reasons. I won't just go in for this prompt. Excuses? Not just my thing. Now we know I'm left with "Love, lust, and desire" to explain I choose that.
Love is a feeling we don't understand. Love is that feeling that makes you wonder why you are doing something for someone but you still can't stop. "It's the feeling that never asks for anything in rather. Love isn't selfish. A man loves a woman and wishes her to be happy. If her happiness isn't from the man and to the man, the man will be okay with it. he just wants her to be happy. Love is just that word that has no definite meaning until someone comes to express its meaning to you. But in all, love is an amazingly beautiful thing. We all have to grab it for ourselves.
Lust is a one-time feeling. Have you ever wanted something badly that after getting it, you lose the love you had for it? That is what lust is. Lust isn't love per say. It's just having a feeling that last for maybe a day or two or it's in a way that you see a woman who you just want to have sex with her and get on. She might be beautiful and all that you can think of her isn't you having a partner life together but just having a one-night stand with her and calling it a good time. that's what lust is.
Desire comes from the heart and I must say lust and love might have this common to them. you can desire someone to be the love of your life. To be the one you wish to be the happiest on this planet and for lust, you can desire her to be on your bed and that's all. It's our desire that links us to things and we then get the chance to choose which it is. Let's say the desire it's the telescope to focus your heart on the lady. and it will now be left to your heart to determine if it's love you feel for her or your lust for her.
These are what I have to say about our prompts. It might not make sense but this is how I understand it. I hope we all had a chance to learn something. I will await many entries to see. Thanks for passing by and to @galenkp for these prompts.
---
---