Where are you keeping your treasures?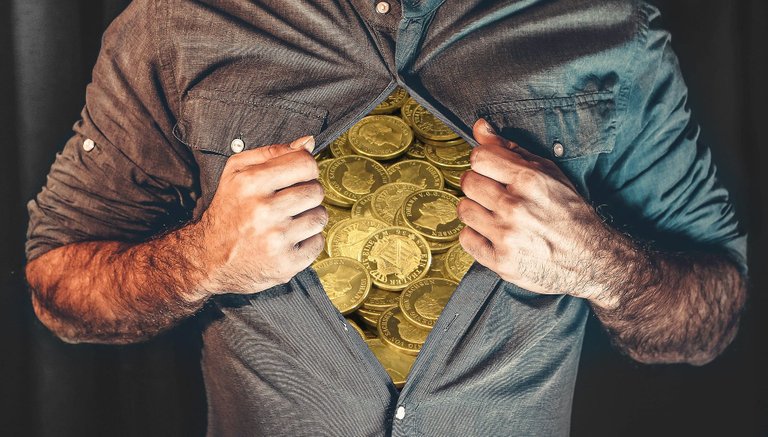 The Internet has gone viral in Nigeria following the way money are being sent to Davido, a Nigerian music artist who made a short video regarding his upcoming birthday and requested that his friends should send him ₦1m each since there is a saying that we rise by lifting others.
It started like a joke but in 24hours he has accumulated more than ₦155m 🙄🙄🙄
No be juju be that.
As usual, Nigerians have started bringing up the matter with their double standard techniques.
Before this scenario, it was the issue of Obi Cubana mother's burial and that also trend due to the lavish spending of money and now it is Davido's birthday bash.
Reactions
What about the poor?
Some people still come out to talk about the poor and say the money could have been given to the needy rather than sending such amount of money to someone that is wealthy already.
Well, they have their own point of view but there is more to it.
Had it been?
I even read someone's thread saying had it been the video was made by a pastor, the whole world would have heard it by now that a Nigerian pastor is taking money from its poor members.
Don't be surprised, anything can happen in Nigeria.
Know your circle gang
Just as we are having critics, we are also having comparison and also support.
Naija matter na headache on it own.
Many have held their stand that he is around wealthy people so he is tend to get richer since rich get richer by staying with the rich while the poor stay poorer by staying among the poor.
The I cannot come and kill myself group.
These are the group of people that you can least expect not to intervene.
Even critical national issues will be used to catch cruise. 😅😅😅
Naija na cruise on its own so we dey chop am like that. 👍👍👍
Before I express my perspective, I will like to tell you a story.
It has happened before but not hooge (huge)
After the covid while my mates were preparing for NYSC, I was still thinking of how to settle my debts in terms of school fees arrears and clearance.
Getting yourself cleared in Nigeria institutions is another level of spending and stress even after fulfilling all the requirements.
I am not too good but the little I knew has always been used as a way of edifying others.
I started taking tutorial classes for free right from my 100L days till graduation and till now, some people still call me to ask for clarification when they could not provide answers or get confused.
After trying hard and selling all my crypto holdings then, I still have a huge amount to settle. This was known to a friend of mine.
Behind my back, this people had a meeting that nothing must stop me from going to service with them and they raise a substantial amount as part of the amount left. It was a day I will never forget in my life.
While I was still in my dreamland thinking about what just happened someone said,
If not for you, most of us would have used extra year in this campus.
We would have paid more than this.
If you know what it means to write your name in the heart of others, you will understand that:
Whatever money can buy, relationship can pay for it.
Emotional Bank Account.
The first time I learnt about this, the guy used "EBA" which to me, is a kind of Nigeria food that is made from garri. 😂😂😂
I could not mask my level of ignorance when the guy, Endurance Praise by name gave the full meaning as "Emotional Bank Account".
Whatever you are doing for others will come back to you no matter how long it takes.
Have you not heard of someone that favour another person's because of his surname?
Have you not seen someone that gave all he could just because the other person was related to someone that has helped him before.
Whatever it is that you are doing for others, it is like keeping a treasures which will surely give a reward so if you are known but known for something bad, when the need for people to reveal your bad doings, they will not hesitate.
Another experience in the digital space.
I will start with @olawalium. I will make use of a footnote at the end of this post which reads,
Till I cross your path again, I am like a ready made pen in the hand of the creator.
This particular footnote was inspired by him during my early days on steemit. Even though I was not able to have a conversation with him then, his actions and contents inspires me alot and don't be surprised when you see me following him around. I later got to know that we are from the same city but that was not made me a follower of him. His contents (his works) inspired me.
Another person is @dreemsteem. I knew her on steemit but I had an experience with her on uptrennd as a student of Uptrennd University.
Have you seen people that are ready and willing to give you 3 hours a day under any circumstances without thinking twice.
This is not about getting something in return but this happened when there was no reward, nothing but just love and a way of reciprocating what she has developed in us.
Truth be told, when I accepted the task, I never knew how it is going to be because I was preparing for exam, going to PPA and also trying to make money for a living as a young boy but she has made us to realize that anything we can think of, can be achieved that's why we are "dreemers" (Dream with double "e").
Final thoughts
One of the major problem is entitlement mentality that is why some people think the money should be sent to the poor.
Nobody owes you anything in this world. It is you against you.
Success is a journey and not a destination. I am sure if Davido of 10years ago has asked for such, he would have killed his dream of becoming a superstar since then.
Don't compare your chapter 1 with another person's chapter 10.
Help out of your own freewill and not with an obligation from others to repay you.
Life is in folds, you don't know who is who.
The best investment is investment in other people because the level of return cannot be valued.
You can't predict someone's level of success based on their present and past.
I did not plan this to be a long post but it ended being a long article. I am so sorry for that. 🙏🙏🙏
Till I cross your path again, I am like a ready made pen in the hand of the creator. I am
A²¹
---
---