An encounter framed by love (En/Es)
Happy day dear friends of Hive. I extend to you a warm greeting accompanied by a genuine wish that each of you are well. On this occasion I wish to share with you a wonderful experience that happened to me in a town in my beautiful country, Venezuela. I hope you enjoy my publication.
Feliz día queridos amigos de Hive. Les extiendo un afectuoso saludo acompañado de un genuino deseo de que cada uno de ustedes se encuentren bien. En esta ocasión deseo compartir con ustedes una experiencia maravillosa que me ocurrió en un pueblo de mi hermoso país, Venezuela. Espero que puedan disfrutar de mi publicación.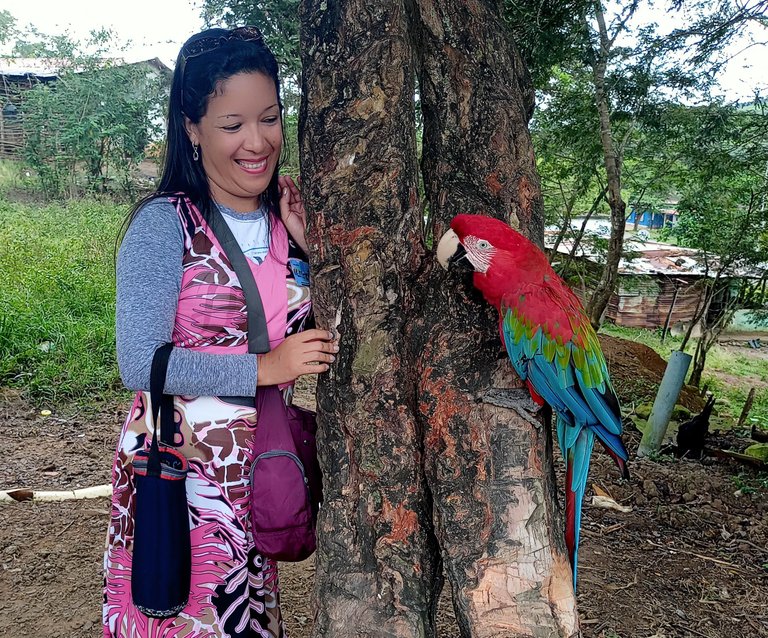 One of the many things that excites me is having contact with animals. The feeling I get from the connection I can have with a particular animal is an act that makes me feel very happy. The truth is that nature and all that it offers us are an oasis for emotions.
Walking with some friends in a small town in Falcon State in Venezuela, we heard a very peculiar sound. I started to look for where the sound was coming from and realized that it was coming from a tree near a house that is located on a rise of the main road. We peeked out little by little and saw a beautiful macaw.
Una de las tantas cosas que me emociona es tener contacto con los animales. La sensación que me produce la conexión que puedo llegar a tener con un animal en particular es un acto que me lleva a sentir mucha felicidad. La verdad es que la naturaleza junto con todo lo que nos ofrece son un oasis para las emociones.
Paseando con unos amigos en un pequeño pueblo del Estado Falcón en Venezuela, escuchamos un sonido muy peculiar. Comencé a buscar de dónde venía el sonido y me percaté de que era de un árbol cercano a una casa que se encuentra en una subida de la carretera principal. Nos asomamos poco a poco y vimos a una hermosa guacamaya.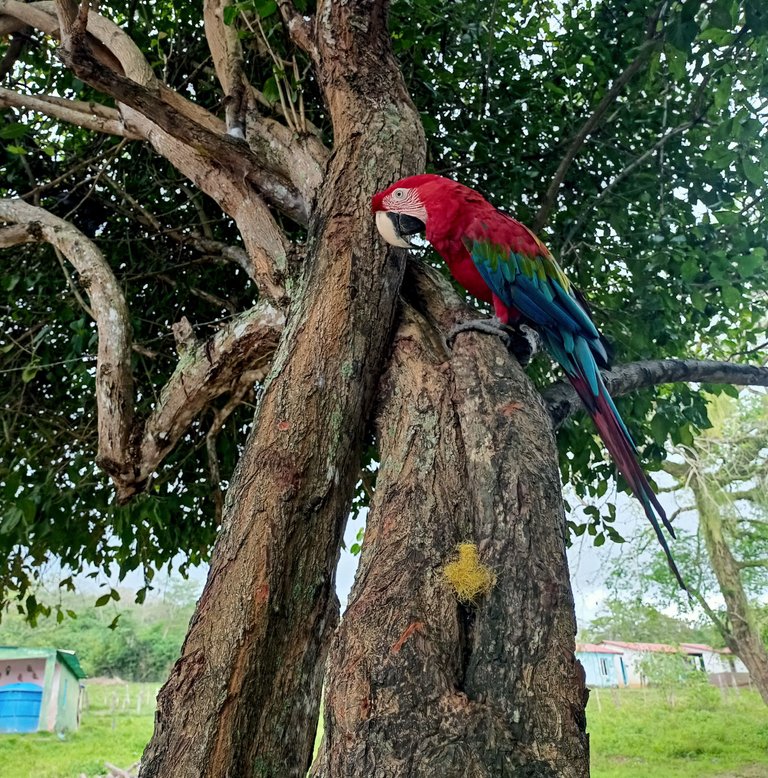 We barely spotted it from afar and got excited, so we decided to get closer. It is the first time I am so close to an exotic animal and although at first I felt a little scared I approached and immediately understood that this beautiful animal was very friendly.
A penas la divisamos desde lejos y nos emocionamos, así que decidimos acercarnos. Es la primera vez que estoy tan cerca de un animal exótico y aunque al principio sentí un poco de temor me acerqué y de inmediato comprendí que ese hermoso animal era muy amigable.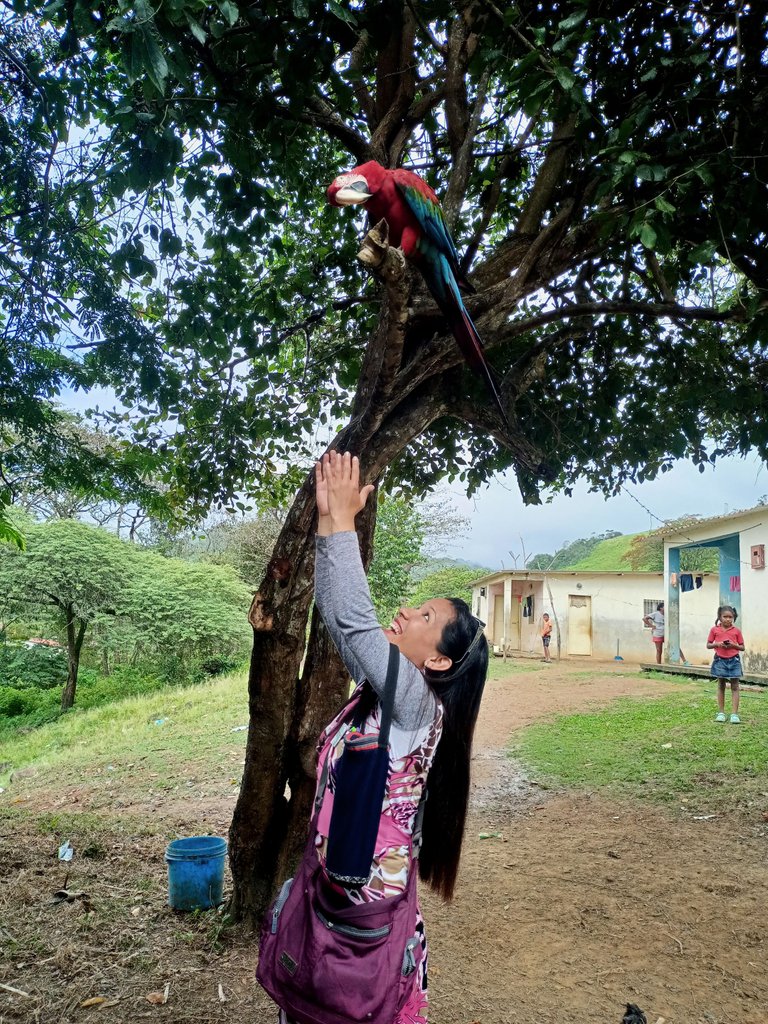 I asked the people in the house and they told me that it was a male and the female had recently died. That made me very sad. I continued to inquire with the neighbors and they told me that both had arrived alone to that tree and since no one hurt them, but rather gave them food, they stayed to live in that tree.
I love that even being free, this macaw and his partner decided to be so close to humans. This teaches us that if we respect animals, they will feel safe and can come to live close to us without harming us, rather they would bring us a lot of joy.
Les pregunté a las personas de la casa y me comentaron que era un macho y hacía poco que la hembra había muerto. Eso me entristeció mucho. Seguí indagando con los vecinos y me comentaron que ambos habían llegado solos a ese árbol y como nadie les hacía daño, sino que más bien le daban comida se quedaron a vivir en ese árbol.
Me encanta que aún siendo libre, está guacamaya con su pareja decidieran estar tan cerca de los humanos. Esto enseña que si respetamos a los animales, ellos sentirán seguridad y pueden llegar a vivir cerquita de nosotros sin hacernos daño, más bien nos brindarían mucha alegría.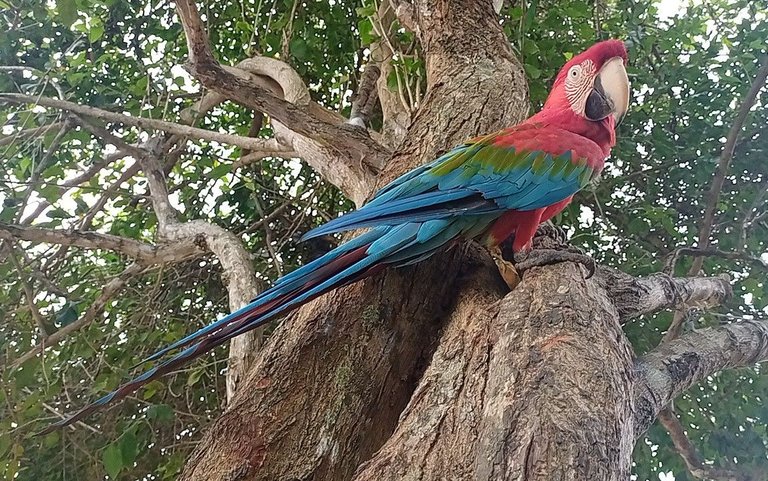 Being so close to this lovely macaw, I took its picture and the truth is that I felt it was stepping for me. Still, I wished she would come down a little further from the tree to contemplate her from a shorter distance, but I could not convince the macaw. I would talk to it affectionately and repeat the sounds it made. When I was talking to her, the macaw even said "Hello", which I loved. I started to say "Hello", imitating its sound and then it answered me. What a great happiness I felt!
Estando tan cerca de esta encantadora guacamaya, le tomé foto y la verdad es que sentía que pisaba para mí. Aún así, deseaba que bajara un poco más del árbol para contemplarla a una distancia más corta, pero no lograba convencer a la guacamaya. Le hablaba con cariño y repetía los sonidos que ella decía. Cuando le estaba hablando, la guacamaya me llegó a decir "Hola", eso me encantó. Comencé a decirle "Hola", imitando su sonido y luego ella me respondía. ¡Qué felicidad tan grande sentí!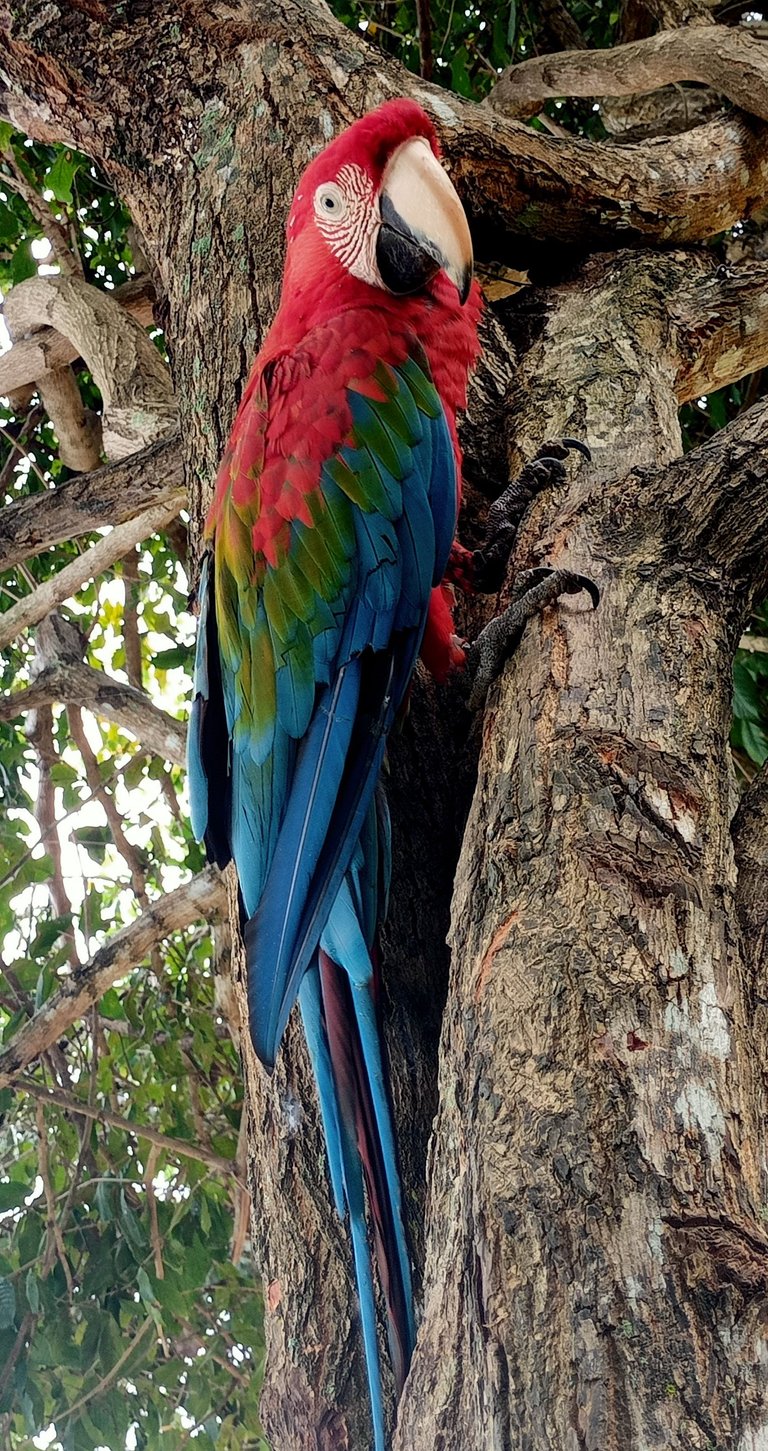 I don't know if it has happened to any of you that you get to feel the gaze of an animal and perceive what it wants to transmit. Maybe it only happens to me, but when I have eye contact with some animals I feel a lot of kindness in their gaze. This happened to me with the macaw and I was very moved.
No sé si a alguno de ustedes le ha pasado de que llegan a sentir la mirada de algún animal y perciben lo que este le s quiere transmitir. Tal vez me pasa solo a mi, pero cuando tengo contacto visual con algunos animales siento mucha bondad en su mirada. Esto me ocurrió con la guacamaya y me conmovió mucho.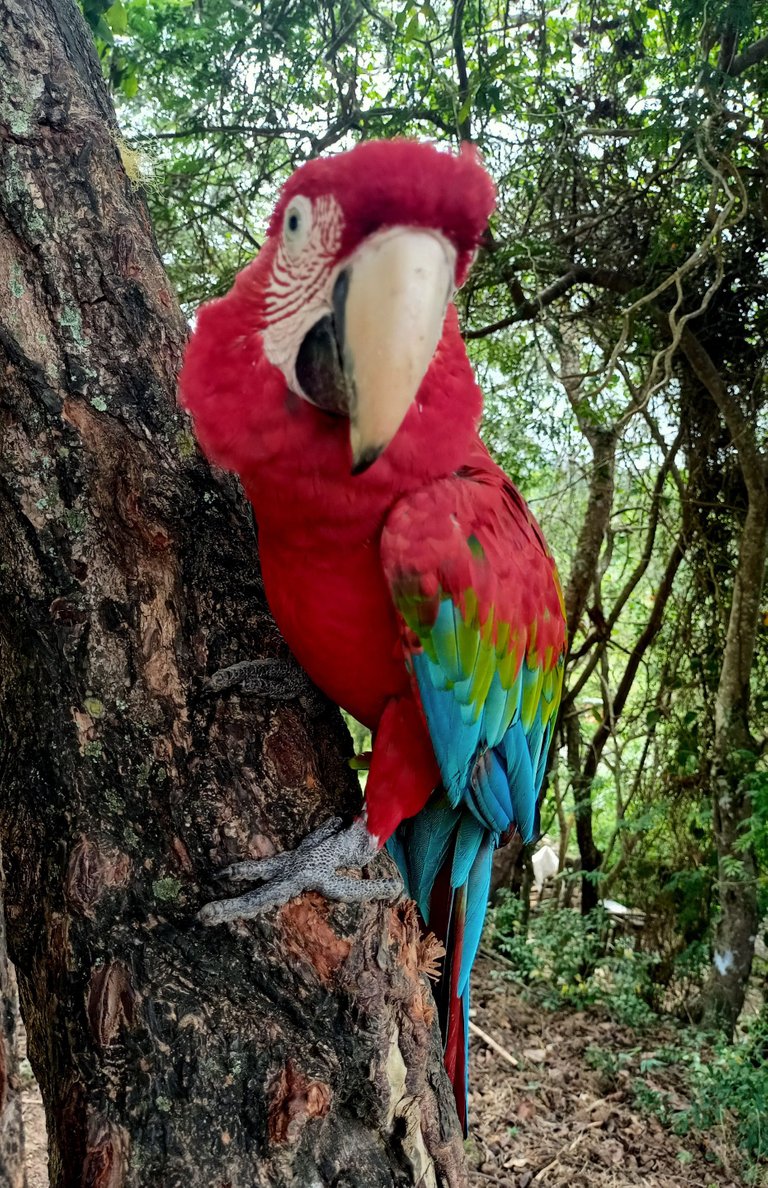 In order to compensate for all the joy that this beautiful animal brought us, we gave him bread and he gladly took it with his paws and began to eat. He looked so beautiful.
Para poder compensar tanta alegría que nos reporto este hermoso animalito, le dimos pan y con mucho gusto lo tomó con sus patas y comenzó a comer. Se veía demasiado bello.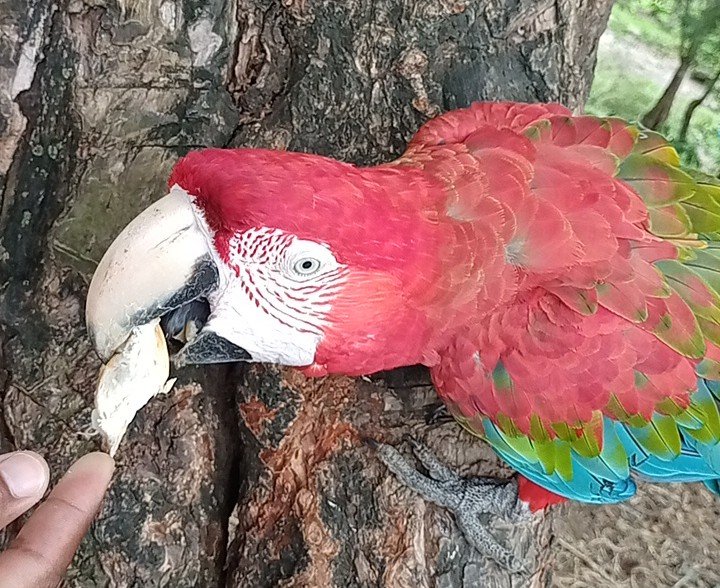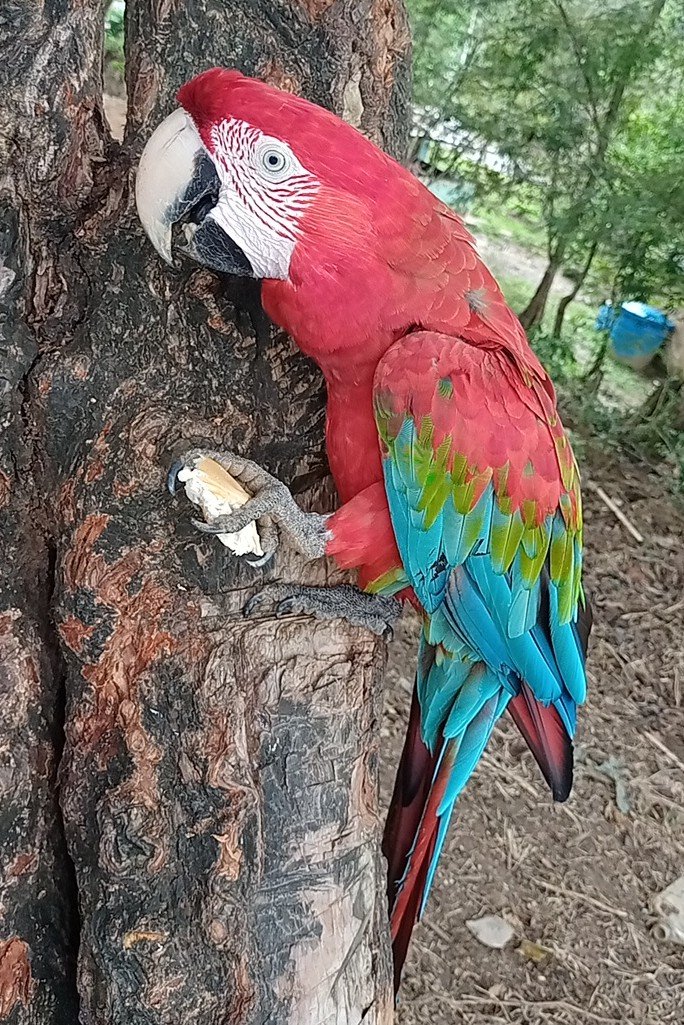 I don't have a word that can define all the beautiful things I experienced that day. Such a pleasant sensation, an ineffable joy that I believe can only be felt by those who see animals as important beings that we should care for and love. What I liked the most is that she is free and although her companion passed away, she still shows tenderness and love with her beauty and joy.
No tengo una palabra que logre definir todo lo bonito que experimenté ese día. Una sensación tan placentera, un gozo inefable que creo que solo lo puede sentir quien ve a los animales como seres importantes que debemos cuidar y amar. Lo que más me gustó es que es libre y aunque su compañera falleció no deja de desplegar ternura y amor con su belleza y alegría.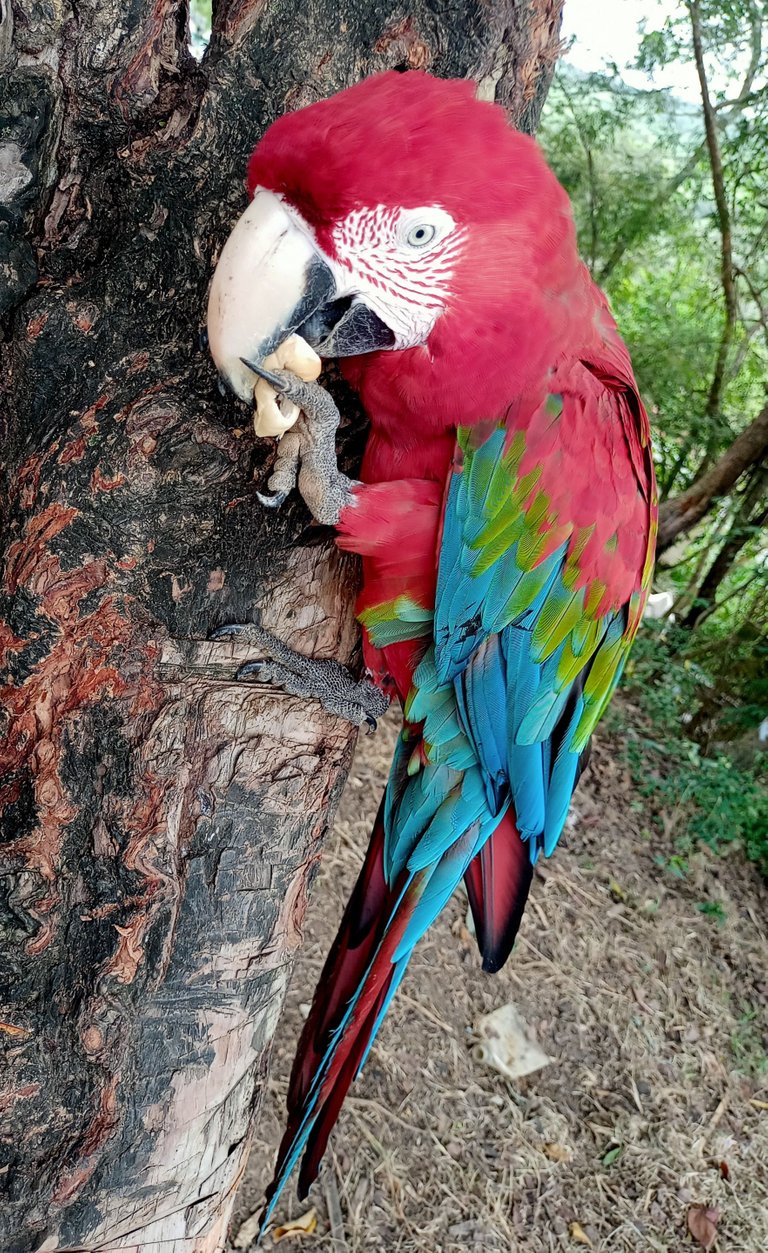 That day I returned home extremely happy and I will never forget the tender look of that macaw that transmitted nobility and kindness to me.
Ese día regresé a casa extremadamente feliz y jamás olvidaré la mirada tierna de aquella guacamaya que me transmitió nobleza y bondad.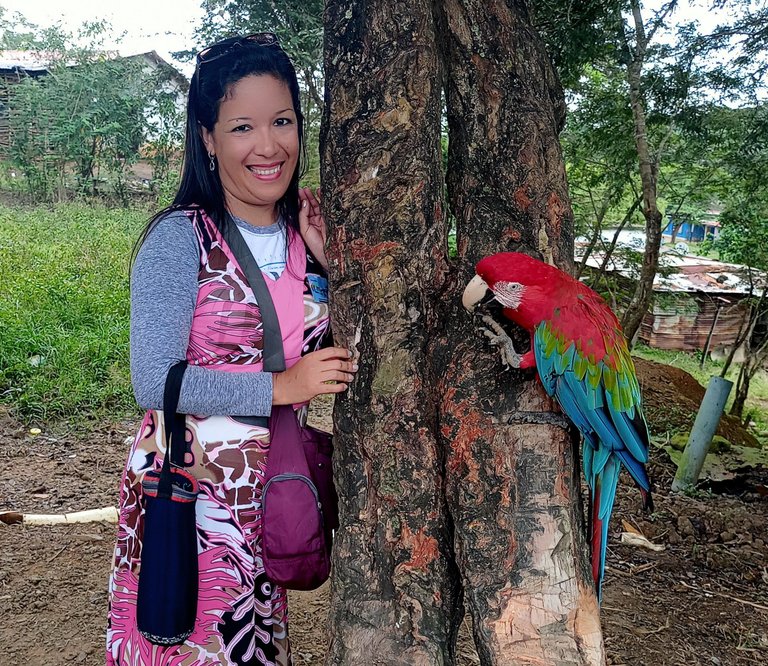 Todas las fotos son de mi propiedad, tomadas con un Realme 7i.
All photos are my own, taken with a Realme 7i.
---
---