Una limpieza facial muy especial (Es/En)
Feliz tarde hermosa comunidad, les extiendo un cordial saludo acompañado de un deseo sincero de que se encuentren bien. Hoy quiero compartir una experiencia espectacular que viví en un río maravilloso que se encuentra cerca del Estado Falcón, Venezuela. Espero que puedan leer mi publicación y beneficiarse de la misma.
Happy afternoon beautiful community, I extend to you a cordial greeting accompanied by a sincere wish that you are well. Today I want to share a spectacular experience that I lived in a wonderful river located near Falcon State, Venezuela. I hope you can read my publication and benefit from it.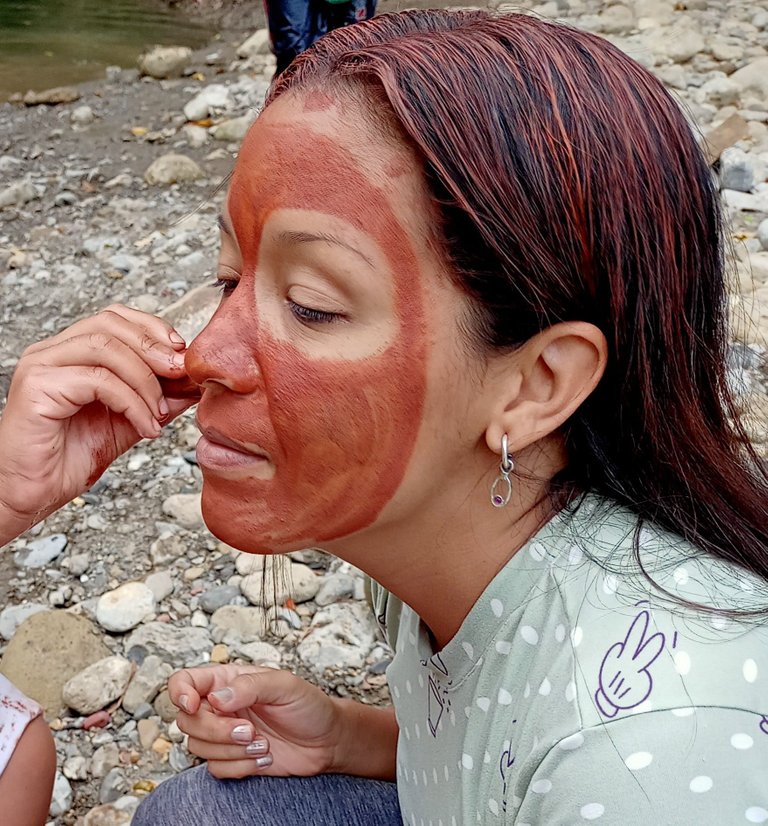 Hace dos días fui con algunos amigos a un río llamado "Las Dos Bocas" de aquí de mi país y al llegar me encontré con algunas niñas que estaban pintándose el cabello con unas piedras rojas. Al preguntarle a las personas de la localidad que iban conmigo, me comentaron que eso era una piedra de arcilla que tiene efectos beneficiosos para la piel.
Mis amigas y yo no dudamos en vivir esa aventura y les pedimos a las niñas que nos explicarán el procedimiento y comenzamos a aplicarnos la máscara de arcilla en el rostro. A orillas del río se encontraban este tipo de piedras rojas y al frotarla con otra piedra, salía como una mascarilla muy líquida y bastante roja. Esta mascarilla nos la colocamos en el rostro y nos quedamos un buen rato con la misma.
Two days ago I went with some friends to a river called "Las Dos Bocas" here in my country and when I arrived I found some girls who were painting their hair with some red stones. When I asked the local people who were with me, they told me that it was a clay stone that has beneficial effects for the skin.
My friends and I did not hesitate to live this adventure and we asked the girls to explain the procedure to us and we began to apply the clay mask on our faces. On the banks of the river we found this type of red stones and when we rubbed it with another stone, it came out as a very liquid and quite red mask. We put this mask on our face and we stayed with it for a long time.
---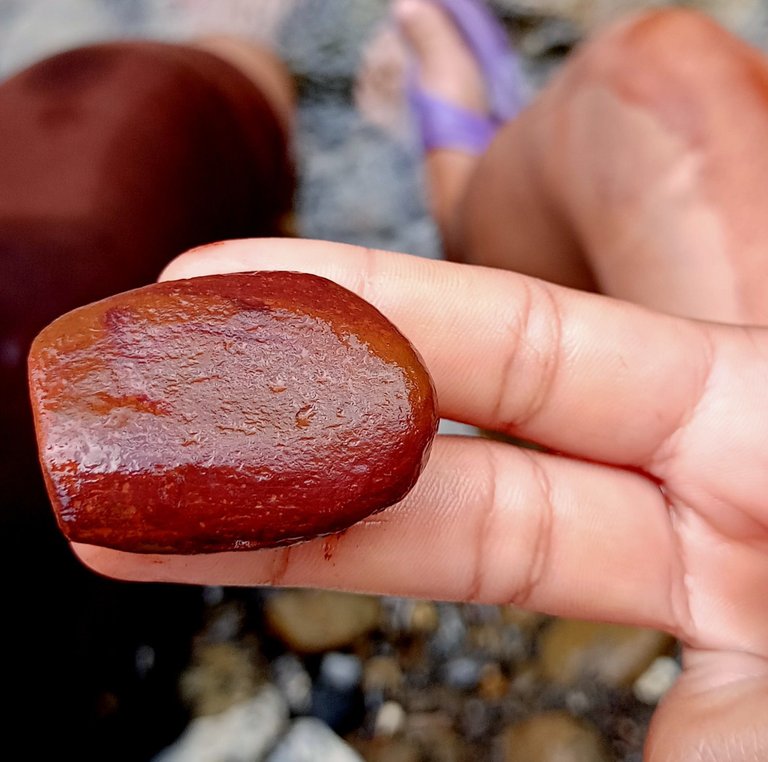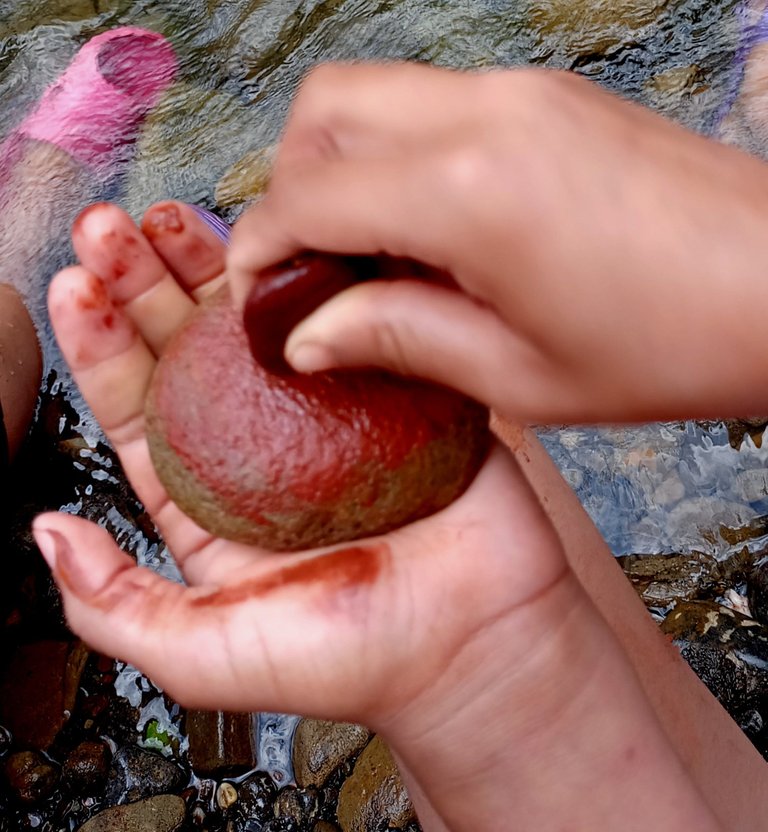 ---
Tres amigas y yo hicimos este proceso, las otra no se atrevieron por temor, sin embargo, las que lo hicimos nos habíamos asegurado con las personas de la zona que esta mascarilla natural no era perjudicial. Nos pintamos hasta el cabello. La verdad es que fue muy divertido, sobre todo, cuando llegaban personas al río y nos miraban con asombro 🤭🤭 aunque es algo normal de la zona, muchas de las personas que llegaban al río desconocían esto.
Three friends and I did this process, the others did not dare because of fear, however, those of us who did it had made sure with the people in the area that this natural mask was not harmful. We even painted our hair. The truth is that it was a lot of fun, especially when people came to the river and looked at us with astonishment 🤭🤭 although it is something normal in the area, many of the people who came to the river did not know about this.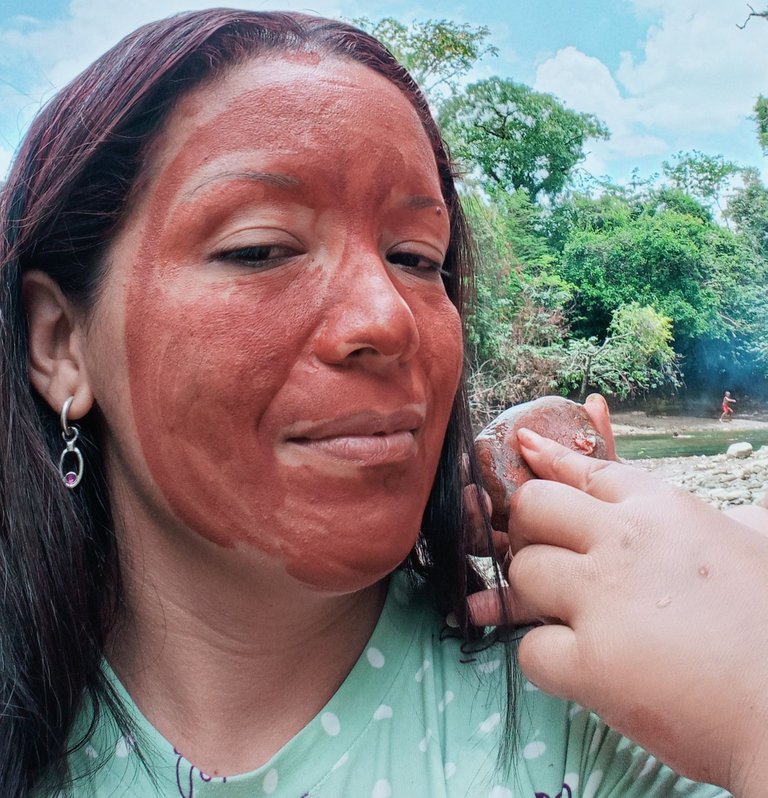 Al cabo de una hora aproximadamente, procedimos a quitarnos nuestra mascarilla de arcilla artesanal. Tomé el jabón y comencé a realizarme movimientos ascendentes hacia afuera, esto fue una recomendación de una de mis amigas. La espuma que salía del jabón era rosada, pensé que el jabón iba a quedar pintado de rojo pero no fue así, volvió a quedar blanquito como al principio.
After about an hour, we proceeded to remove our handmade clay mask. I took the soap and began to make upward movements outward, this was a recommendation from one of my friends. The foam that came out of the soap was pinkish, I thought that the soap was going to be painted red but it was not, it was white again as it was at the beginning.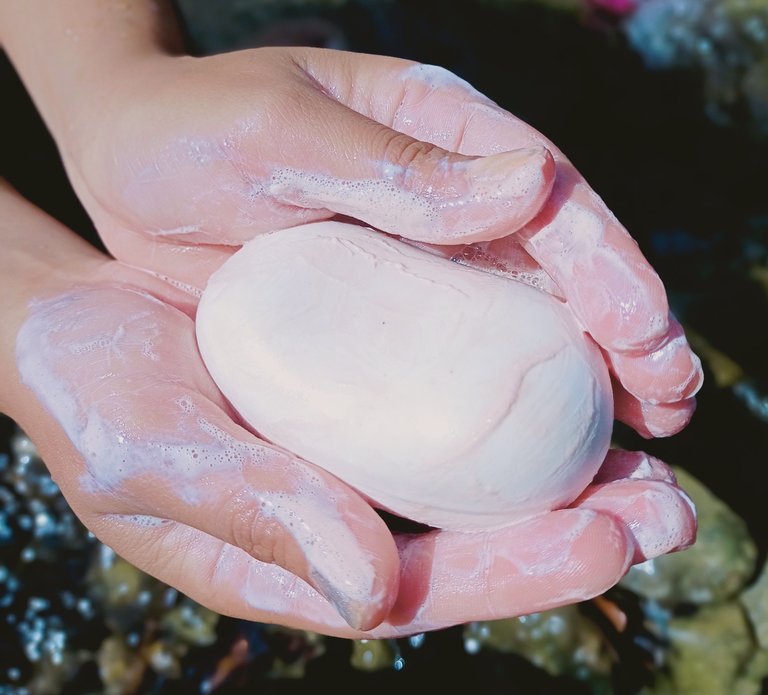 En el momento que una de las niñas vio que me iba a lavar la cara, me dijo que no me lavar el cabello porque me quedaba bien el cabello de ese color y a decir verdad me gustó esa tonalidad de color en mi cabello, así que de ahora en adelante consideraré en teñirme el cabello de ese color.
At the moment one of the girls saw that I was going to wash my face, she told me not to wash my hair because my hair looked good that color and to tell the truth I liked that shade of color in my hair, so from now on I will consider dyeing my hair that color.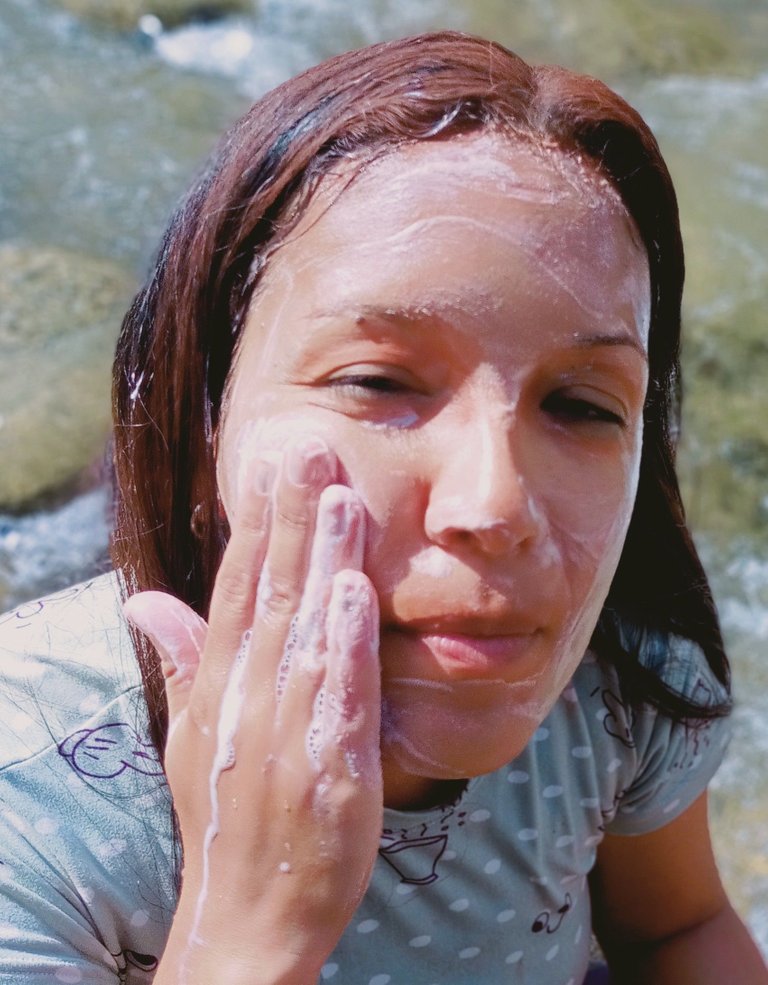 Después de lavarme la cara, sentí una limpieza acompañada de frescura. Realmente me quedó la piel suave y tonificada. Al ver ese resultado, tomé varias piedras de arcilla de la orilla del río y una piedra normal para realizar este procedimiento en casa. Confieso que además de divertirme me sentí renovada gracias a las bondades de la naturaleza.
El tener contacto con la naturaleza es gratificante en todo sentido, ese día fue especial en todo sentido, no sólo me bañé en un río espectacular sino que disfruté de la compañía de personas maravillosas y además regresé con mi rostro suave, limpio y tonificado.
After washing my face, I felt a cleansing accompanied by freshness. My skin was really soft and toned. Seeing this result, I took several clay stones from the river bank and a normal stone to perform this procedure at home. I confess that besides having fun, I felt renewed thanks to the goodness of nature.
Having contact with nature is gratifying in every way, that day was special in every way, not only I bathed in a spectacular river but I enjoyed the company of wonderful people and I also returned with my face soft, clean and toned.
---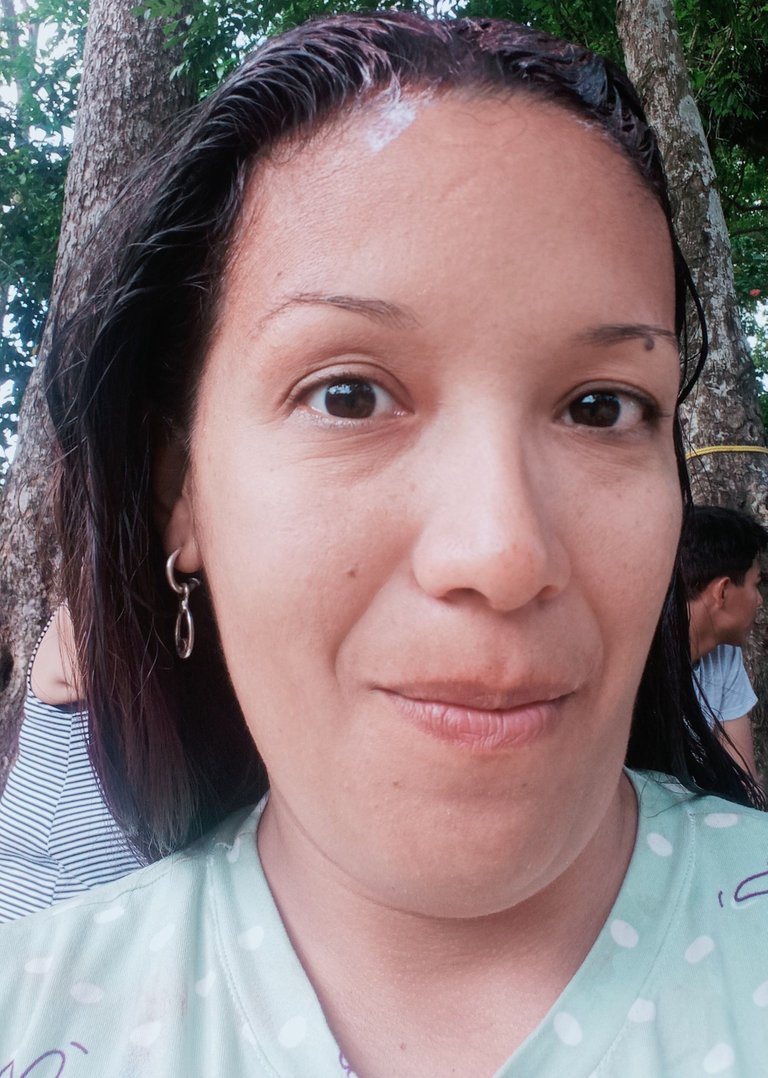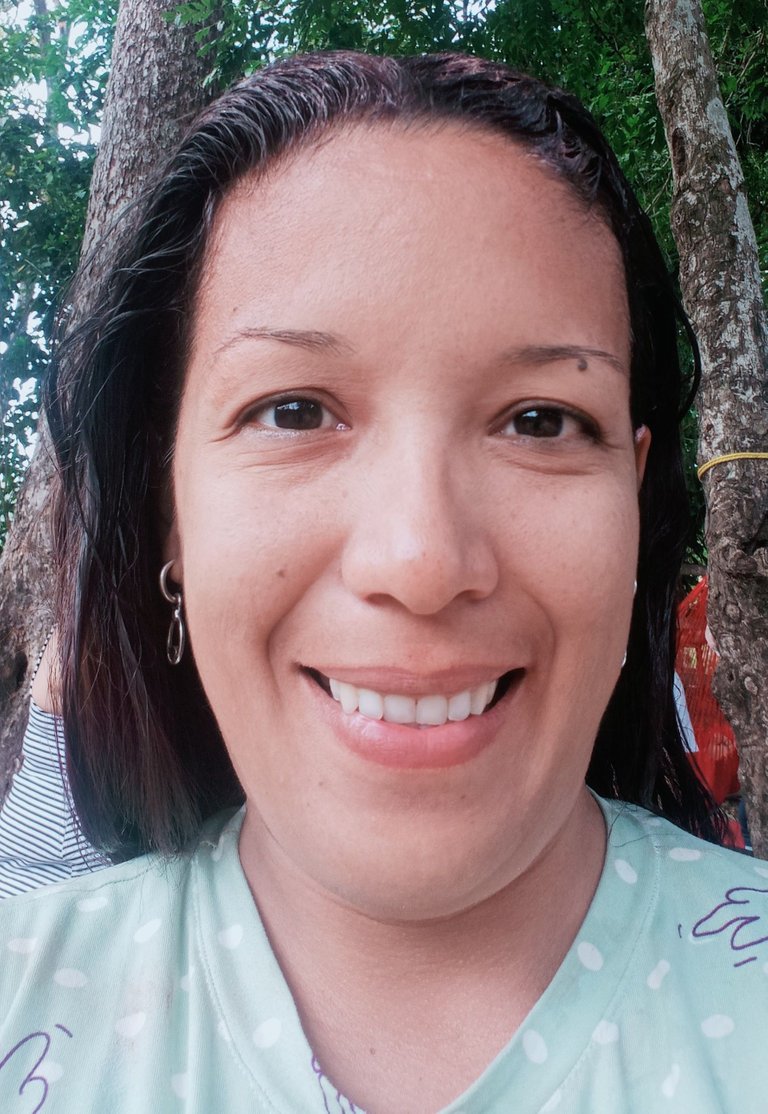 ---


Todas las fotos son de mi propiedad, tomadas con un Realme 7i.
All photos are my own, taken with a Realme 7i.
---
---