The Toddy Shop - Food blog
It was a Saturday Afternoon, Hot Summer of May. Mind you, Ladies and Gentlemen of Hive, 'India is very hot this time of the year'. Hope you got the reference here🤣. Friends fans give me a cheer🤭. However one of my techie uncle, Vivek had come to Mangalore due to some work and he called me up and said to me that there is this new place called the TODDY PALACE, a little ahead from Kuloor bridge, we find this on our way to Tannirbhavi Beach, Mangalore. Basically Toddy is a certain liquid which is extracted from the Trees and it has a bit of alcohol content in it and it provides a bit of kick. The Toddy provided generally is processed in order to give it that taste and make it sustain for longer periods.
He wanted to try it and we both decided to leave around 12. It roughly took us 25 minutes to reach our destination. The place looked small from outside. It was my prima facie opinion. But I was wrong, it had a decent seating capacity.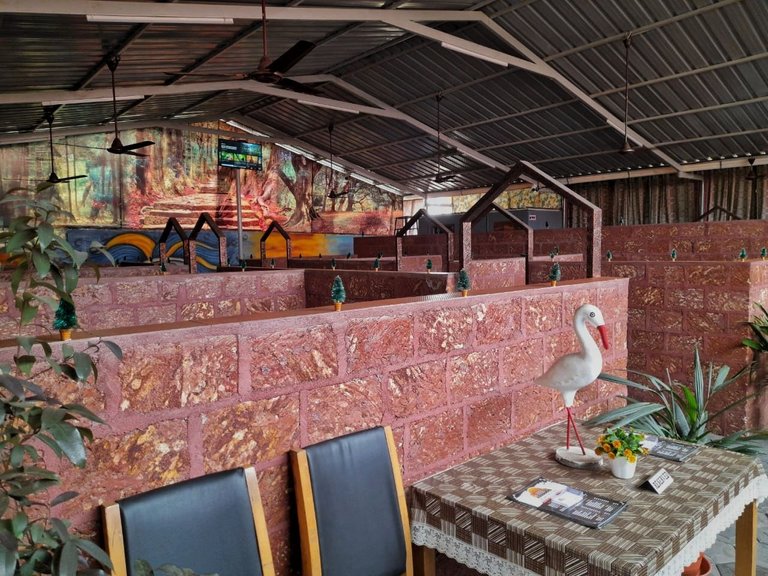 It had a very Vintage kind of Interiors as though it was a made on some tribal concepts. But it was set up really well with a bit of Mangalorean Touch. The Roof sealings and the Walls of the place looked to be very new.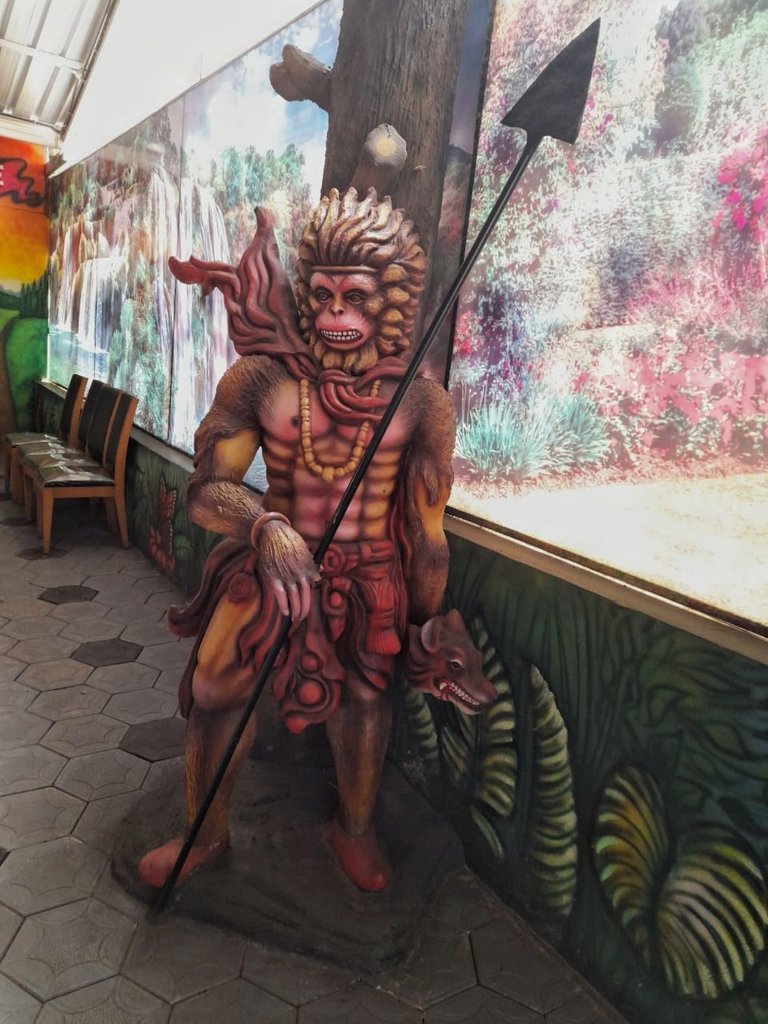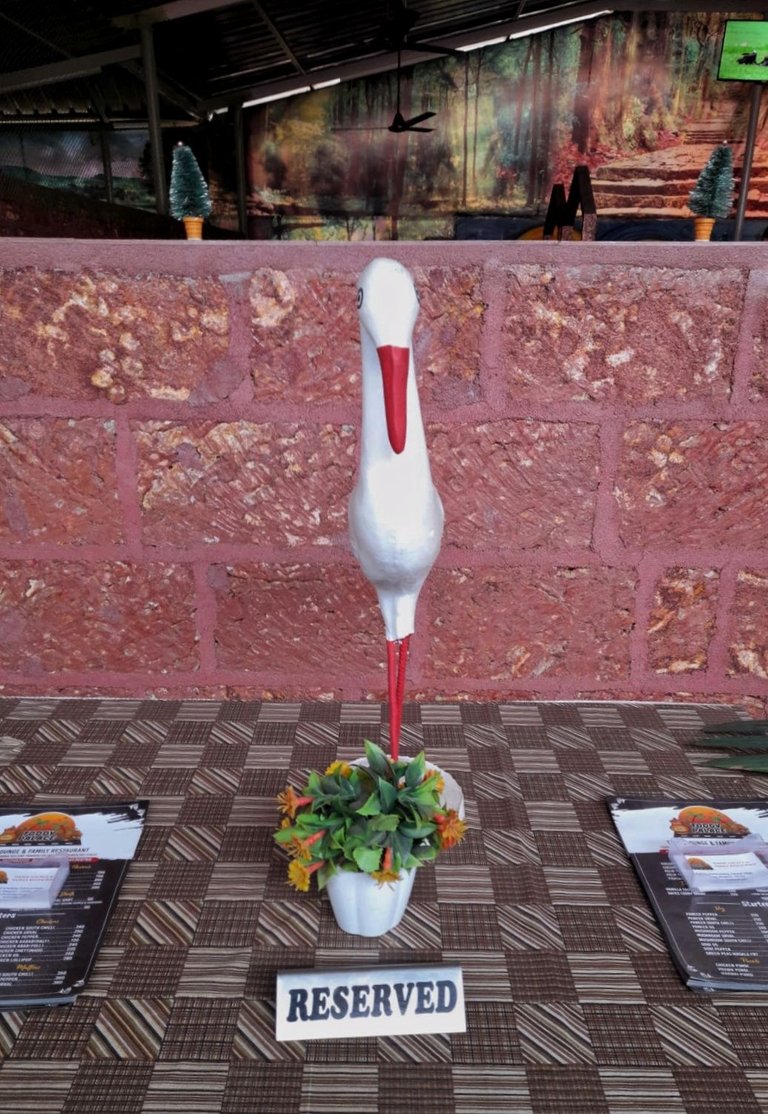 However moving on to the Important part, which is the Food and Toddy.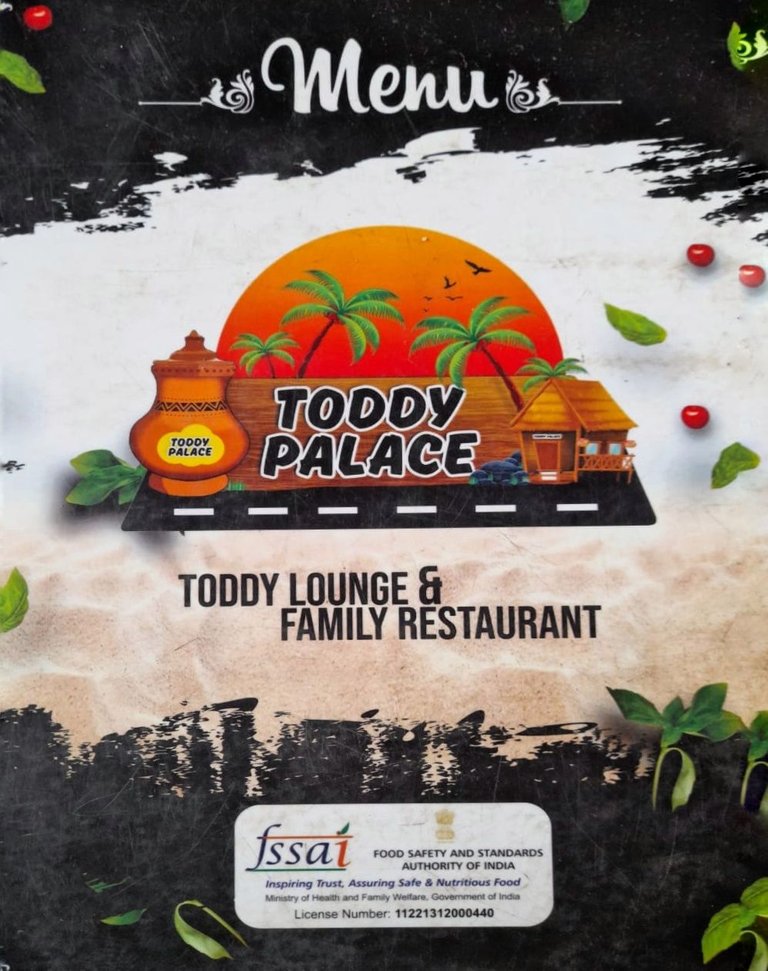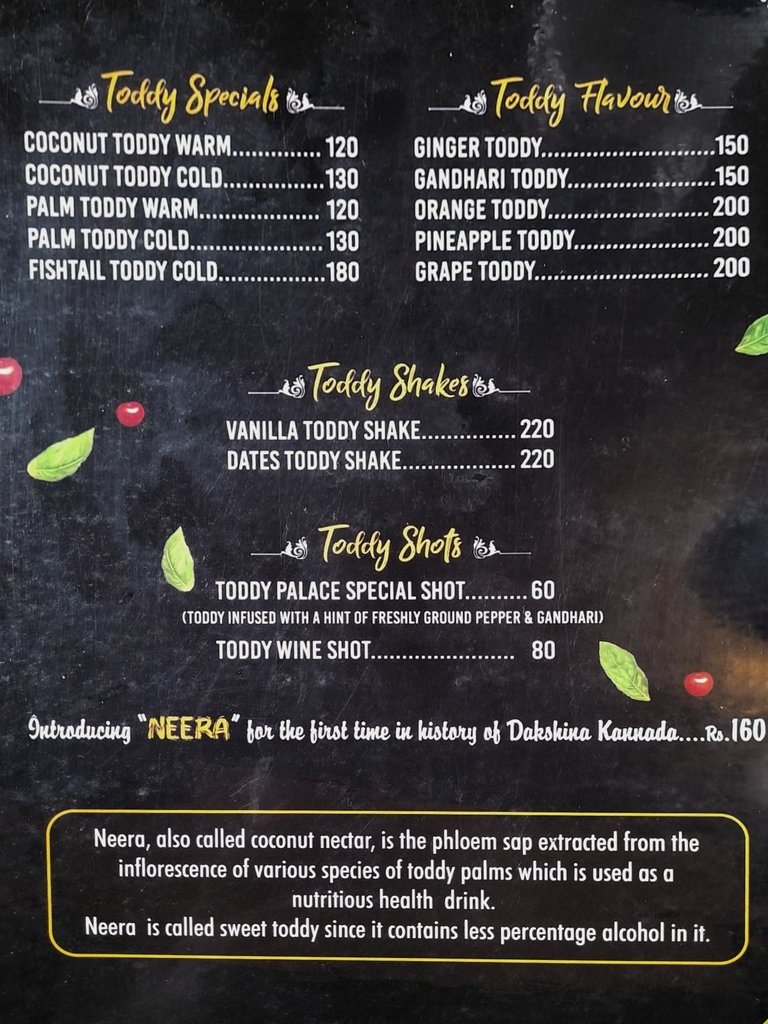 I usually do not drink and I preferred to not have the Speciality of the place. But my Uncle who was a foodie, was curious to taste it. This was a new place and as he has tasted Toddy before, he wanted to see how it varied. Therefore he ordered a PALM TODDY. By the name, we get to know it has been extracted from the Palm tree 🌴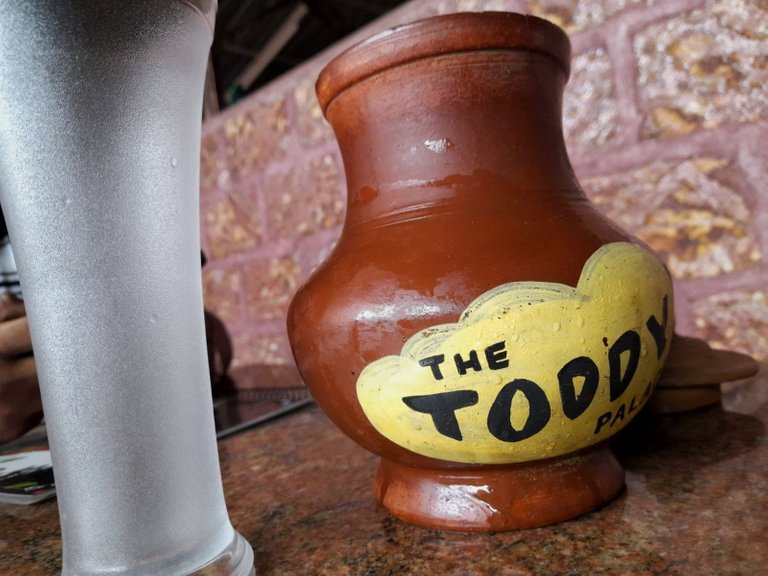 I ordered a Maaza and we ordered 2 plates of Chicken kebab. The kebab was tasty. As far as Toddy is Concerned, My Uncle opined that It tasted like the famous authentic Toddy you get in Kerala. It was a Jug full of drink which looked like Coconut water. Total volume was 1 litre I suppose.
Further in the menu, they have described the Toddy to be Neera. The explanation gives a pretty clean picture of the product.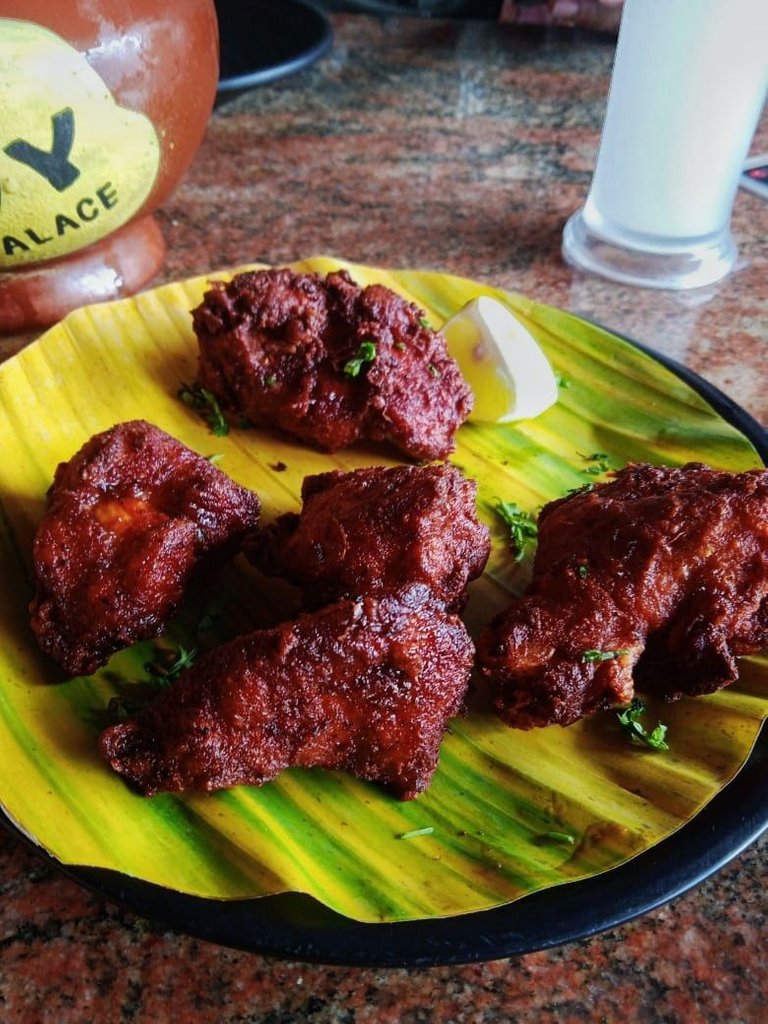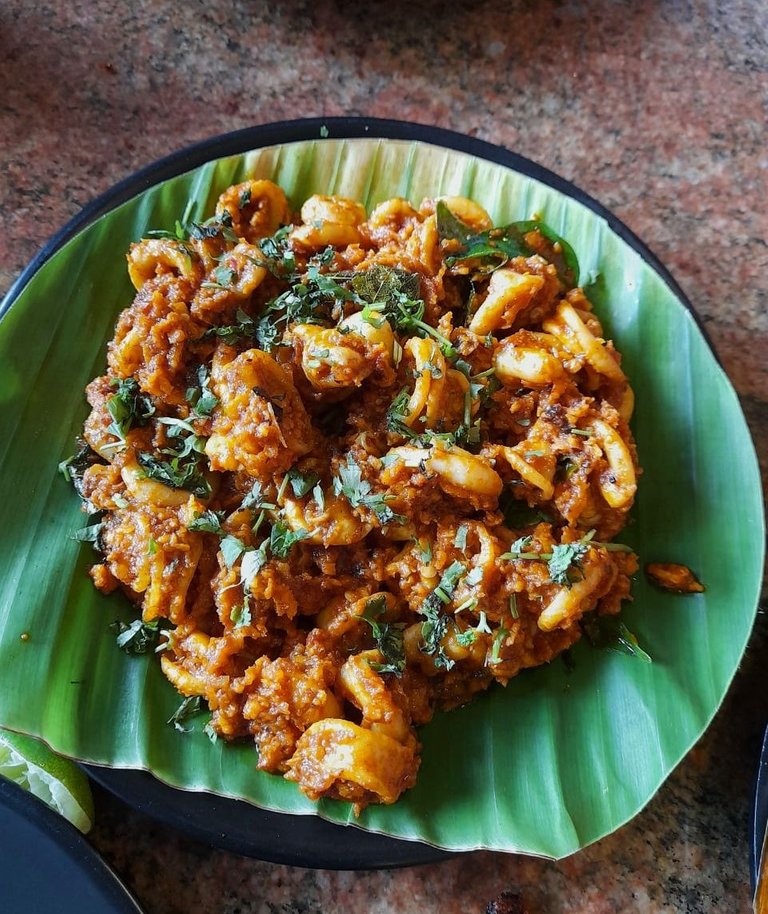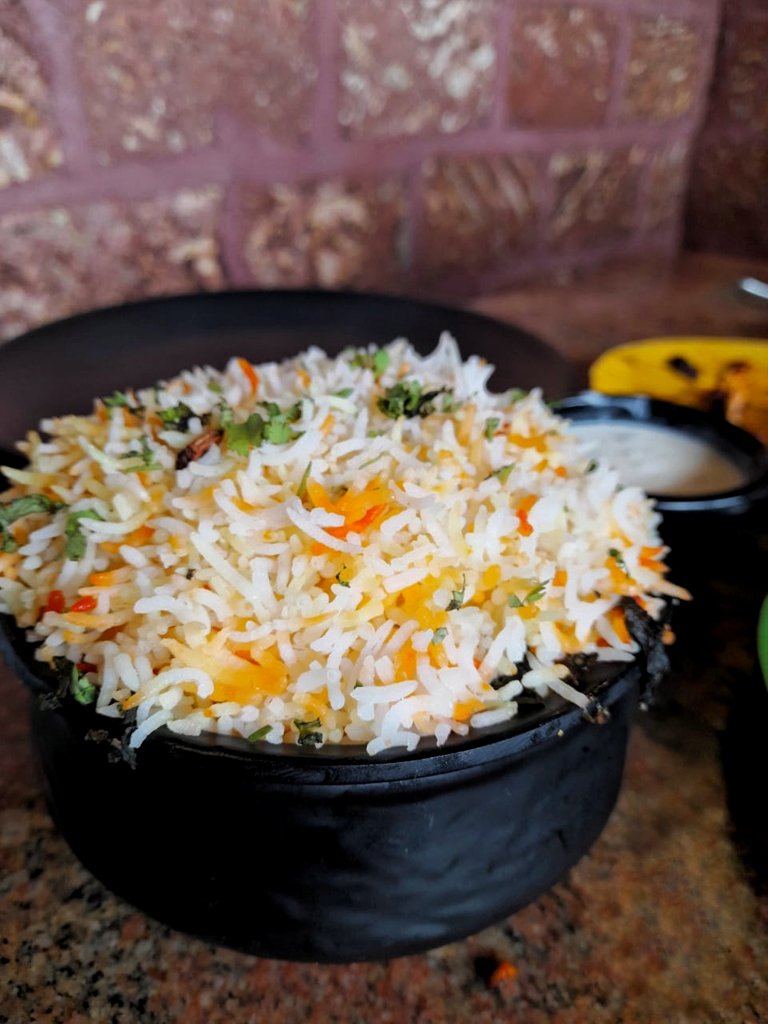 After the 1st round of batting, we decided to dine on some sea food. We ordered a Muru Tawa Fry, it was really good. The masala was the key, the fish did not smell bad too, all in all it was very tasty. We further ordered Bangude Masala Fry, but due to some confusion among the waiters and us, it became Bangude Masala, a Curry.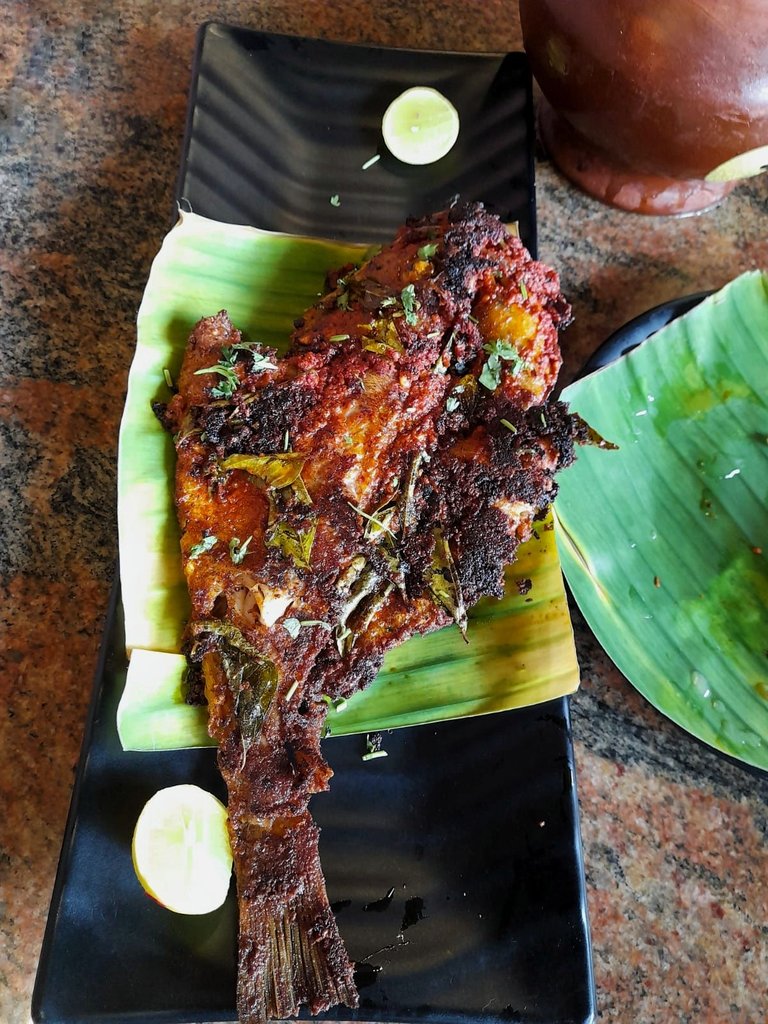 We decided on Parcelling it back home. We repeated the previous order, this time clearly. We received a very small piece of Bangude, which frankly was Not good at all. It was small and it was not worth it.
Due to the waiters confusion, one of the co-owner of the Hotel, who was supervising around, came to us and spoke to us about how there is no additives etc to the Toddy. It's just fermented and kept at a certain Temperature. The co-owner spoke about how amazing the responses were about the Toddy and food here.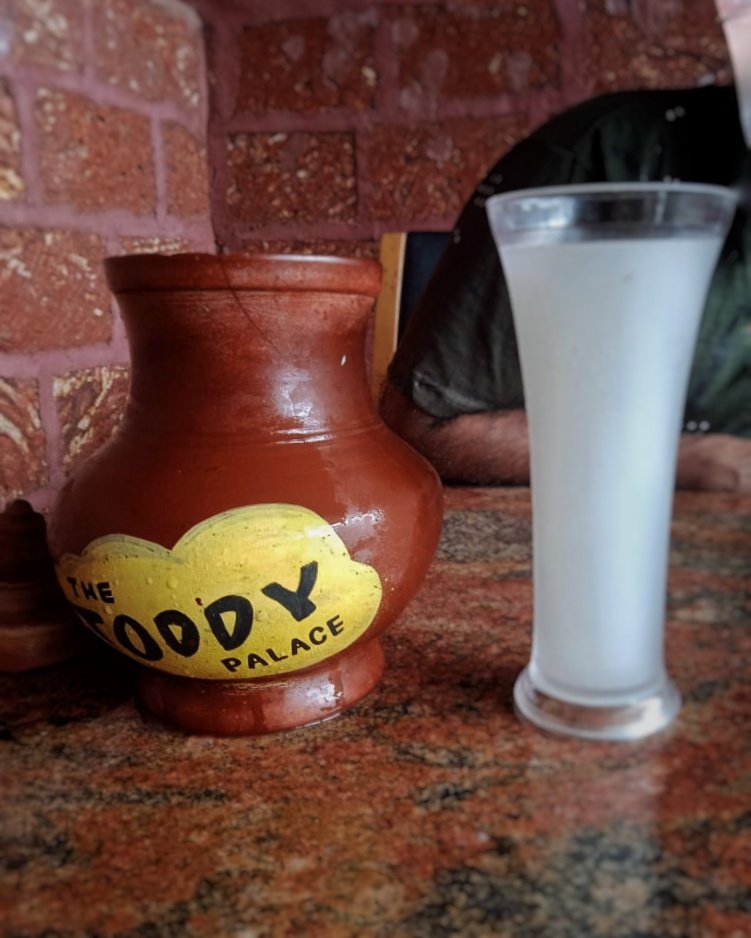 He wasn't bragging alot, but it was a really nice conversation with him. We further order Bondas Sukkha, another typical Mangalorean dish. The Bondas was well cooked and tasted really good. The Sukkha masala was delicious. Lastly we parcelled the Chicken Biriyani which we orderd initially, as both of us were pretty full today. It was a nice soothing outing in a cool atmosphere.
Finally, if I had to rate this "THE TODDY PALACE"
Ambience - 8/10
Taste- 7/10
Price worthiness - 8/10
Service - 7/10
Namaste 🙏
---
---