The Good the Bad and the Ugly as Galway march on
An absolute belter of a game
What a match today between Armagh and Galway! It had absolutely everything, great kicked points, thunderous shots of the crossbar, 5 goals, extra time, 3 sending offs, a phenomenal last gasp comeback from 14 man Armagh to force extra time, a melee and a eventual win from Galway courtesy of penalty kicks.
The last two in the list are sour points - the melee after the full time whistle was a disgrace and I will discuss that in detail further below. The other sour point was the penalty kicks and although my team Galway prevailed, no team should bow out of the Championship on penalties in my opinion, this isn't soccer. The Armagh players, management team and fans must be absolutely gutted and credit to them for mounting such an impressive late fight back to draw the game in normal time. To lose it in the end on penalties is a bitter pill to swallow and their two players who missed will be having nightmares about their spot kicks for years to come.
The Good
Let's concentrate on the positives to begin with. As most of you are aware Ireland has two National sports - Hurling and Gaelic Football and I have written about both extensively in the past. They are both 15 a side amateur sports where the teams can score points worth a point and goals worth 3 points. They are sports played in Southern Ireland's 26 counties and Northern Ireland's 6 counties and winners are crowned All Ireland Champions. They are not crowned World champions mind you! take note bassball!
Typically the games of hurling take the majority of the plaudits and rightly so. Many people, myself included wax lyrical about Hurling being the most exciting and best sport in the world. Today however, the footballers of Armagh and Galway gave the Hurling fraternity a run for it's money serving up a barn storming, exciting, end to end enthralling match that everyone will be talking about tomorrow at work - Galway, Armagh and well as neutral supporters will remember this as one of the matches of 2022.
The Bad
It is a terrible feeling getting knocked out of the Championship. The fans feel it like a punch in the stomach, but for the players, who let's remember are amateurs, it's even worse, and is more akin to a sledge hammer to the head. Months of training 6 days a week, healthy eating diets and everything else that goes with being a county player feels like a waste in that moment of defeat.
Nobody wants to bow out in the Quarter finals, but ultimately 4 teams must and that was the fate for Clare, Cork, Mayo and Armagh this weekend, however Armagh's loss is by far the toughest pill to swallow as I said above. The other three teams were well beaten by eight points or more, which is a fair beating in Gaelic football, but Armagh equaled Galway after 78 enthralling minutes and then matched them again for 20 minutes of extra time. The players from both teams were dead on their feet by the end and Armagh ultimately wilted in the shootout missing 2 from 3, while Galway bulged the net with all 4 of theres.
For me though, no team should go out like this and it was a bad move by the GAA bringing in Penalties.
The Ugly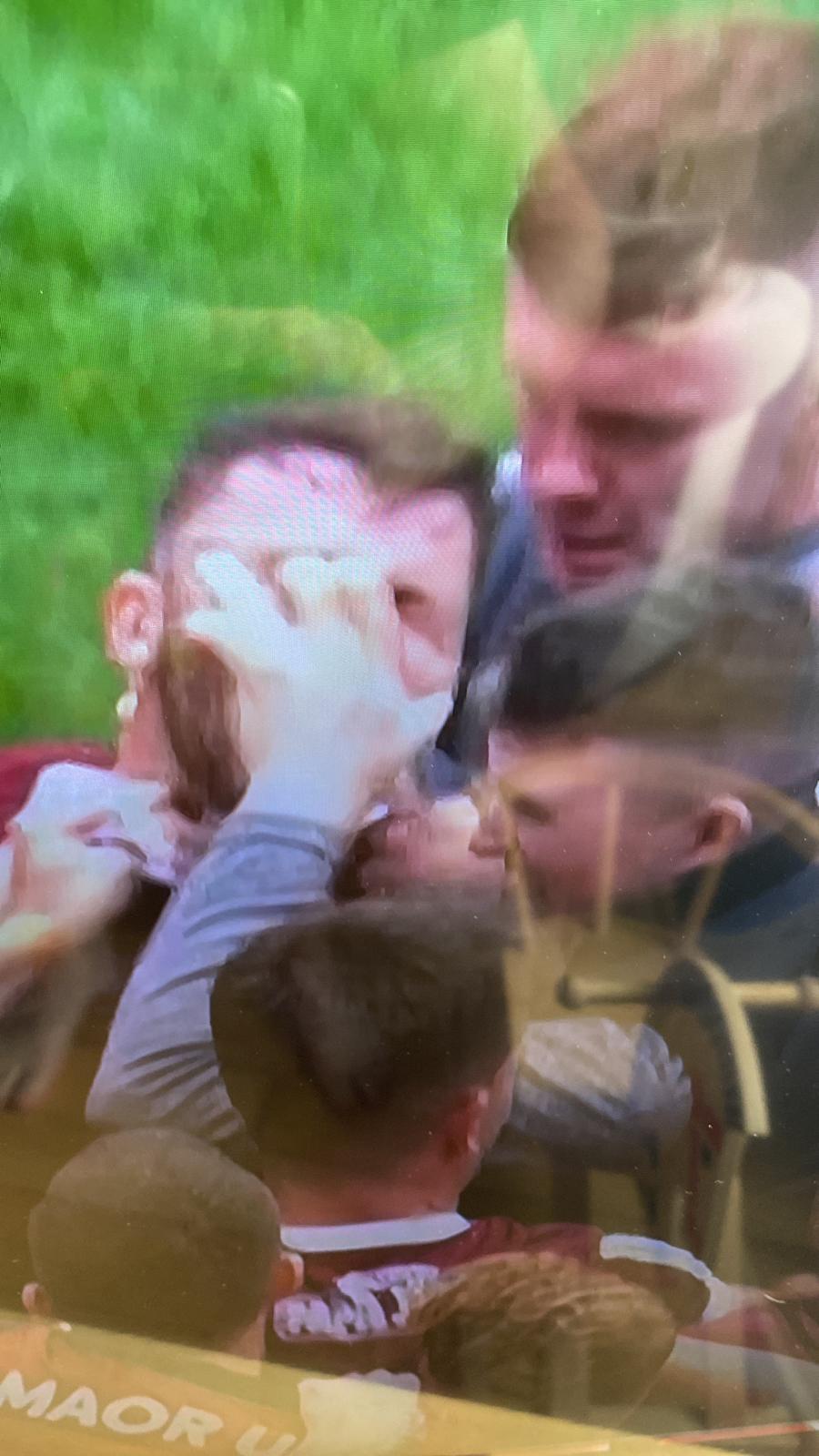 The photo above says it all. This is as ugly as it gets. Families from Galway, Mayo, Armagh and Kerry went to Croke park today for a family day out and should not have had to endure the melee that happened at the end of normal time where most players and management got into a lengthy tussle, the worst of which was the eye gouging incident above by a non playing Armagh player.
I really hope that the powers that be throw the book at him for this, as this kind of carry on has no place in life and most certainly not at 3 O Clock in the afternoon with children watching. It was despicable and ugly carry on. Here are a few more shots of the melee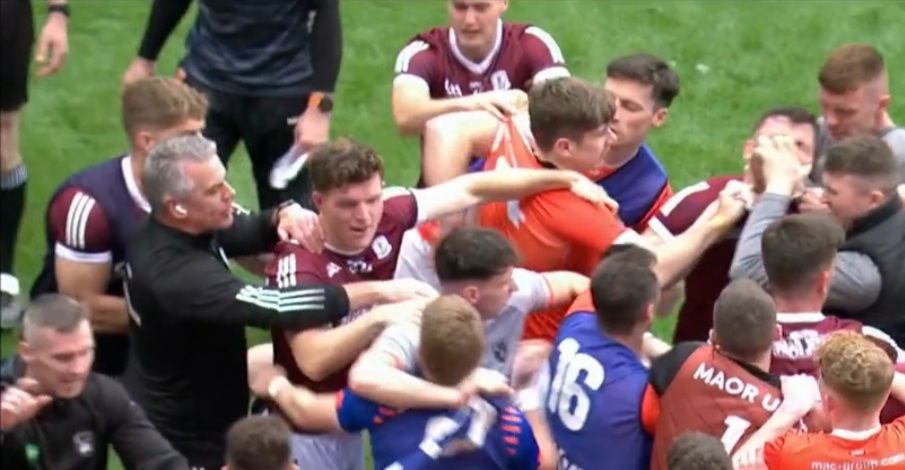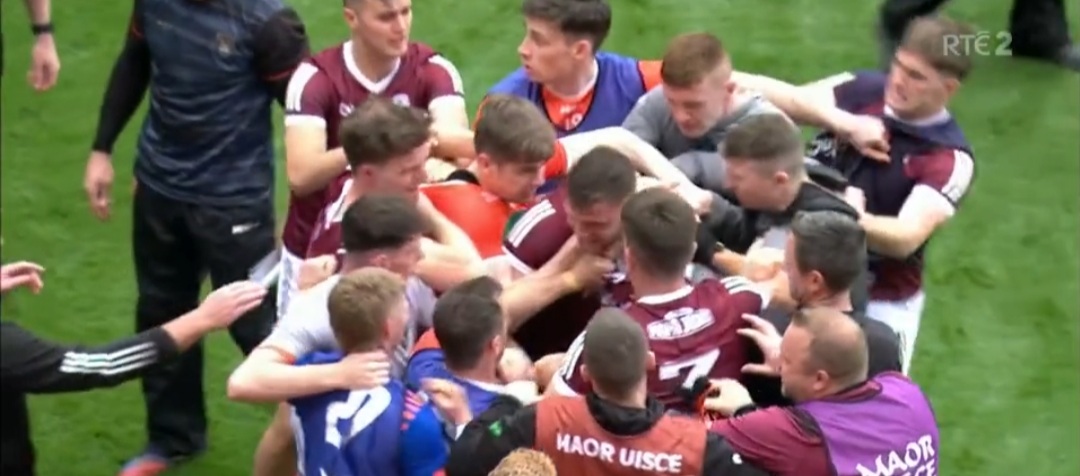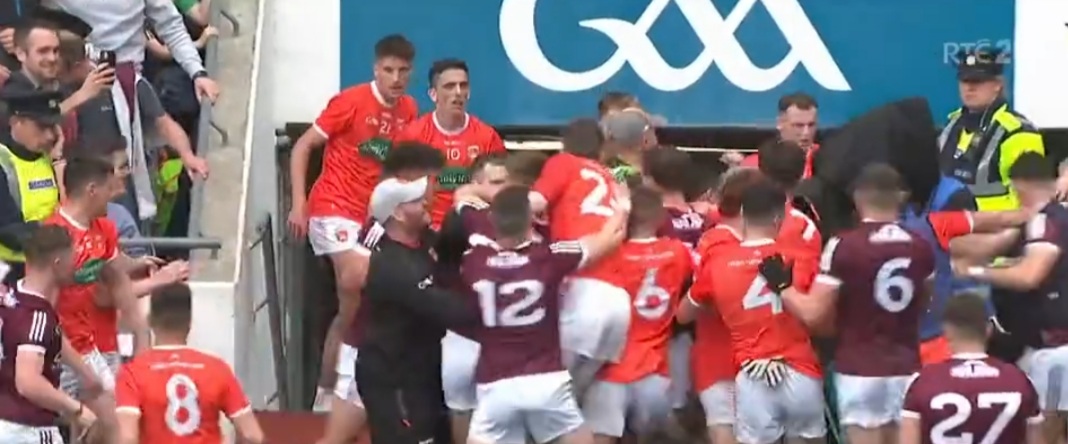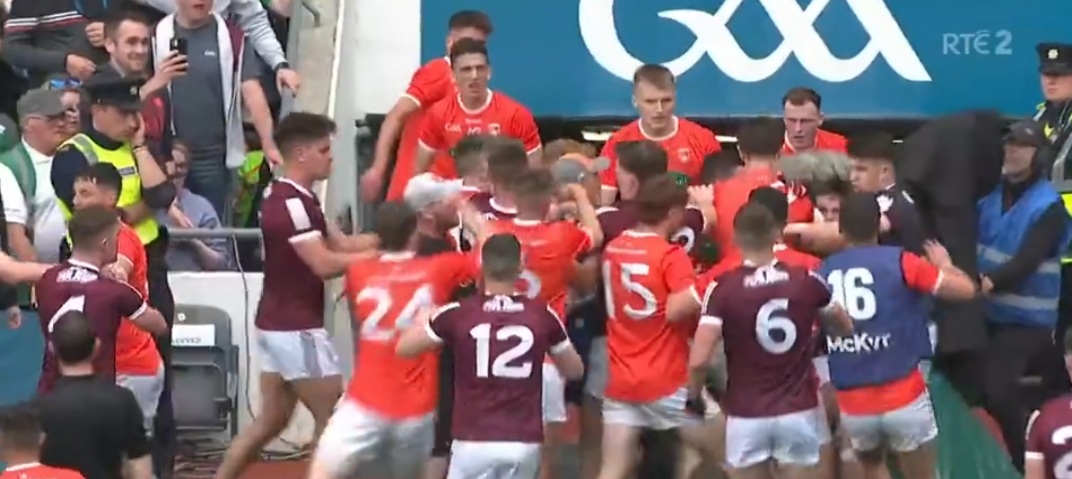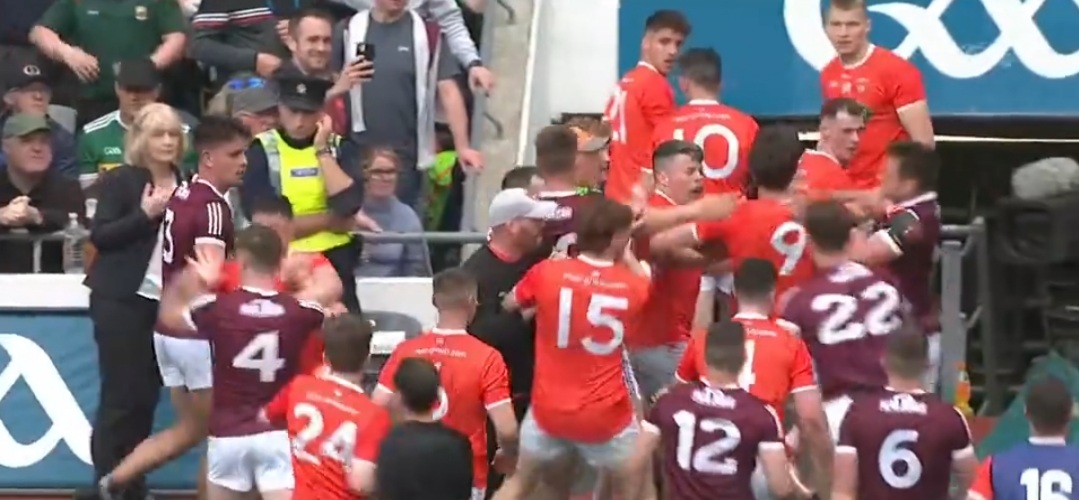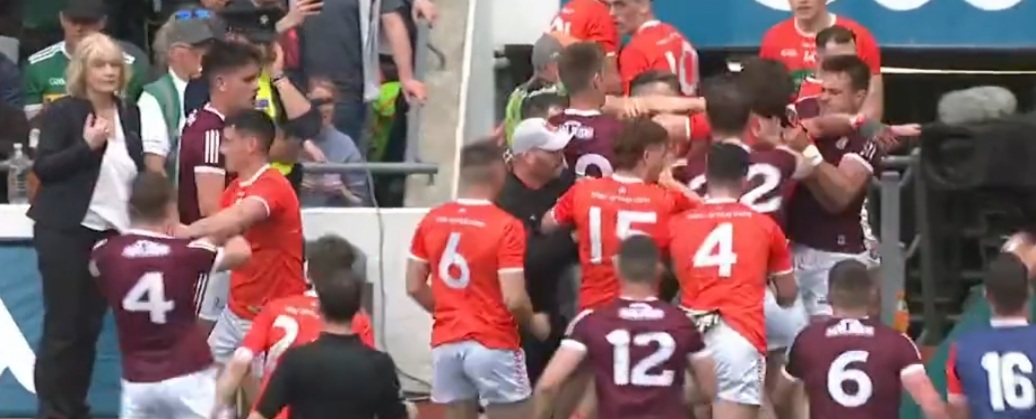 The worst thing about this is that what should be remembered as a brilliant end to end game of free flowing football will now be remembered for eye gauging and missed penalties and that for me is a real shame.
To end on a positive note
Now to end my post on a more positive note, having beaten Cork in the Hurling quarter fina last weekend...
Galway

Are in Two

All Ireland semi Finals!

Put that in your pipe and smoke it!!!!

Hon the tribes! 🇱🇻🇱🇻🇱🇻🇱🇻

These photos are all my own captured on my Samsung Smartphone from the TV

Thanks as always for stopping by everyone.

Peace Out
---
---