THE BOOK OF HEMLOCK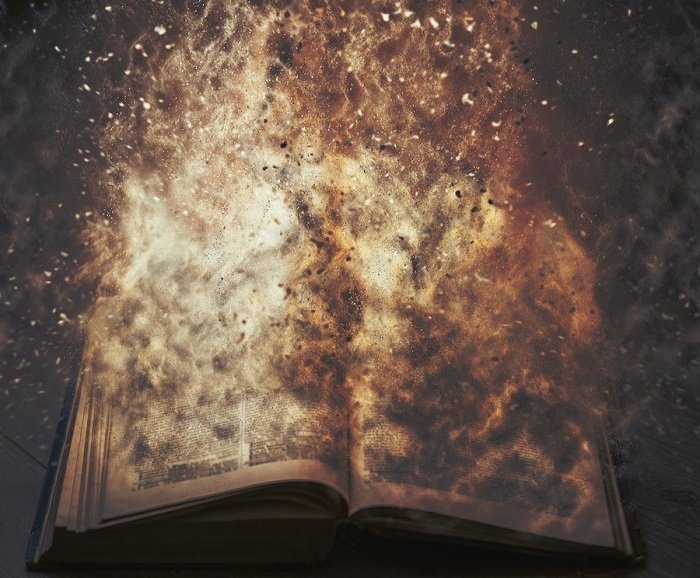 "Remain steady Edgar, soften your gaze, take deep breaths" An Old man spoke softly while seated at the corner of the dimly lit room.
"Arrrghh" Edgar groaned as he turned his gaze away from the book, bright flames from the pages scorching his eye. No one has been able to read from this book for eons now.
As the story goes, the ink from the book was written from the ashes of the greatest mage to ever exist in the 14th century, he was burned at the stake for witchcraft and heresy.
After the ruckus, his faithful disciples took his ashes and used them to perform a ritual that summoned The Hemlock, a spirit of vengeance, Instead, the spirit used the ashes to write some spells on scrolls and disappeared.
It was said that the first person to look into the book got blind immediately, ever since The Hemlock Society was created to unravel the mysteries of this book.
Some believed that the spells from the book would summon a world-ender that would cause a revolution, a new age of magick and enlightenment.
Although the society now operates in secret. Every year, The Hemlock Society searches for young acolytes with the gift of sight, an ability that tolerates the bright scorching flames of the book.
"What did you see... Edgar" The Old man asked from the corner, the pupils from his eyes are faded and lost of color, a sign that he too has tried to peak into the pages but failed numerously.
"I... I couldn't see it clearly master" Edgar replied
"Don't worry my boy, we will try again at another time," The Old man said with a smile that concealed his disappointment.
At that same moment, Edgar heard some chiming sounds coming from around the book, He took a closer look and suddenly the bright flames reduced, He could feel his pupils enlarge as the words read to him clearly.
But, Instead of words he only saw a vision like the pages from the book was speaking to him, He saw himself laying on the bare concrete unconscious and that same Old man standing above him with a knife about to cut open his eye.
"Did you see something child?" The Old man asked with impatience, this time standing up and walking towards him.
"N-No master" replied Edgar with a shaky voice.
"Are you sure, my boy, You can speak freely.." Said the Old man with a smile exposing his tobacco-stained teeth.
Edgar could the rush of blood in his veins as the Old man drew closer, He pushed the Old man and ran out of the room with terror.
"Stop that child, Stop him!" The Old man yelled with anger as he recovered from the fall.
---
img source [1]

This is a free-write session organized by @mariannewest follow her to get the daily prompts.


---
---