From the crocodile in my house to crocodiles in the wild [ENG-ESP]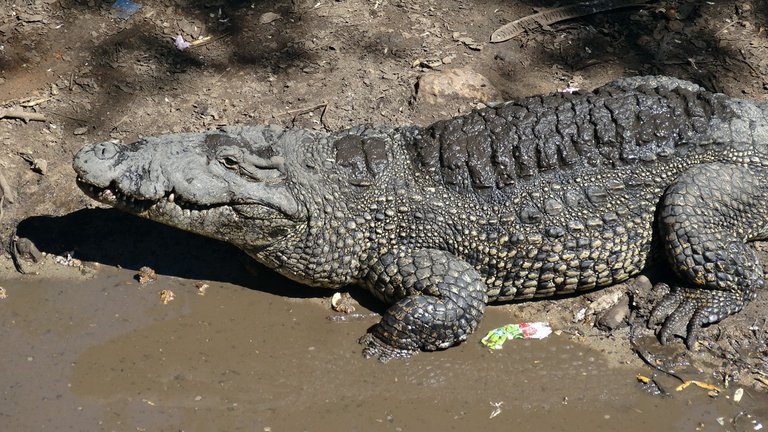 Waooo, I've never seen a stuffed crocodile that size before!
A response embraced with admiration, which has often filled the air in my home. My children have grown up, seeing the reptile with its two meters long in the living room of their home; memory of an adventure of my father.
One day, I wanted them to see it live. So we went on an excursion, to the area where they are most commonly found in their natural habitat in Cuba: the Zapata Swamp, located in the province of Matanzas. Specifically, in Boca de Guamá, a tourist center where the legendary Crocodile Hatchery is located. There we were able to learn from specialists, many details of interest.
Their origin is very ancient, and they share similarities with fossils that existed more than 100 million years ago. They are very well adapted to aquatic environments and brackish waters. They can move at high speed on land and swim propelled by their tail.
Their vision is well developed, due to the transparency of their second eyelid, which acts as a diving mask; so is their auditory system.
They are little animals that must be taken care of, because although you see them with those big teeth, and that appearance that may remind you of a dinosaur's head, they are species that inhabit our beautiful planet; and fulfill important functions in nature: they maintain the balance of ecosystems, recycle nutrients, control insects and pests in their juvenile stage, conserve shelters with water in periods of drought, and are regulators of the selection of fish.
At the same time, they are in danger of extinction, since man captures them to use their skin to make various products: purses, wallets, belts, shoes, among others. The exquisite meat of its tail is used as a gourmet dish in gastronomy. From its teeth, substances are extracted that are used to fix odors in the perfume industry.
Friends of #Hive, I share with you some photos I took that day; where you can see the crocodiles in solitary, in groups, sunbathing and cooling off inside the water.
Another one of my son Andres, holding a cute baby crocodile on the back of his hand. Finally, you will be able to meet the crocodile that is part of our house, the reason of interest of people, of past stories, and of this post that I present to you today.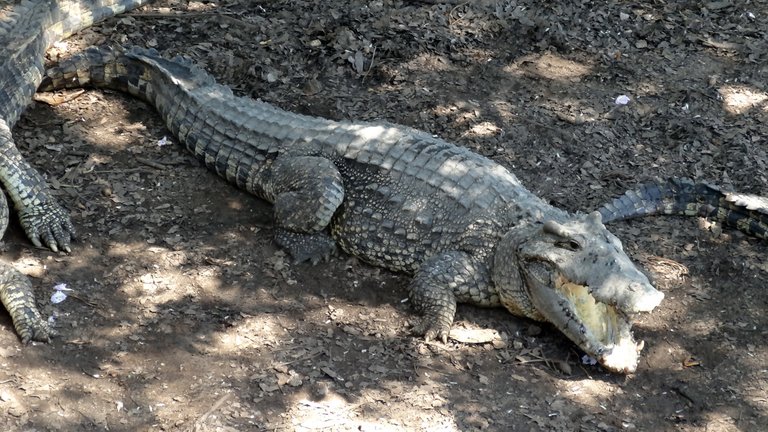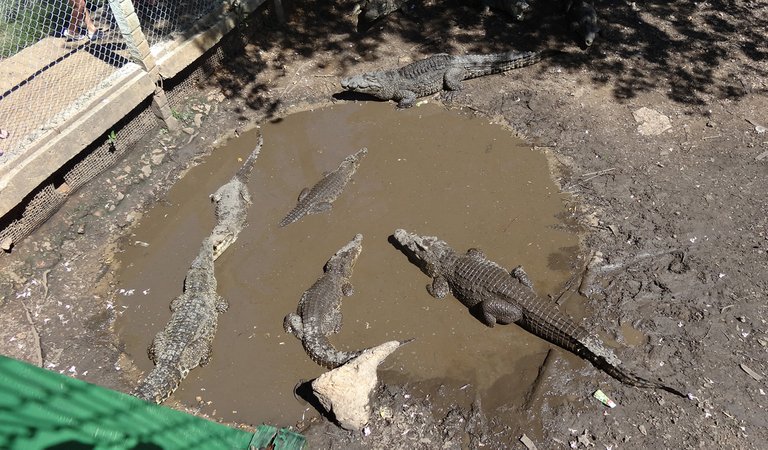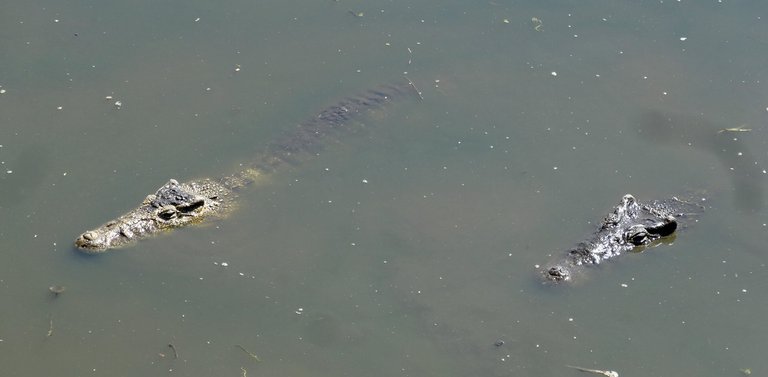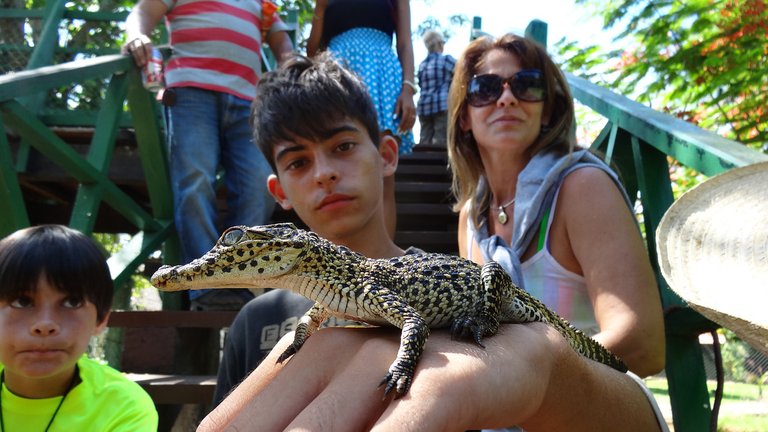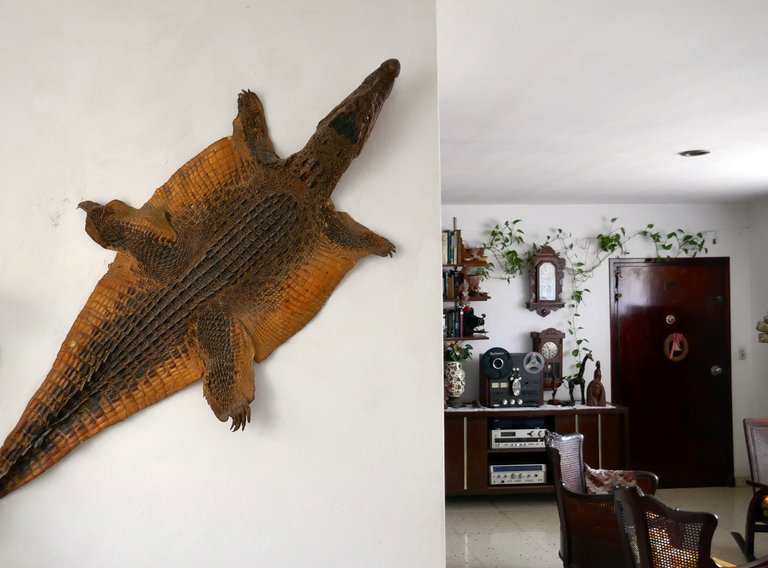 Versión en Español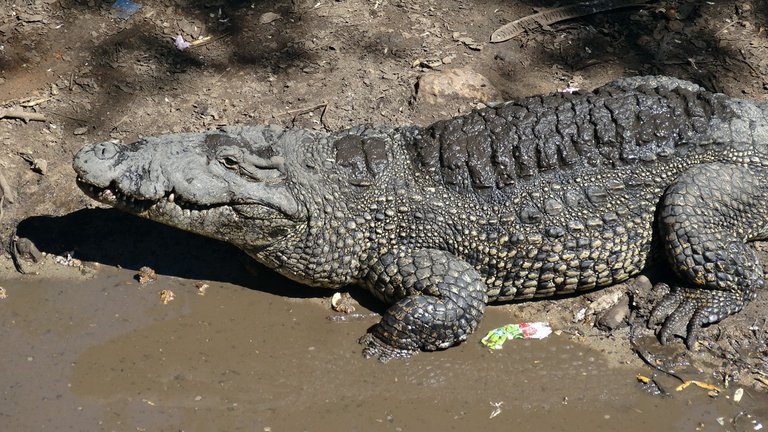 Del cocodrilo de mi casa hasta los cocodrilos en su medio natural
¡Waooo, nunca había visto un cocodrilo disecado de ese tamaño!
Una respuesta abrazada de admiración, que con frecuencia ha surcado el aire de mi casa. Mis hijos han crecido, viendo al reptil con sus dos metros de largo en la sala de su hogar; recuerdo de una aventura de mi padre.
Un día, quise que lo conocieran en vivo. Así que nos fuimos de excursión, a la zona donde más se encuentran en su hábitat natural en Cuba: la Ciénaga de Zapata, ubicada en la provincia de Matanzas. Específicamente, en la Boca de Guamá, un centro turístico donde se encuentra el legendario Criadero de Cocodrilos. Ahí pudimos conocer por parte de especialistas, muchos detalles de interés.
Su origen es muy antiguo, y comparten parecido a fósiles que existieron hace más de 100 millones de años. Se adaptan muy bien a los medios acuáticos y aguas salobres. Se pueden desplazar a gran velocidad en tierra y nadan impulsados por su cola.
Su visión es bien desarrollada, debido a la transparencia de su segundo párpado, que actúa como una máscara de buceo; también lo es su sistema auditivo.
Son animalitos que deben ser cuidados, porque aunque los veas con esos grandes dientes, y esa apariencia que pueda recordarte la cabeza de un dinosaurio, son especies que habitan en nuestro hermoso planeta; y cumplen importantes funciones en la naturaleza: mantienen el equilibrio de ecosistemas, reciclan nutrientes, controlan insectos y plagas en su etapa juvenil, conservan refugios con agua en períodos de sequía, y son reguladores de la selección de peces.
A su vez, están en peligro de extinción, ya que el hombre los captura, para usar su piel en la elaboración de productos varios: carteras, billeteras, cintos, calzado, entre otros. La exquisita carne de su cola, se usa como un plato gourmet en la gastronomía. De sus dientes, se extraen sustancias que sirven para fijar los olores en la industria de la perfumería.
Amigos de #Hive, les comparto algunas fotos que tomé ese día; donde pueden ver a los cocodrilos en solitario, en grupos, tomando el sol y refrescando dentro del agua.
Otra de mi hijo Andrés, sosteniendo a un lindo cocodrilo bebé en el dorso de su mano. Finalmente, podrán conocer al cocodrilo que forma parte de nuestra casa, motivo de interés de personas, de historias pasadas, y de este post que hoy les regalo.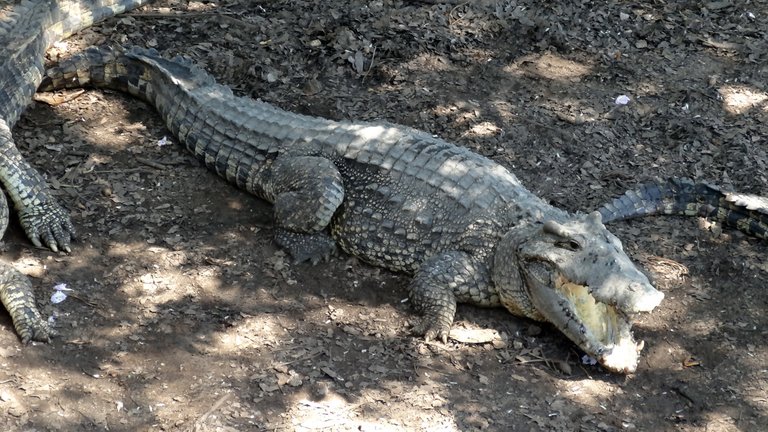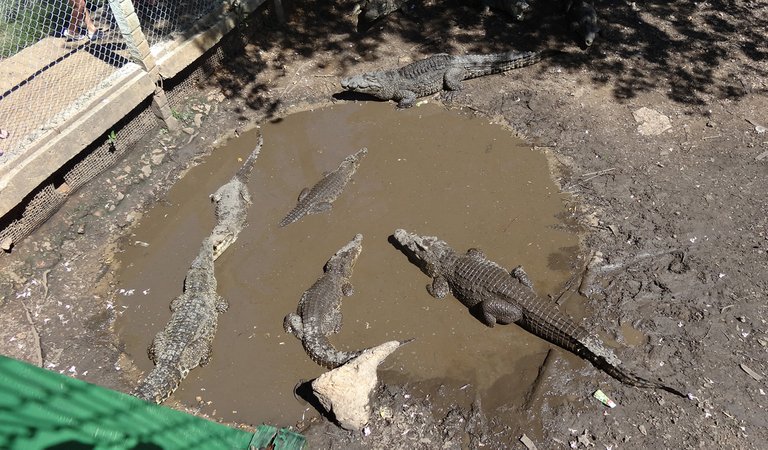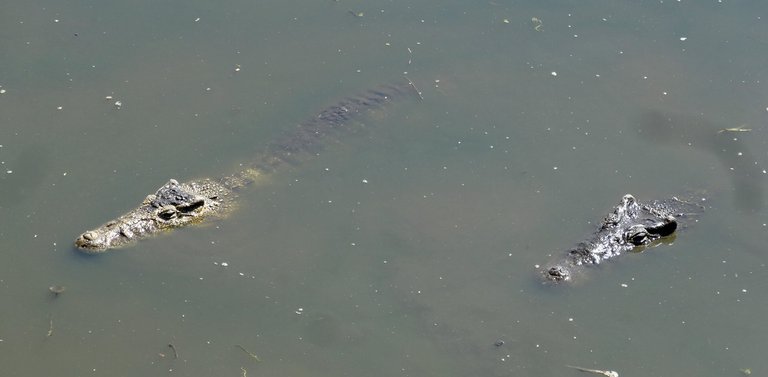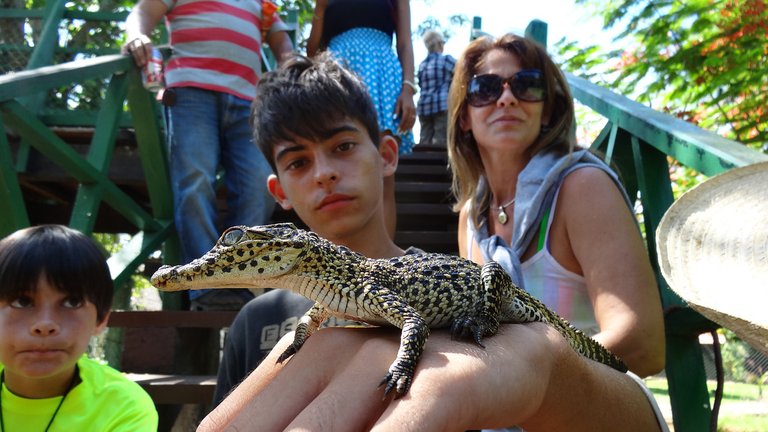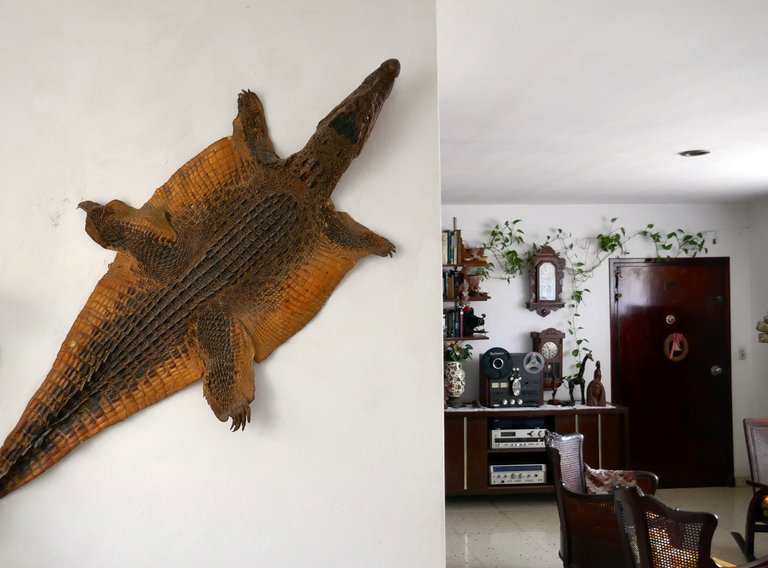 https://images.ecency.com/p/PB8ro82ZpZP35bVGjGoE93K3E4U5KX8KtMBJ2rgVFNfTekwv9Meniy8aiUcWRhyN1GoNkfgz7i2QSTQav5mLvXao1hqXtJohC2dKu6SXa8dd8jwk.webp?format=webp&mode=fit
Fotos y Texto Original por/Photos and Original Text by Andrés Brunet
Camera Sony DSC-HX20V and Panasonic Lumix DMC-ZS100
Thank you for reading / Gracias por leer
Welcome your comments / Bienvenidos sus comentarios
Infinite greetings! / ¡Saludos in finitos!
---
---