Los Tesoros de Playa Rotilla ||The Treasures of Rotilla Beach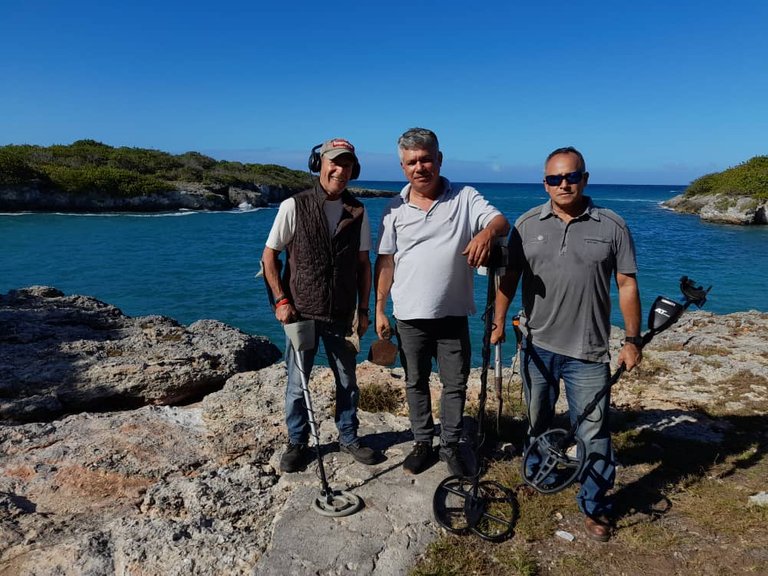 Hola familia de #Hive y de #HiveCuba. Ayer domingo fue un día bien interesante, porque fuimos a una hermosa playa, a realizar nuestra primera prospección del presente año. "Playa Rotilla" es su nombre, y es un pequeño lugar que se encuentra antes de llegar al Peñón de Jibacoa, partiendo desde La Habana.
Fue un día soleado, pero con viento, y al al llegar al sitio, encontramos a pescadores que portaban sus varas, y que habían capturado varias especies de pescados diminutos que habitan en los arrecifes coralinos. El mar no estaba en calma total, y sus olas de poca intensidad, con ese azul y la transparencia de nuestras aguas, más la verde vegetación circundante, le daban al entorno, una apariencia bien hermosa y relajante a nuestra visión.
Hello #Hive and #HiveCuba family. Yesterday, Sunday was a very interesting day, because we went to a beautiful beach, to make our first survey of this year. "Rotilla Beach" is its name, and it is a small place that is located before reaching the Crag of Jibacoa, leaving from La Habana.
It was a sunny but windy day, and when we arrived at the site, we found fishermen carrying their rods, who had caught several species of tiny fish that inhabit the coral reefs. The sea was not completely calm, and its waves of low intensity, with that blue and the transparency of our waters, plus the surrounding green vegetation, gave the environment a beautiful and relaxing appearance to our vision.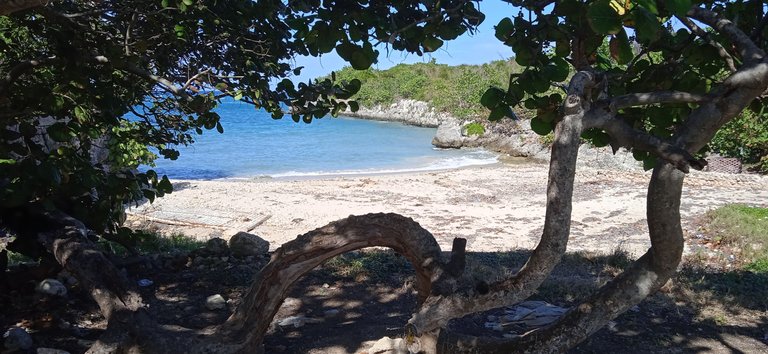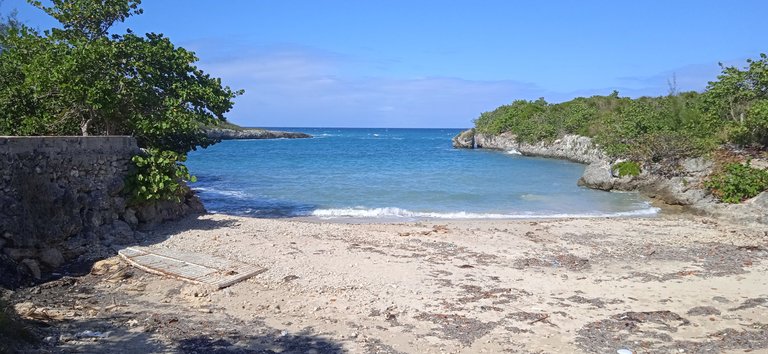 No habían bañistas, y teníamos total libertad para disfrutar de nuestro hobby: la Detección de Metales.
Usamos tres tipos de detectores de baja frecuencia: Un Bounty Hunter, modelo Discovery 3300, que se usaría en la arena seca; un Garrett AT-Pro, para el área de la rompiente del mar; un Detech, modelo Relic Striker, para prospectar en la tierra circundante; y dos Pro-pointer AT, de la famosa marca americana Garrett.
Aunque el Garrett AT Pro tiene una impermeabilidad hasta tres metros de profundidad, no lo uso como un detector subacuático profesional, para ello usamos el Excalibur 1000 de Minelab, que soporta presiones de hasta 5 atmósferas absolutas o 60 metros de profundidad. Sólo la bobina de este Garrett, sí la podemos sumergir, pero tratamos de que la parte electrónica se mantenga fuera del agua, a pesar de que el manual de usuario, refiere que se puede introducir en ese medio.
El detector Bounty Hunter es liviano, y muy práctico para la detección superficial, y en las manos de mi amigo Juan, es como un perro sabueso, buscador de cualquier metal dentro de la tierra.
Neyder, mi otro colega, llevó en sus manos el equipo búlgaro Detech Relic Striker, que sólo se podía usar en la parte de la arena seca y en el sustrato de la periferia. Es un detector con controles analógicos, no tiene display de marcación de datos numéricos digitales y porta una bobina grande, tipo mariposa, de 45 centímetros de tamaño.
There were no bathers, and we were free to enjoy our hobby: Metal detecting.
We used three types of low frequency detectors: a Bounty Hunter, Discovery 3300 model, to be used in the dry sand; a Garrett AT-Pro, for the sea break area; a Detech, Relic Striker model, to prospect in the surrounding land; and two Pro-pointer AT, from the famous American brand Garrett.
Although the Garrett AT Pro is waterproof up to three meters depth, I do not use it as a professional underwater detector, for that we use the Excalibur 1000 from Minelab, which withstands pressures up to 5 atmospheres absolute or 60 meters depth. Only the coil of this Garrett can be submerged, but we try to keep the electronics out of the water, even though the user's manual states that it can be submerged.
The Bounty Hunter detector is light and very practical for surface detection, and in the hands of my friend Juan, it is like a hound dog, searching for any metal in the ground.
Neyder, my other colleague, took in his hands the Bulgarian Detech Relic Striker equipment, which could only be used in the dry sand part and in the peripheral substrate. It is a detector with analog controls, it has no digital numerical data dial display and carries a large, butterfly-type coil, 45 centimeters in size.
¿Qué tesoros encontramos?
Como suele ocurrir casi siempre en esta actividad: mucha basura metálica, latas de aluminio, tapas de botellas, monedas cubanas de diferente denominación, y hasta la parte trasera de un cartucho de una escopeta de caza de perdigones. De esta manera, damos nuestro aporte para descontaminar nuestros suelos y mejorar el medio ambiente de desechos.
No tomamos fotos de las cosas encontradas ayer, pero como me gusta expresar, el mayor tesoro, es compartir entre buenas amistades y apasionados a la actividad del detectorismo, donde prevalezca la sinceridad, el respeto, la lealtad y la buena vibración, para que podamos disfrutar el contacto con el medio natural, inmersos en la magia del instante, y que podamos extraer, parte de la historia a través de los objetos encontrados.
Una vez finalizada la prospección, refrescamos nuestros cuerpos, con unas cervezas frías cubanas marca Cristal Extra, unas aceitunas verdes para picar; mientras en nuestras mentes soñadoras, planificábamos nuestro futuro encuentro, a la mejor narración de una película de Indiana Jones.
What treasures did we find?
As is almost always the case in this activity: a lot of metallic garbage, aluminum cans, bottle caps, Cuban coins of different denominations, and even the back of a shotgun cartridge. In this way, we make our contribution to decontaminate our soils and improve the waste environment.
We did not take pictures of the things we found yesterday, but as I like to say, the greatest treasure is to share among good friends and people passionate about the activity of detectorism, where sincerity, respect, loyalty and good vibes prevail, so that we can enjoy the contact with the natural environment, immersed in the magic of the moment, and that we can extract part of the history through the objects found.
Once the prospecting was over, we refreshed our bodies with a few cold Cuban beers Cristal Extra brand, some green olives to nibble; while in our dreamy minds, we planned our future meeting, to the best narration of an Indiana Jones movie.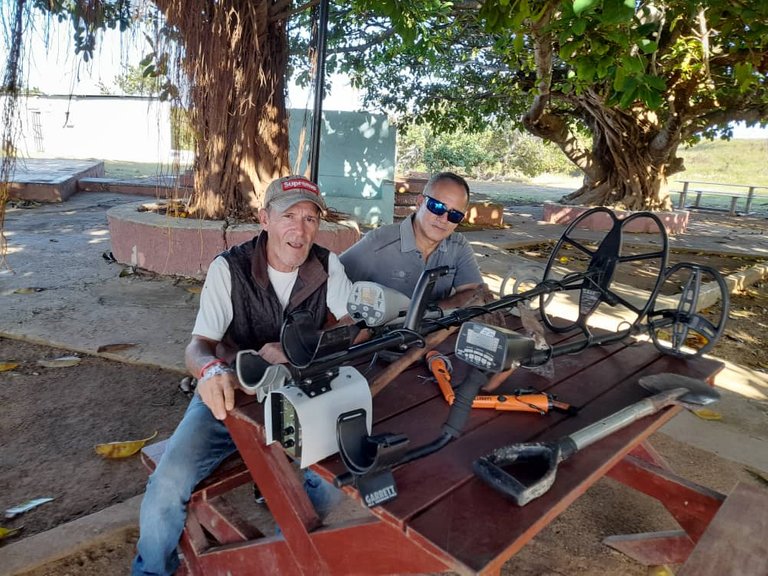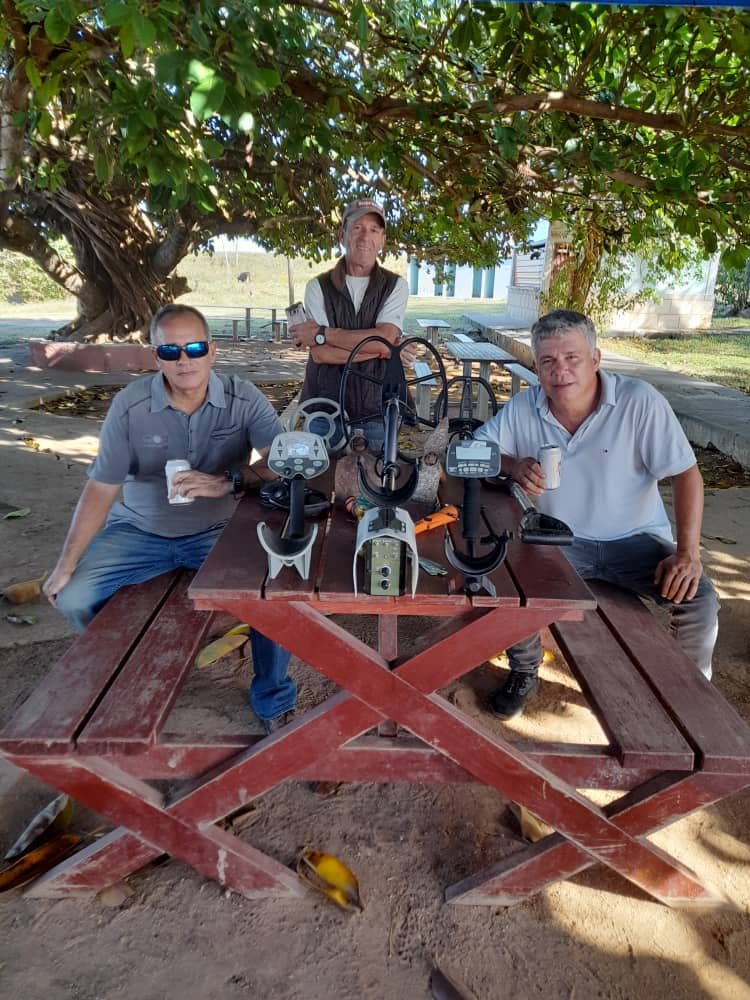 https://images.ecency.com/p/PB8ro82ZpZP35bVGjGoE93K3E4U5KX8KtMBJ2rgVFNfTekwv9Meniy8aiUcWRhyN1GoNkfgz7i2QSTQav5mLvXao1hqXtJohC2dKu6SXa8dd8jwk.webp?format=webp&mode=fit
Fotos tomadas con mi celular Xiaomi Redmi 9A/Pictures taken with my Xiaomi Redmi 9A cell phone
Texto ampliado de referencia en mi perfil de Facebook/Enlarged reference text on my Facebook profile
Thank you for reading / Gracias por leer
Welcome your comments / Bienvenidos sus comentarios
**Infinite greetings! ** / ¡Saludos in finitos!
---
---