League of Kingdoms: 1 week into the game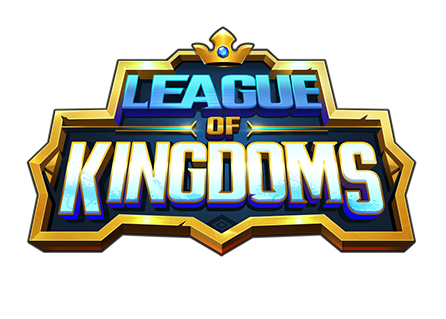 Ever since I came to know about Play2Earn games, I've been on the lookout for more opportunities to get into them. My journey started with Splinterlands, then I tried out games like dCity, PlantvsUndead and more, so far I've only found Splinterlands to be fun for me, but thats just my personal preference.
However while scrolling through the Hive Gaming posts last week, i chanced upon this particular post by @chel-koby which introduced me to League of Kingdoms. I wont introduce the game much, since it was already been introduced before by chel-koby. Their post is really informative and i highly recommend anyone looking to join this game to check out their post😁. Instead, i'll be focusing on my experience in game for this week or so.
I joined Continent 17, which was the latest continent available then, now its Continent 18. (Continents are sort of like servers, you cant really interact with players on another continent until Continent VS Continent battles. You can however migrate to other continents, though there are conditions to do so.)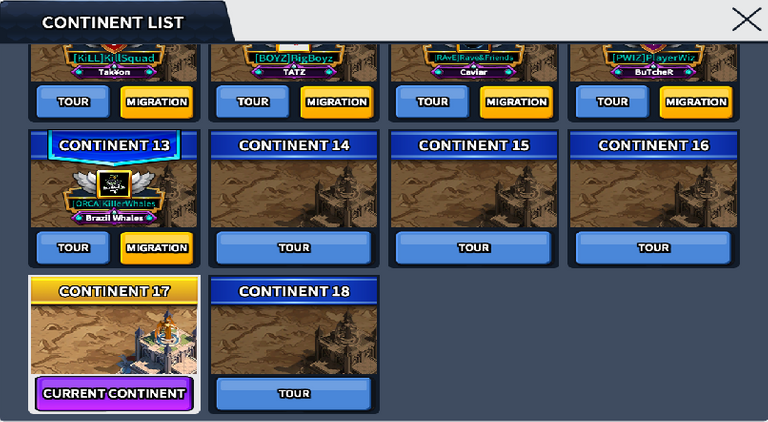 The game gives you alot of resources and speedups through the events and quests, so I made full use of them to level up my Castle to level 16. The only reason i did so was in order to get Tier 3 Troops.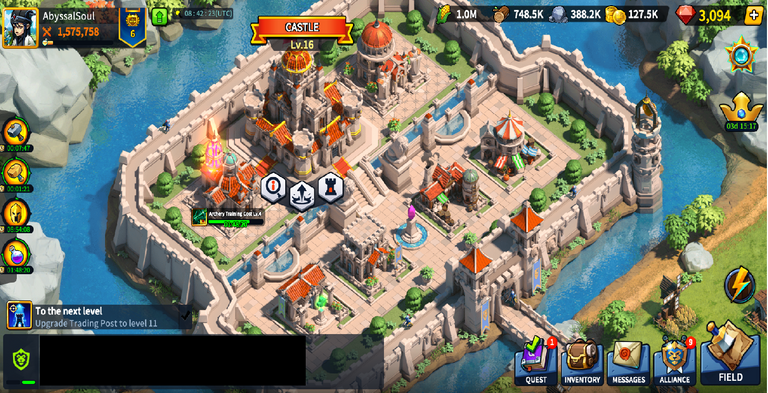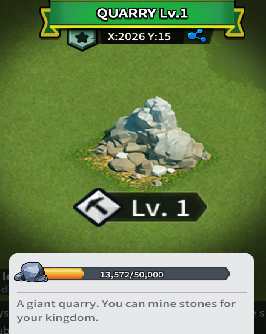 Your army is important as you can not only use it to attack others, but also to gather resources as well. There are resource nodes scattered around the world map, and you can send your troops there to collect them. Higher tier troops can carry more resources per troop, and so you can collect more resources per trip and not need to send your troops out as often. I spent my first 7 days upgrading buildings, training my troops, and sending them out to resource nodes.
After i got a sizeable amount of troops, my 7 day peace shield (enemies are unable to attack you, everyone gets this in their first 7 days) ran out, i started to attack a rival alliance that had stationed next to us. I managed to pillage a sizeable amount of resources from them. Some of my troops died in battle, however i gained more than enough resources to train them again.
I must have been getting to carried away with attacking people, because the next thing i know his allies had sent reinforcements to him and a large chunk of my troops died in that one battle. You win some, you lose some i guess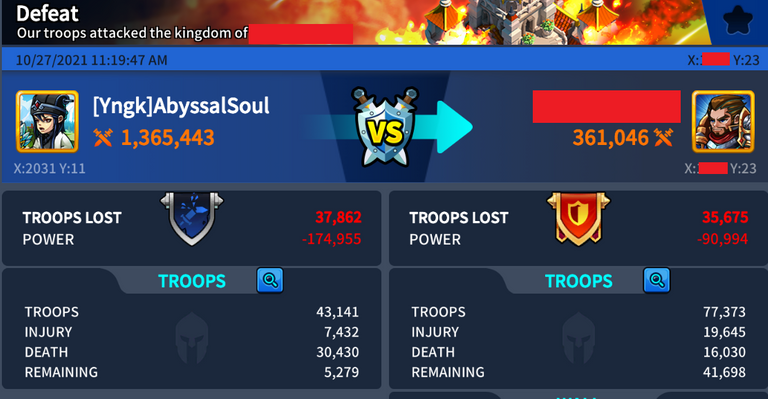 In retrospect the better move would probably be to just farm resource nodes and upgrade my castles, however I really enjoy the PVP aspects of these games, so much that i dont mind taking an L just for the thrill xD
I'm also starting to doubt if it was the correct move to spend all my resources on getting Tier 3 troops, since each tier 3 troop takes thrice the resources and time to train compared to tier 1, but the stats aren't triple, only the troop load is. ( Don't learn from me, and do things step by step lol)
For now, I'm back to just training my troops back up, and looting resource nodes. I'm focusing more on events now, which give you rewards ranging from resouces and speed ups, to gems. There is this new 5 stage event which also gives rewards based on your leaderboard ranking so im definitely gonna try achieving that.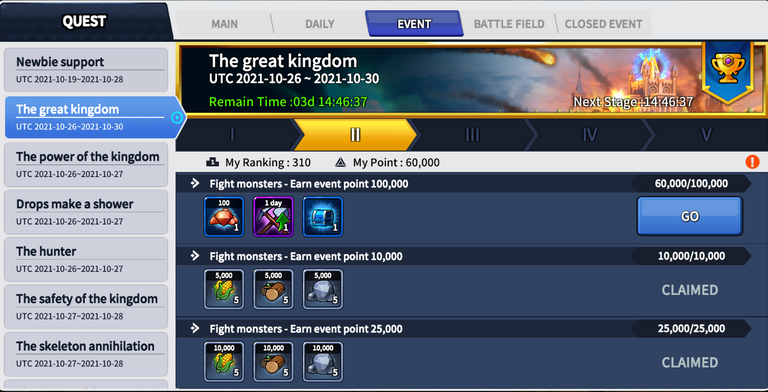 So far, my profits are still 0 in this game, sure i can mint my resources and sell them on Opensea, but i think its better for me to use these resources on myself first.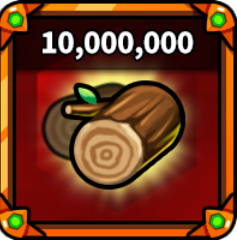 Currently 10mil of resources on the Polygon playdapp marketplace costs around 1 MATIC, so its pretty hard to make a profit now, but I believe once i get to the end game (around castle level 30, which is max), it is possible to gather enough resources a day to make a profit. In fact, profit isn't whats most important to me now, I'm playing this because I genuinely enjoy this game and hope to see it grow even more.
---
As I'm typing this theres a Discord Invite Event on the League of Kingdoms discord, if you're interested in the game and don't mind helping me out with this event feel free to join the League of Kingdoms discord using my link :D
if not you can visit the League of Kingdoms website and use the discord link there
Thanks for reading!
---
---