📷#BeautifulSunday Prompt Engineering: Testing Updates from Bard | 提示工程:味测试 Bard 新功能😎(by @ace108)
There were new updates to Bard in May over that past weeks. So, I decided to test out of the things I haven't tried on Sunday. If you want to see what are the updates, you can go to
https://bard.google.com/updates
.
在过去的几周里,Bard在 5 月份有了新的更新。 所以在星期天,我决定测试我没有尝试过的东西。 如果你想看看有什么更新,你可以去https://bard.google.com/updates。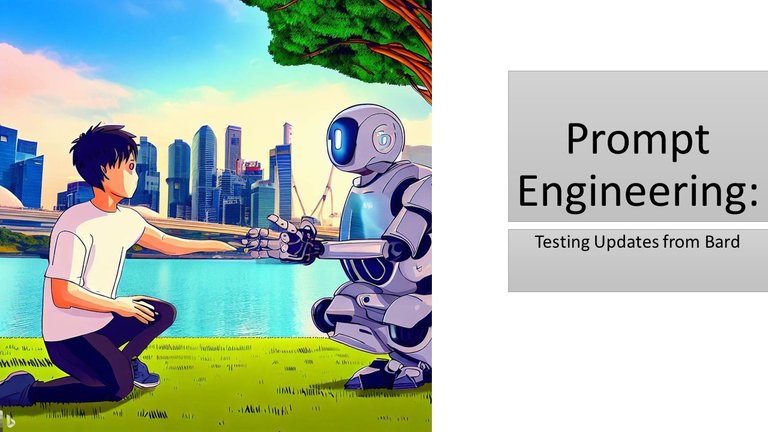 🎶Meanwhile, some music for you to enjoy as you read. This piece is part of Vivaldi's The Four Seasons, particularly the first of the 4 violin concertos, called Spring.

🎶让大家继续读的时候,欣赏一点音乐。这件作品是维瓦尔第的"四季"的一部分 - 4小提琴协奏曲中的第一首,名为"春天"。

Source | 来源: https://musopen.org/

https://soundcloud.com/alan-chang-563971986/four-concerti-grossi-4-vivaldi-op8-i-la-primavera-allegro-largo-allegro
Source | 来源:
https://musopen.org/music/2213/antonio-vivaldi/the-four-seasons/
---
First, I tried the image search capability. Remember, this is image search and not image generation. So, there must be an image to search. I gave it 3 mission. I think it got 2 of 3 I wanted.
首先,我尝试了图像搜索功能。 记住,这是图像搜索而不是图像创造。 所以,必须有一个图像来搜索。 我给了它3个任务。 我认为它只达到我想要的 3 个中的 2 个。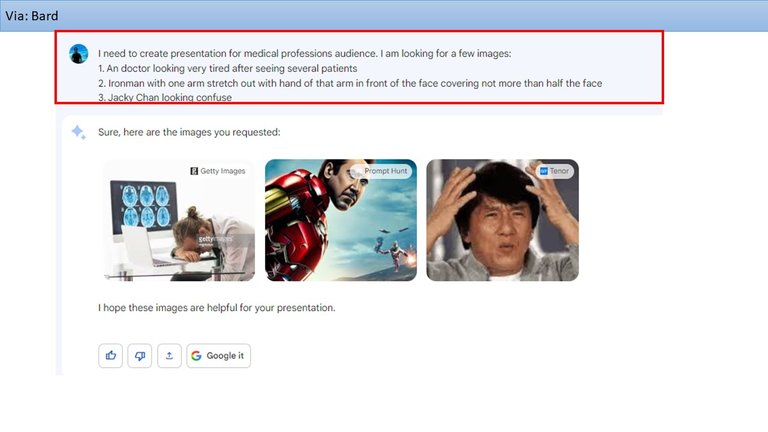 I change the prompt to give a second try but it got me 1 of 3 only this time round. So, better off to Google search if you need an image search. Bard, you need do do better than this.
我更改了提示以进行第二次尝试,但这次只得到了 3 次中的 1 次。 因此,如果您需要图像搜索,最好是上网搜索吧。 Bard,你得加油哦。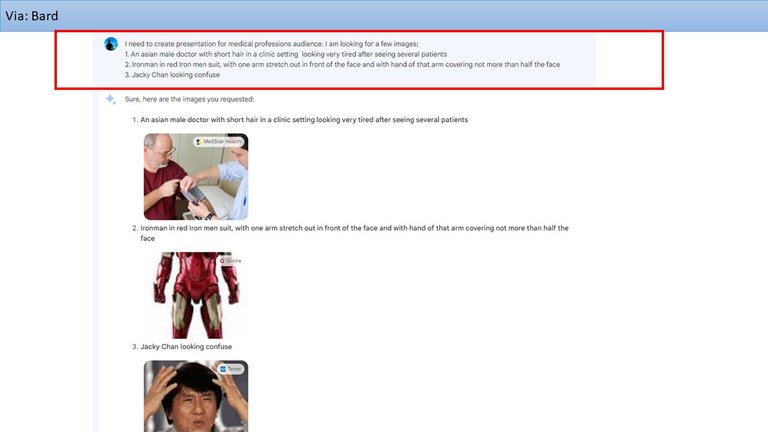 Next, I wanted to confirm if Bard can summarised article by just giving it a link rather than have to copy the text. The reply was positive.
接下来,想确认 Bard 是否可以通过给它一个链接而不是必须拷贝文本来总结文章。 答复是肯定的。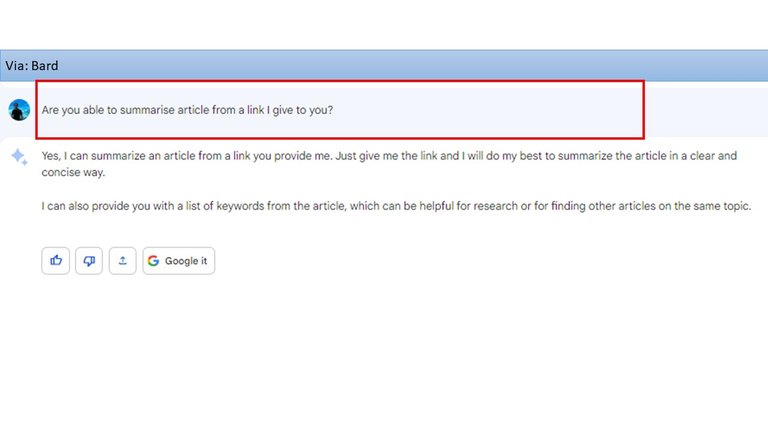 So, I asked it to summarised an article on a commentary on the coming presidential election in Singapore. Whoa, there is too much hallucination in this one. Even the title and author are off and the other drafts were not much better. I had to tagged the response as "Not factually correct". Sorry, Bard.
所以,我请它总结一篇评论新加坡即将举行的总统选举的文章。哇,这里面的想象力也太丰富了吧。甚至标题和作者都不对,其他草稿也好不到哪儿去。 我不得不将回复标为"事实不正确"。 对不起了,Bard。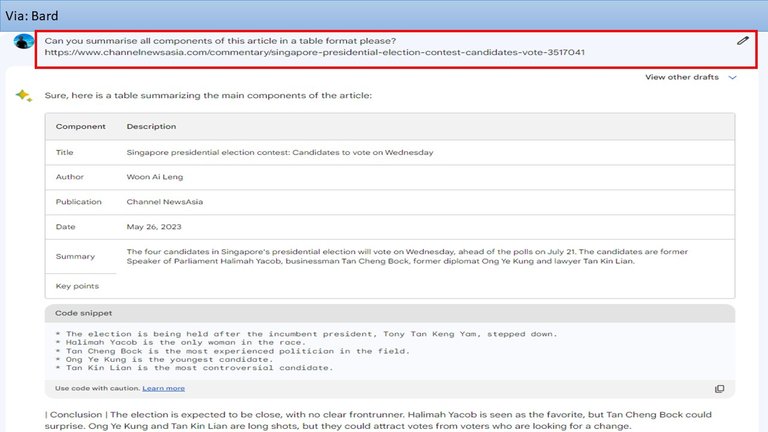 The dark mode enabling is at the bottom left and I tried it with the next summarisation test for an article about something that a Stanford University student created. That sounds like can help you participate in more engaging communication. I can see it this thing being useful in the service industry.
暗模式启用位于左下角,我在下一个测试中尝试了它。来一篇关于斯坦福大学学生的创建的内容的文章。 这听起来可以帮助您参与更具吸引力的社交交流。 我可以看到这东西在服务行业很有用。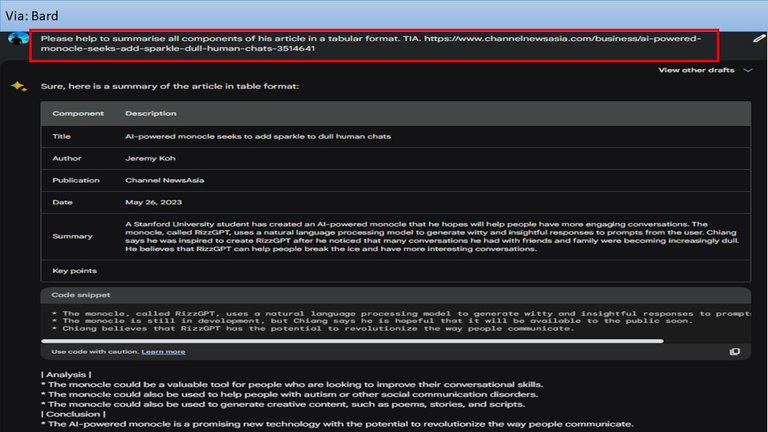 As, Jean Luc Picard said, "Engage".
Image source:
https://quotesgram.com/img/captain-picard-engage-quotes/10475306/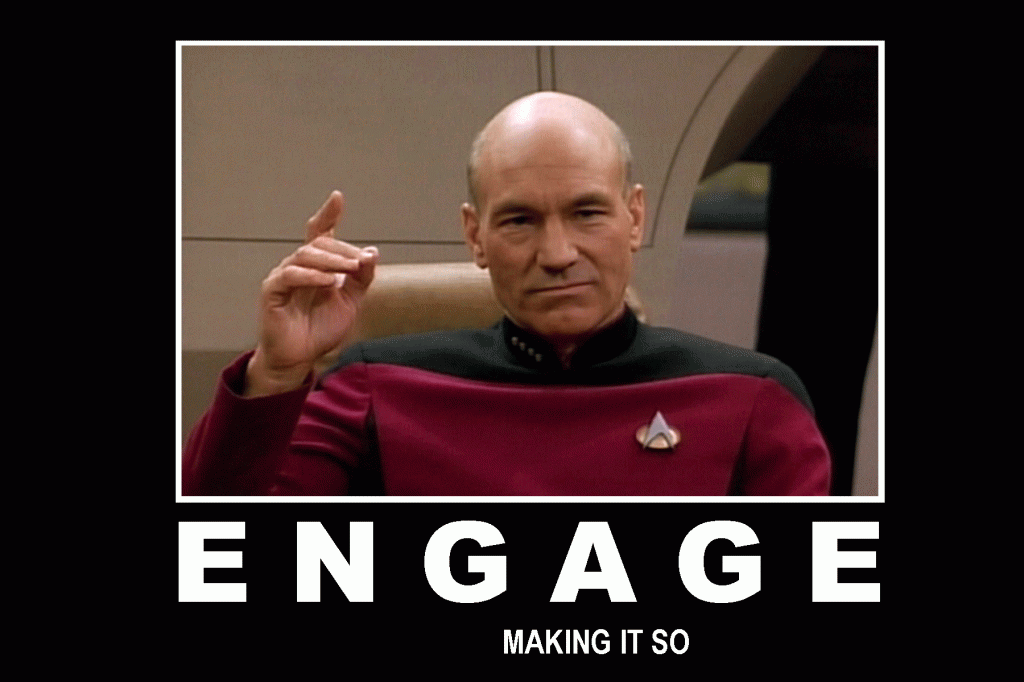 As for the Bard sumarrisation capability, I think still have to be care and fact check it because I don't consider getting one out of two OK a good enough capability for me.
至于 Bard 汇总功能,我认为仍然需要注意并进行事实检查,因为我不认为一半的成功率是足够好的能力。
Reference links:
1.
https://www.channelnewsasia.com/commentary/singapore-presidential-election-contest-candidates-vote-3517041
2.
https://www.channelnewsasia.com/business/ai-powered-monocle-seeks-add-sparkle-dull-human-chats-3514641

Please see my other posts:
@ace108
请看我其他帖: @ace108
---
---
---