Unraveling Procrastination: The Power of #Threads
Procrastination can be a persistent and frustrating obstacle to productivity. It's all too easy to get caught up in distractions and put off important tasks until the last minute. That, in case you really have important tasks waiting to be fulfilled on a daily basis.
I bet there's not even one person in the world who doesn't procrastinate, at least once in a while. I sure know that I do it all the time, especially when it comes to getting ready for cleaning or going to someplace I don't really like. There are dozens of ways one can procrastinate.
Social media, Netflix, games, porn, the damn TV or simply daydreaming. All can help with stealing a bit of your precious time while postponing important tasks that you could do right away, but you are not... Can procrastination be productive, though?
For sure... Almost everything that "looks and tastes bad" can become productive. But what about threads by @leofinance? Well, threads at the moment is a noteworthy candidate in this regard. But how can the "excessive use" of threads be productive?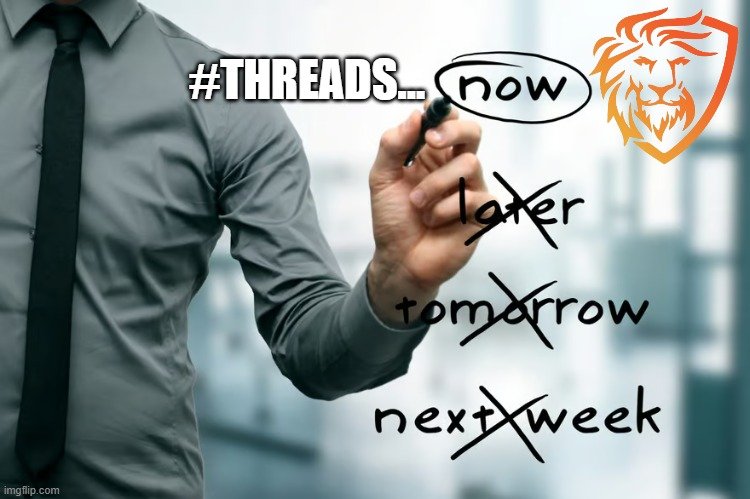 Well...
For a Hive blogger for example, who might once in a while hit that writer's block, spending time microblogging on Hive can indeed help overcome the such block, cuz interacting with alike people(I want to believe we are alike around here) can be highly lucrative in finding the next topic to blog about.
Do I have to confess that the inspiration to write this post hit me while threading? Nope, but I'm gonna do it anyway.
Threads is becoming "noisy and crowded" and as you might have probably noticed already, much of your success as a content creator, especially on Hive, is tied to your ability to connect. So yes, threading instead of procrastinating some other way can be productive from the networking standpoint of such activity.
You would be a jackass not to share your long-form content on the microblogging community, that Leofinance made possible not only for us Hivers, but for whoever is into promoting himself/herself as a blogger/artist, or whatever. I do it all the time and I have to say that some of my readers have actually found out about my posts from threads.
Procrastination doesn't always have to be passive, thus while engaging with the community thru the Leofinance branded microblogging app you might have a chance to learn a thing or two. Especially if you are into crypto like myself. There are quite a few good crypto shillers out there, like @inalittlewhile for example, who might point you to the next 100x altcoin, for free ;).
Micro earnings are something you should definitely not overlook. @taskmaster4450 has already pointed out clearly in some of his recent posts that ignoring the micro-earning potential of threads will come at a cost at some point...
Imagine earning something like 10 LEO a day by simply sharing photos on threads, or ideas, or your blog posts, or whatever(engaging with other threads being highly productive in this regard), and imagine that at some point 1 LEO will once again be worth $1... Why would you waste such an opportunity by procrastinating "the mainstream way" when you can do that by threadin'.
Personally, I'm not the most active user on threads, but I plan on becoming one, and probably that's why I even wrote this post in the first place. I sometimes do that; write posts for myself, not necessarily for my audience... However, I have a history of being a Leofinance fanatic and history tends to repeat itself.
So...
Try threads, or have fun staying poor(ignore it)! At some point, @khaleelkazi will give away that Mcdonald's hat he's wearing(just because he unconsciously still believes crypto is in a bear market) on his profile pic from Twitter, and trust me you don't want to get the hat... Get his LEO instead... The man likes to curate on #threads.
Thanks for your attention,
Adrian
Posted Using LeoFinance Beta
---
---