Why is hive different?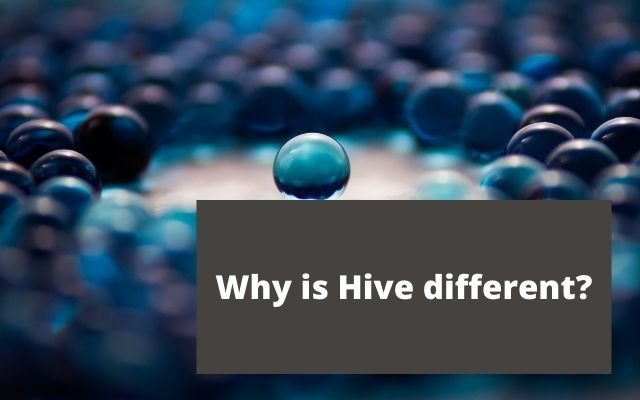 There are plenty of blockchains out there and many of them have their own specialities and use cases. Most of them are actually pretty specialised in one or several fields. What sets hive a part is that it doesn't specialise in one field but offers almost everything imaginable that can be done on a blockchain.
I try to rate the different aspects of hive in respect to other blockchains. These ratings are purely subjective and I would be glad to hear if you would rate things differently.
NFT's – 6 out of 10
It's not that easy and cheap to create NFT's on Hive. However we have some possibilities to do it on the second layer with Nftshowroom or through the smart contract on tribaldex. I think that for the moment, it's still easier and cheaper to create NFT's on WAX or BSC.
Defi – 7 out of 10
We have several aspects that could be considered as decentralised finance. We have dlease where you can actually delegate your hive power for a daily return. But then we also have rewards for staking Hive that is around 2.87% APR and also interests on HBD on savings accounts with around 10% APR.
Recently we saw the diesel pools emerge on Hive-engine. They are still in development and they are working on the basis of another business model than most other concepts. Since there are no fees, the reward pools have to be financed differently. But if you take for example the new concept of BXT that distributes tokens to liquidity providers and then rewards the stakers of BXT with the earnings from the swaping fees on Beeswap. We see what is possible and how new projects could develop.
In my opinion, defi on hive has a big advantage. Because it's feeless, it's available also to small holders.
Blockchain gaming – 10 out of 10
When I see how Splinterlands is developing and when I compare it to games on other blockchains, I believe that there is hardly a blockchain that is more adapted for blockchain gaming.
Smart contracts – 5 out of 10
It's not really well known, but there are some smart contracts that are available on the second layer. The great thing is that these smart contracts are from the shelf and don't need any coding. We have the market maker smart contract that allows you to trade automatically on hive-engine. There are also a series of available smart contracts on tribaldex that allow the creation of NFT's, of DAO's, pack manager, SMT, Distribution, Airdrop, Claimdrop and Mining. All taking place on the second layer.
At the moment it seems not possible to publish smart contracts yourself and in this respect hive is probably still a bit behind other blockchains.
Community – 10 out of 10
When I look at what other places call communities, I think that nothing compares to hive. When I go through the post feeds, I actually know every third person probably from already having interacted with them in a way or another. We know each other more than just by our avatar. We know about our lives, our assets, our projects and we help each other to grow. This is probably the aspect about hive that I love most: hive is a win-win blockchain. If my friends win, I will win in the long term as well. If they grow their stake, they will give more powerful upvotes. So it's in my personal interest to help people grow around me.
Exchange – 8 out of 10
A lot of people on hive don't realise actually the amazing possibilities for trading on hive. On tribaldex we can swap or trade many coins and among them BTC, LTC, WAX, ETH, DOGE, BNB, USDT, EOS, AXS. All these tokens come in the form of Swap tokens and you can actually withdraw these tokens directly to the respective blockchain for a simple 1% fee! In addition to that swaping and trading is completely free on Tribaldex!
E-commerce – 10 out of 10
Hive is the perfect solution for E-commerce. It's feeless and quick with 3 seconds transaction times. There is a pretty great service with Hivepay that allows you to integrate hive into almost any type of online shop! You can create a token and then use it as e-commerce solution. Where else is this available?
Social media – 9 out of 10
If you have a project on hive, you can profit from the inbuilt social media to promote it. Content creation and curation was the core of the blockchain in the beginning. We can even publish our content as video format thanks to 3speak
The only thing that is lacking in my opinion is a short form service. Maybe we will have this quite soon already with project blank...
Innovation – 10 out of 10
The evaluation of blockchains is often made according to what development is being made. The great thing about hive is that even the development and innovation is decentralised. Things are being built on many different ends. Contrary to most other blockchains, there is not one entity that promotes what is being built and maybe it's why hive flies under the radar in this respect. So much is being built on hive and not only from a coding point of view. There are social projects, art projects, offline meetings, gaming projects, financial projects....
However what sets Hive most aside is that there is not one owner but that we are all owners of it. Whatever value one of us builds on it, all the others profit from it as well. The name for the blockchain is very well adapted. We are a big hive of active people who contribute to make this hive grow and the bigger it is, the more place we all have within it...
How would you rate these different aspects?
---
Let's connect ! You can find me on these platforms:
---
---