2014-2021: Lo que nos trajo la Era Híbrida — What the Hybrid Era brought us [ESP-ENG] #F1
En la temporada 2022 de la Fórmula 1 tendremos nuevos autos, nuevos diseños, y en los últimos días han corrido rumores acerca del posible regreso del polémico Flavio Briatore a la máxima categoría con el equipo Alpine, y hemos presenciado el silencio de Lewis Hamilton. Al mismo tiempo, recordamos que 2021 fue también el final de una era, que marcó un antes y un después en la máxima categoría.
Recientemente, la Fórmula 1 publicó un video desde su cuenta oficial en la red social YouTube, el cual hacía una remembranza de lo que fue la era híbrida, la cual empezó en el año 2014. Los motores V8 fueron sustituidos por motores V6 (6 cilindros) además de que se introdujeron nuevos sistemas de recuperación de energía y el turbo, que no es más que la compresión de aire para ayudar al trabajo de los cilindros.
*In the 2022 Formula 1 season we will have new cars, new designs, and in recent days there have been rumors about the possible return of the controversial Flavio Briatore to the top category with the Alpine team, and we have witnessed the silence of Lewis Hamilton. At the same time, we remember that 2021 was also the end of an era, which marked a before and after in the top category.

Recently, Formula 1 published a video from its official account on the social network YouTube, which made a remembrance of what was the hybrid era, which began in 2014. The V8 engines were replaced by V6 engines (6 cylinders) and new energy recovery systems were introduced, as well as the turbo, which is nothing more than air compression to help the work of the cylinders.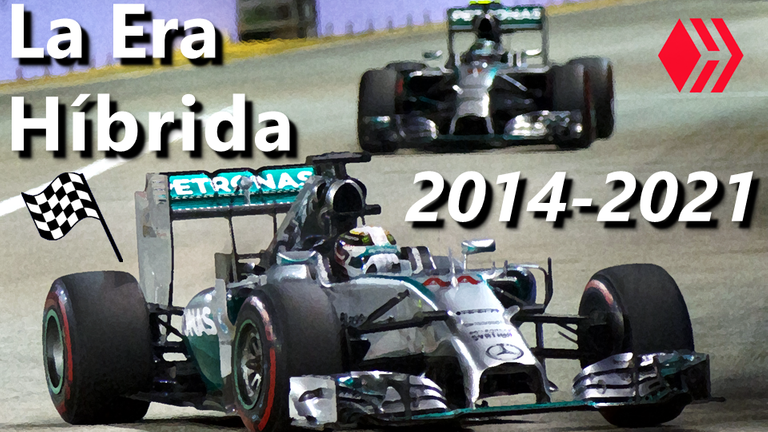 Imagen editada en PowerPoint - Pixabay - Morio, CC BY-SA 4.0, via Wikimedia Commons
Aún recuerdo la primera carrera de la temporada 2014. Muchos comentarios negativos surgieron a raíz del sonido que emitían los nuevos motores, los cuales eran mucho más roncos y menos ruidosos que los de años anteriores, a los cuales todo fanático de Fórmula 1 estaba acostumbrado. Y es que prácticamente las personas en las tribunas cercanas a la pista ya no tenían que colocarse tapones en los oídos para presenciar las carreras.
I still remember the first race of the 2014 season. Many negative comments arose due to the sound emitted by the new engines, which were much louder and less noisy than those of previous years, to which every Formula 1 fan was accustomed. In fact, people in the grandstands near the track practically no longer had to wear earplugs to watch the races.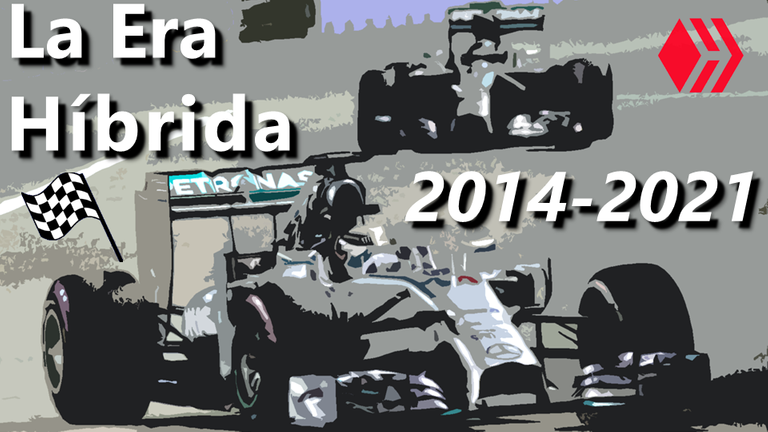 Imagen editada en PowerPoint - Pixabay - Morio, CC BY-SA 4.0, via Wikimedia Commons
La Fórmula 1 parecía perder parte de su esencia: el sonido estremecedor de sus coches. Y es que transcurridas pocas carreras ya empezábamos a notar que había una disparidad nada pequeña entre un equipo y el resto. Mercedes supo construir un motor poderoso, a diferencia de Ferrari y Renault, que no hallaban cómo responder. Cuando Red Bull dominaba la Fórmula 1, al menos se presentaron rivales que estuvieron muy cerca de arrebatarles el título. Pero en la era híbrida, por 7 años, Mercedes no tuvo rival alguno, a excepción de la temporada 2021.
Formula 1 seemed to lose part of its essence: the amazing sound of its cars. After a few races we were already beginning to notice that there was no small disparity between one team and the rest. Mercedes knew how to build a powerful engine, unlike Ferrari and Renault, which could not find a way to respond. When Red Bull dominated Formula 1, at least there were rivals who came very close to snatching the title from them. But in the hybrid era, for 7 years, Mercedes had no rival, except for the 2021 season.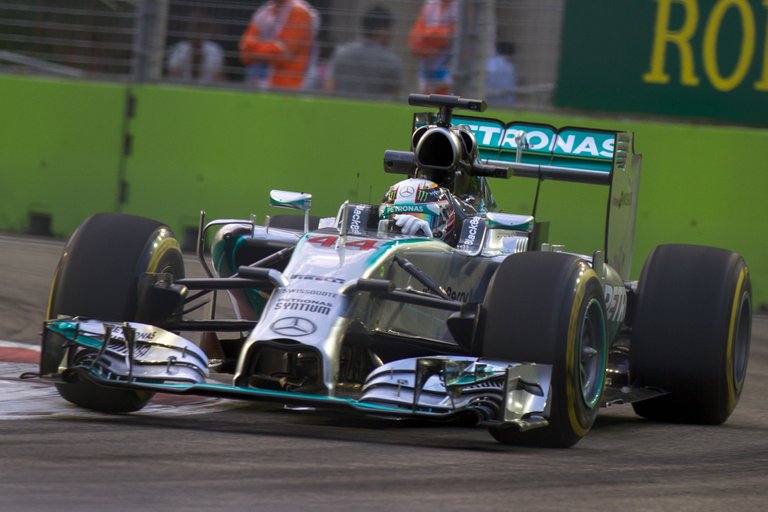 Morio, CC BY-SA 4.0, via Wikimedia Commons
Jake Archibald, CC BY 2.0, via Wikimedia Commons
Recuerdo que a principios de 2014 miraba con entusiasmo a una escudería Williams que había construido un coche muy veloz. Felipe Massa, piloto brasilero que había tenido muy poca suerte con Ferrari en años anteriores, podía de nuevo sentirse competente y capaz de pelear por podios, como lo había hecho en épocas anteriores. El piloto australiano Daniel Ricciardo, debutando en Red Bull, nos sorprendía con un podio en su carrera de casa, el cual fue anulado luego por irregularidades que los comisarios detectaron en su coche.
I remember that at the beginning of 2014 I was looking with enthusiasm at a Williams team that had built a very fast car. Felipe Massa, a Brazilian driver who had had very little luck with Ferrari in previous years, could once again feel competent and capable of fighting for podiums, as he had done in previous years. Australian driver Daniel Ricciardo, making his Red Bull debut, surprised us with a podium in his home race, which was later annulled due to irregularities detected by the stewards in his car.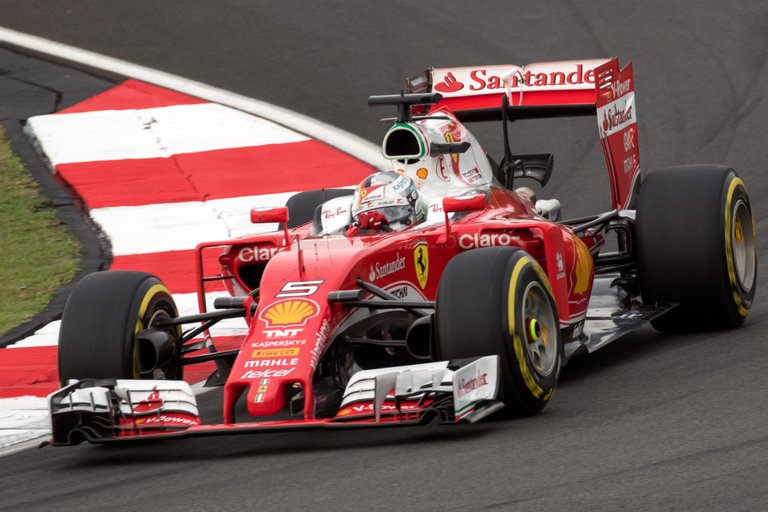 Morio, CC BY-SA 4.0, via Wikimedia Commons
Ya a mitad del año 2014 quedaba claro que el título estaría entre Nico Rosberg y Lewis Hamilton, pero eso no impidió que otros pilotos como Fernando Alonso en su Ferrari o Sergio Pérez en Force India nos sorprendieran con muy buenas actuaciones, haciendo lo que podían con sus autos de media tabla (para ese momento). Solo Red Bull pudo acercarse a Mercedes en algunas carreras, y en menor medida Williams. La ya pasada era híbrida empezaba a transformarse en una competencia para estar detrás de Mercedes, más que por una competencia por el campeonato.
Already in the middle of 2014 it was clear that the title would be between Nico Rosberg and Lewis Hamilton, but that did not prevent other drivers like Fernando Alonso in his Ferrari or Sergio Perez in Force India to surprise us with very good performances, doing what they could with their mid-table cars (at that time). Only Red Bull could get close to Mercedes in some races, and to a lesser extent Williams. The already past hybrid era was starting to turn into a competition to be behind Mercedes, rather than a competition for the championship.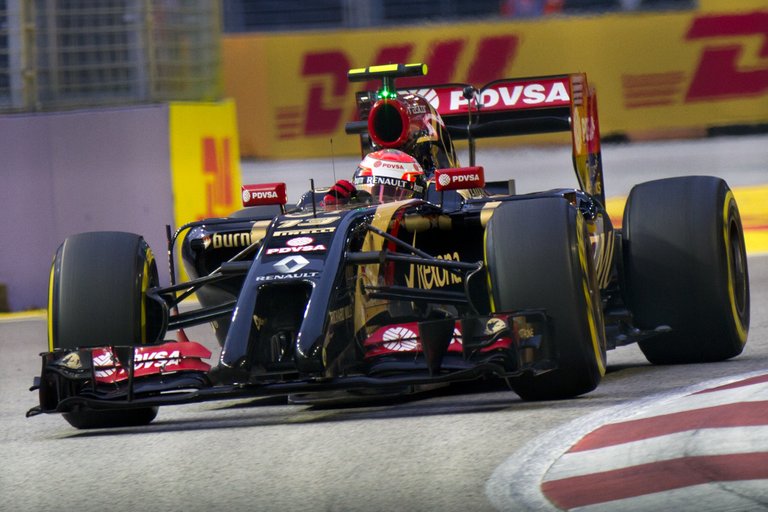 Morio, CC BY-SA 4.0, via Wikimedia Commons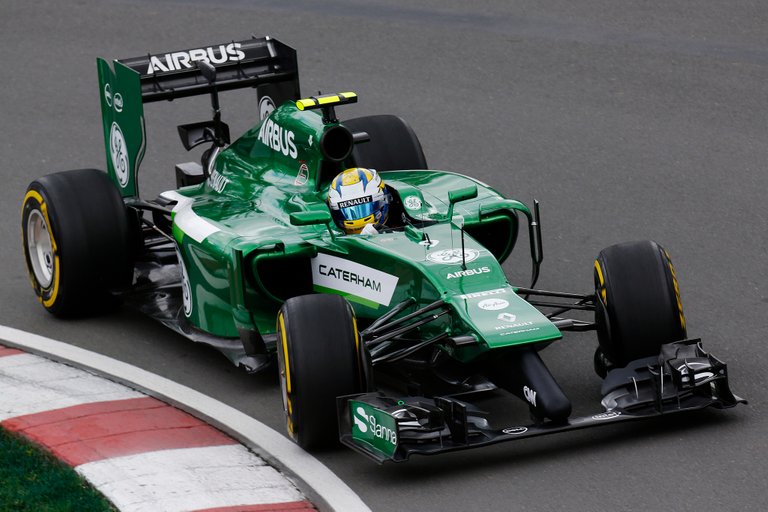 Caterham, CC BY 3.0, via Wikimedia Commons
Los autos presentados en 2014 eran poco estéticos visualmente, con algunas excepciones como el Mercedes o el mismo Red Bull. El panorama para 2022 parece traernos autos muy vistosos, al menos eso vimos con el auto prototipo presentado por la FIA. Pero esta estética poco atractiva de la era híbrida fue mejorando con los años, hasta el punto de que en 2017 hubo un cambio importante en la apariencia de los autos, el cual se mantuvo relativamente hasta 2021.
The cars presented in 2014 were visually unaesthetic, with some exceptions such as Mercedes or Red Bull itself. The outlook for 2022 seems to bring us very eye-catching cars, at least that's what we saw with the prototype car presented by the FIA. But this unattractive aesthetics of the hybrid era improved over the years, to the point that in 2017 there was a major change in the appearance of the cars, which was relatively maintained until 2021.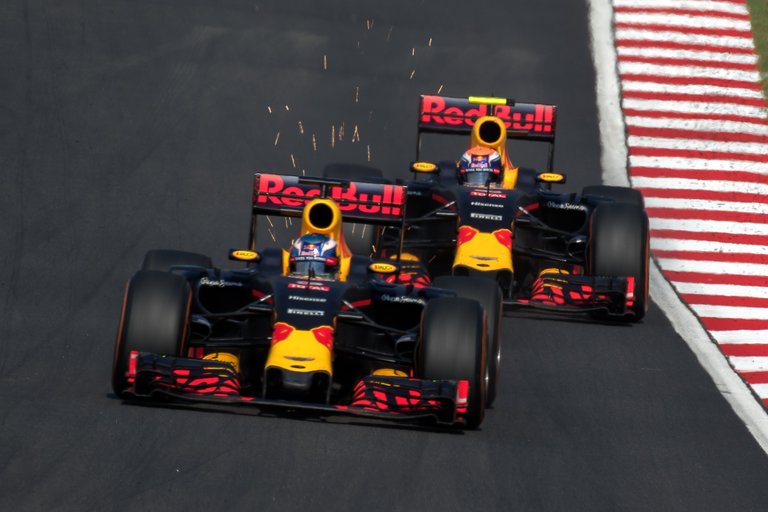 Morio, CC BY-SA 4.0, via Wikimedia Commons
Podría decirse que la era híbrida se divide en dos: de 2014 a 2016, y de 2017 a 2021. Personalmente, hallo más atractivos visualmente los autos de la segunda etapa, con alerones traseros más bajos y anchos y alerones delanteros más "elegantes". En esta primera etapa Red Bull y Williams, y en meno medida Ferrari, eran los que competían por estar detrás de Mercedes. Pero en la segunda etapa, Ferrari logró momentáneamente resurgir como equipo de punta, igualando momentáneamente a Mercedes, pero sin nunca concretar nada.
Arguably, the hybrid era is divided into two: from 2014 to 2016, and from 2017 to 2021. Personally, I find the cars of the second stage more visually appealing, with lower and wider rear wings and "elegant" front wings. In this first stage Red Bull and Williams, and to a lesser extent Ferrari, were the ones competing to be behind Mercedes. But in the second stage, Ferrari momentarily managed to re-emerge as a leading team, momentarily matching Mercedes, but without ever materializing anything.
Morio, CC BY-SA 4.0, via Wikimedia Commons
Ferrari tuvo 3 años en los que por alguna razón u otra, errores propios y malas decisiones como equipo, los llevaron a servirle el título a Mercedes en bandeja de plata. Y es que ni siquiera lograron llevar la lucha hasta las últimas 3 carreras. 2017 fue el año del choque entre Vettel y Raikkonen en Singapur, 2018 fue el año donde Vettel se despistó en Hockemheim, y 2019 fue el año donde Vettel fue incluso superado por su nuevo compañero de equipo, Leclerc. Para poder ganarle a Mercedes en la era híbrida, no puedes descuidar ni un centímetro, no puedes dejarles ningún espacio, y eso es algo que Red Bull manejó muy bien en 2021.
Ferrari had 3 years in which for some reason or another, their own mistakes and bad decisions as a team, led them to serve the title to Mercedes on a silver plate. And the fact is that they did not even manage to take the fight to the last 3 races. 2017 was the year of the collision between Vettel and Raikkonen in Singapore, 2018 was the year where Vettel lost his car in Hockemheim, and 2019 was the year where Vettel was even outperformed by his new teammate, Leclerc. In order to beat Mercedes in the hybrid era, you can't let an inch slip, you can't let them have any space, and that's something Red Bull handled very well in 2021.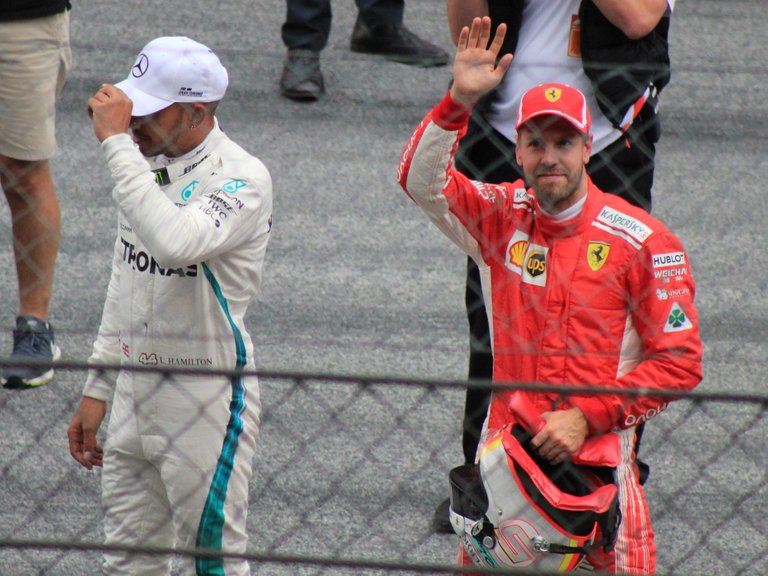 Lukas Raich, CC BY-SA 4.0, via Wikimedia Commons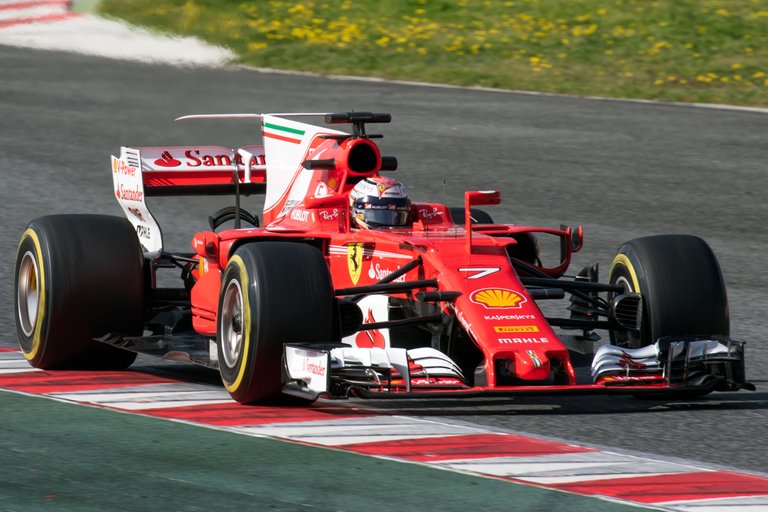 Morio, CC BY-SA 4.0, via Wikimedia Commons
---
---
La era híbrida también fue una época donde algunos pilotos latinos pudieron estar presente al mismo tiempo en pista: Pastor Maldonado, Sergio Pérez, Esteban Gutiérrez, Felipe Nasr y Felipe Massa, fueron los pilotos latinos de esta época. Venezuela, México y Brasil pudieron hacerse presente con estos pilotos, algunos con más éxito que otros. Indudablemente, Sergio Pérez, quien es el único aún activo, y además en el equipo Red Bull, el latino que mejor rendimiento tuvo en la era híbrida, con 2 victorias, mucha constancia y su apoyo a Max para ganar el campeonato.
The hybrid era was also a time when some Latin drivers were able to be present on track at the same time: Pastor Maldonado, Sergio Perez, Esteban Gutierrez, Felipe Nasr and Felipe Massa, were the Latin drivers of this era. Venezuela, Mexico and Brazil were able to be present with these drivers, some with more success than others. Undoubtedly, Sergio Perez, who is the only one still active, and also in the Red Bull team, the Latin driver who had the best performance in the hybrid era, with 2 victories, a lot of constancy and his support to Max to win the championship.
---
La era híbrida fue una época algo extraña, con muchos cambios de paradigma, cambios en reglamentaciones, introducción del Virtual Safety Car (VSC), ganadores espontáneos que fueron surgiendo en 2020 y 2021, algo que era casi inimaginable en años anteriores. También vimos el surgimiento de una estrella como lo es Max Verstappen, y el declive de otra como lo es Sebastian Vettel. Lewis Hamilton pasó de piloto Top a piloto leyenda, y un piloto se retira luego de haber logrado ser campeón del mundo (Rosberg). Vimos el regreso de Alonso, y la última carrera de Kimi Raikkonen.
The hybrid era was a somewhat strange time, with many paradigm shifts, changes in regulations, introduction of the Virtual Safety Car (VSC), spontaneous winners emerging in 2020 and 2021, something that was almost unimaginable in previous years. We also saw the emergence of a star such as Max Verstappen, and the decline of another such as Sebastian Vettel. Lewis Hamilton went from top driver to legend, and a driver retired after having become world champion (Rosberg). We saw the return of Alonso, and the last race of Kimi Raikkonen.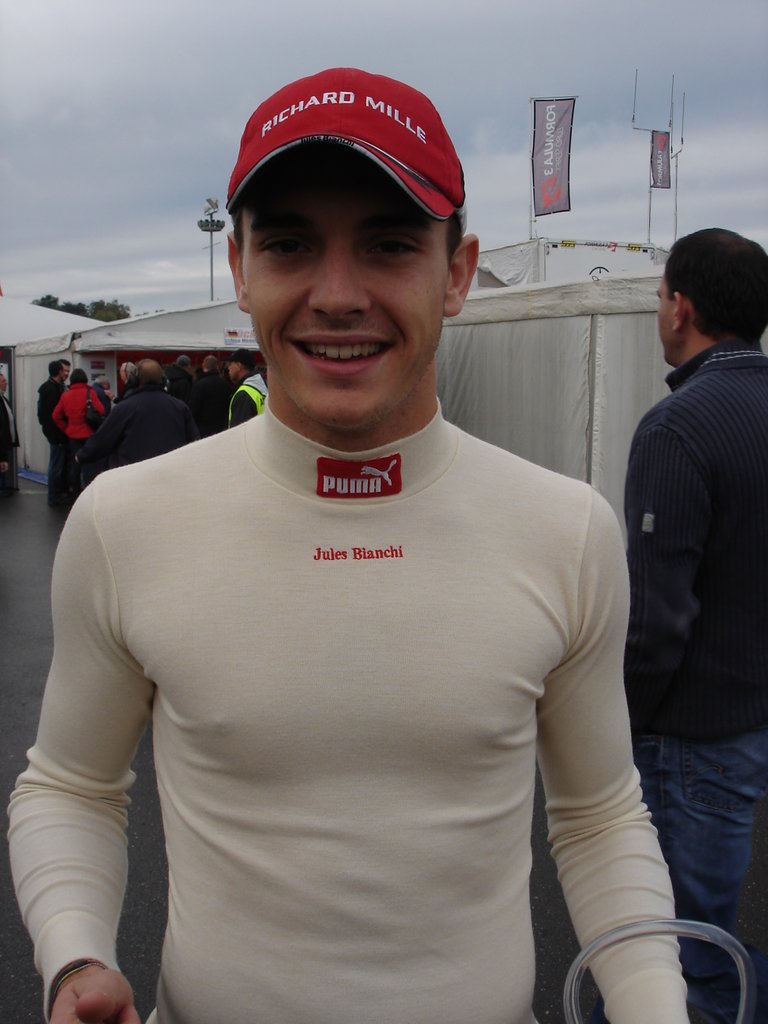 Lutz H, CC BY 2.0 DE, via Wikimedia Commons
Por supuesto no puede dejar de mencionarse a Jules Bianchi. El joven piloto francés tenía un futuro brillante, y un lamentable accidente en el Gran Premio de Japón de 2014 cambiaría para siempre la manera en que la Fórmula 1 trataría con la lluvia. Romain Grosjean fue el protagonista de otro terrible accidente que involucró fuego, del cual salió afortunadamente con quemaduras leves. La seguridad de los pilotos y el espectáculo son dos puntos esenciales que deben estar en equilibrio, y en vista del accidente de Justin WIlson en la IndyCar, donde lamentablemente falleció, se decidió introducir el Halo en 2018, el cual podría decirse que evitó alguno que otro accidente grave a la cabeza del piloto desde entonces.
Of course one cannot fail to mention Jules Bianchi. The young French driver had a bright future, and an unfortunate accident at the 2014 Japanese Grand Prix would forever change the way Formula 1 would deal with rain. Romain Grosjean was the protagonist of another terrible accident involving fire, from which he fortunately emerged with minor burns. Driver safety and spectacle are two essential points that must be in balance, and in view of Justin WIlson's accident in IndyCar, where he sadly passed away, it was decided to introduce the Halo in 2018, which arguably prevented the odd serious accident to the driver's head since then.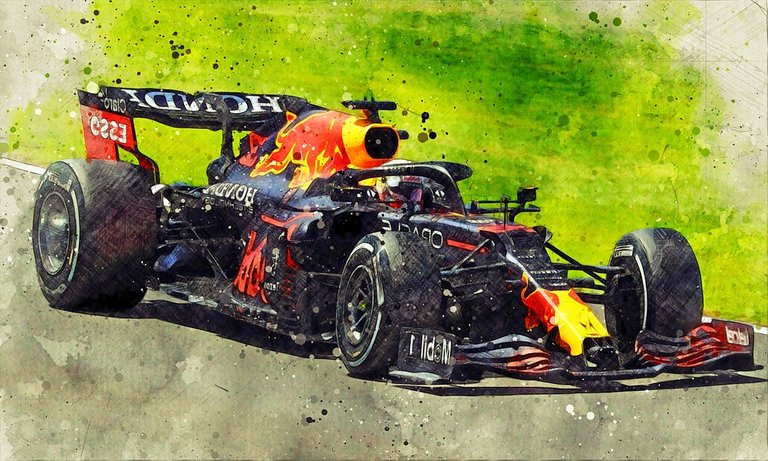 Pixabay
Tal como mencioné en una publicación anterior, la temporada 2021 fue una especie de "mini-versión" de la era híbrida. Un Mercedes imbatible, en las últimas carreras de 2021, a bordo de Lewis Hamilton, es superado en la última vuelta por un joven piloto en un Red Bull, quien es el único que fue capaz de hacerle frente, en la última vuelta del último año de la era híbrida. El dominio de Mercedes no iba a durar para siempre, y en 2022 podríamos ver incluso equipos distintos a Mercedes y Red Bull dominando el campeonato, tal como sucedió en 2009.
As I mentioned in a previous post, the 2021 season was a sort of "mini-version" of the hybrid era. An unbeatable Mercedes, in the last races of 2021, aboard Lewis Hamilton, is overtaken on the last lap by a young driver in a Red Bull, who is the only one who was able to cope with him, on the last lap of the last year of the hybrid era. Mercedes' dominance was not going to last forever, and in 2022 we could even see teams other than Mercedes and Red Bull dominating the championship, as happened in 2009.
La era híbrida, además de ser dominada por Mercedes, sentó las bases para un futuro donde varios pilotos jóvenes se perfilen para pelear entre sí por el campeonato del mundo. Pronto, pilotos como Hamilton, Alonso, Ricciardo, Pérez, ya darán todo el paso a otras generaciones.
The hybrid era, in addition to being dominated by Mercedes, set the stage for a future where several young drivers are set to fight each other for the world championship. Soon, drivers such as Hamilton, Alonso, Ricciardo, Perez, will give way to other generations.
Deja tu comentario o comparte (reblog) esta publicación si te ha parecido interesante.
Leave a comment or share (reblog) this post if you found it interesting.
---
---
Translated to English with the help of DeepL.com.
¡Gracias por visitar! — Deja tu comentario 🚥🏆

---
---