SHARE YOUR BATTLE Weekly Challenge! CRUEL SETHROPODE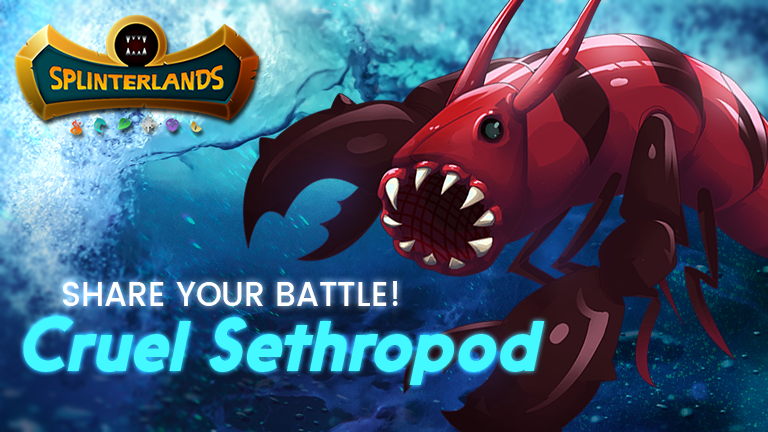 ---
Hello, everyone.
This is my entry to Splinterland's "Share Your Battle Weekly Challenge!" hosted by @splinterlands. You can also participate and show your battle strategy and tips, to view the challenge page, click on this link.

| THEME CARD: CRUEL SETHROPOD | |
| --- | --- |
| EDITION | CHAOS |
| RARITY | COMMON |
| ELEMENT | WATER |
| MANA COST | 3 POINT |
| ATTACK | MELEE |

My Lineup for the Battle
| Position | Summoner/Monsters | Abilities |
| --- | --- | --- |
| Summoner | Keyla Frendul | +1 Speed, +1 Shield |
| Position 1 | Cruel Sethropod | No ability |
| Position 2 | Flying Squid | Reach |
| Position 3 | Deeplurker | Opportunity |
| Position 4 | River Nymph | Cleanse |
| Position 5 | Ice Pixie | Flying |
| Position 6 | Angelic Mandarin | No ability |
---
The ruleset was standard with all splinters allowed and the battle was a 29 mana battle that helped me choose my cards with greater freedom. My summoner was Keyla Frendul that gave my monsters an extra speed and shield.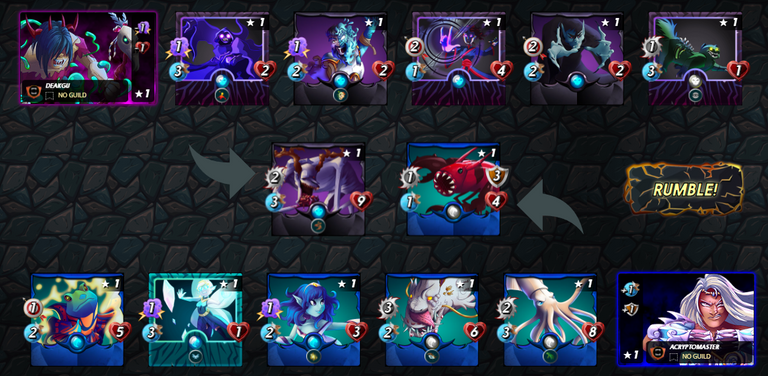 ---
I placed the CRUEL ARTHROPOD in the first position on my lineup as a tank but I knew it doesn't have the firepower to deal much damage but I chose it to fit there because of its shield. During the battle, it absorbed some heavy hits.
Next, I placed the FLYING SQUID in my lineup because of its excellent reach ability that allows it to attack even from the second position on my lineup. It has lots of firepowers and can deal a huge amount of damage. It also has good health. I liked this card very much and it performed well too. It killed many units during the battle.
DEEPLURKER is a more lethal killer than the Flying Squid. It has opportunity ability that strikes the weakest monsters from the opponent lineup. This makes it a very useful asset. This unit is the most powerful monster in my entire lineup.
The RIVER NYMPH came in the next position, a magical monster dealing magic damages. I prefer to use magic monsters over sniping monsters as their targets never miss. Magic attacks were useful against the CURSED WINDEKU that my opponent used as their tank.
ICE PIXIE was next in my lineup. It costs only 2 mana but is a useful little magic pixie. When placed somewhere in the middle of the lineup it can be a useful asset.
ANGELIC MANDARIN was my last monster in the lineup. It was a ranged attacker with decent health. I place it last to kind of shield my magic monsters and the fact that it cannot work if comes in front. So, it was an easy choice for my lineup.

After the lineup, it was the time for battle.
As you can see in the battle video, after round 1, one monster from each side was down. My tank did not last long as the shield is ineffective against magic damage.
Round 2 was much better for me. The Cursed Windeku, which I considered the backbone of the position got killed along with two other monsters while only my Flying Squid took the tumble.
Round 3 was just a massacre and my monsters rolled over opponents easily granting me a fairly easy win.

Did your strategy work? What will you try differently next time?
My strategy involved using a good mix of heavy hitters at the front and hiding my weaker magic damage dealers inside the lineup. It worked well. In the end, it proved to be an easy win because, in hindsight, the opponent used weaker monsters other than Cursed Windeku. No other monster had over 2 health points to start with, which never looked promising.

Do you like the CRUEL SETHROPODE? Why or why not?
Yes, I liked the Cruel Sethropode. It is very less used at the moment by me. I will try to incorporate it more in my lineups from now on. It is also a good tank at low-cost mana (12-15). I don't think it was much effective against magic attacks. Anyways, it was a nice monster to get familiar with.


gif credits- @clove71
Splinterlands is a very popular NFT based play2earn game. Here is my referral link if you want to join the fun. referal link.
Note that all the content is mine unless otherwise stated.
Card images are from the splinterlands game.
Splinterlands text dividers freeztag.
---
---