SHARE YOUR BATTLE Weekly Challenge! SUPPLY RUNNER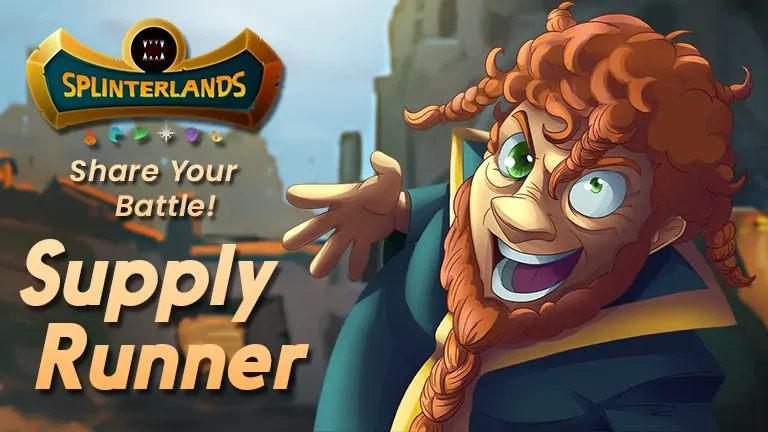 ---
Hello, everyone.
This is my entry to Splinterland's "Share Your Battle Weekly Challenge!" hosted by @splinterlands. You can also participate and show your battle strategy and tips, to view the challenge page, click on this link.

| THEME CARD: SUPPLY RUNNER | |
| --- | --- |
| EDITION | CHAOS |
| RARITY | COMMON |
| ELEMENT | NEUTRAL |
| MANA COST | 6 POINT |
| ATTACK | RANGED |
| ABILITIES | SWIFTNESS AT LVL 5 |

My Lineup for the Battle
| Position | Summoner/Monsters | Abilities |
| --- | --- | --- |
| Summoner | Tarsa | +1 Health, +1 Melee |
| Position 1 | Living Lava | Shield |
| Position 2 | Radiated Brute | Reach |
| Position 3 | Radiated Scorcher | No Ability |
| Position 4 | Serpentine Spy | Opportunity |
| Position 5 | Supply Runner | No Ability |
---
The ruleset was standard with all splinters allowed and the battle was a 26 mana battle that helped me choose my cards with much greater freedom. My summoner was Tarsa which gave my monsters an extra health point and melee attack point.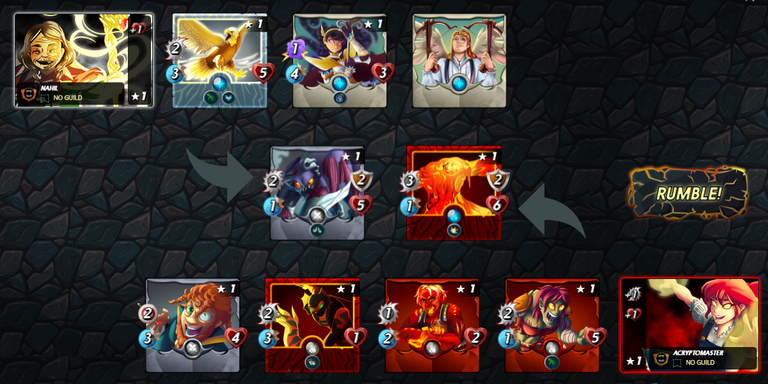 ---
I used the LIVING LAVA in the first position. It is one of the best tanks in the game with good melee attacking ability too. It comes with a shield and also has a shield ability that reduces the damage from melee attacks on him. You can see in the battle video that it stood its ground for long.
Then came the RADIATED BRUTE, a melee type monster that can even attack from the second position in the lineup, courtesy of its reach ability. Although it cost a moderate amount of mana but is worth it in this type of composition, especially in higher mana cost battles.
I placed the RADIATED SCORCHER in the third position. I contemplated placing it on second and even in the first position to use it as a sacrificial unit. I only used it because it cost only 1 mana and I have just 1 mana left.
Next came the SERPENTINE SPY, one of my favourite cards from the fire splinter. It is a cheap card but its opportunity ability is what makes it a true spy. haha
It is quick too and this makes it a perfect fit for my lineup.
At the last, I placed the SUPPLY RUNNER. It was the only monster in my team with a ranged attack. Although it didn't come with any abilities at level 1 but still a nice card with good speed and attack. The only thing I hate in ranged monsters are they cannot do anything at first position which they sometimes end up in.

After the lineup, it was the time for battle.

Did your strategy work? What will you try differently next time?
Yes, it worked well enough. I liked the fact that my tank, the LIVING LAVA and RADIATED BRUTE held the fort while monsters from the back like SERPENTINE SPY and SUPPLY RUNNER sniped off the enemy monsters. It was a smooth operation overall.

Do you like the SUPPLY RUNNER? Why or why not?
Yes, I love it. As it is a neutral monster, I can use it in many battle compositions and test it further. I am fairly new to splinterlands but I am getting the hang of it now. I am also testing strategies with using more than one snipe monster but they are only effective in high mana cost battles.


gif credits- @clove71
Splinterlands is a very popular NFT based play2earn game. Here is my referral link if you want to join the fun. referal link.
Thanks for reading...
Note that all the content is mine unless otherwise stated.
Card images are from the splinterlands game.
Splinterlands text dividers freeztag.
---
---