1899/ Series Review [ENG-SPA]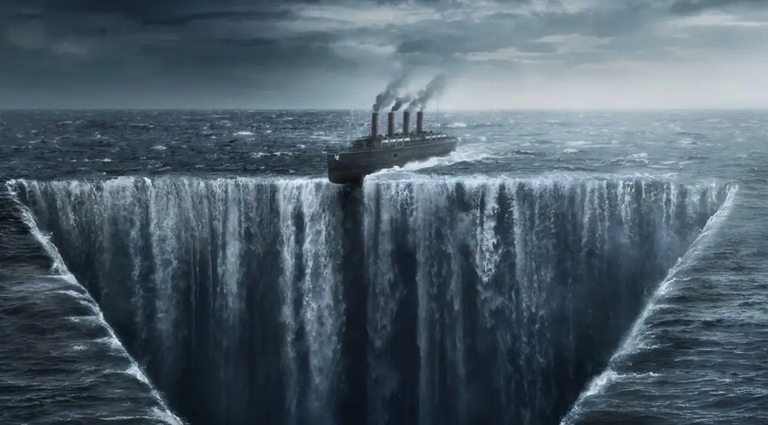 Source/ Image edited with Canva/ Imagen editada con Canva

Happy Thursday friends film and TV lovers, I come here to share with you the review of what in theory is the first season of a series that is causing a furor in the Netflix streaming platform, its name 1899, this German series from the same creators of the famous Dark, which by the way I have not seen, 1899 before its premiere had a great expectation and now that I have already seen the eight chapters of this first season I will share with you my impressions.
I can say that from the beginning this series immerses us in a world of suspense in which you are forced to be attentive to every detail, otherwise you will understand very little of what apparently is happening, here I will make a suggestion and if you have not seen this series or if you have already seen it and were left with some doubts or gaps see it with its original audio, because an important part of the development of the plot of the series is that there is a barrier in terms of communication between the characters because they speak different languages.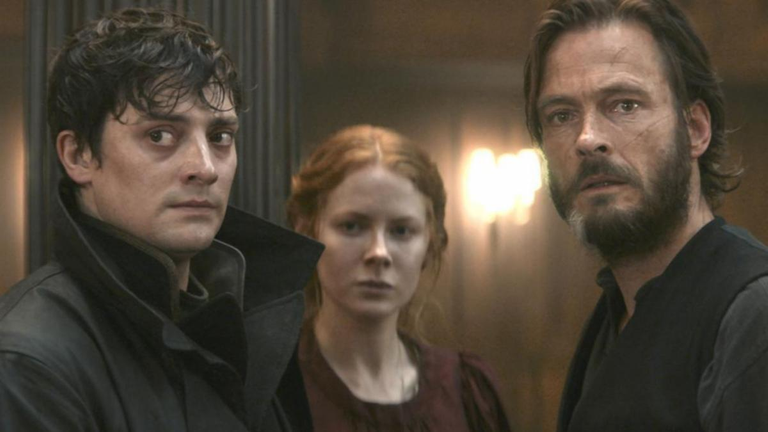 Source
Now, why does this series have this particularity, among others, this period series is based on the boat trip of several people from different parts of the old continent to New York, in search of a new beginning, looking to leave their past behind, start a new life and economic stability, so among the passengers of the ship whose name is Cerberus we find Poles, Spaniards and we can also hear languages like Danish, German, French and Cantonese.
So these people who are heading, in the midst of the European migration crisis that was experienced at that time, to the U.S. to seek a better future, see their dream frustrated, as the captain of the ship decides to divert the course to find another ship of the company that had disappeared 4 months ago, named Prometheus, From that moment we see how they begin to occur a series of events that trigger a series of behaviors in passengers and we are walking through the past and what seems not very clear or forgotten moments in the minds of some of the characters, not to mention that there are characters surrounded by mystery that only almost at the end of the season you know what role they really play.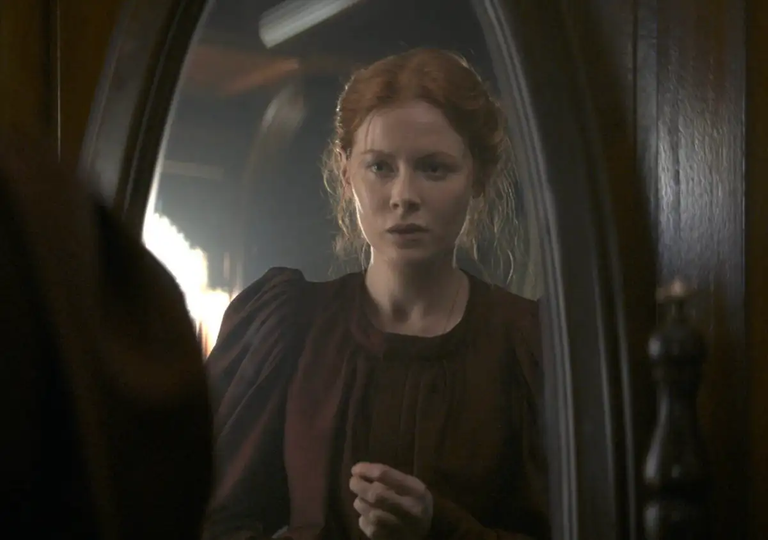 Source
On the other hand, speaking of fundamental points in a period series such as costumes and scenery, to make us feel that trip back in time, this series has 20 points, as it perfectly recreates the clothes, hairstyles, scenery and even the customs of the time that in good part are even judged in a certain way in the arguments that are presented to us.
The suspense is crucial in this series and if you want to have an idea of what is happening it is vital that as I mentioned before, you do not take your eyes off the screen, as you will find elements out of time and context that will help you get an idea of what the characters are going through.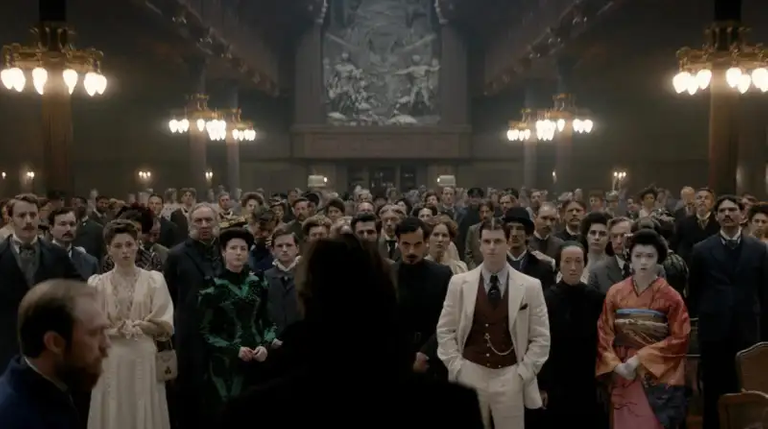 Source
In short, if you want to see a series of suspense, horror, science fiction, period and mystery, 1899 is an excellent choice, I'm sure you will like it, so I say goodbye waiting to read in the comments box your impressions if you have already seen the series or if you plan to see it, a big hug and until a future publication.



Feliz jueves amigos amantes del cine y la TV, vengo por acá para compartir con ustedes la reseña de lo que en teoría es la primera temporada de una serie que está causando furor en la plataforma streaming Netflix, su nombre 1899, esta serie alemana de los mismos creadores de la famosa Dark, la cual por cierto no he visto, 1899 antes de su estreno tenía una gran expectativa y ahora que ya he visto los ocho capítulos de esta primera temporada compartiré con ustedes mis impresiones.
Puedo decir que desde su comienzo esta serie nos sumerge en un mundo de suspenso en el que te ves obligado a estar atento a cada detalle, pues de lo contrario entenderás muy poco lo que en apariencia está ocurriendo, aquí les haré una sugerencia y es que si no han visto esta serie o si ya la vieron y quedaron con algunas dudas o lagunas la vean con su audio original, pues parte importante del desarrollo de la trama de la serie es que existe una barrera en cuanto a comunicación se refiere entre los personajes porque hablan diferentes idiomas.
Ahora bien, a qué se debe que esta serie tenga esta particularidad, entre otras, esta serie de época se basa en el viaje en barco de varias personas procedentes de distintos puntos del viejo continente hacia Nueva York, en la búsqueda de un nuevo comienzo, buscando dejar atrás su pasado, comenzar una nueva vida y una estabilidad económica, así entre los pasajeros del barco cuyo nombre es Cerbero encontramos polacos, españoles y además podemos escuchar idiomas como danés, alemán, francés, y cantonés.
Así estas personas que se dirigen, en medio de la crisis migratoria europea que se vivió en esa época, a EEUU para buscar un mejor futuro, ven su sueño frustrado, ya que el capitán del barco decide desviar el curso para buscar otra embarcación de la compañía que había desaparecido hace 4 meses, de nombre Prometeo, a partir de ese momento vemos como comienzan a ocurrir una serie de eventos que desencadenan una serie de comportamientos en los pasajeros y nos van paseando por los pasados y lo que parecen momentos no muy claros u olvidados en la mente de algunos de los personajes, sin olvidar de que hay personajes rodeados de misterio que solo casi al finalizar la temporada sabes qué papel juegan en realidad.
Por otro lado, hablando de puntos fundamentales dentro de una serie de época como lo es el vestuario y la escenografía, para hacernos sentir ese viaje en el tiempo, esta serie tiene 20 puntos, pues recrea a la perfección la ropa, peinados, escenografía y hasta las costumbres del momento que en buena parte son hasta juzgados de cierta manera en los argumentos que nos presentan.
El suspenso es crucial en esta serie y si deseas tener una idea de lo que está ocurriendo es vital que como ya mencione no despegues los ojos de la pantalla, ya que encontrarás elementos fuera de tiempo y contexto que te ayudarán a tener una idea de lo que se están viviendo los personajes.
En resumen, si deseas ver una serie de suspenso, terror, ciencia ficción, época y misterio, 1899 es una excelente opción, que estoy segura, les agradara, así me despido esperando leer en el cajón de comentarios sus impresiones si han visto ya la serie o si tienen pensado verla, un abrazo enorme y hasta una próxima publicación.

---
---