The Most Remarkable First Day Of The year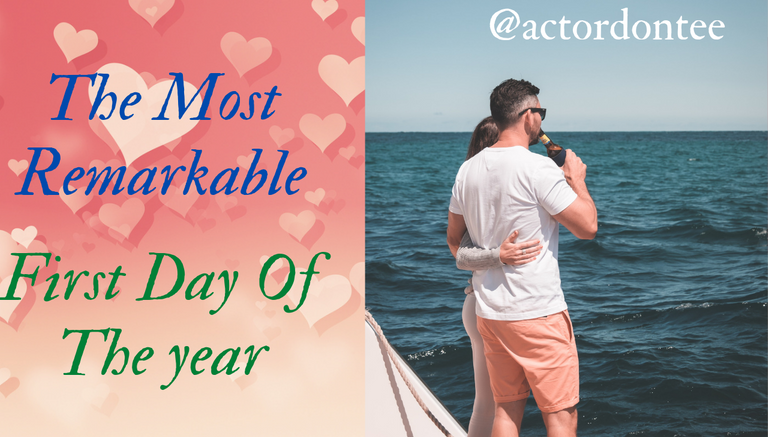 Image Source & Designed On Canva
Only a small number of people have returned to work because we are still in the holiday mood. But I haven't resumed yet; the start of a new year is usually exciting and full of goals. Many of my friends have travelled to the tops of mountains to meditate, pray, and make plans for the new year.
I discussed how I had wished to celebrate the first day of the year recently on my blog. If you missed the post, you can check it here.
However, I still enjoy myself on January 1st, and I will keep striving to plan the perfect celebration for the first day of the year.
I will discuss my favourite January 1st ever. This was a sweet recollection that continues flashing in my thoughts. The first holiday I celebrated with my wife after leaving bachelorhood was the first day of the year 2020.
When I was still single, I didn't make any plans for the holiday season; I would just enjoy it as usual. But since I got married, having a family plan is now essential.
Before the epidemic in 2020, my wife and I enjoyed the first day of the year together. We visited the La Campagne Resort on Lagos Island ( Nigeria).
We arrived there in an hour because we left early on January 1st and the road was very free.
We planned to have some fun on the boat, then relax on the island in the evening and stay there till the next day.
However, the management has a program for couples on our arrival.
My wife and I decided to register for the program since we were interested in it. And I can attest that I loved the entire program.
Only 5 couples registered for the game in total; the others preferred to view those that were interested instead.
The sections in the program were:
Staring contest
Dancing Competition
The picture game
Likes and dislikes game
     Staring Contest

This game is a very interesting one. Couples will engage in intense eye contact during this game, and the first one to blink will be given a glass cup of water. This game had a 7-minute time limit. Before the game finished, I drank two glasses of water and blinked twice. My wife won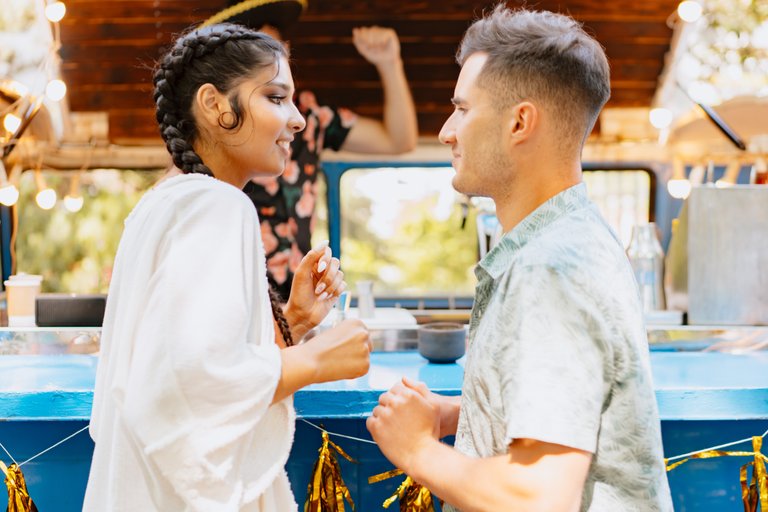 Dancing Competition

Even though my wife is a better dancer than I am, I was still able to perform extremely effectively. We danced to R&B, Hip Hop, and Old School jams. In the dancing competition, we took second place. We received a microwave as a prize from the game organizers.
        The Picture Game

A cubical box will have some romantic pictures taped all around it. This is another interesting game that I had never played before. Turn after turn, the photos will be thrown like dice. Your spouse will carry out the exact instructions found on the box.
I was the first person to toss the dice, and when my wife opened the box, she discovered that "someone was biting another person's ear." So my wife must bite one of my ears. Everyone started laughing aloud as my wife started to bite my ear.
When she rolled her dice, I opened the box and saw couples cuddling, so I cuddled my wife.
It was a really beautiful game. I saw another couple play this game by hitting each other over the head. I had fun playing the game and laughed.
          Likes and Dislikes 

This is the most interesting part of the game since it reveals the degree of intimacy between you and your partner. If the two of you are new to one another or have only recently begun dating. This game won't be passed, and it also offered the biggest reward.
You and your partner will select a question from the basket, and you will each write your response on a separate piece of paper.
I picked two questions which were:
(1) What is your partner's shoe size?
(2) What is your partner's waist measurement?
I answered both questions correctly.
My wife also answered her questions correctly, she was asked (a) What is your partner's favourite song?
(b) What is your partner's love language?
Before we got married, my wife and I played along with a variety of questions, which strengthened our degree of intimacy.
Because we both provided accurate answers to the questions in the game, we won first place and received a $50 cash gift, one day of free lodging, and three free meals from the kitchen. We had a boat tour the next day.
After enjoying all of our bonuses, we left the following two days.
This was my favourite first day of the year, I was exposed to a couple's game and had a lot of fun. I'm hoping for a better first day of the year than that as soon as possible.
 Thank You All For Reading 

---
---