OneUp what's coming up in the future--Goal Reaches 100k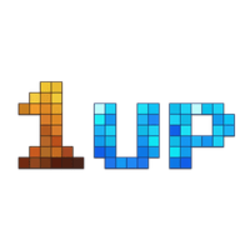 Hello dear friends of gaming and the blockchain,
had already posted a long time ago that I had invested in the OneUP coin and mentioned that my goal is 100K coins.
TA TA have reached the goal as you can see from the photo.
Unfortunately, the price of the coin has fallen sharply, which, as you have already heard, seems to go hand in hand with the crypto winter.
Furthermore, I am of the opinion that the coin has not yet served any purpose or has any task that influences it.
As I understand it, it is a kind of gamer token but not yet integrated into anything.
The question for me is what will happen to it in the future? @flauwy
I'm also invested in the @cartel token, which you can say that at the moment you're getting a dividend in the form of @woo tokens, at least through @cartelloot.
I also invested there and of course it remains to be seen what will develop from it.
I'm very optimistic that everything will turn out well in the end.
Question to @flauwy how does oneup look in the future what's in the pipeline?
How do you see it or do you already know more than I do.
I look forward to any information and feedback on the matter.
Have a nice evening from Germany, which is cold at the moment.
Your adacardano
Hallo liebe Freunde des Gamings und der Blockchain,
hatte ja mal schon ivor längerem gepostet dass ich ja in den OneUP coin investiert habe und erwähnt dass mein Ziel 100K an coins ist.
TA TA habe das Ziel erreicht wie Ihr aucf dem Foto erkennen könnt.
Leider ist der Kurs des Coins sehr stark zurückgefallen was ja wie ihr schon gehört habt mit dem Cryptowinter einherzugehen scheint.
Des weiterenbin ich der Meinung das der Coin bis jetzt noch keinen Nutzen erfüllt oder irgend eine Aufgabe hat was dies auch beeinflusst.
Esist so wie ich verstanden habe eine Art Gamer Token aber noch in nichts integriert.
Für mich stellt sich die Frage was passiert damit in der Zukunft? @flauwy
Bin auch in dem @cartel Token investiert wozu man da sagen kann dass man da im Moment zumindest durch @cartelloot eine Dividende in Form con @woo Tokens bekommt.
Da habe ich auch investiert und es bleibt natürlich abzuwarten was sich daraus entwickelt.
Bin sehr optimistisch das am ende alles sich zum guten wendet.
Frage an @flauwy wie sicht es denn in der Zukunft mit oneup aus was ist in der Pipeline?
Wie seht Ihr die Sache oder wisst ihr schon mehr als ich.
Freue mich auf alle Informationen und Feedback zu der Sache.
Euch einen schönen abend aus dem im moment kalten Deutschland.
Euer adacardano
---
---