Fin de semana diferente [EN]
¡Hola a toda la comunidad de Family & friends!, 🤗
Por primera vez realizo una publicación para esta comunidad y espero que les agrade.
Una de las razones por las que me decidí fue porque considero que esta comunidad encierra un valor enorme al defender como núcleo central de la sociedad a la familia donde nos sentimos cuidados y protegidos.
Hello to all the Family & friends community 🤗!

For the first time I am making a post for this community and I hope you like it.

One of the reasons why I decided to do it was because I consider that this community has an enormous value in defending the family as the central nucleus of society, where we feel cared for and protected.
Por tanto, no quería dejar de compartir con esta hermosa comunidad, el almuerzo casual que tuvimos después de haber pasado por momentos duros y difíciles a principio de julio y de agosto, donde contrajimos el Covid-19 y después el Dengue, esta última como deben conocer es una enfermedad transmisible a través de un mosquito y por ende eso provoco que todos en casa no enfermáramos, aún estamos en fase de recuperación porque dicha enfermedad cuando te agarra fuerte, como fue el caso mío te puede dejar varias secuelas, incluso hepáticas.
Por lo general tenemos por costumbre tomar el domingo para el descanso y compartir con la familia y amigos más cercanos. Este fin de semana fue diferente, decidimos cambiar de actividad y aprovechando que teníamos que hacer varias gestiones en la calle, resolvimos almorzar a lo grande y diferente con comida italiana. Como decimos en Cuba, "a tirar la casa por la ventana".
En reunión familiar rápidito nos decidimos por el restaurante Juanky's Pan, ya habíamos estado en otras filiales, en este caso, era la primera vez que íbamos, además, ya teníamos muy buenas referencias del lugar a través de otros amigos nuestros que anteriormente ya habían acudido, otra cosa que influyo mucho en la decisión fue su menú diverso, hamburguesas, pizzas, pastas, refrescos, jugos y batidos, precisamente lo que andábamos buscando, en otras palabras, perfecto para nosotros.
Therefore, I did not want to stop sharing with this beautiful community, the casual lunch we had after having gone through hard and difficult times in early July and August, where we contracted the Covid-19 and then Dengue, the latter as you should know is a disease transmitted by a mosquito and therefore that caused that everyone at home did not get sick, we are still in the recovery phase because the disease when it catches you strong, as was my case can leave several sequelae, including liver.

We usually have the habit of taking Sunday off to rest and share with family and close friends. This weekend was different, we decided to change our activity and taking advantage of the fact that we had to do some errands on the street, we decided to have a big and different lunch with Italian food. As we say in Cuba, "a tirar la casa por la ventana ".

In a quick family meeting we decided to go to Juanky's Pan restaurant, we had already been to other branches, in this case, it was the first time we went, besides, we already had very good references of the place through other friends of ours who had been there before, another thing that influenced our decision was its diverse menu, hamburgers, pizzas, pastas, soft drinks, juices and shakes, precisely what we were looking for, in other words, perfect for us.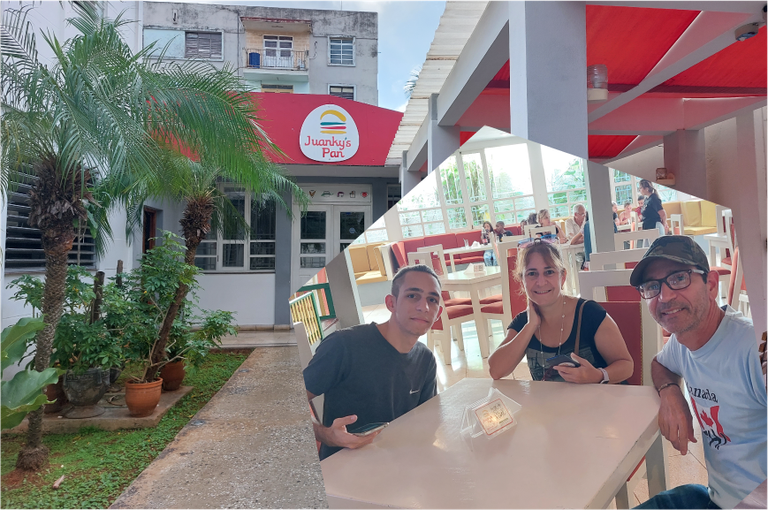 Este lugar queda en el reparto Flores, en el municipio Playa, en la Habana, barrio de los buenos, buenos de la Habana. Les comento que el lugar muy acogedor, muy atractivo para familias con niños pequeños, ya que tiene un espacio destinado a los chiquitines donde pueden jugar, socializar entre ellos e inclusive, entretenerse, dibujando o coloreando, mientras los padres disfrutan de una cervecita antes del almuerzo.
This place is located in the Flores district, in the municipality of Playa, in Havana, one of the good, good neighborhoods of Havana. The place is very cozy, very attractive for families with small children, since it has a space for the little ones where they can play, socialize with each other and even entertain themselves, drawing or coloring, while their parents enjoy a beer before lunch.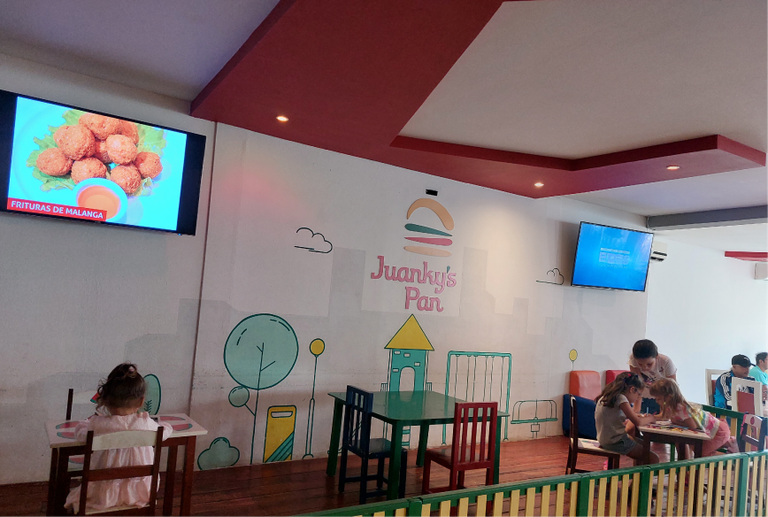 Mi esposa y uno de mis hijos se decidieron por las pastas, en cambio, yo me fui por una buena pizza de jamón y queso, para tomar pedimos, jugo de melón para mí y batidos de mamey para mi hijo y mi esposa.
My wife and one of my sons opted for pasta, while I went for a nice ham and cheese pizza, for pedimos, melon juice for me and mamey smoothies for my son and wife.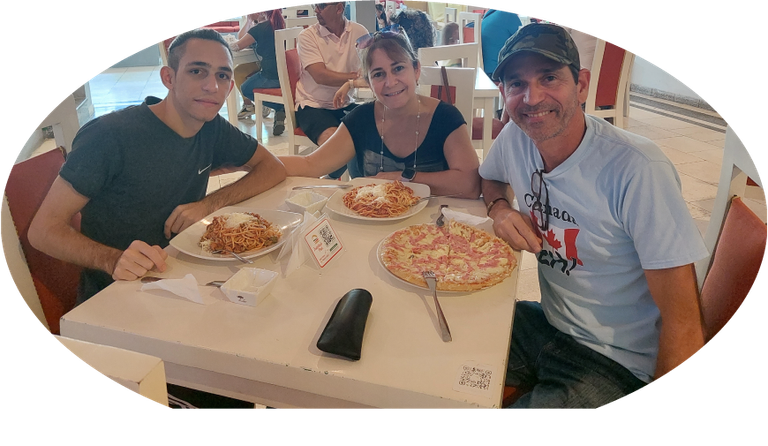 La calidad de la comida estuvo increíble, el personal muy atento y al final de la comida nos hicieron como una encuesta para conocer nuestro criterio para mejorar sus platos y sus servicios.
De pronto sentimos a través del audio que le cantaban a una niñita la canción de Feliz Cumpleaños, autoseguido, nos hicimos partícipe, aplaudiendo y tarareando como si conociéramos de años a esa familia, todo ocurrió de repente e inesperado y muy divertido por la cara de asombro de la niña que por supuesto no se lo esperaba. 👩
The quality of the food was incredible, the staff was very attentive and at the end of the meal they made us a survey to know our criteria to improve their dishes and services.

Suddenly we felt through the audio that they were singing to a little girl the song of Happy Birthday, self-assured, we became part of it, clapping and humming as if we had known that family for years, everything happened suddenly and unexpectedly and very funny because of the astonished face of the little girl who of course did not expect it. 👩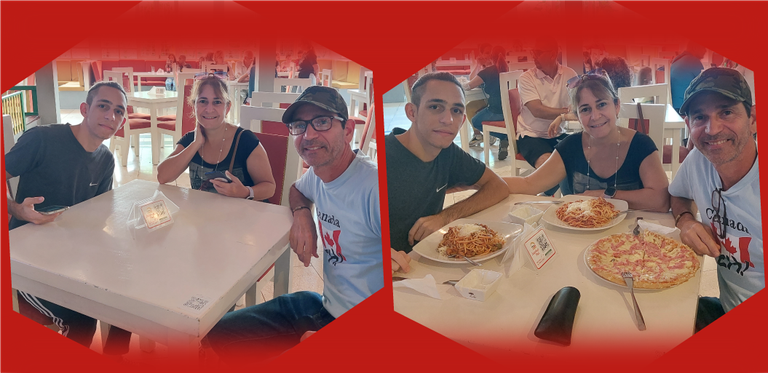 El objetivo que queríamos lograr fue cumplido, ya que pasamos un día espléndido, maravilloso y lleno de amor familiar, aunque debo decirles que solo se encontraba con nosotros uno de los jimaguas. Nuestro interés mayor era salir de casa, cambiar de ambiente y pasar un momento agradable en familia.
The objective we wanted to achieve was accomplished, since we spent a splendid day, wonderful and full of family love, although I must tell you that only one of the jimaguas was with us. Our main interest was to get out of the house, change the environment and spend a nice time with our family.
¡Espero les haya gustado! | Hope you liked it!
---

❤️ Apoyo a la comunidad @ecency ❤️
Thank you very much for making it to the end | Muchas gracias por llegar hasta el final.
Look forward to your comments | Espero sus comentarios.
---
Todas las imágenes fueron capturas por mí desde mi celular o por print screen desde mi PC y editadas todas con Adobe Illustrator, al igual que el banner.
All images were captured by me from my cell phone or by print screen from my PC and edited with Adobe Illustrator, as well as the banner.
---
---