There is no place like... Versailles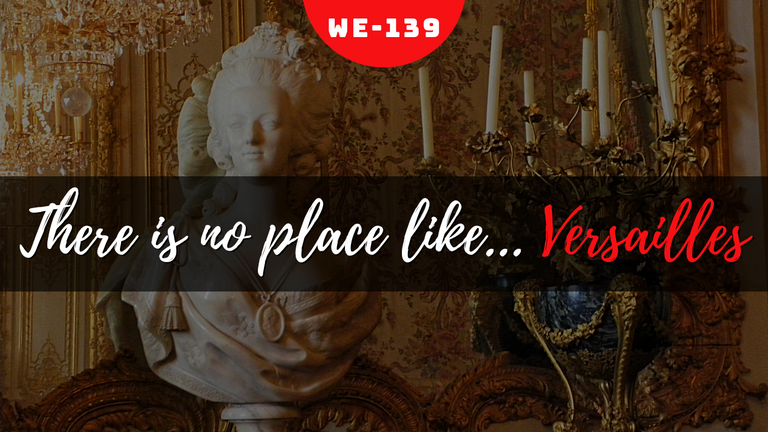 Traveling is one of the most incredible things we can do in our lives, whether it is a trip within our own country or an international one, there will always be an experience, place or circumstance that we will remember for a long time, if not for our whole life. Although I have not made many trips, I have had some that have marked me a lot, most of them within Mexico, the country where I emigrated some years ago, however, today I am not going to talk about the beauties that I have seen in the place where I live, but in one a little farther away.
A few years ago I had the opportunity to make a long trip to several countries in Europe, they are some of the longest vacations I have taken, and I remember them fondly because it was there where I fell in love with one of the most beautiful cities I have ever known, Paris. On the outskirts of Paris is the place I want to tell you about, one of the most beautiful and impressive places I have ever seen in my life, The Palace of Versailles.

    



Scroll to see all pictures

On that trip I went a total of two times, the first visit was practically "lost", as it was a day when they did not open the interior of the Palace, so we only had access to the gardens, which, although they are also spectacular, they fell short with the incredible treasures that I would see inside the next day. Even so, my impression upon arrival was huge, the entrance is incredibly imposing, it is one of those places so opulent and grandiose that make you feel small.
Its gardens are one of the most impressive things I have ever seen, they are huge and, for lack of a better word, perfect. I really do not know how to define how shocked I was when I saw them, there are fountains, sculptures, flowers and trees from many parts of the world. I really fell in love with those gardens, I had never seen (or seen again) others as beautiful as those, the Alhambra gardens are also spectacular, but really, nothing like Versailles. However, that was not the most impressive thing about this place, as I told you before, I would discover that the next day when I would finally make the tour inside the Palace.

     



Scroll to see all pictures

Entering Versailles is like entering a tale of opulence and beauty, the rooms, halls and even the corridors are really spectacular, they are full of such incredible details that you can not even blink without feeling that we are missing a small wonder. There are many incredible and beautiful places in the world, but this is undoubtedly my favorite, it conveys so much magnificence and opulence that it is impossible not to be attracted by its amazing design and beautiful works of art.
All the walls and ceilings are full of golden details, decorated with paintings, frescoes, sculptures and tapestries, even the floor has spectacular carpets. I can't find any other way to describe how I felt seeing all this other than "overwhelmed", there is so much to see that the eyes are not able to detail all the magnificence of the place, it is truly a majestic place.

         



Scroll to see all pictures

My favorite room was the Queen's Chamber, while the King's is also spectacular, the Queen's was like stepping into a princess tale or a movie of that era, there is even a bust of Marie Antoinette accompanying the decor. The whole room is simply spectacular, even my desire to be minimalist disappeared among so many beautiful details and decorations, the rest of the palace is impressive, but without a doubt that was THE place that took my breath away.
Definitely, Versailles has been the most beautiful thing I have had the pleasure to visit on a vacation, although many things were looted and destroyed during the Revolution, the current state of the place is a beauty capable of enchanting anyone, it was a hard choice because all the places I could visit in Paris are amazing, but for me Versailles stands out as the most beautiful.

    



Scroll to see all pictures

This has been my participation for the #weekend-engagement: WEEK 139, on the theme "Beautiful on vacation". Sorry for the amount of photos, but it's such a beautiful place that I wanted to show you as much as possible, and still I feel I missed many things, but I have more than 200 photos of the place, so I had to select only my favorites.
Happy weekend to all of you.
---
Thank you very much for reading, see you in the comments
---



Pictures taken by me - Cover and banner edited in Canva - Cartoons made in bitmoji.

---
---