The Hobby Barrier to Content Creation

Consuming a lot of content online over the years could help one distinguish which creator actually puts in the work for their content versus those that don't. There exists a barrier than prevents people psychologically to up their game on content they put out online.
You don't just wake up and decide you want to be a content creator. You had spent some time watching others share content about the same interests as you prior. Getting interested in content sharing is a start and asking yourself whether you can do it is the beginning.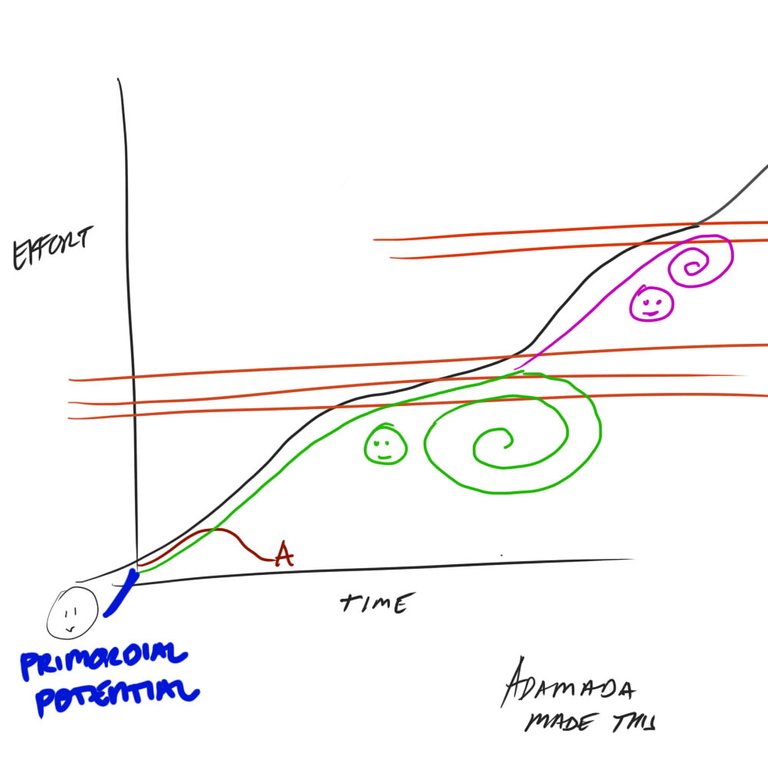 If you know who made this atrocious image, let me know so I can properly attribute them in the post.
Blue: Primordial potential of every person to start.
---
Red: Where most people end up in their path to becoming a content creator, a short lived star.
---
Green: Where everyone who makes an attempt to go full time or stuck in limbo about what they want to do.
---
Purple: Overcoming the barrier then realizing you need to up your game even more at different social media platforms, and keeping your content relevant to the times. There's another set of problems waiting ahead like protecting your intellectual property and etc.
Most content creators quit within the first year or two because of how much work it actually is to market oneself online. You are competing for attention with other content creators and this also include well established brands out there. When I was reading about how to monetize from blogging a decade ago, I read somewhere that it takes an average of 3 years to start earing cents from the ads on your blog and 5 years to make it to a dollar.
This happens when you consistently put out quality content on a niche and slowly build your audience over time. The people who are likely to advance from the first stage are people who have been building some skill sets for a long time that recognition was not their primary priority to begin with. So they just stack up content out there consistently and bring in some audience from that consistency.
Hive and other crypto social blockchains has changed the game in speeding up the process of being able to monetize your content. This is a good deal for those new bloggers starting out on these social blockchains because there are immediate kickbacks for their time and effort spent producing content. The general drawback is seeing more people take a go with content creation expecting to get the benefits of fame without having the skillset, character, and consistency to earn that fame.
Anyone can be a content creator but not everyone can be successful at it.
The hobby barrier is a plateau in a content creator's growth. This is a phase in a creator's growth where they have the skillset or building it, but can't fully commit to the craft. It's like that free pass one tells themselves they know they can do better but won't push themselves to improve beyond what they're currently putting out.
In short, the hobby barrier is a comfort zone where there is a massive potential for growth but it's all just potential unrefined. Many people on Hive are in this state. They can write well, take good photos, do beautiful art, and all the nice stuff but these are often inconsistent. There's a dramatic gap between the effort put into maintaining an audience, a schedule to publish, and consistent improvement to what content is being put out.
Overcoming the hobby barrier means you produce content you really want people to notice you for. This means instilling more discipline to study your niche and build your online presence. This is something that separates a hobby creator from a full time creator because the former doesn't really rely on monetizing their content to put food on the table.
What is beyond the hobby barrier is coming out of the cocoon and seeing the product of discipline materialized in the creator's content. There's a format, a rhythm to publishing, consistent variety, personality and all the good stuff apparent on each successive content they publish. This happens because there are more clear objectives and effort is being put into achieving those clear objectives.
It's a convenient excuse to say you're just doing it as a hobby than saying you don't want to push yourself to do better and take it to the next level commitment. This is for those who make occasional attempts at being a full time creator versus those who have made up their minds to just stay at the hobby zone.
I don't see it as a bad thing to just stay at the comfort zone. That's what a hobby is for. But I do find it an eye sore to see authors complain about not being noticed, undervalued and etc on the platform when their activities here don't say they are putting in the work at all.
Studying how successful content creators from different platforms grow their presence online made me appreciate the gap between hobby posting. There is some sense of accountability for the fame that comes with their online presence. What I mean is the content they put out usually has clear effort from start to finish and they respect their viewer's time.
There's more to content creation than just sharing what you're interested in and making comments. I think most consumers just underplay how much time authors have invested into researching their own content, knowing their target audience, and maintaining a relationship with their audience over time. This is markedly different from someone that just posts in the hopes of getting votes.
For content creators that have more self-respect to the works they put out, I don't think it's a big deal to mind the amount of payout a post receives in the long term. If you have faith in the content you put out, why would you mind the amount of displayed on the short term. It's your reputation as a content creator that matter more than those short term rewards.
I don't consider myself a content creator. I'm just hobby posting.
If you made it this far reading, thank you for your time.
---
---