GM:Miner NFTs is a good start to my NFT journey.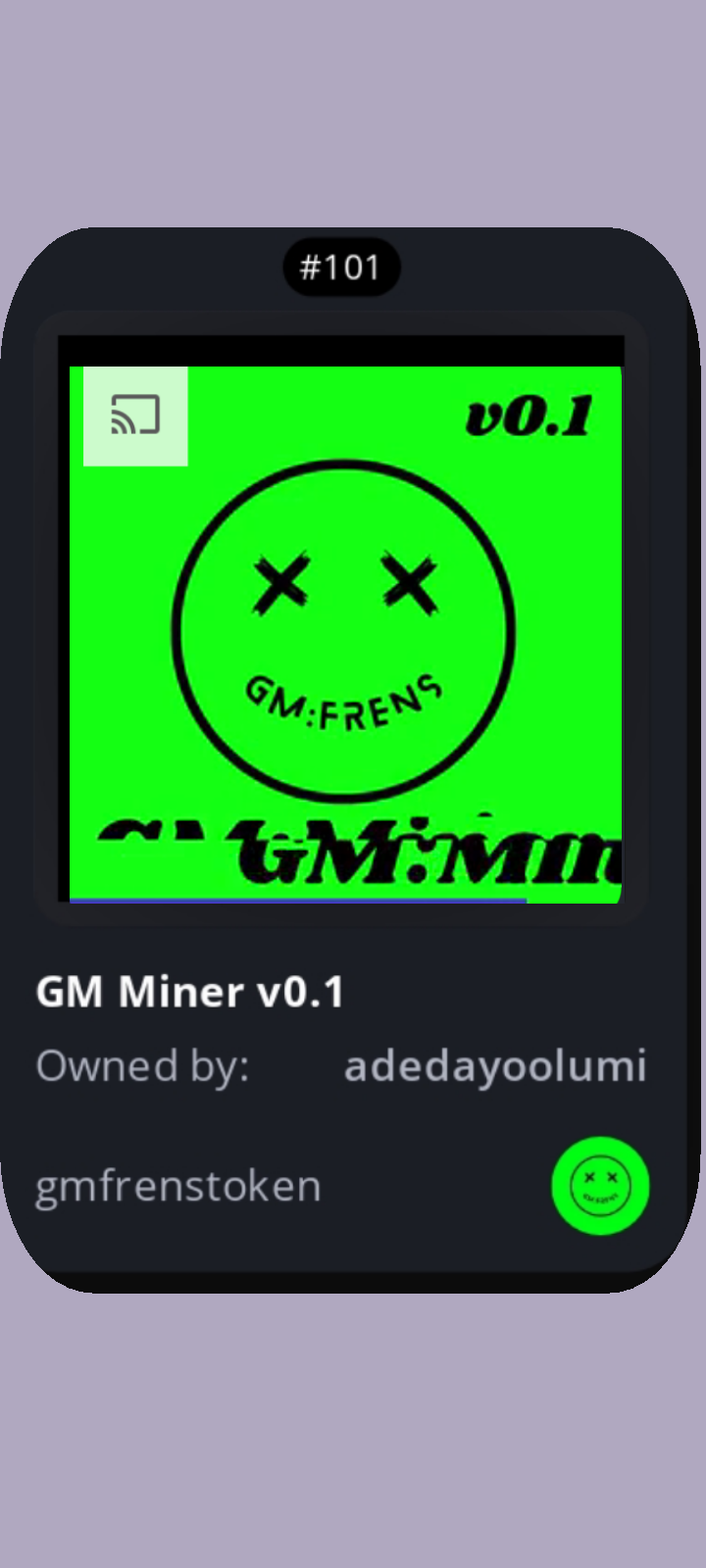 It has been exactly 23 days or less since the project's GM token was announced. And I am so happy to be part of the people who own GM:Miner NFTs V0.1
I know you are eager to know what GM is if you are hearing it for the first time. Well, I won't be selfish, I'll take everyone along.
GM is a short meaning for Good Morning, the normal way we greet our friends in the morning. These have a token that is currently built on the WAX ​​blockchain and can be freely mined on the thread every day for now.
How to mine GM Token
All you need to do is have a WAX wallet address link to your hive profile. This can cost you about 5 wax, about 50 cents to start using the wallet. Although I don't know how to get wax to activate my account when I made mine, I have no idea where to get wax.
However, I open a free WAX ​​account using wombat wallet and it gives me the address to link to my hive profile to start my GM token mining.


Lately I have found that it is very easy to get wax to activate wax.cloud wallet. Ask me how. From your Hive engine, you can either swap your Hive token or HBD for SWAP.WAX and have it transferred to the wallet, then you have full control over it, just like we use $3 to open a Hive account.
After getting your address link to your hive profile, you can mine the token every day by creating a thread on Leothread with the hashtag #gmfrens. This will automatically mine 6.9 GM tokens per thread and only once a day.
NFT journey
I think GM: Miners NFTs v0.1 are the first non-fungi token I want to get on the blockchain. GM NFTs went on sale 6 days ago at a cheap price and I managed to get 4 in my gallery with only 4 HBD. 1 HBD for a NFT, or 15 Wax for one if you want to buy with Wax.
What can I do with GM NFTs?
I know some of you might be imagining what I can do with GM NFTs I used 15 WAX or 1 HBD to get. You miss out if you don't have GM:Miners NFTs. Well, @l337m45732 has promised that more options are still coming for those of you who don't know about it, keep driving for the update so that me and you will be in same category of GM NFTs owners.
Getting NFTs for miners is not a waste of money as it is now possible to farm your NFTs and earn some passive GM token. What I'm trying to say here is that you can give your NFTs for farming anytime and any day you wish and you're going to make internet money for staking it.
I believe this is a free way to earn a token by saying good morning to your friends on the thread anytime everyday using the #gmfrens tag
I know if I'm not confused now, you will be ready to get yours when there is another option. But for now don't forget to mine GM token everyday.
---
Thank you for reading
Posted Using LeoFinance Beta
---
---