Forcing a Bills Rage Quit! Madden 23 - Will the Bills Win a SB with Star QB Josh Allen?
I can't really say I played all that well myself this game... BUT I won and indeed made the player quit as I say in the title! A win is a win LOL.
The Bills whooped the Titans in real life so yeah, this was a decent W.
But, speaking of the Bills as a franchise, I can't help but wonder if they've become the third best team in the AFC now when going into this season, and even a few weeks into the season, they were arguably the best. Now it's a three horse race in the AFC: Chiefs, Bengals, Bills. In that order it seems.
The Bills have lost to both the Chiefs and Bengals in recent history. The Bills did defeat the Chiefs in Week 6 this year, but only just. The Bills did lose to the Chiefs in the playoffs last year.
In addition, the Bills lost to the Bengals in the playoffs this season. Just for further evidence I guess.
But there's absolutely a lot of positives with the Bills, and positive things to consider.
For one, they have this man.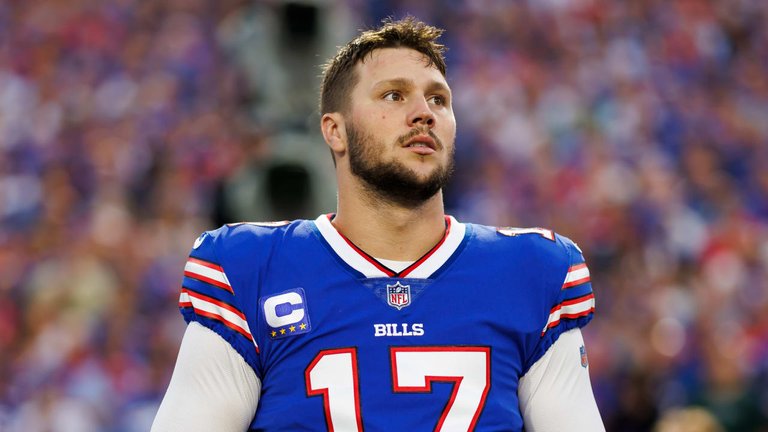 I have some mixed feeling about Allen, but mostly positive. The only couple of things I have negative to say is perhaps Allen drank his own kool aid for the past year and a half with all the media hype surrounding him and the team. The other thing I believe Allen should improve is having some patience and some finesse I guess. I feel like the dude plays on pure adrenaline at times. He's so big and powerful that I don't blame him but still.
BUT I believe the positives do outweigh the negatives with Allen.
For one, Allen has absolutely proven me wrong before. When Allen was first drafted he didn't seem to be the guy in my eyes. He had a fair bit of struggles initially.
But those struggles did not last too long. Allen leveled up like twice since then, and that right there is why I still believe the Bills can be a dominant force.
Mahomes and Burrow have had struggles and doubters too. They've improved too, but with Allen I feel like it might be different.
I believe Allen has had a lot more doubters than the QBs I just mentioned, while at the same time, Allen has shown an extremely impressive ability to improve as a player.
I'm sure Mahomes and Allen have had to improve too but it wasn't on a national spotlight, on the biggest stage, at the highest level of football.
If Allen can dig deep and just work and work on his already elite game, Allen could surprise people once AGAIN! I still feel like he might have untapped potential. He is only going to be 27 when this upcoming season begins!
I think Allen should learn some things from Tom Brady! Big arms, big dudes. That's just my gut though!!
The Bills have a pretty low first round draft pick this season, sitting in the 27 spot. But hey at least they've got a first round pick. Sometimes good teams willy nilly trade away their top picks which I believe is foolish.
I don't really keep up with the Bills, but I think they should pick up a running back or defensive line?
Where do the Bills go from here? What's there future look like? Leave a comment!
Src
---
I love talking all NFL teams but I like to end these with some Titans content!
The Titans have been taking a look at Mr. Hooker, QB from Tennessee. Hmmmmmmmm.
---
---