Tony Ferguson vs Michael Chandler is such a cool matchup! - UFC 274 TONIGHT!
UFC 274 is set to take place tonight in Phoenix, Arizona and it's got some great matchups throughout!
There's one matchup in particular that I'm really excited about though and it's not even the main event championship fight!
The fight I'm pumped for is Michael Chandler vs Tony Ferguson! What a legendary matchup and I wonder if MMA fans truly appreciate it! I believe there's no doubt this battle will age well in MMA and sport history.
There's so many reasons I feel this matchup is epic, and I suppose to most MMA fans this notion is not a hot take. But I am going to try and break it down anyway LOL.
Chandler vs Ferguson is a lightweight matchup between two veterans who have competed at a high level professionally for virtually the exact same amount of time. Right there is where the fascination begins.
The amount of rather striking similarities between these two fighters is notable. At the exact same time there are very striking differences between these two men as well. As I realize this I begin to be that much more hype about this bout!
Differences
I will start with the interesting and obvious differences between Tony and Michael because that's what I thought of first when I heard of this matchup.
Size. These two are built totally different. Tony is the taller, wiry type, and Michael is the shorter stockier ball of muscle type.
Striking Style. Tony has a well known unorthodox striking style. Unpredictable timing and strike selection, sharp footwork. Lots of cardio. Michael on the other hand is more on the traditional side when it comes to his striking style. Cleaner boxing. Heavy punches. Not shy about using power.
MMA Organization History. Tony is a UFC legend, while much of Chandler's career has been spent in Bellator, where he's a legend in his own right.
Personality. For the most part, these two guys are really much different when it comes to their personalities. Tony is sort of a random wacky dude much of the time. Kind of confrontational at times and just sort of an oddball. Michael on the other hand is more of a regular clean cut dude, generally a nice guy. Not to say Tony is a total jerk, but Michael just seems like a friendly neighbor or something LOL.
Similarities
Wrestling Backgrounds. Both of these guys excelled at wrestling in college. They also both were great all-around athletes.
Age. They are quite close in age, separated by just two years. Tony is 38, while Michael is 36.
Length of Time in Pro MMA. Tony's first pro fight was in 2008, while Michael's was in 2009.
Both have sniffed UFC Titles. Tony actually was partially a champion when he became Interim UFC Champ in 2017, but never won the belt outright. Michael fought for the UFC Title as recent as 2021.
Tough as nails. Throughout the years, both of these men have proven their toughness and grit. These two are dawgs.
---
This fight will answer so many questions I didn't even know I want answered. While it's arguable these two aren't in their primes anymore, they are absolutely not some old bums by any stretch of the imagination. This is #7 Tony vs #5 Chandler.
These two are not former UFC Champs, but they have both accomplished so much in this sport. These two are absolutely elite and it's just so cool we fans get to see how this matchup can play out.
This fight has immediate career consequences and immediate ranking-toward-a-title consequences (which I guess are pretty much the same thing LOL). This fight is also a tremendous legacy building fight in my opinion, historical.
The final similarity between these guys is, they are both MMA bosses.
Wow, what a picture. Imagine the energy on stage up there! So much elite experience between these gentlemen, who took their own paths. They now finally meet. Perhaps they were always meant to fight, one day. This is a matchup I didn't realize I needed.
Michael on the left, and Tony on the right wearing his sunglasses, of course.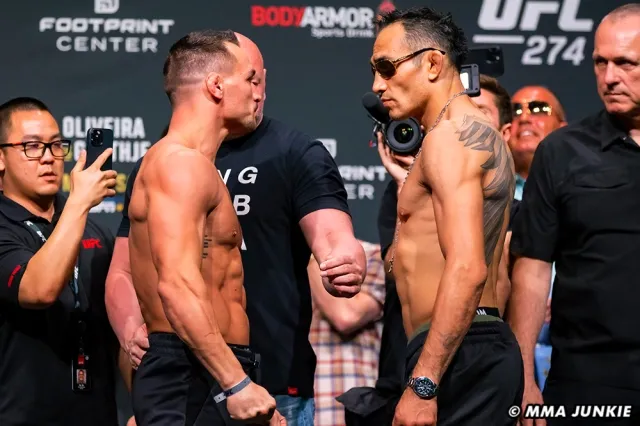 I wish a fighter didn't have to lose. Props to both guys for saying yes to this one. I believe both of their legacies ultimately grow from this one, no matter the result.
I don't have a clue who wins.
It goes down tonight in Arizona.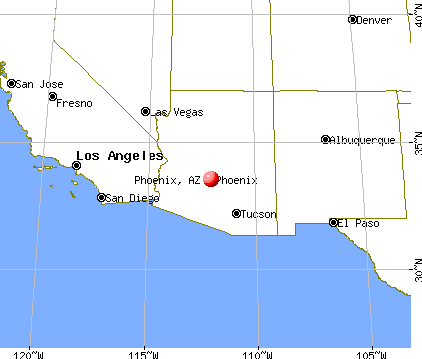 This is going to be a treat, my popcorn is ready. This fight sells itself, but these two have been doing a great job selling it. Both charismatic and ready to roll!
---
---