[Esp-Eng] 🧿Cornealus🧿 🎨Splinterlands Art Contest🎨 Week 206 By @afa.hb03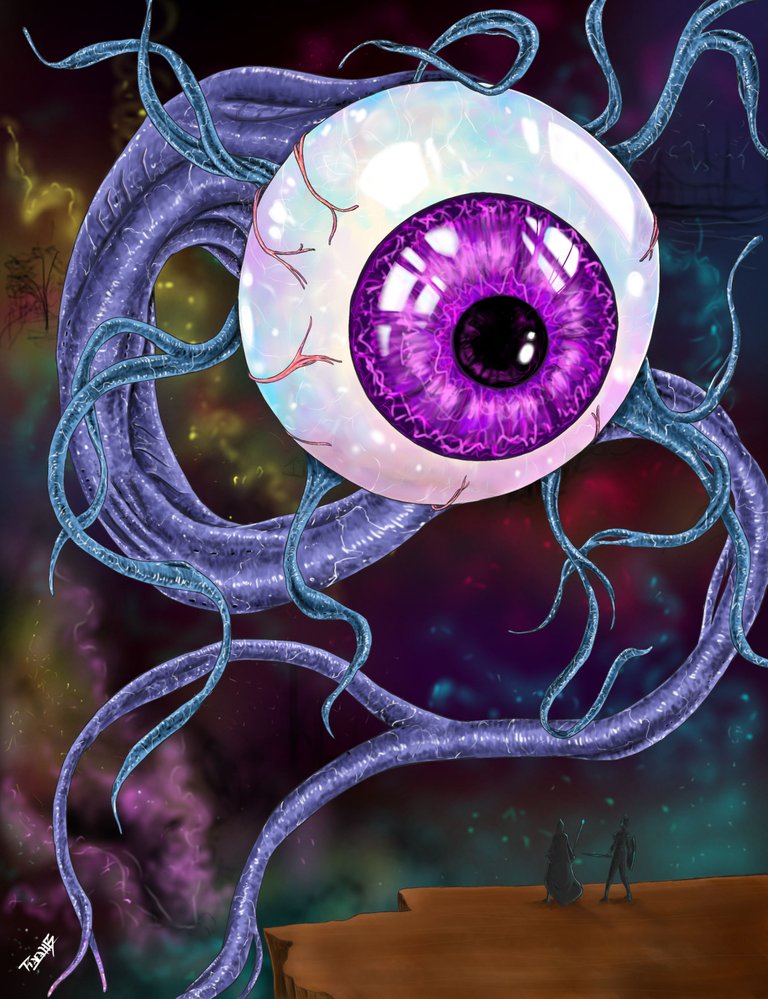 ---
Saludos amigos de #hive y #alienart, espero estén teniendo una excelente semana, el día de hoy comparto con ustedes mi participación al concurso semanal de splinterlands, donde cada semana varios artistas crean espectaculares ilustraciones de las maravillosas cartas de este increíble juego. La carta que seleccioné esta semana fue Cornealus, una extraña criatura con poderes mágicos e increíble visión, aún se desconoce su origen y de donde proviene, siendo poca la información que se tiene acerca de esta extraña criatura con forma de ojo, sin duda un diseño sencillo pero que capta nuestra atención.
Greetings friends of #hive and #alienart, I hope you are having a great week. Today I share with you my participation in the splinterlands weekly contest, where every week several artists create spectacular illustrations of the wonderful cards of this incredible game. The card I selected this week was Coenealus, a strange creature with magical powers and incredible vision, its origin and where it comes from is still unknown, being little information we have about this strange eye-shaped creature, certainly a simple design but that captures our attention.
Para esta ilustración decidí hacerlo de gran tamaño, para que de está forma se viese poderoso e imponente, detallando poco a poco sus increíbles venas y "tentáculos" para que tuviesen ese aspecto viscoso, y usando varios tonos en el ojo, además de resaltar su iris. Para el fondo busque que este tuviese mini imágenes de distintos lugares, representando que de está forma también puede ver más allá de lo que lo rodea, siendo esta la principal razón del porque los pequeños campeones han decidido en ir en su búsqueda, quedando maravillados con el tamaño de la criatura que se muestra ante ellos.
For this illustration I decided to make it large, so it would look powerful and imposing, detailing little by little its incredible veins and "tentacles" to have that viscous appearance, and using various shades in the eye, in addition to highlighting its iris. For the background I looked for mini images of different places, representing that this way he can also see beyond what surrounds him, being this the main reason why the little champions have decided to go in his search, being amazed with the size of the creature that is shown before them.

📱𝑷𝒓𝒐𝒈𝒓𝒂𝒎𝒂 𝒖𝒕𝒊𝒍𝒊𝒛𝒂𝒅𝒐📱
📱𝑷𝒓𝒐𝒈𝒓𝒂𝒎 𝒖𝒔𝒆𝒅📱
🖌️Procedimiento🖌️
🖌️Procedure🖌️
Realicé la base del dibujo utilizando el lápiz digital y el color azul, para después en una nueva capa empezar a definir mejor sus poses, y dando forma a cornealus y toda su estructura.
I made the base of the drawing using the digital pencil and blue color, and then in a new layer I started to better define their poses, and give shape to cornealus and all its structure.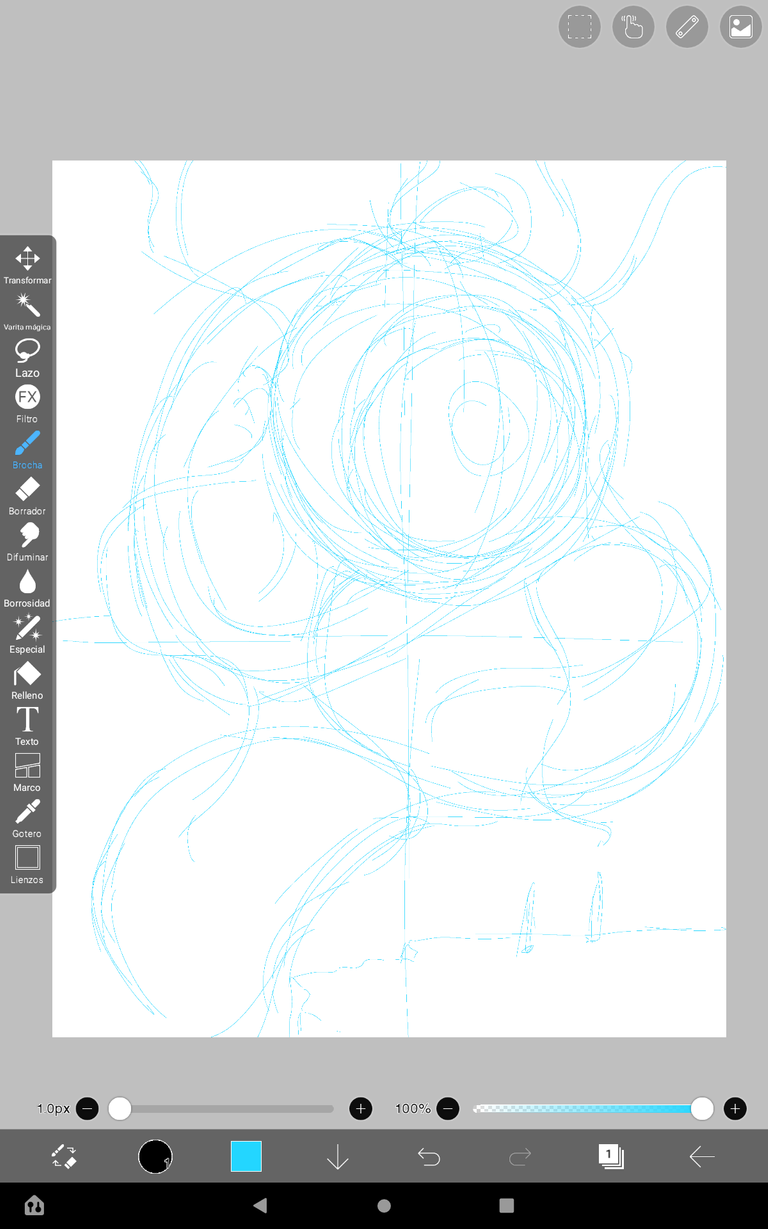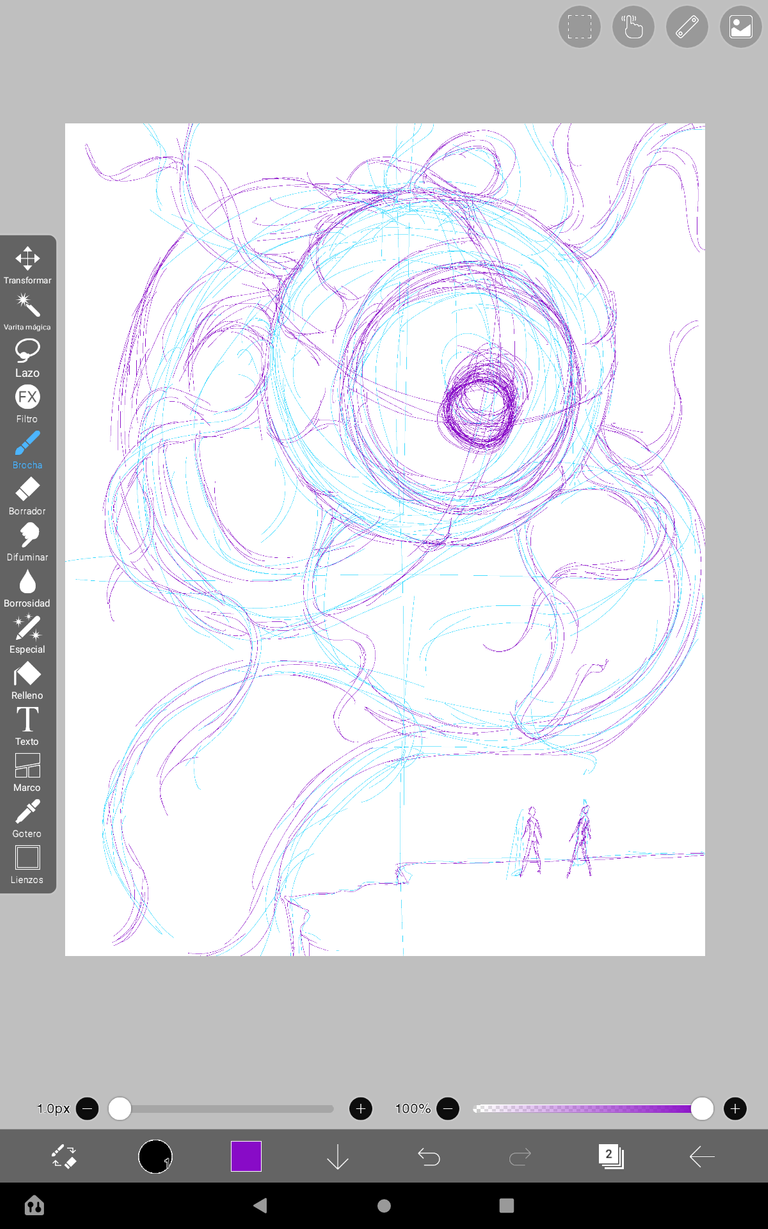 ---
Realicé el trabajo de línea usando la tinta china suave y el color negro, empezando por cornealus y terminando con los dos mini campeones, para después eliminar las dos primeras capas. Aplique la base de color utilizando el rellenador y aplique los tonos correspondientes a cada zona.
I did the line work using the soft Indian ink and black color, starting with cornealus and ending with the two mini champions, and then removing the first two layers. Apply the base color using the filler and apply the corresponding tones to each area.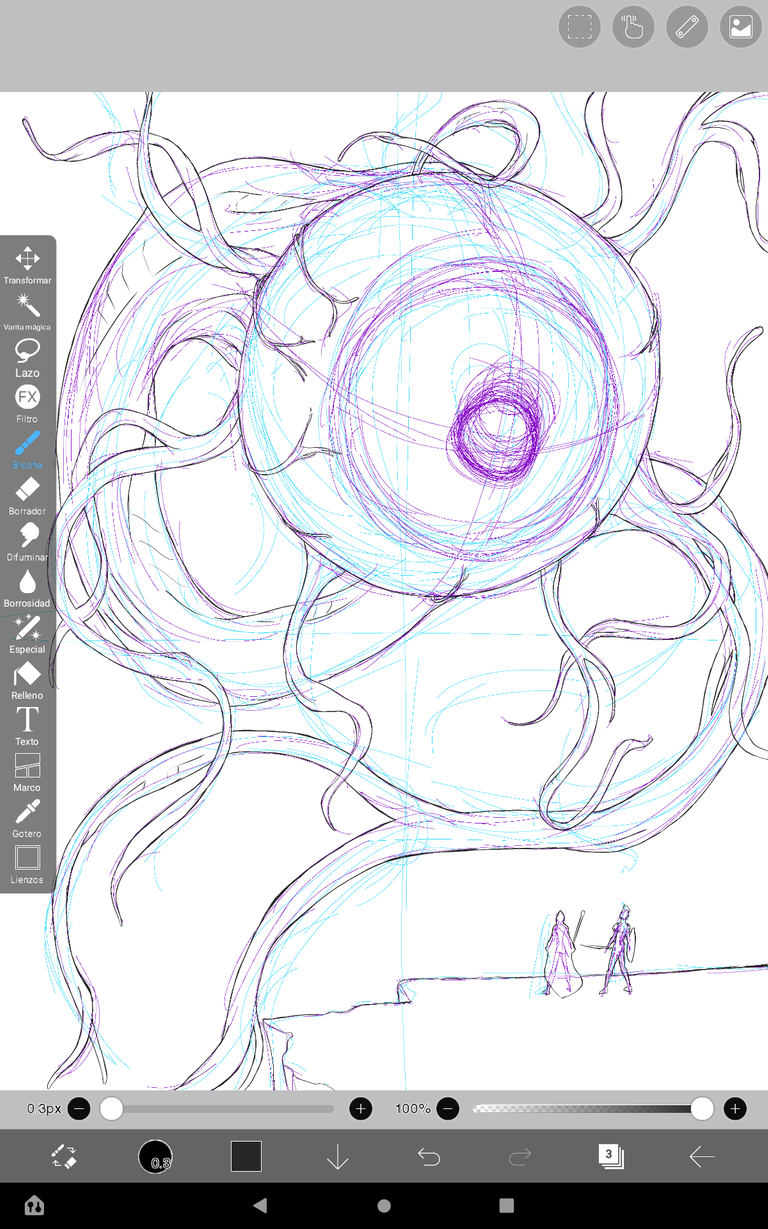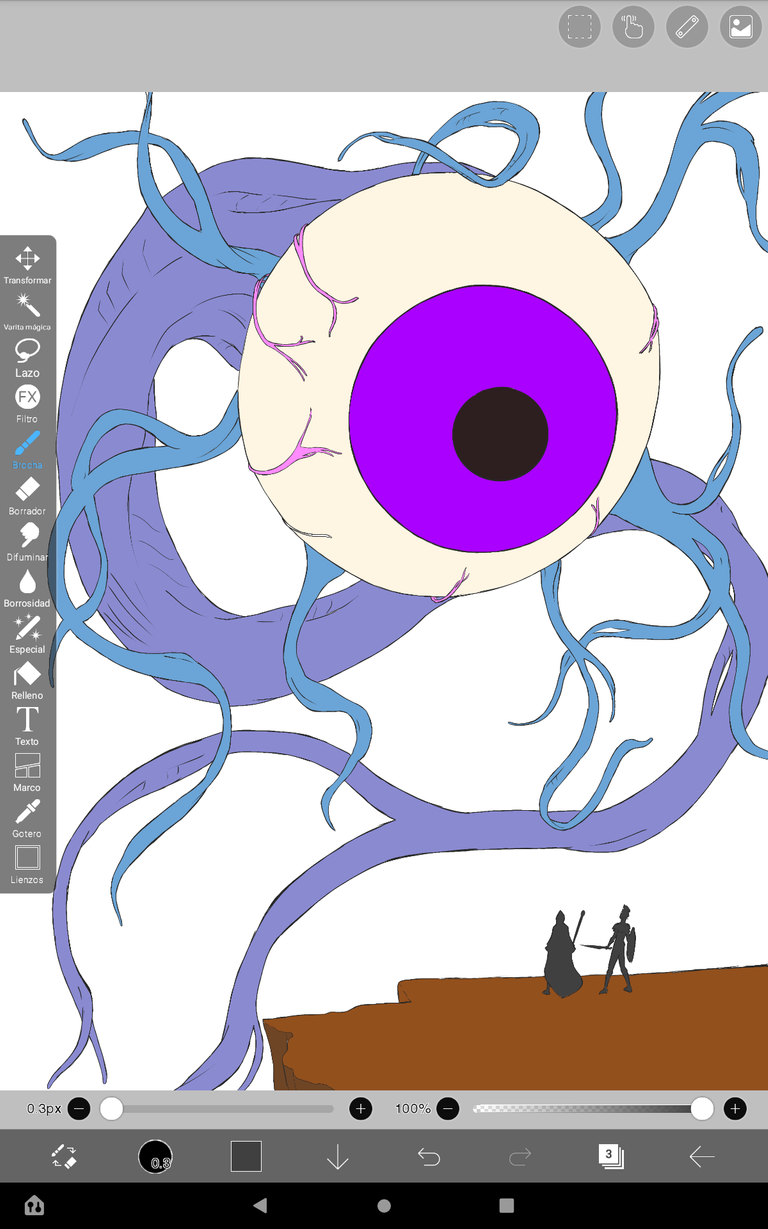 ---
Utilizando el óleo suave aplique una base en la "cola", usando tonos morados, después con el aerógrafo triangular empecé a degradar tonos y realizar la luz y darle textura.
Using the soft oil applied a base in the "tail", using purple tones, then with the triangular airbrush I began to degrade tones and make the light and give texture.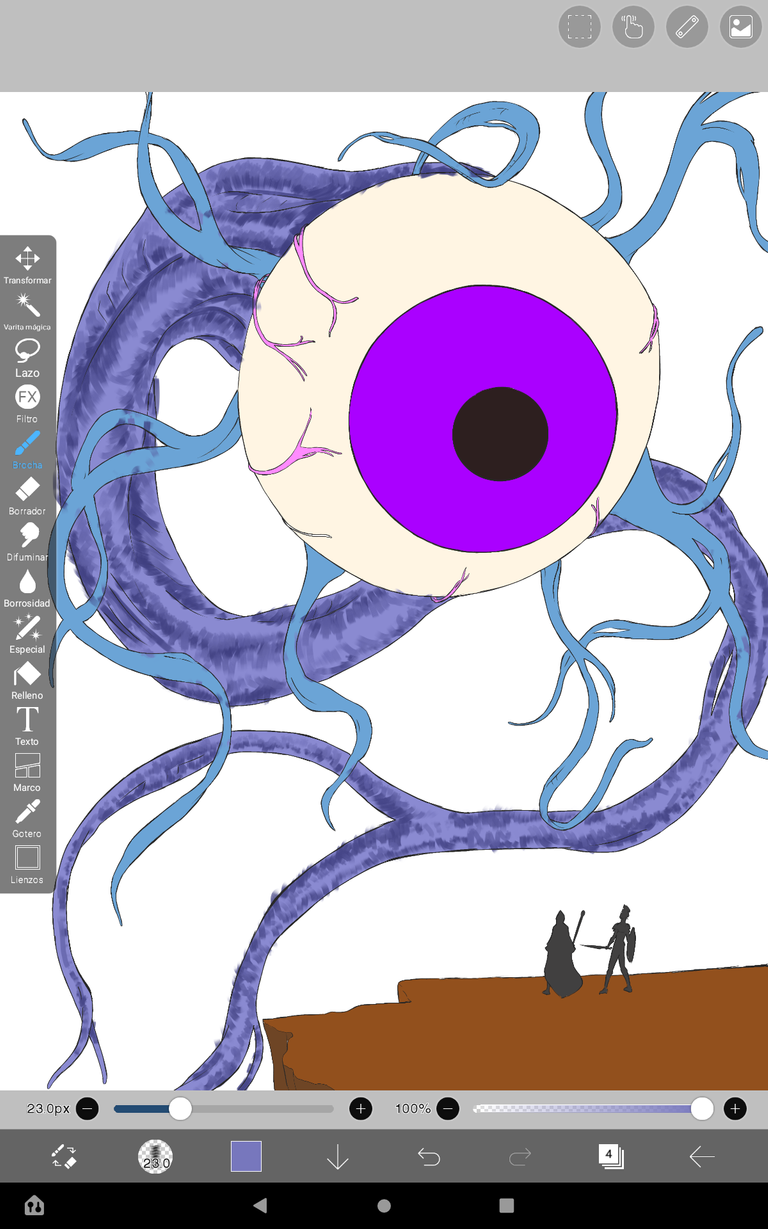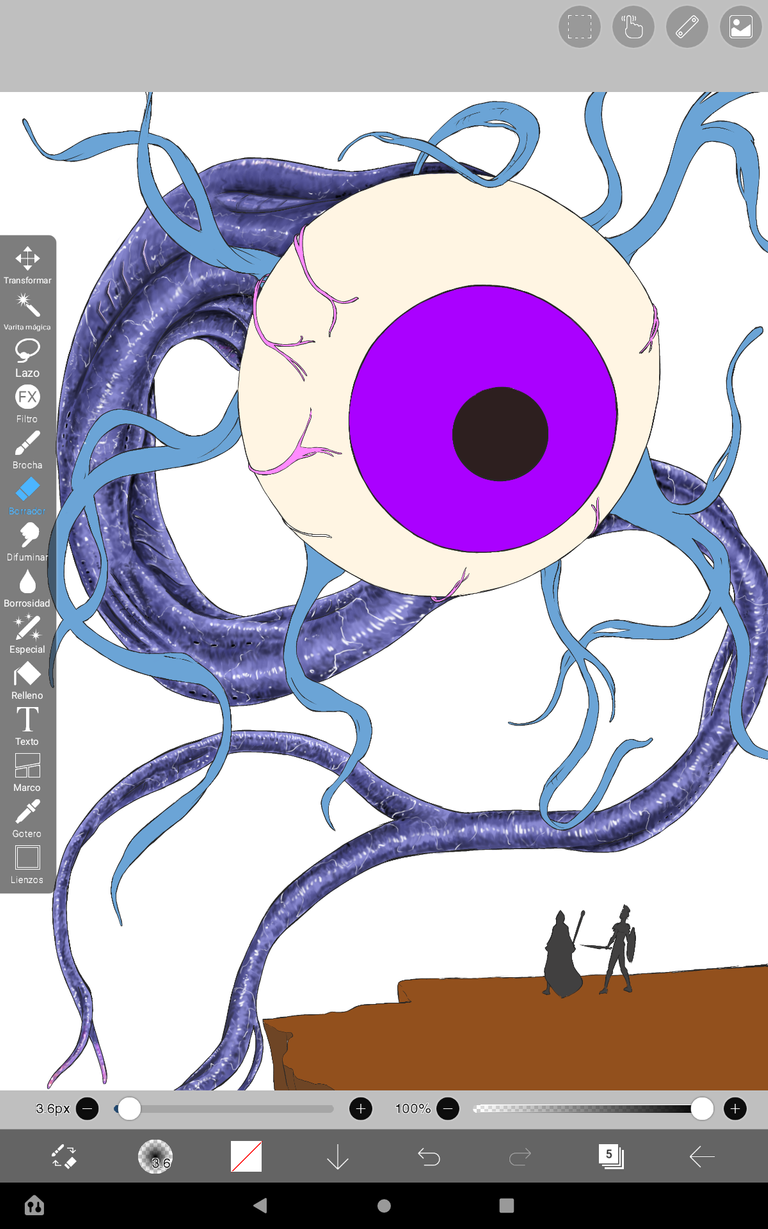 ---
Realicé en una nueva capa el mismo procedimiento en los tentáculos, aplicando primero manchas en óleo y después degradando y realizando la textura con el aerógrafo, pero usando tonos azules.
I did in a new layer the same procedure in the tentacles, first applying oil stains and then degrading and making the texture with the airbrush, but using blue tones.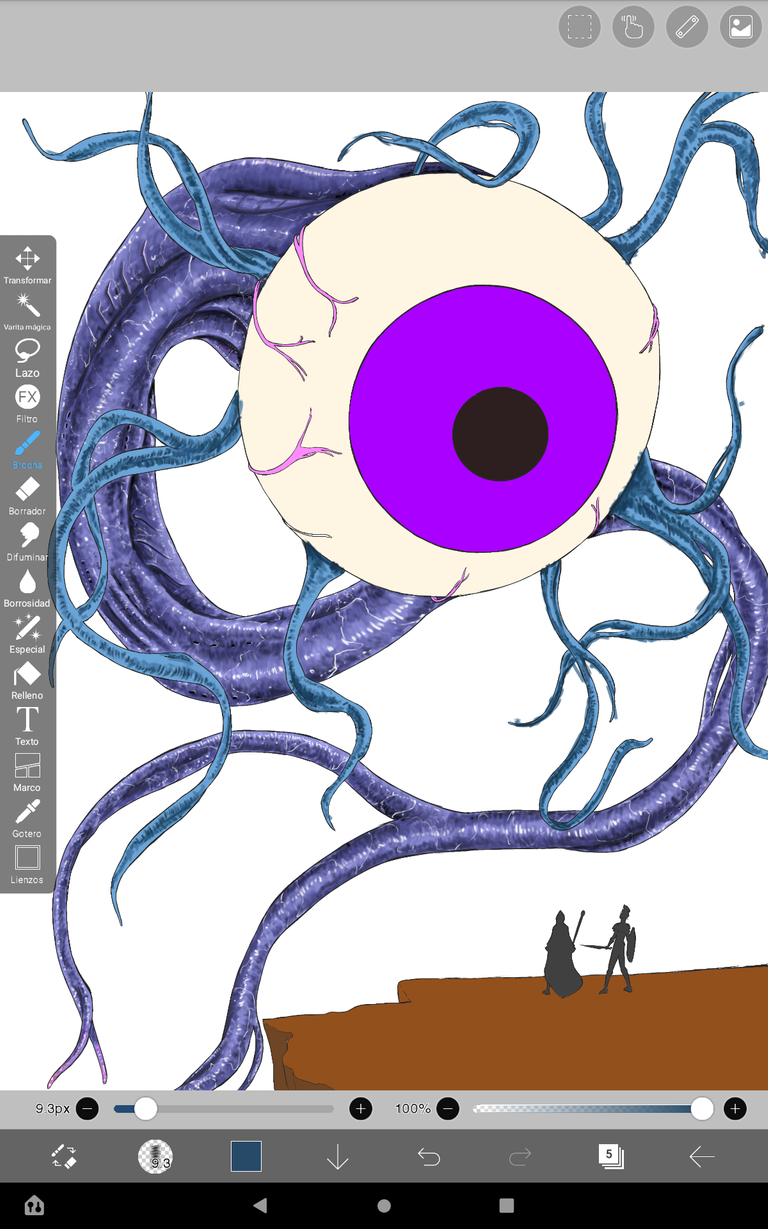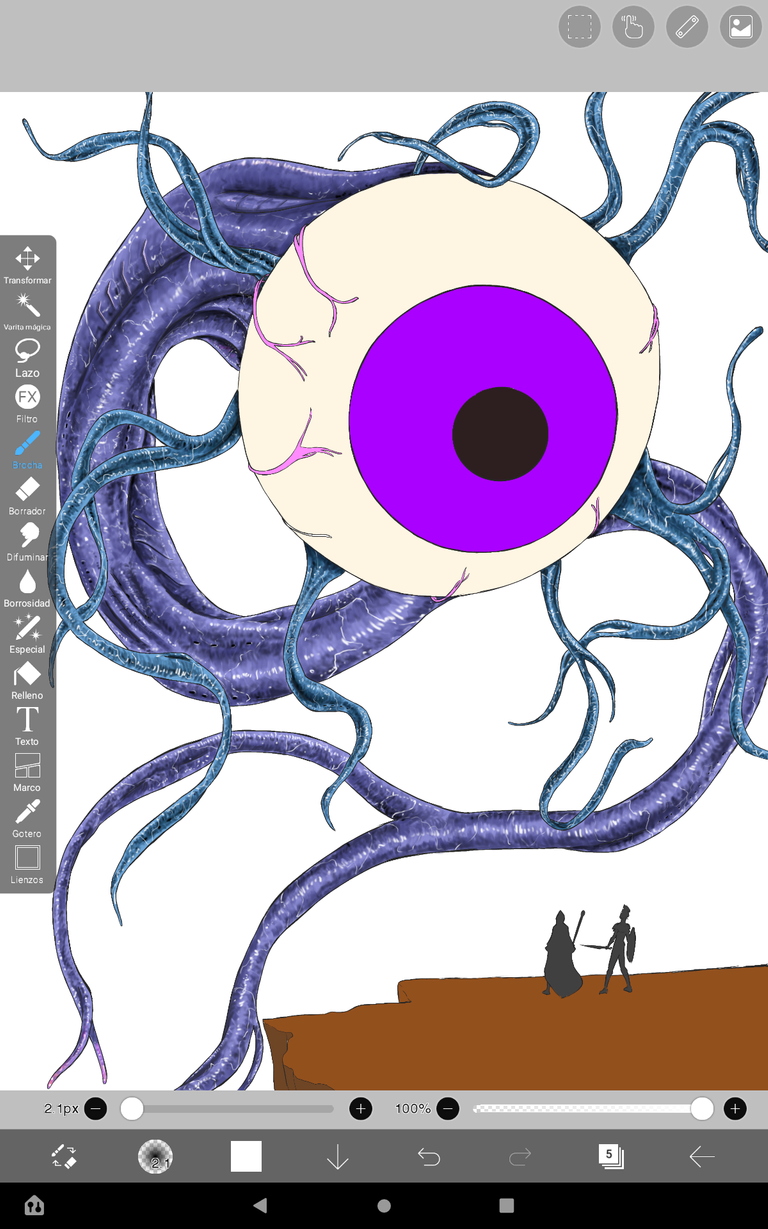 ---
Aplique varios tonos como azul, rosado, y beige con el óleo en la parte blanca del ojo, para después empezar a degradar con el aerógrafo. También detallé las pequeñas venas de tonos rosados.
I applied several tones like blue, pink, and beige with the oil on the white part of the eye, and then I started to degrade with the airbrush. I also detailed the small veins with pink tones.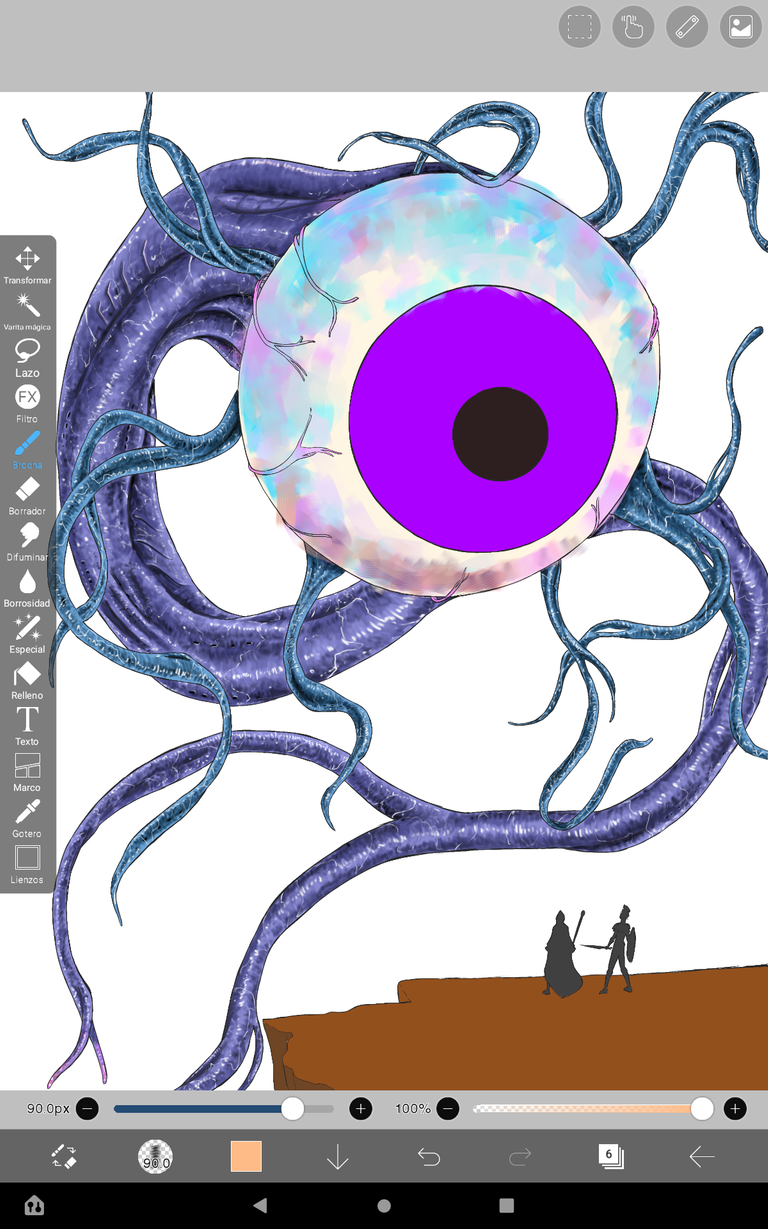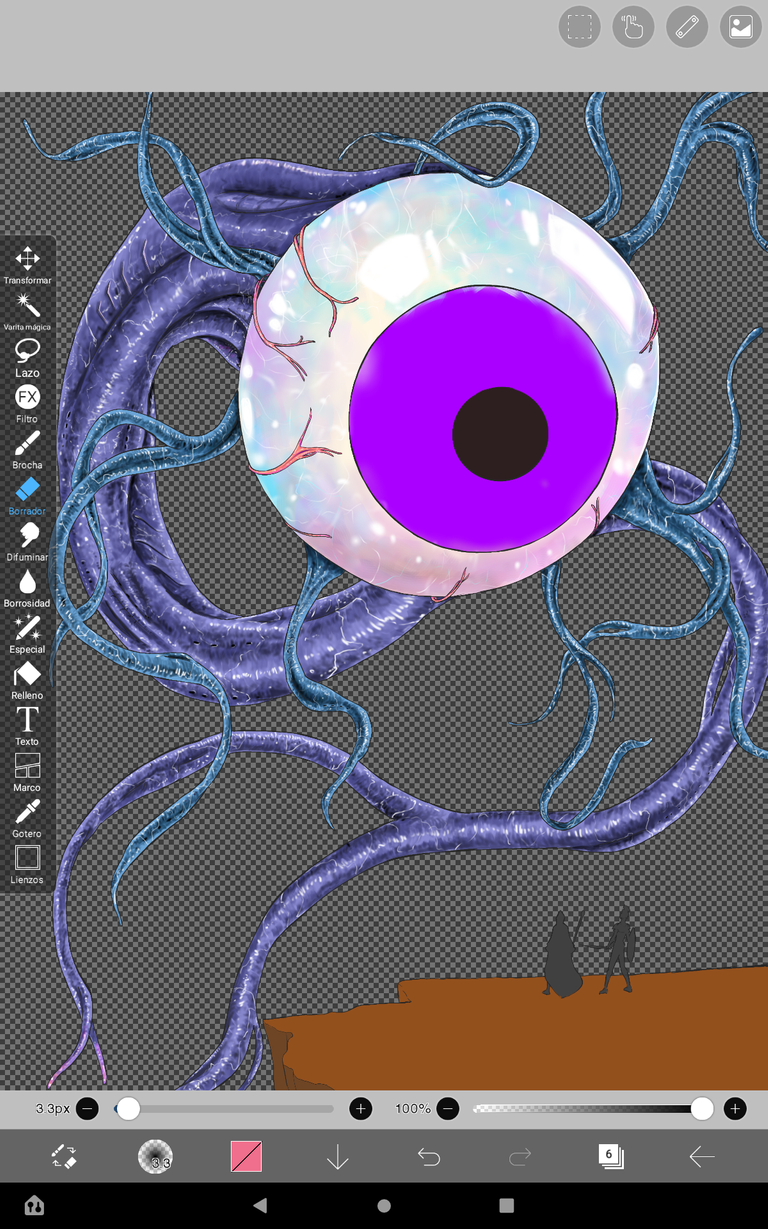 ---
Use varios tonos entre morado y violeta para empezar a detallar el iris, culminando con la aplicación de blanco para el brillo y negro para la pupila. Después detalle la parte rocosa y a los pequeños campeones, usando sus respectivos tonos.
I used various shades between purple and violet to start detailing the iris, culminating with the application of white for the shimmer and black for the pupil. Then I detailed the rocky part and the little champions, using their respective tones.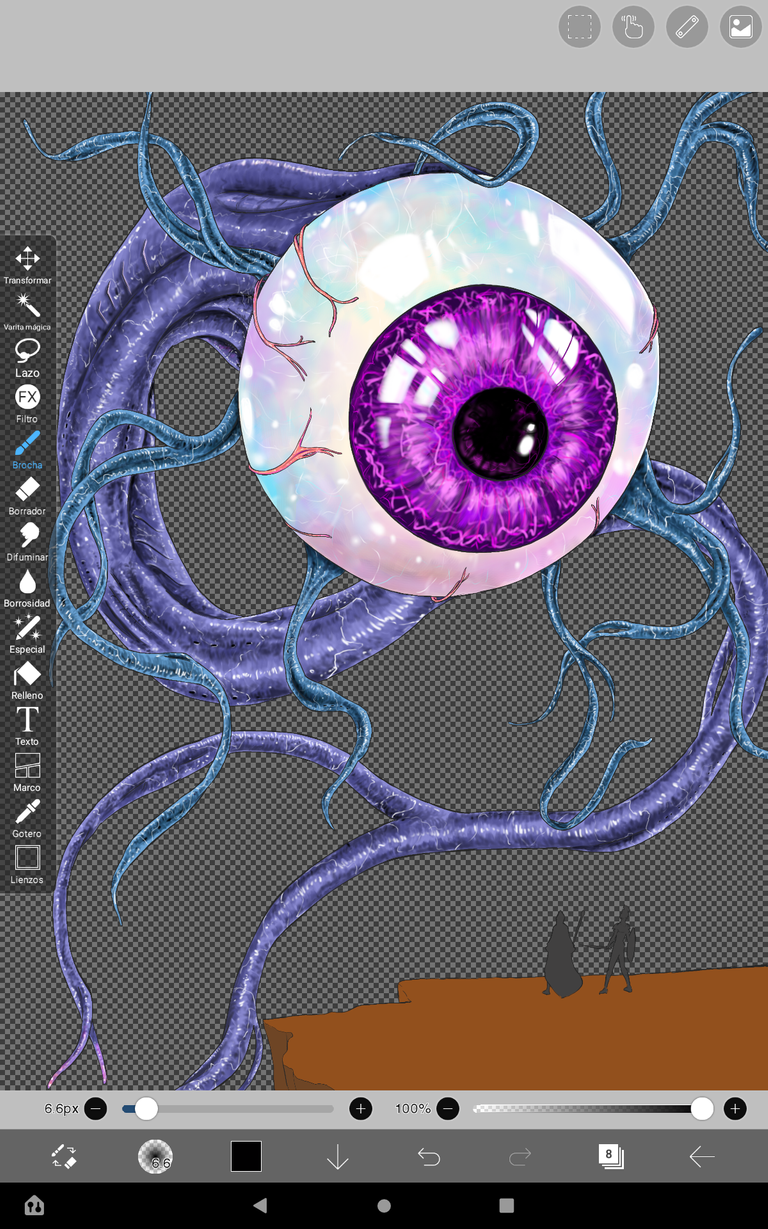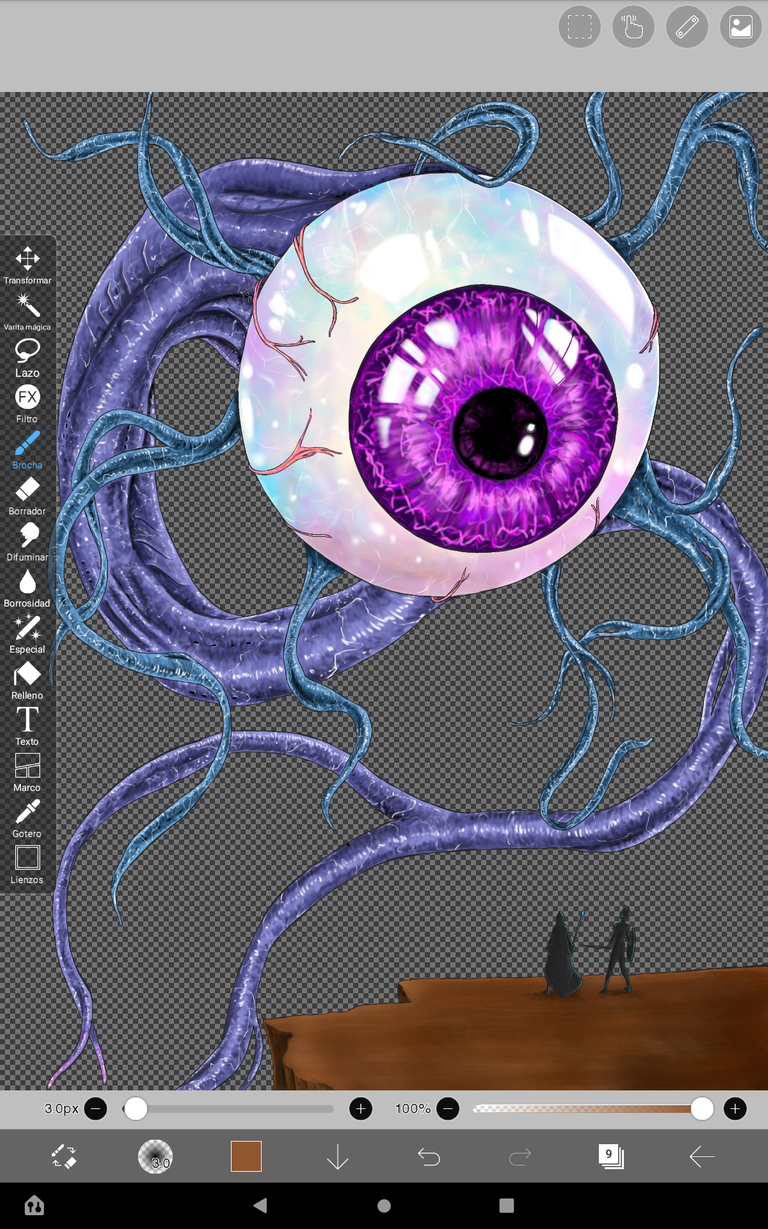 ---
Para el fondo realicé una base de negro y después empecé a dar forma con el aerografo, utilizando diversos tonos de colores, realizando a su vez pequeñas luces para hacerlo más resaltante. También hice pequeños escenarios en ciertas partes del fondo, representando las diversas áreas a las que puede observar este gigantesco ojo.
For the background I made a black base and then I started to give shape with the airbrush, using different shades of colors, making small lights to make it more prominent. I also made small sceneries in certain parts of the background, representing the different areas that this giant eye can observe.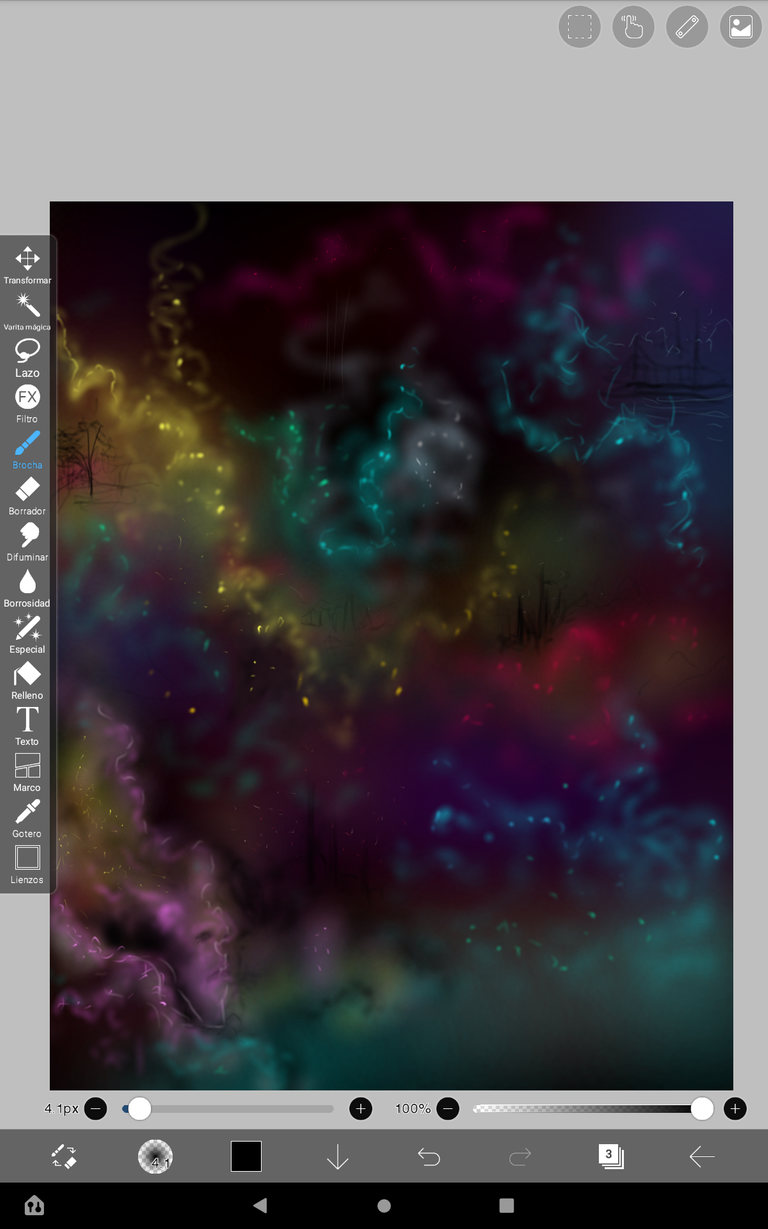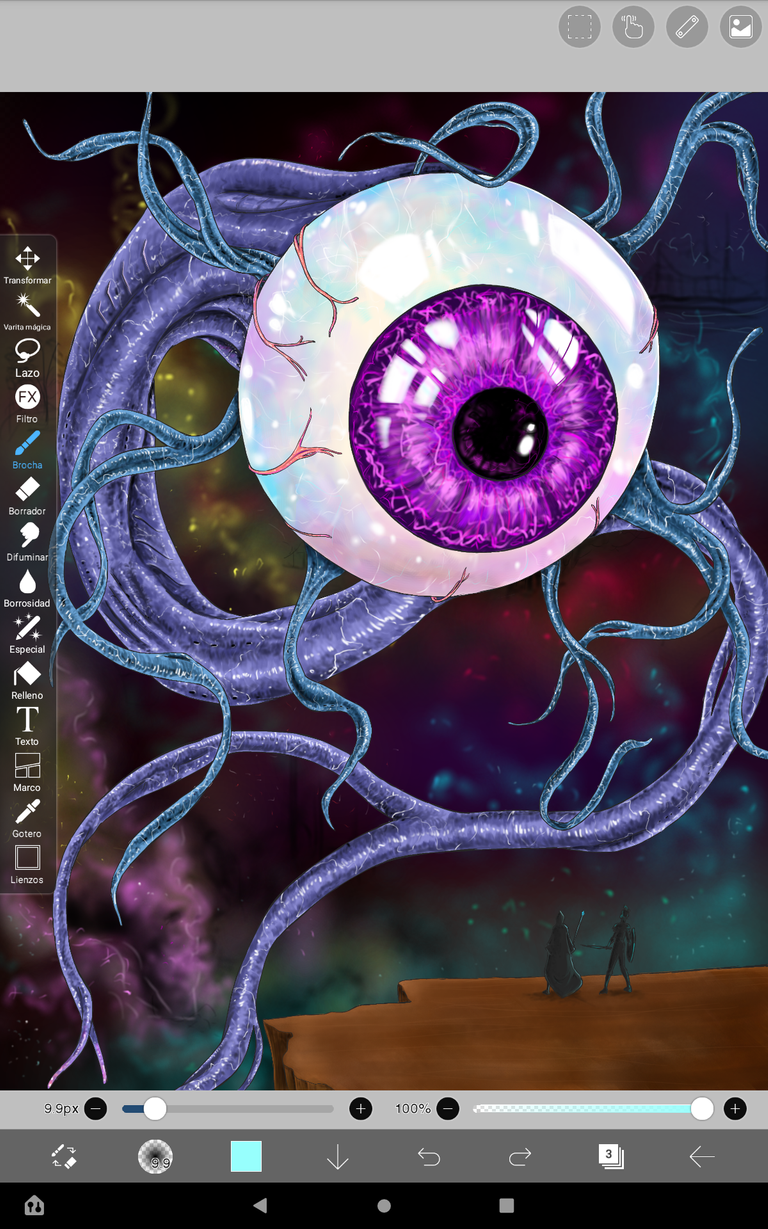 ---

Esperó les haya gustado mi entrada al concurso semanal de splinterlands, siendo el inmenso cornealus el personaje ilustrado para la semana 206, el cual me tomó 11 horas en su elaboración, aplicando nuevas herramientas como el óleo suave y utilizando una gran diversidad de colores. Estoy muy contento con este resultado, además la textura viscosa que logre darle en unas áreas me encanta, el fondo a su vez fue otro gran protagonista en esta ilustración, lleno de luces y colores, con este aspecto mágico e irreal.
I hope you liked my entry to the splinterlands weekly contest, being the immense cornealus the illustrated character for week 206, which took me 11 hours in its elaboration, applying new tools such as soft oil and using a great diversity of colors. I am very happy with this result. Besides the viscous texture that I managed to give in some areas I love, the background was another great protagonist in this illustration, full of lights and colors, with this magical and unreal aspect.
Los invito a visitar mi perfil 👉🏼@afa.hb03, donde podrán verán toda la variedad de dibujos y diseños que realizo diariamente.
I invite you to visit my profile 👉🏼@afa.hb03, where you can see the variety of designs and illustrations that I make daily.
✨🌟✨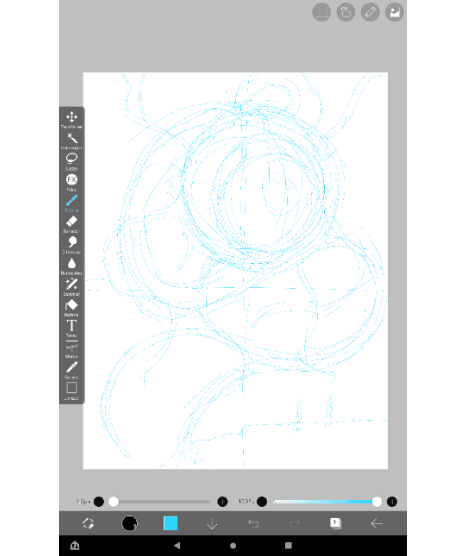 ✨🌟✨
✨🌟✨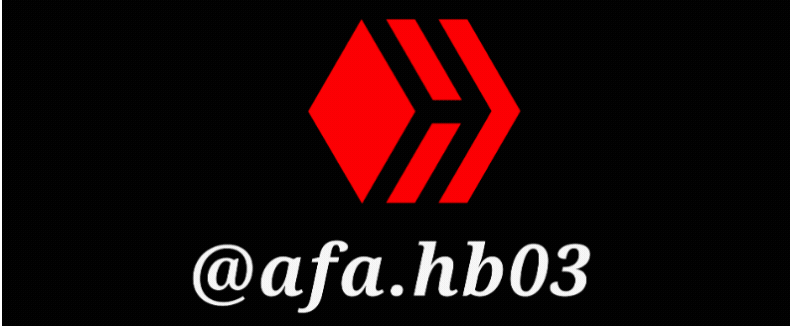 ✨🌟Gracias por leer, espero les guste y hasta una próxima publicación🌟✨
✨🌟Thanks for reading, I hope you like it and see you next time🌟✨
---
---