[Esp-Eng] Eddie Pokemon Master 🎨New Drawing🎨 By @afa.hb03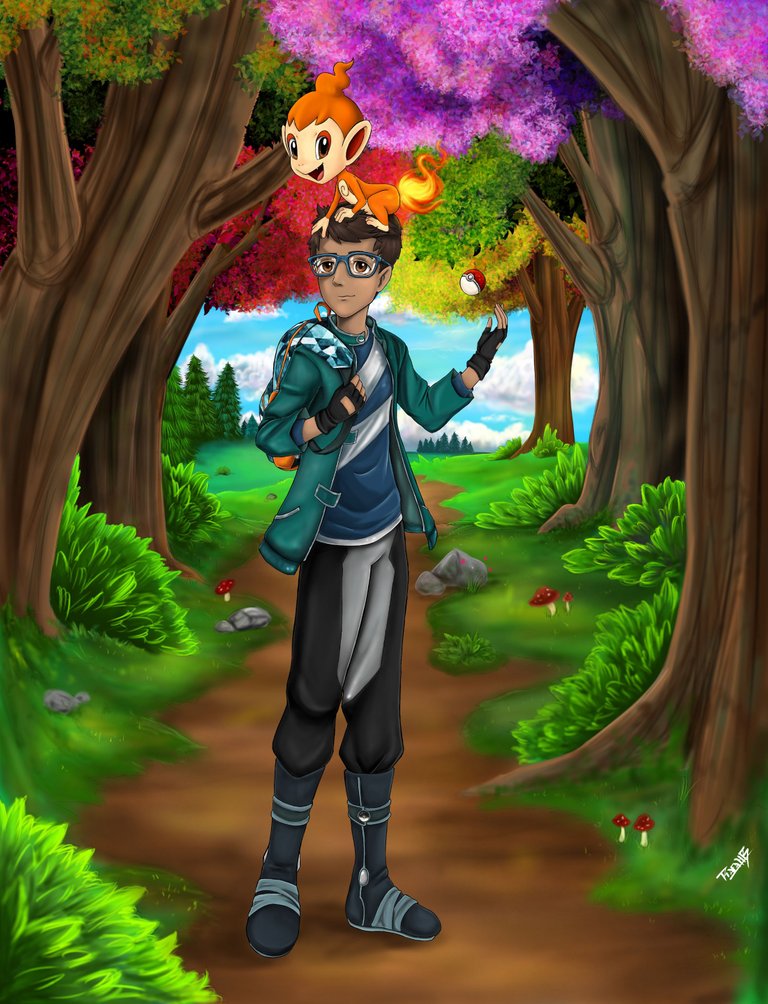 ---
Saludos amigos de #hive y #alienart, espero estén teniendo una marca lujosa semana, el día De hoy les muestro este dibujo de un entrenador pokémon, el cual es un obsequio para un amigo, junto a su primer inicial, siendo este el primer pokémon que escogió al jugar pokémon por primera vez, sin duda ese hermoso sentimiento que da al recordar nuestro primer juego y primer pokemon es algo muy lindo. Decidí empezar con este tipo de ilustraciones para empezar a armar mi portafolio, además de que me gusta mucho dibujar pokemons y digimons, siendo estas mis principales ilustraciones.
Greetings friends of hive and Allen art, I hope you are having a luxurious week, today I show you this drawing of a pokemon trainer, which is a gift for a friend, along with his first initial, being this the first pokemon he chose to play pokemon for the first time, no doubt that beautiful feeling that gives to remember our first game and first pokemon is something very nice. I decided to start with this kind of illustrations to start building my portfolio, besides I really like to draw pokemons and digimons, being these my main illustrations.
Mi amigo sugirió que para el fondo quería un bosque, por eso realice lo que sería la entrada a un bosque de árboles coloridos, y como se puede apreciar todo el amplio espacio que ha venido recorriendo para llegar a el. Los bosques en pokemon siempre están llenos de entrenadores y objetos, sin duda también es un buen lugar para subirle unos cuantos niveles a los pokemon es de tu equipo, además de la abundancia de pokemons tipo bicho, que en este caso serán definitivamente vencidos por el pequeño chimchar.
My friend suggested that for the background I wanted a forest, so I made what would be the entrance to a forest of colorful trees, and as you can see all the wide space that has been going through to get to it. The forests in pokemon are always full of trainers and objects, without a doubt it is also a good place to raise a few levels to the pokemon of your team, besides the abundance of pokemon type bug, which in this case will definitely be defeated by the small chimchar.

📱𝑷𝒓𝒐𝒈𝒓𝒂𝒎𝒂 𝒖𝒕𝒊𝒍𝒊𝒛𝒂𝒅𝒐📱
📱𝑷𝒓𝒐𝒈𝒓𝒂𝒎 𝒖𝒔𝒆𝒅📱
🖌️Procedimiento🖌️
🖌️Procedure🖌️
Realice la base del dibujo usando el lápiz digital y el color azul, haciendo ambas figuras para después, en una nueva capa, proceder a definir ambos dibujos con el color morado. Realizando la vestimenta, mochila, y dibujando ambas caras.
Make the base of the drawing using the digital pencil and the blue color, making both figures and then, in a new layer, proceed to define both drawings with the purple color. Making the clothing, backpack, and drawing both sides.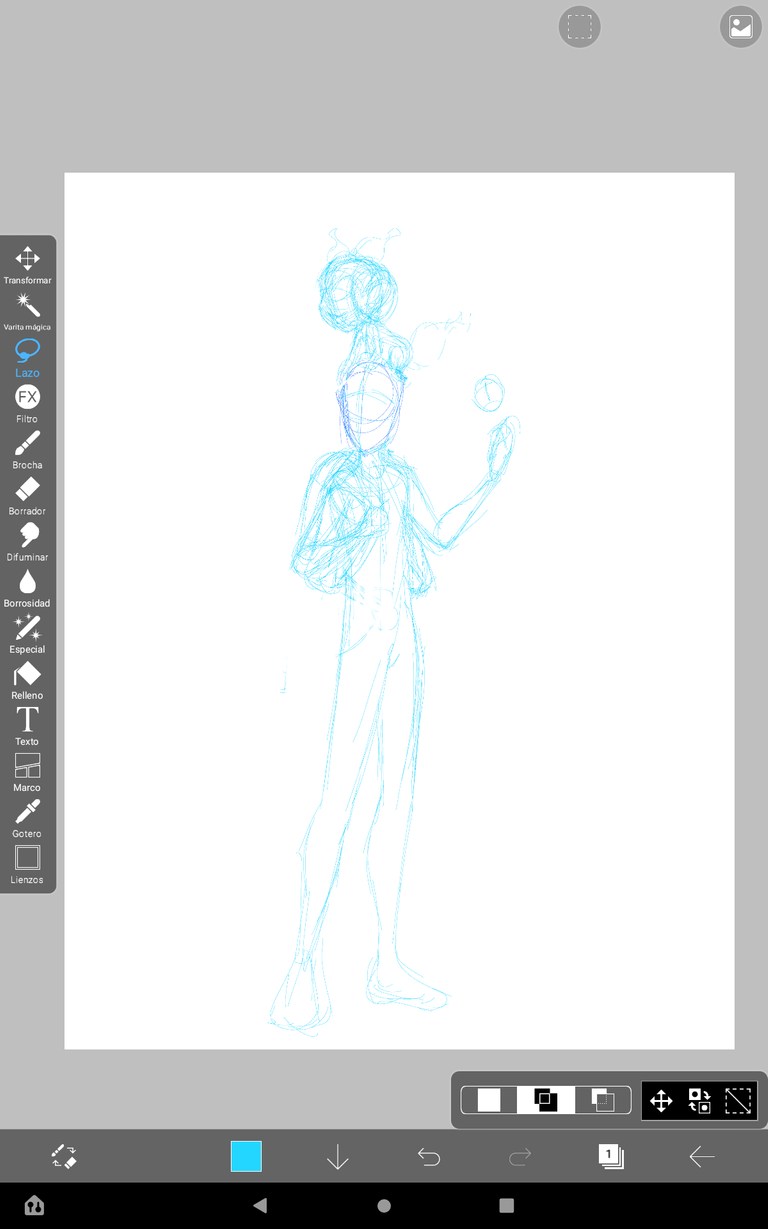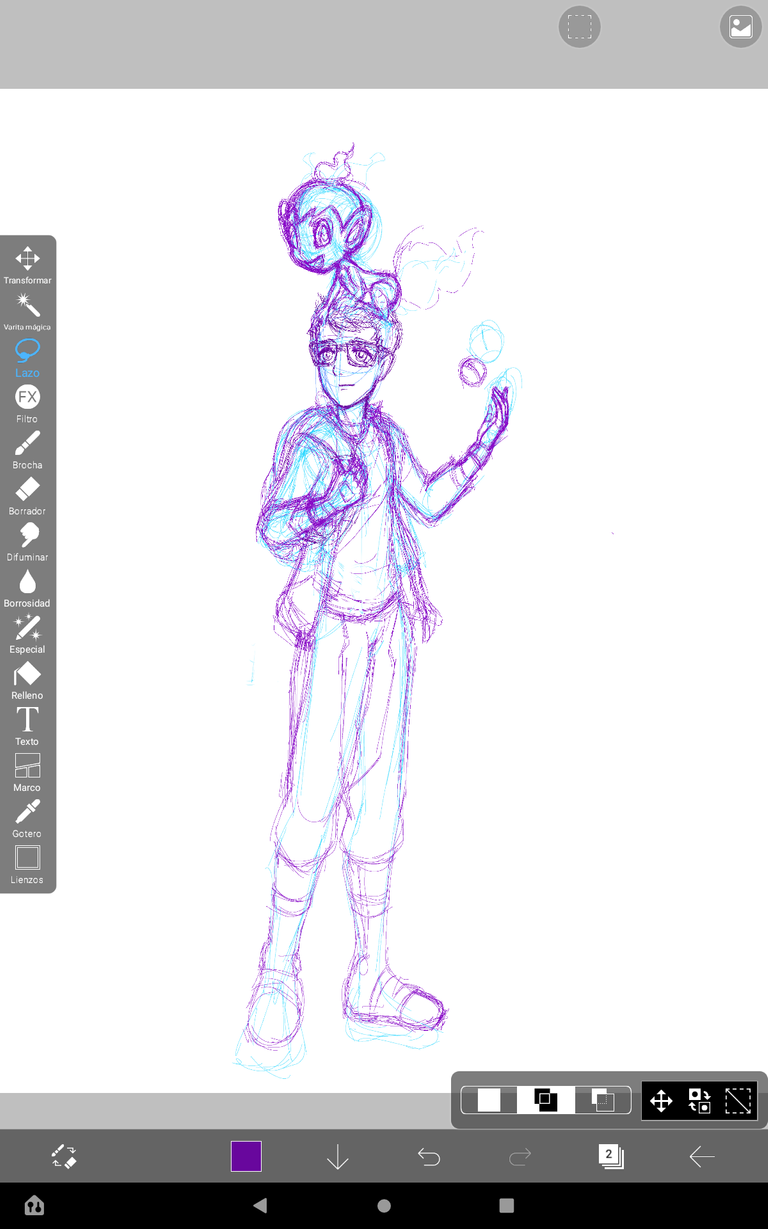 ---
Con la tinta china y el color negro empecé a realizar el trabajo de linea, para posteriormente a esto eliminar las capas previas, después aplique la base de color de todo el dibujo, con sus respectivos tonos en cara area.
With the Chinese ink and the black color I began to make the line work, to later eliminate the previous layers, then I applied the base color of the whole drawing, with its respective tones in face area.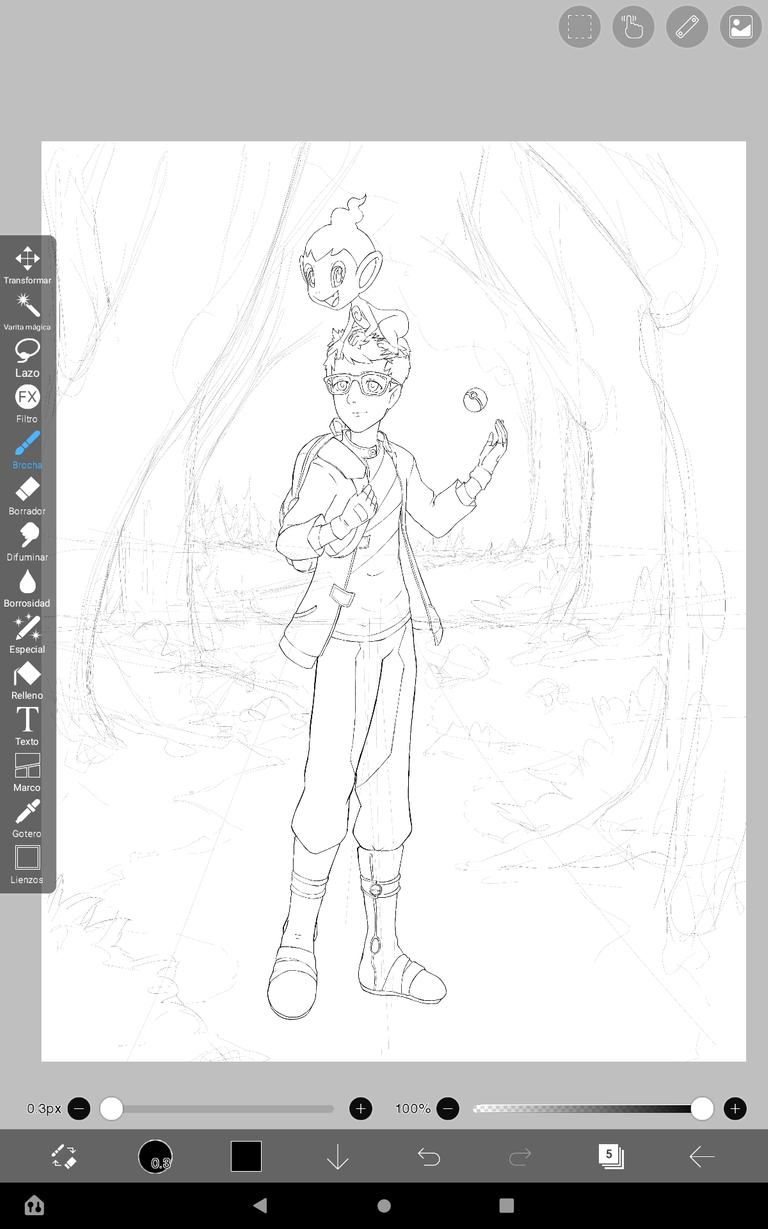 ---
Detalle la vestimenta del personaje, agregando sombra y luz a cada área partiendo de sus colores bases, usando en este caso el aerógrafo triangular. Después realice los tonos piel, detallando manos y la cabeza del personaje. Para su morral utilice un patrón, para darle ese aspecto de estampado, siendo de un tono azul y haciendo el resto de este de un color anaranjado.
Detail the clothing of the character, adding shadow and light to each area starting from their base colors, using in this case the triangular airbrush. Then make the skin tones, detailing the hands and the head of the character. For his backpack use a pattern, to give it that stamped look, being of a blue tone and making the rest of it of an orange color.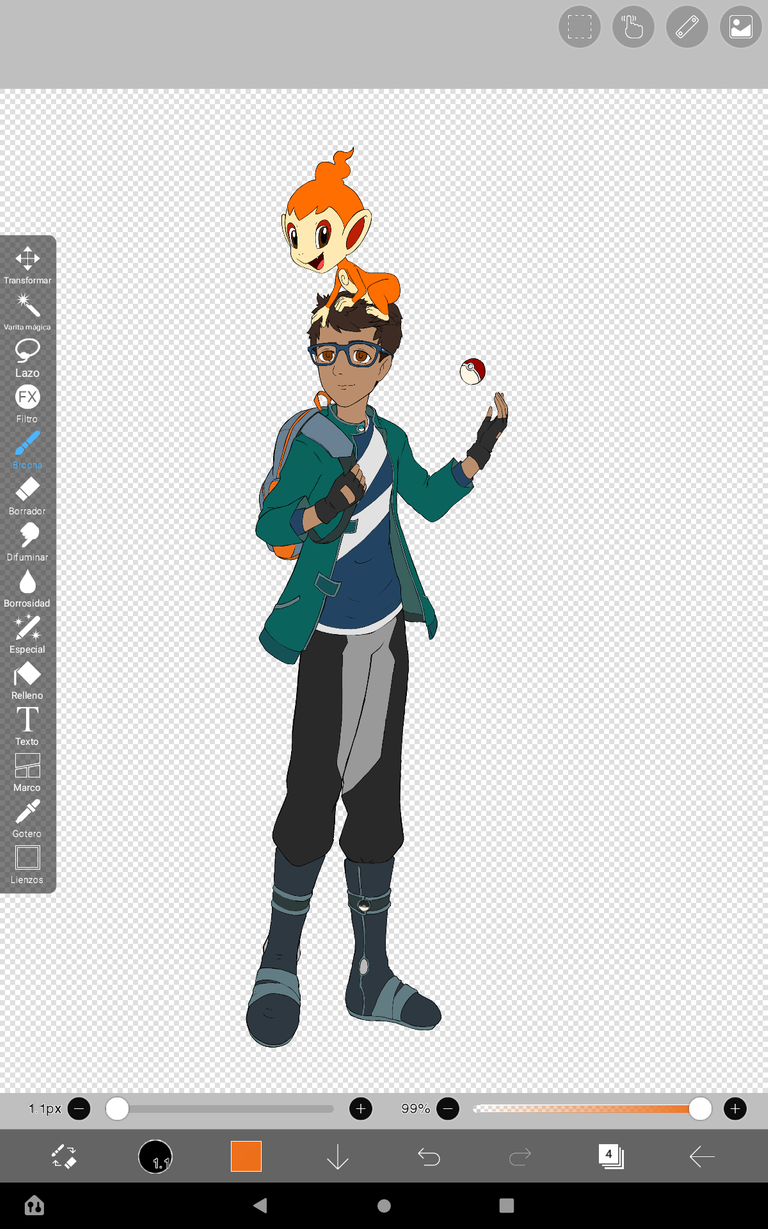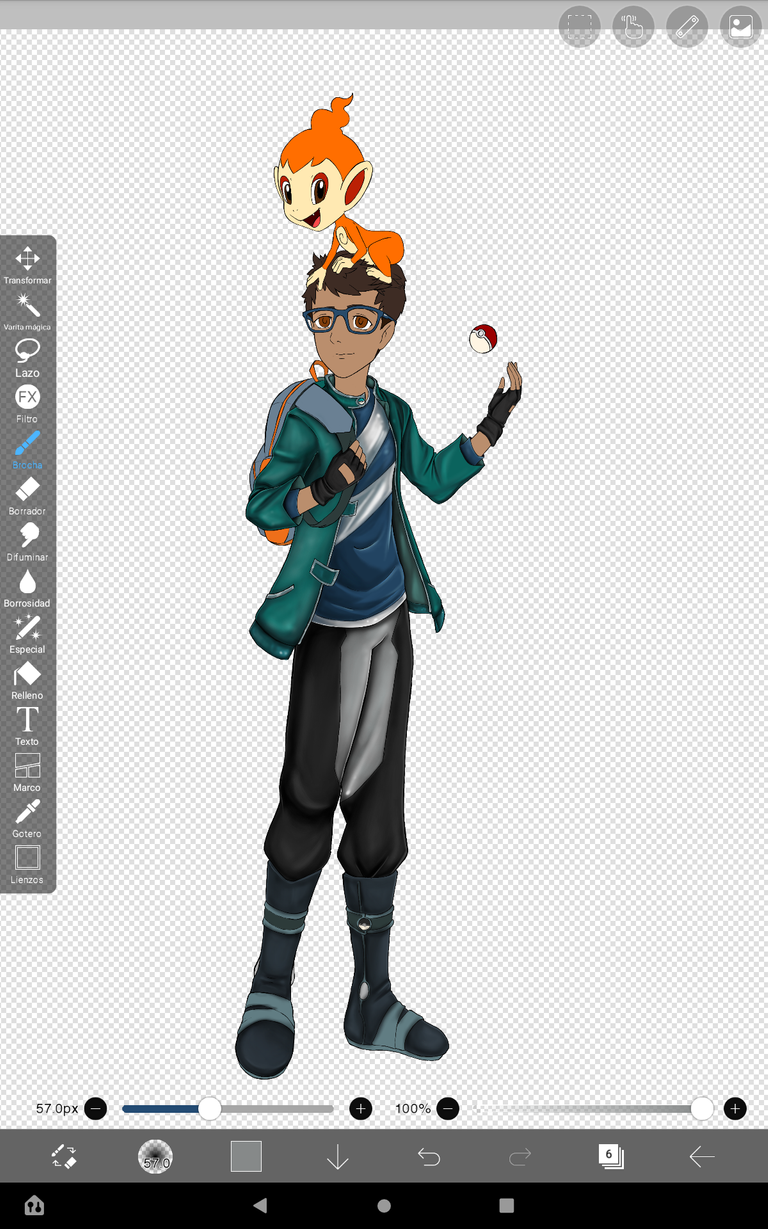 ---
Detalle a chimchar en su totalidad, empezando por sus tonos anaranjado y terminando en los tonos cremosos. Después detalle los ojos de ambos personajes y realice la flama de la cola de chimchar. Una vez culminado el dibujo procedí a realizar las líneas bases del fondo en una nueva capa.
Detail chimchar in its entirety, starting with its orange tones and ending in the creamy tones. Then detail the eyes of both characters and make the flame of chimchar's tail. Once the drawing was finished I proceeded to make the base lines of the background in a new layer.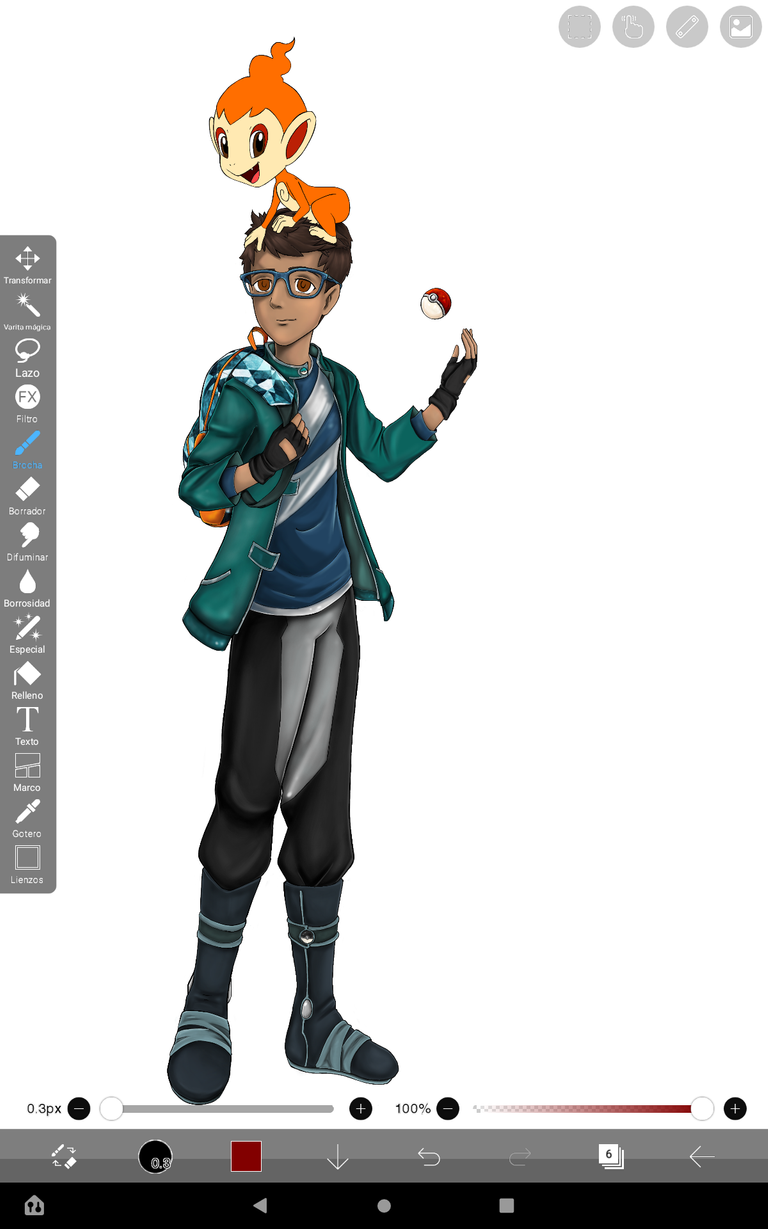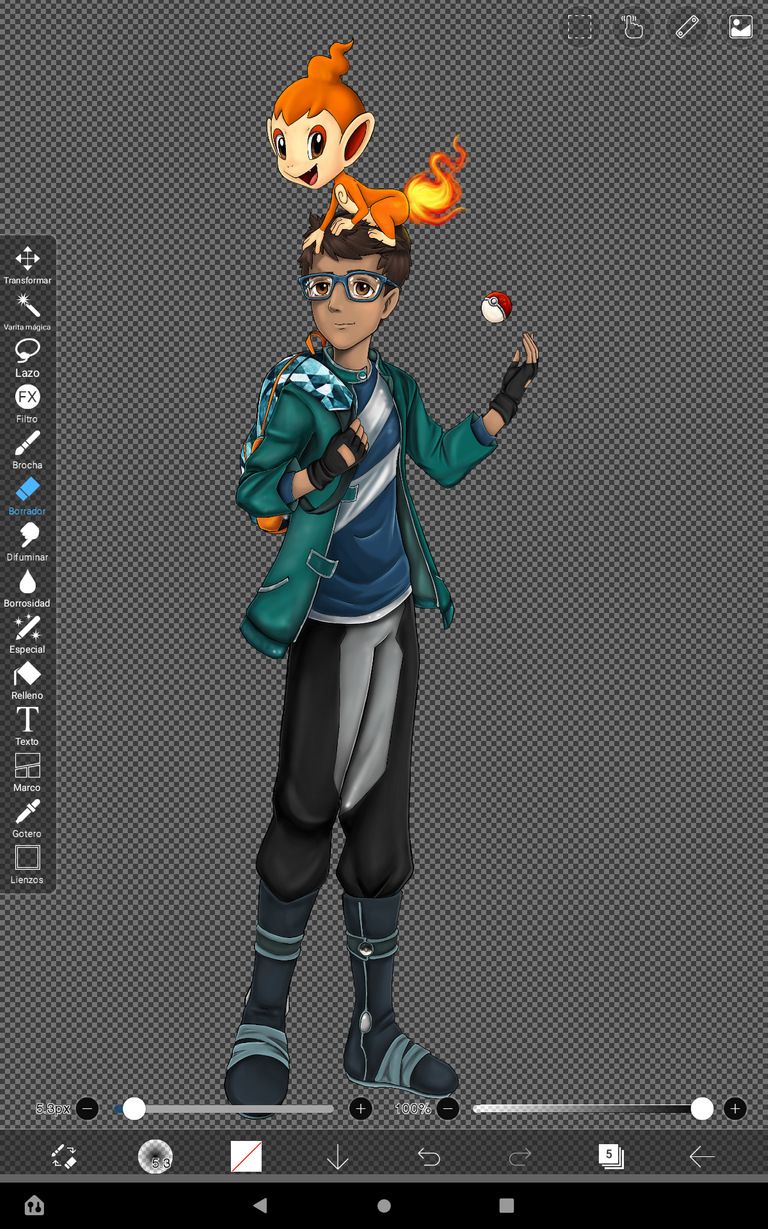 ---
Detalle el fondo en tres partes, la de los pinos, siendo esta la parte más lejana, la del árbol amarillo, y luego la entrada del bosque, cada una en distintas capas. Para culminar detalle el cielo agregando varias nubes , para después incorporar al personaje y realizar los últimos retoques, culminando así con la elaboración de esta ilustración.
Detail the background in three parts, the pine trees, being this the farthest part, the yellow tree, and then the entrance of the forest, each one in different layers. To finish, I detailed the sky adding several clouds, to later incorporate the character and make the last touches, culminating with the elaboration of this illustration.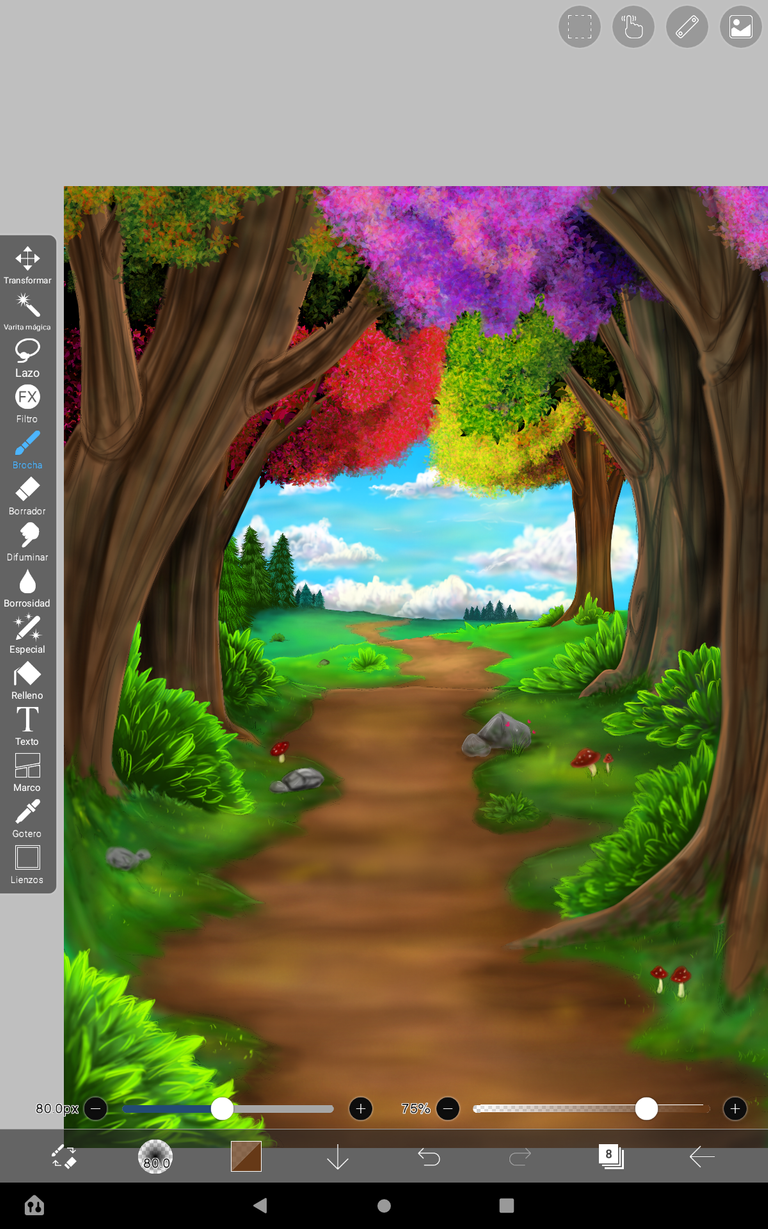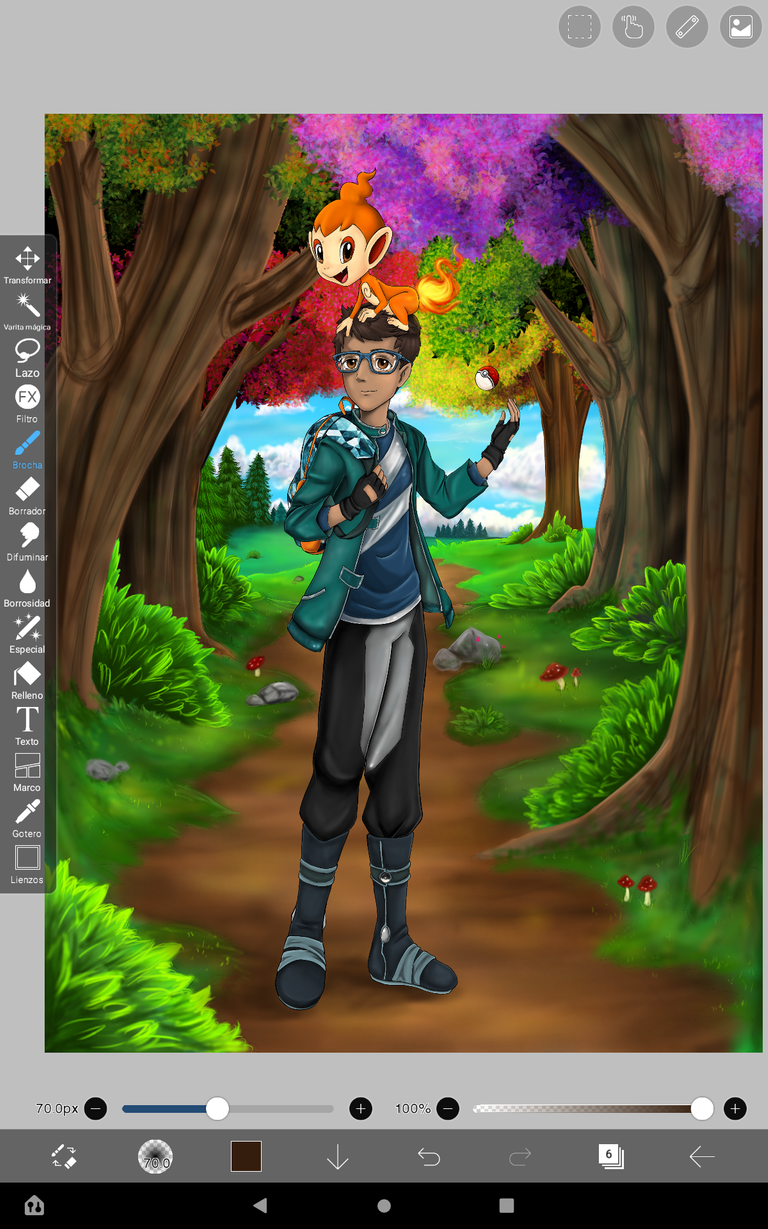 ---

Está ilustración me tomó un total de 45 horas para su elaboración, volviéndose una de las ilustración es de mayor tiempo que he realizado. Mi amigo quedó encantando con esta ilustración, además no se los niego a mi también me fascina, espero este sea el primero de muchos, y que más personas se animen a que las dibuje como entrenadores pokemon, empezando así a recibir comisiones de este tipo o de fan arts de otros personajes. Esperó les haya gustado esta ilustración, próximamente les mostraré más de este tipo de otros de mis amigos que también adoran a los pokemon y que se han imaginado como entrenadores.
This illustration took me a total of 45 hours for its elaboration, becoming one of the longest illustrations I have done. My friend was delighted with this illustration, I hope this is the first of many, and that more people are encouraged to draw them as Pokemon trainers, thus starting to receive commissions of this type or fan arts of other characters. I hope you liked this illustration, soon I will show you more of this type of other of my friends who also love pokemon and have imagined themselves as trainers.
Los invito a visitar mi perfil 👉🏼@afa.hb03, donde diariamente comparto los distintos dibujos e ilustraciones, además del distinto material que realizo por encargos.
I invite you to visit my profile 👉🏼@afa.hb03, where I daily share the different drawings and illustrations, in addition to the different material that I make by commissions.
✨🌟✨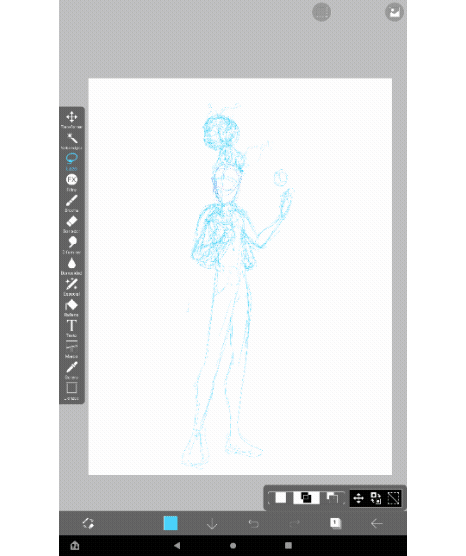 ✨🌟✨
✨🌟✨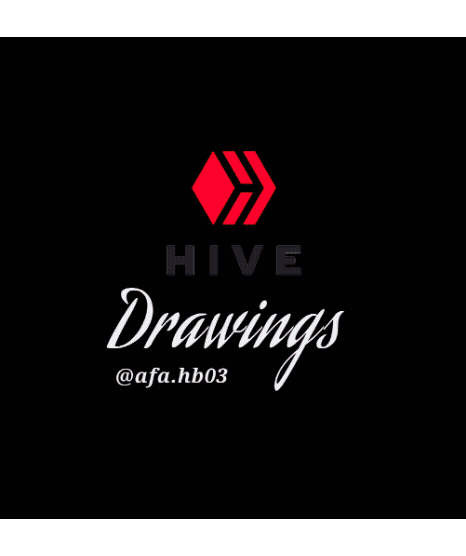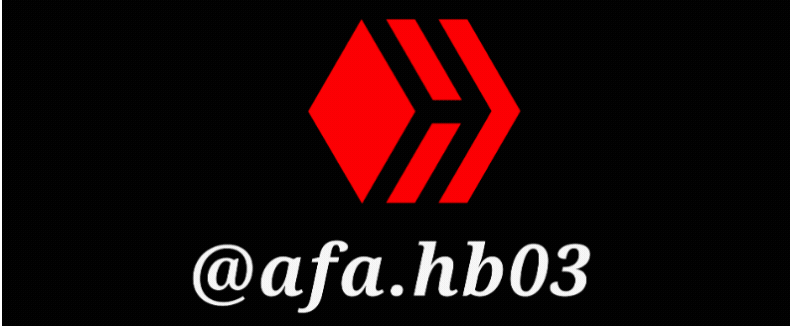 ✨🌟Gracias por leer, espero les guste y hasta una próxima publicación🌟✨
✨🌟Thanks for reading, I hope you like it and see you next time🌟✨
---
---