[Esp-Eng] Retrato de Graduación 🎨New Drawing🎨 By @afa.hb03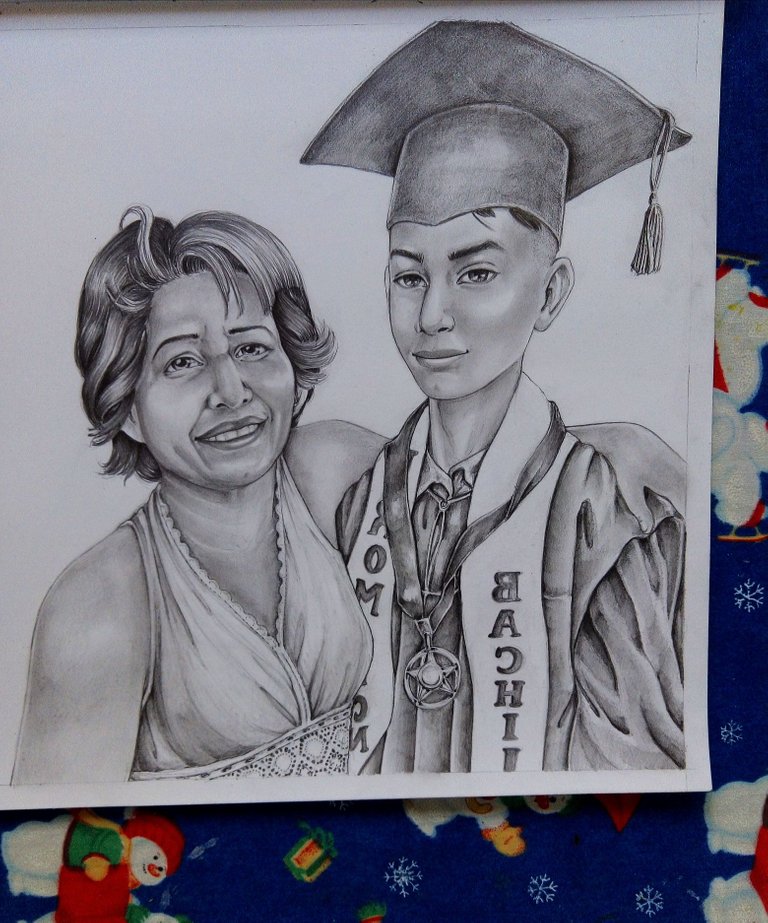 ---
Saludos amigos de #hive y #sketchbook, feliz inicio de semana para todos, el día de hoy comparto con ustedes este retrato que le realice como encargo a un amigo de internet, siendo esta mi primera encomienda desde que terminaron las clases de mis primitos y puedo volver a dedicarme al 100% a realizar dibujos e ilustraciones. Tenía tiempo sin realizar retratos en tradicional, sin duda es algo que me gusta mucho y más por trabajar con distintos lapices, usando el hb, 2b, 3b y 6b en la elaboración de este retrato.
Greetings friends of #hive and #sketchbook, happy beginning of the week to all, today I share with you this portrait that I made as a commission to a friend of internet, this being my first commission since my little cousins classes finished and I can dedicate myself 100% to make drawings and illustrations. I had some time without making traditional portraits, it is certainly something I like very much and more for working with different pencils, using the hb, 2b, 3b and 6b in the development of this portrait.
Las personas que mando a retratar mi amigo son su sobrino, el cual se está graduado de bachiller y su madre, la cual falleció hace unos años, por eso mi amigo quiere obsequiar este retrato a su sobrino, ya que el día muy buena relación con su tía y era una de las cosas que el esperaba, que ella estuviese con el en su graduacion. Sin duda me parece algo muy emotivo y conmovedor, por eso me esforce realizandolo, para que mi amigo y su sobrino quedarán emocionados al verlo.
The people that my friend sent to portrait are his nephew, who is graduating from high school and his mother, who died a few years ago, so my friend wants to give this portrait to his nephew, since he has a very good relationship with his aunt and it was one of the things he expected, that she would be with him at his graduation. Without a doubt it seems to me something very emotional and touching, that's why I made an effort to make it, so that my friend and his nephew will be moved when they see it.

✂️Materiales utilizados ✂️
Block de dibujo
Lápices hb, 2b, 3b y 6b
Pincel
Borrador
Escuadra
✂️Materials used✂️
Drawing block
Pencils hb, 2b, 3b and 6b
Brush
Eraser
Square
🖌️Procedimiento🖌️
🖌️Procedure🖌️
Realice los márgenes del dibujo usando la escuadra y el lápiz hb, luego procedí a realizar la base de ambas personas.
I made the margins of the drawing using the square and the hb pencil, then I proceeded to make the base of both people.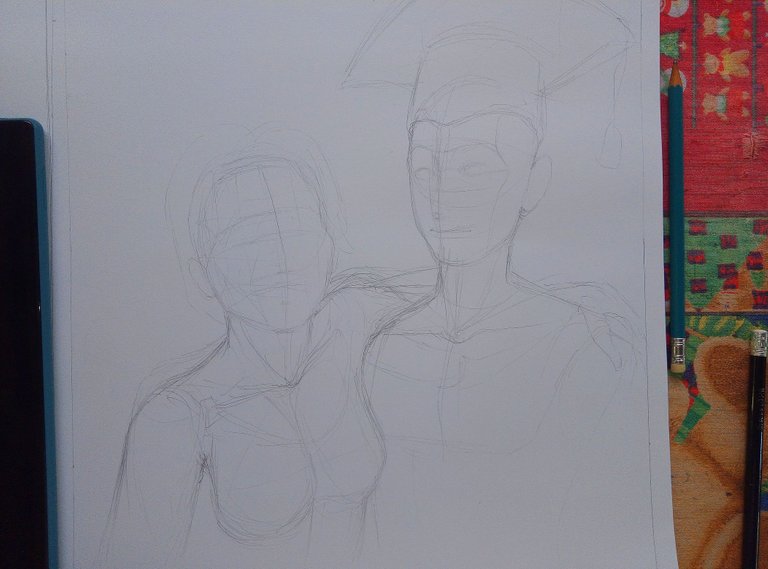 ---
Procedí a realizar las facciones y vestimenta, definiendo ambos rostros
I proceeded to make the features and clothes, defining both faces.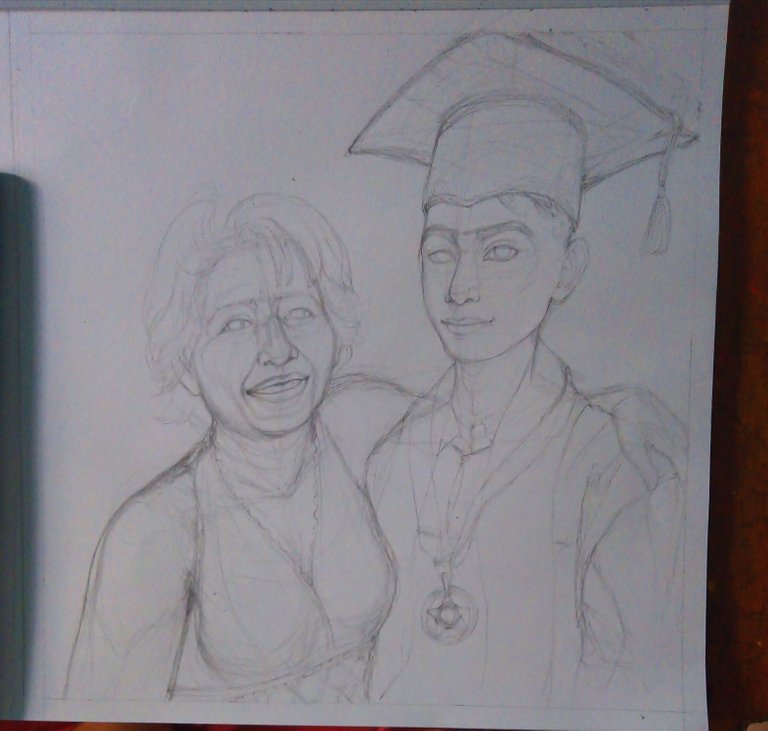 ---
Luego con el lápiz 2b aplique una leve sombra en la ropa, piel y rostro, para empezar con los detalles.
Then with the 2b pencil I applied a light shadow on the clothes, skin and face, to start with the details.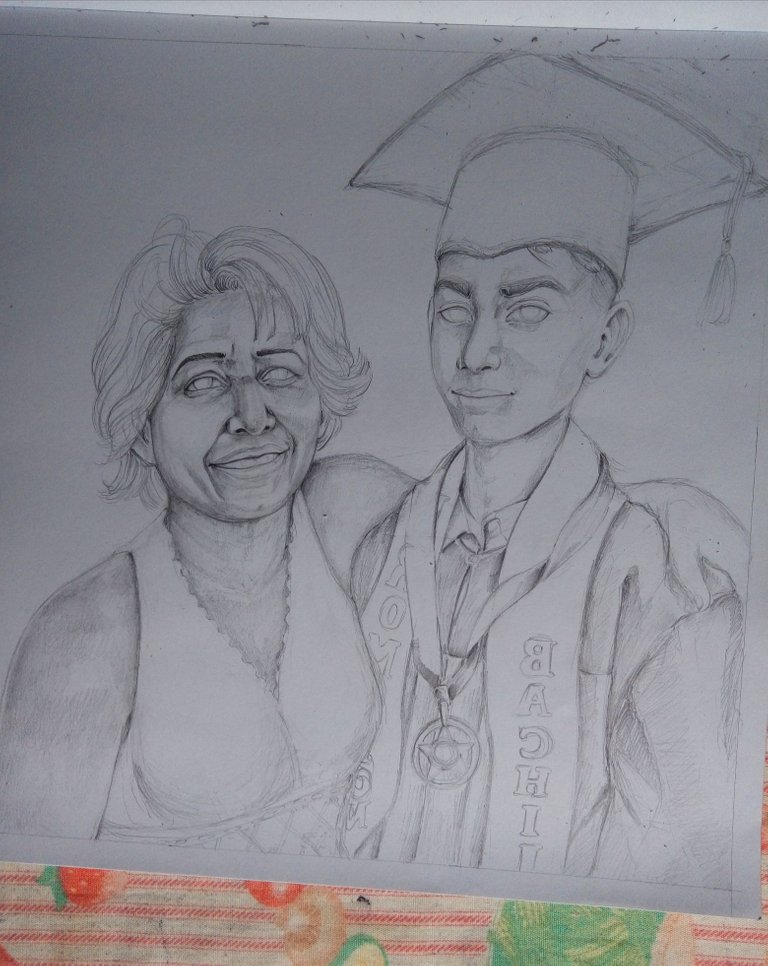 ---
Con el 3b empecé a detallar la toga, medalla y el bestido. También use el pincel para degradar las partes detalladas.
With the 3b I started to detail the robe, medal and the dress. I also used the brush to degrade the detailed parts.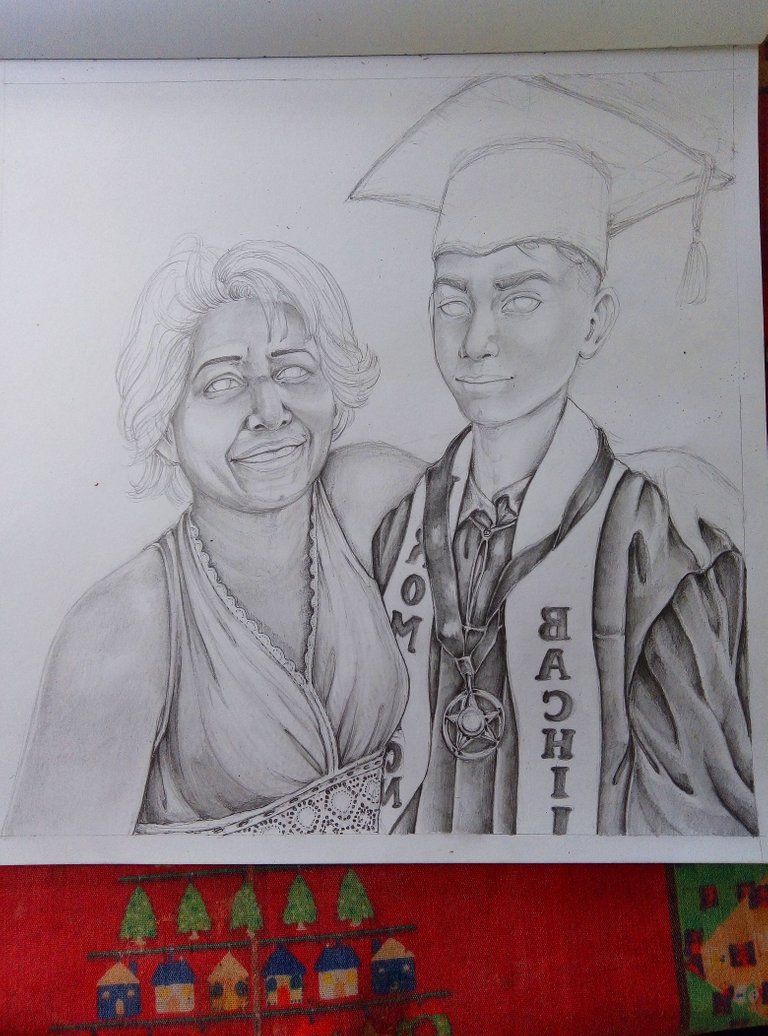 ---
Detalle el birrete, cabello y retoque los rostros , además de degradar también con el pincel.
I detailed the cap, hair and retouched the faces, and also degraded with the brush.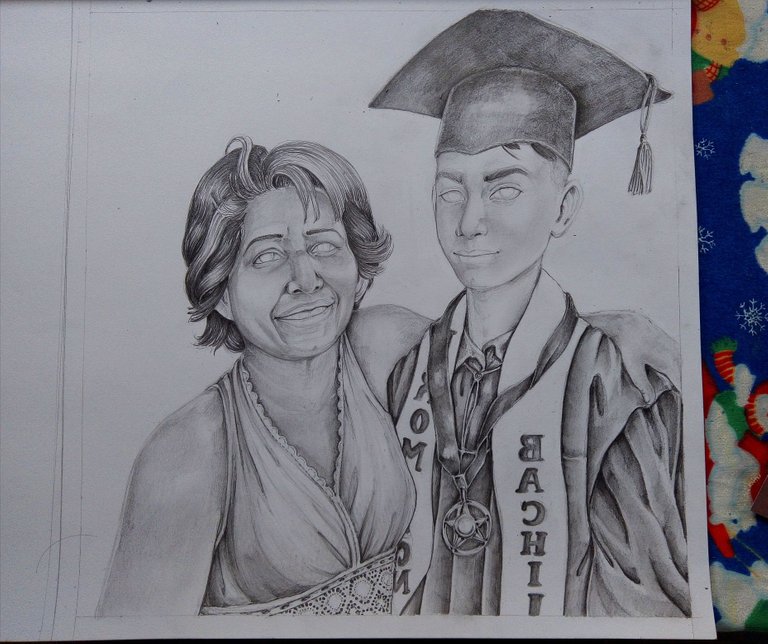 ---
Para culminar use el 6b reforzando sombras y detallando los ojos y labios, culminando con el dibujo.
To finish I used the 6b reinforcing shadows and detailing the eyes and lips, culminating with the drawing.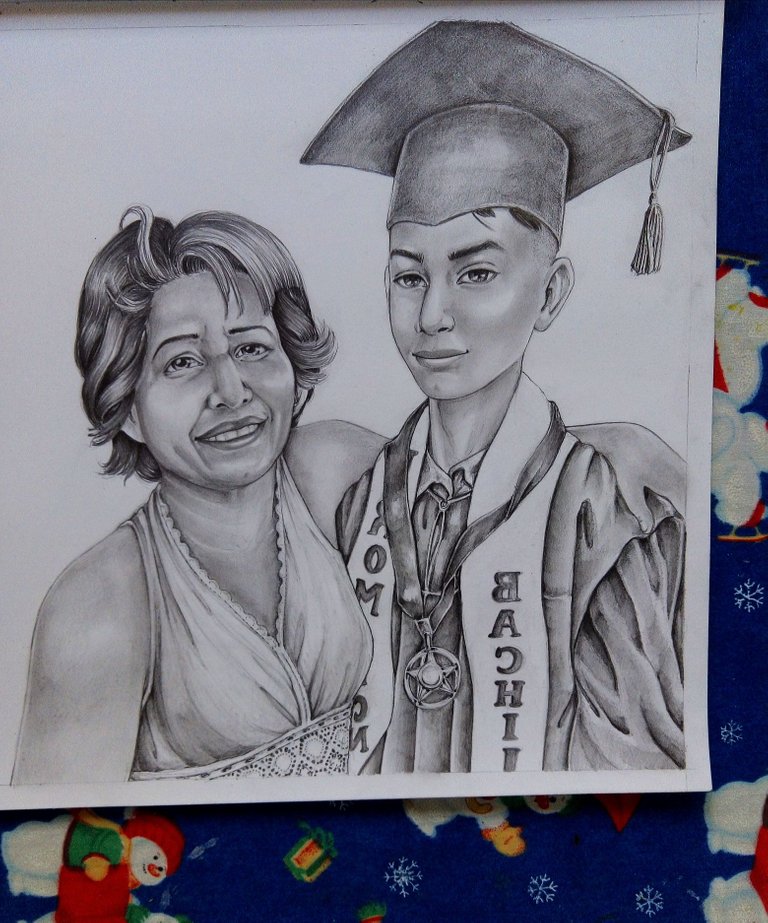 ---

Para realizar el envío de este documento tuve que pasar una odisea por la ciudad, ya que mi amigo sólo contaba con una dirección de oficina de correos, y esas mismas oficinas aqui la mayoría habían cerrado, y luego de 5 intentos de buscar oficinas de Domesa, por fin conseguimos una, siendo esta la principal, la cual se ubica en un lugar por donde no pasa ninguna ruta de transporte, así que se imaginaran. El dibujo deberá llegarle allá el martes o miércoles de esta semana, me encantó realizar este retrato, además de tener tiempo sin hacer dibujos de este tipo.
To send this document I had to go through an odyssey through the city, since my friend only had a post office address, and those same offices here most of them had closed, and after 5 attempts to look for Domesa offices, we finally got one, being the main one, which is located in a place where no transport route passes, so you can imagine. The drawing should arrive there on Tuesday or Wednesday of this week, I loved to make this portrait, besides having time without making drawings of this type.
Los invito a visitar mi perfil 👉🏼@afa.hb03, donde diariamente comparto los distintos dibujos e ilustraciones, además del distinto material que realizo por encargos.
I invite you to visit my profile 👉🏼@afa.hb03, where I daily share the different drawings and illustrations, in addition to the different material that I make by commissions.
✨🌟✨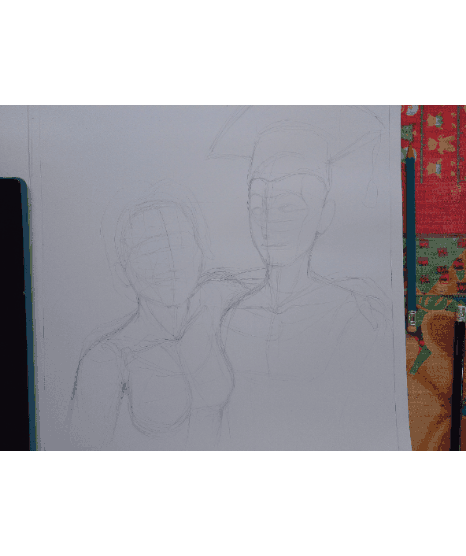 ✨🌟✨
✨🌟✨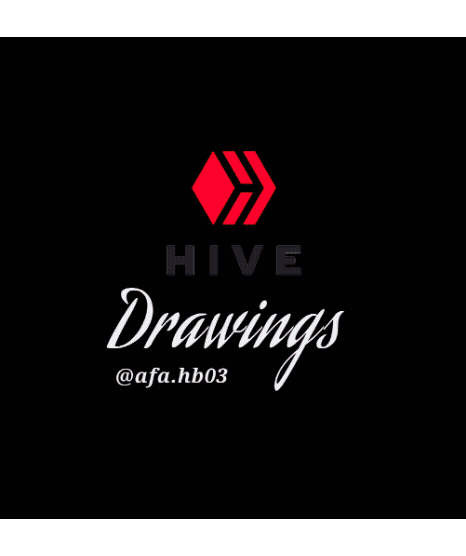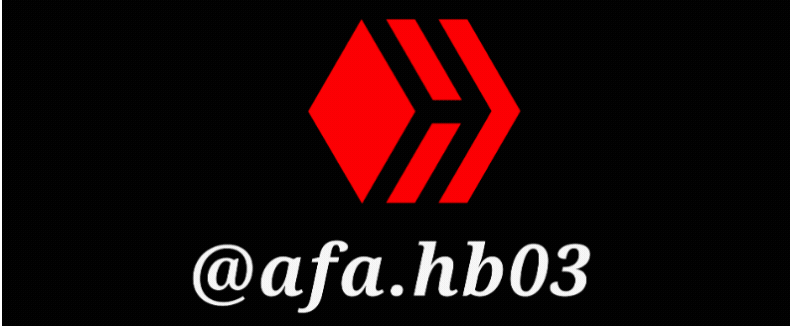 ✨🌟Gracias por leer, espero les guste y hasta una próxima publicación🌟✨
✨🌟Thanks for reading, I hope you like it and see you next time🌟✨
---
---