[Esp-Eng]🟦🟪RafaHB illustration🟪🟦🎨self portrait🎨By @afa.hb03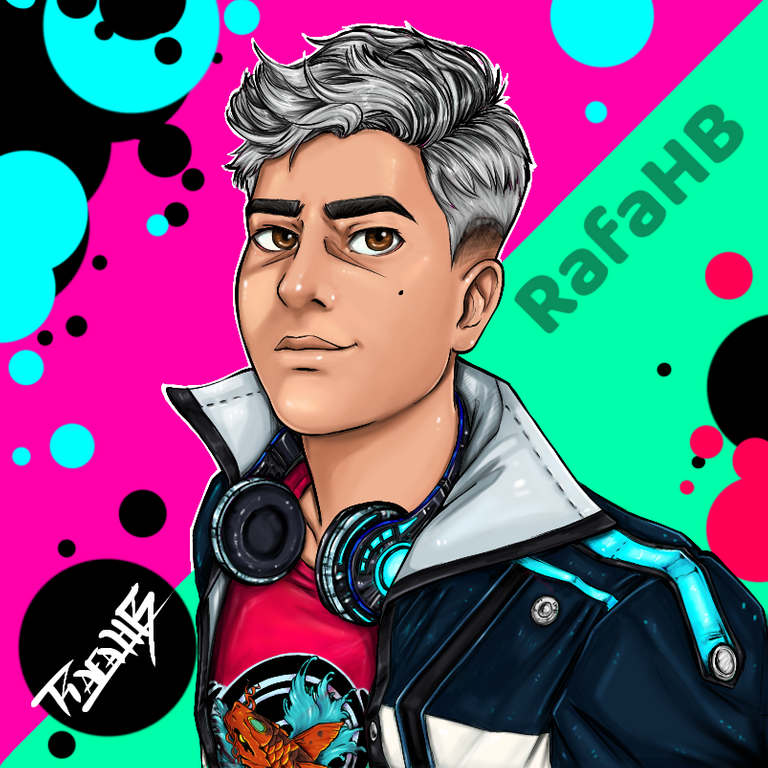 ---
Saludos amigos de #hive y #alienart, espero estén teniendo una increíble semana, el día de hoy estoy emocionado de compartir con ustedes esta ilustración de mí mismo, lo que en realidad contaría como un autorretrato. Sinceramente la idea de dibujarme a mí mismo no es algo que se me pase por la cabeza, pero en esta ocasión he decidido hacerlo ya que está ilustración será mi foto de perfil para mis redes sociales y plataformas de dibujos, como instagram, ych, Furrafinity, devianart, tiktok, Twitter y próximamente facebook. Realizó esta ilustración con esa finalidad porque me gustan mucho los perfiles de ilustradores que tienen un icono o un personaje específico de sí mismos en sus perfiles.
Greetings friends of hive and alienart, I hope you are having an amazing week, today I'm excited to share with you this illustration of myself, which actually would count as a self portrait. Honestly the idea of drawing myself is not something that crosses my mind, but this time I decided to do it because this illustration will be my profile picture for my social networks and drawing platforms, like instagram, ych, Furrafinity, devianart, tiktok, Twitter and soon facebook. I made this illustration with that purpose because I really like the profiles of illustrators who have an icon or a specific character of themselves in their profiles.
Al momento de diseñar tome ciertos aspectos o características que usualmente tomo en cuanto al momento de crear un avatar en juegos, como lo es el cabello plateado y un juego de color de tonos azules, ya que ese es mi color favorito, por eso este es el color principal tanto en audífonos como en la chaqueta. Decidí realizar el dibujo en un estilo tipo cómic o pop art, que tuviese detalles que hagan que el dibujo no se vea plano, pero que conserve la esencia de que es un dibujo. Por el estilo del detallado y de los trazos decidí hacer ese fondo con manchas de colores ya que iban de la mano con el estilo del personaje y poner mi firma más notoria de la usual. Conserve mi color natural de mis ojos ya que sentí que al ponerlos de otro tono podría perder parte de mi esencia personal, también en la franela realice el diseño de un pez koi que había realizado hace dos años, integrando así mi trabajo en esta ilustración.
At the time of designing I took certain aspects or characteristics that I usually take when creating an avatar in games, such as silver hair and a set of blue tones color, since that is my favorite color, so this is the main color in both headphones and jacket. I decided to make the drawing in a comic or pop art style, with details that make the drawing not look flat, but keep the essence that it is a drawing. For the style of the detail and the strokes I decided to make that background with colored spots as they went hand in hand with the style of the character and put my signature more noticeable than usual. I kept my natural color of my eyes as I felt that by putting them in another tone I could lose part of my personal essence. Also in the flannel I made the design of a koi fish that I had done two years ago, thus integrating my work in this illustration.

📱Programa Utilizado 📱
📱Materials used📱
🖌️Procedimiento🖌️
🖌️Procedure🖌️
Realice la base del dibujo con el lápiz digital y el color azul, haciendo las líneas principales de mi cuerpo y rostro. Después realice la vestimenta y defina las facciones con el color fucsia.
I made the base of the drawing with the digital pencil and the blue color, making the main lines of my body and face. Then I made the clothing and defined the features with the color fuchsia.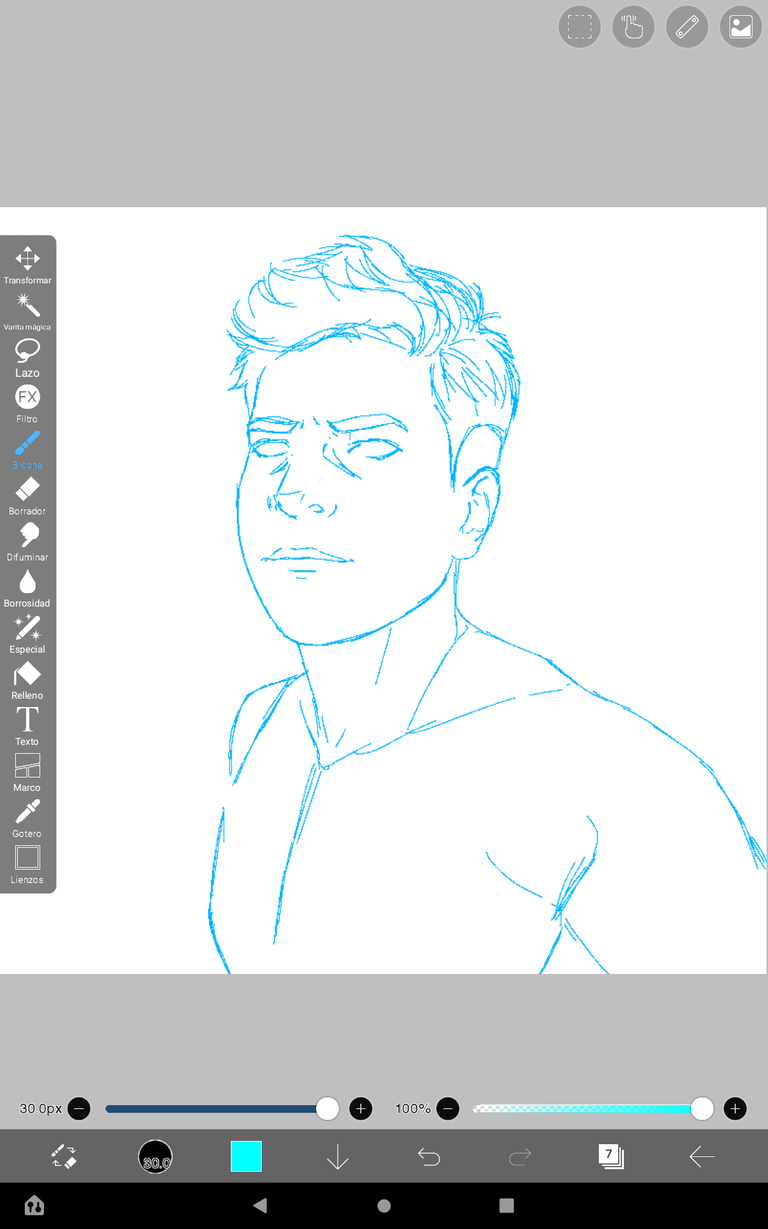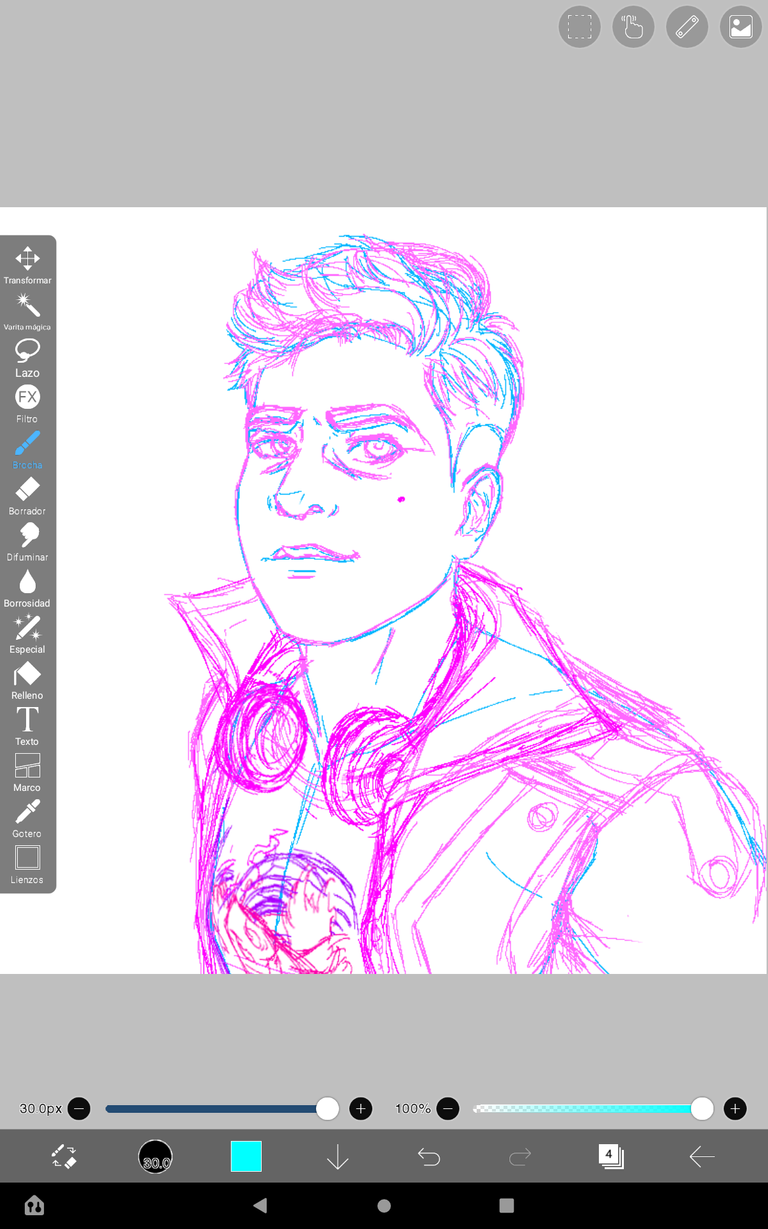 ---
Realice el trabajo de línea con la tinta dura y el color negro, eliminando las capas previas y realizando la base de color con el rellenado, buscando principalmente un tono de piel similar al mío.
Make the line work with the hard ink and the black color, eliminating the previous layers and making the color base with the filling, mainly looking for a skin tone similar to mine.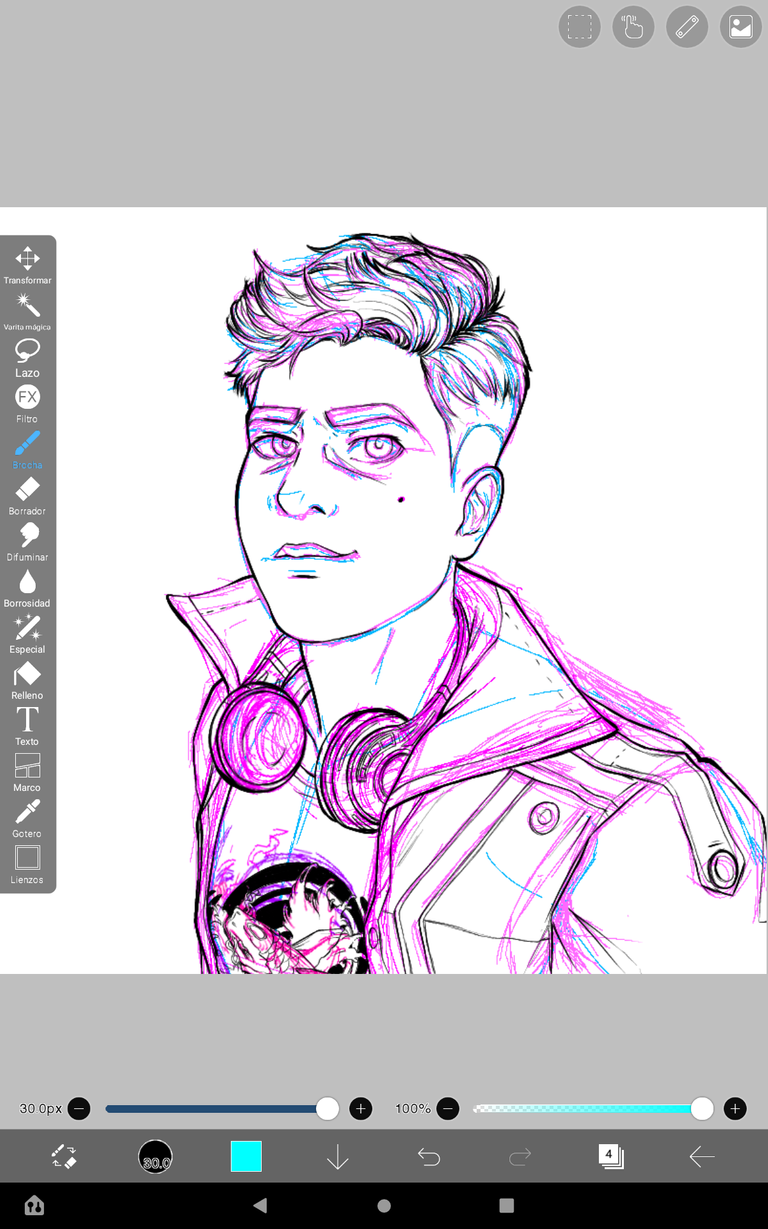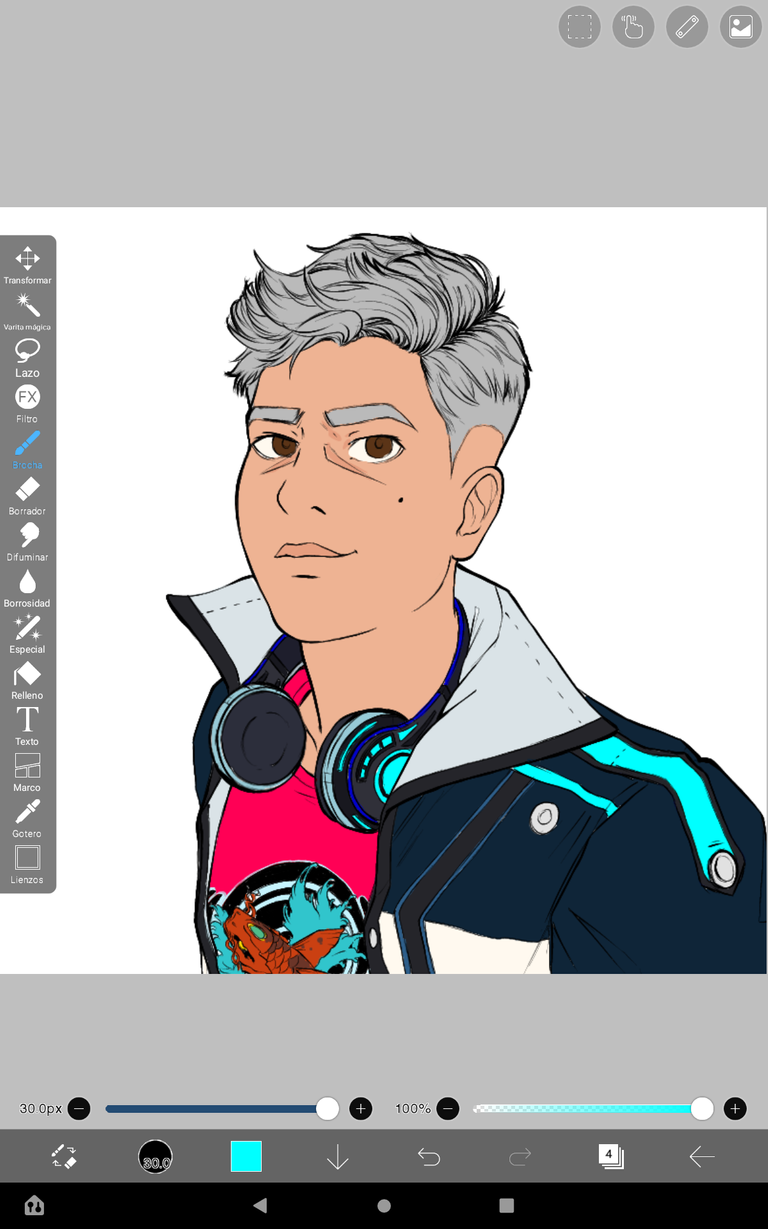 ---
Detalle el rostro aplicando sombra con el pincel de acuarela, y después degradar con el aerógrafo, agregando brillo al final. Después detalle el cabello, realizando sombra y luces para dar volumen, finalizando con el detalle de los ojos, con varios tonos de marrón.
Detail the face by applying shadow with the watercolor brush, and then degrade with the aerografo, adding shine at the end. Then detail the hair, making shadow and highlights to give volume, finishing with the detail of the eyes, with various shades of brown.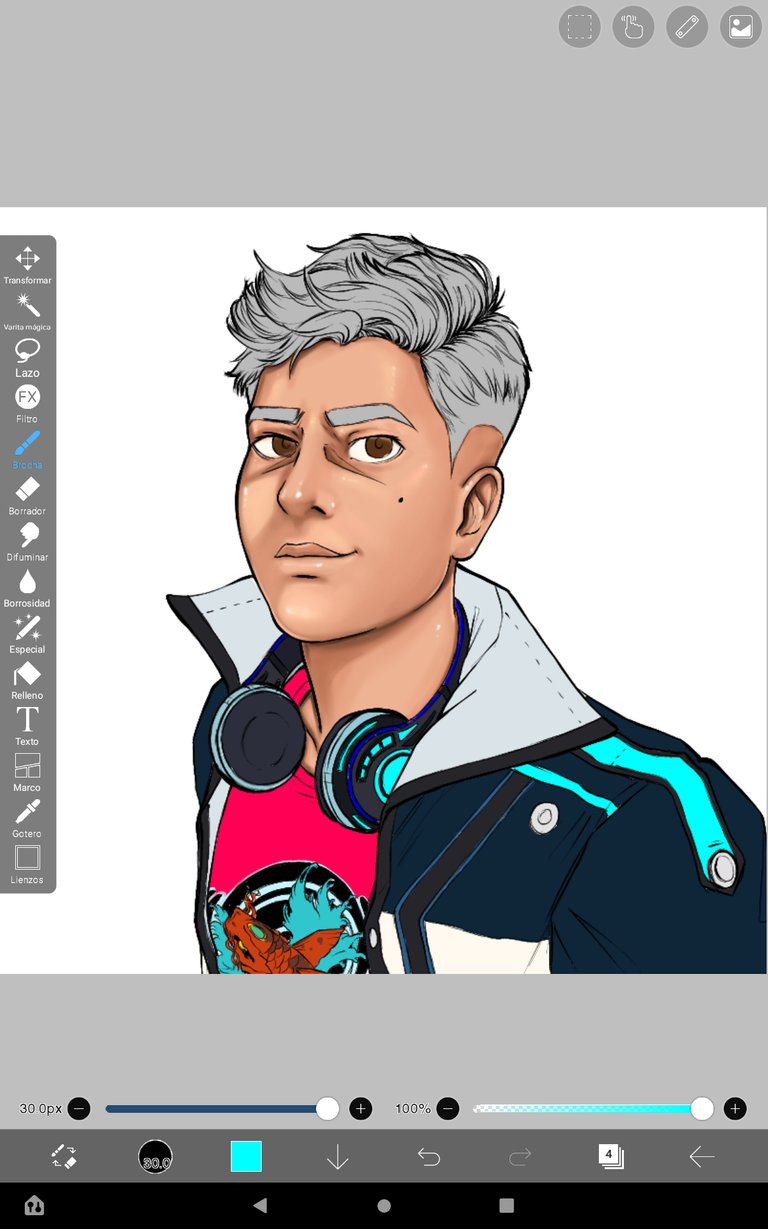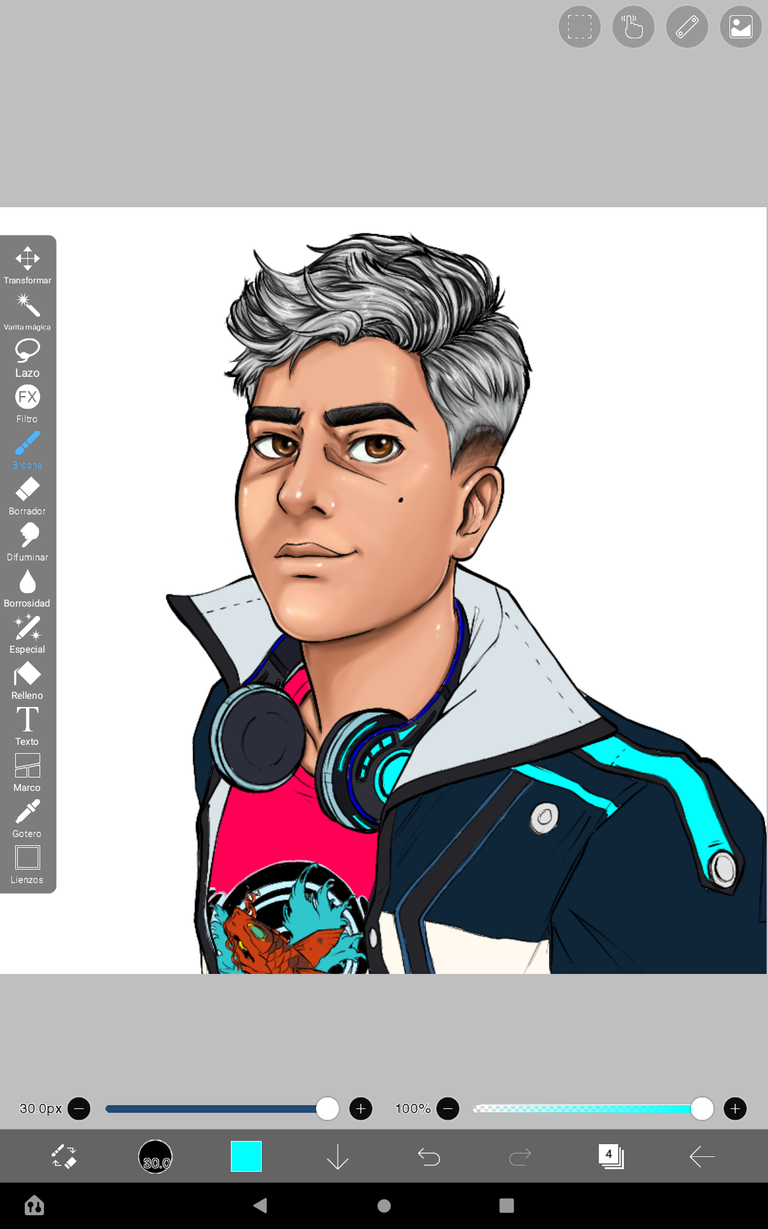 ---
Detalle la chaqueta empezando con los tonos azul oscuro y terminando con la parte blanca. Después detalle los audífonos, empezando por las partes más oscuras y terminando con las luces.
Detail the jacket starting with the dark blue tones and finishing with the white part. Then detail the headphones, starting with the darkest parts and finishing with the lights.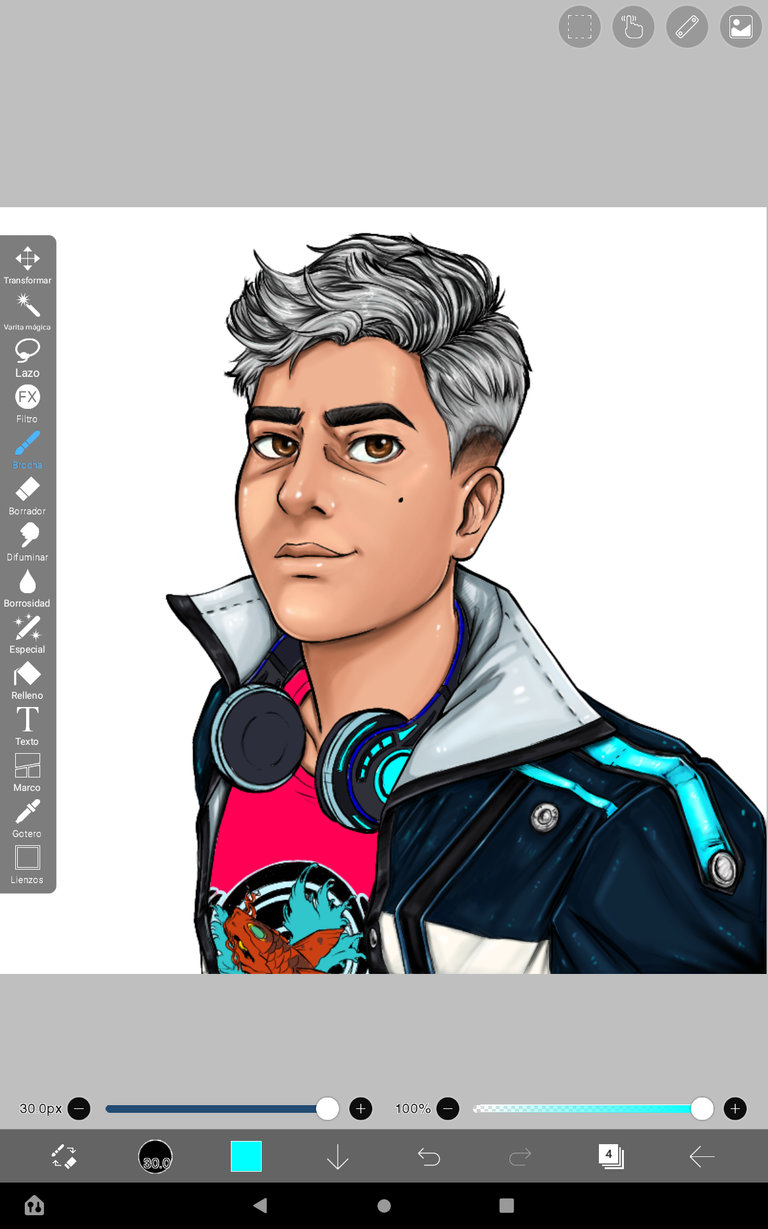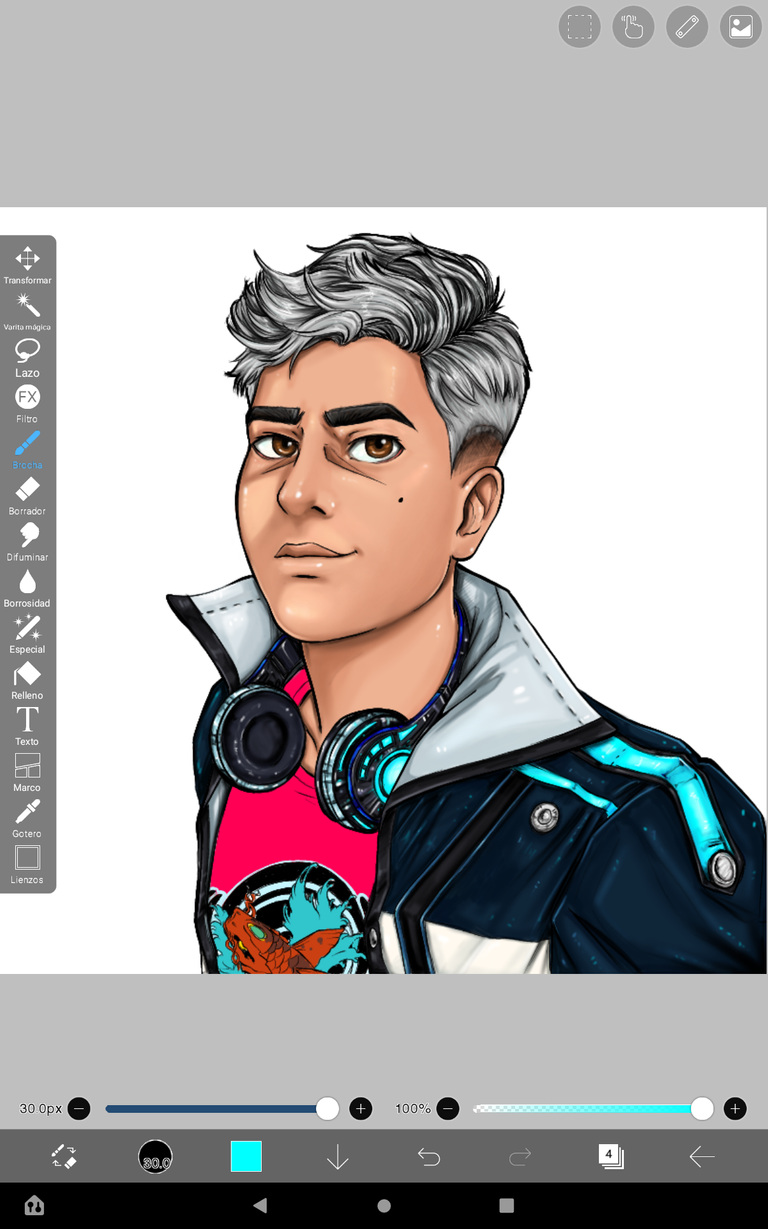 ---
Después detalle la franela, empezando por el estampado de pez koi y después por la franela, resaltando más las sombras. Para el fondo lo dividió en dos, esperándolo por colores, después realice las manchas con tinta, y escribí mi nombre (RafaHB), luego delineé con blanco la parte del dibujo quedará del lado fucsia, y finalice agregando mi firma.
Then detail the flannel, starting with the koi fish print and then the frabella, highlighting the shadows more. For the background I divided it in two, waiting for it by colors, then I made the spots with ink, and I wrote my name (RafaHB), then I outlined with white the part of the drawing that will be on the fuchsia side, and I finished adding my signature.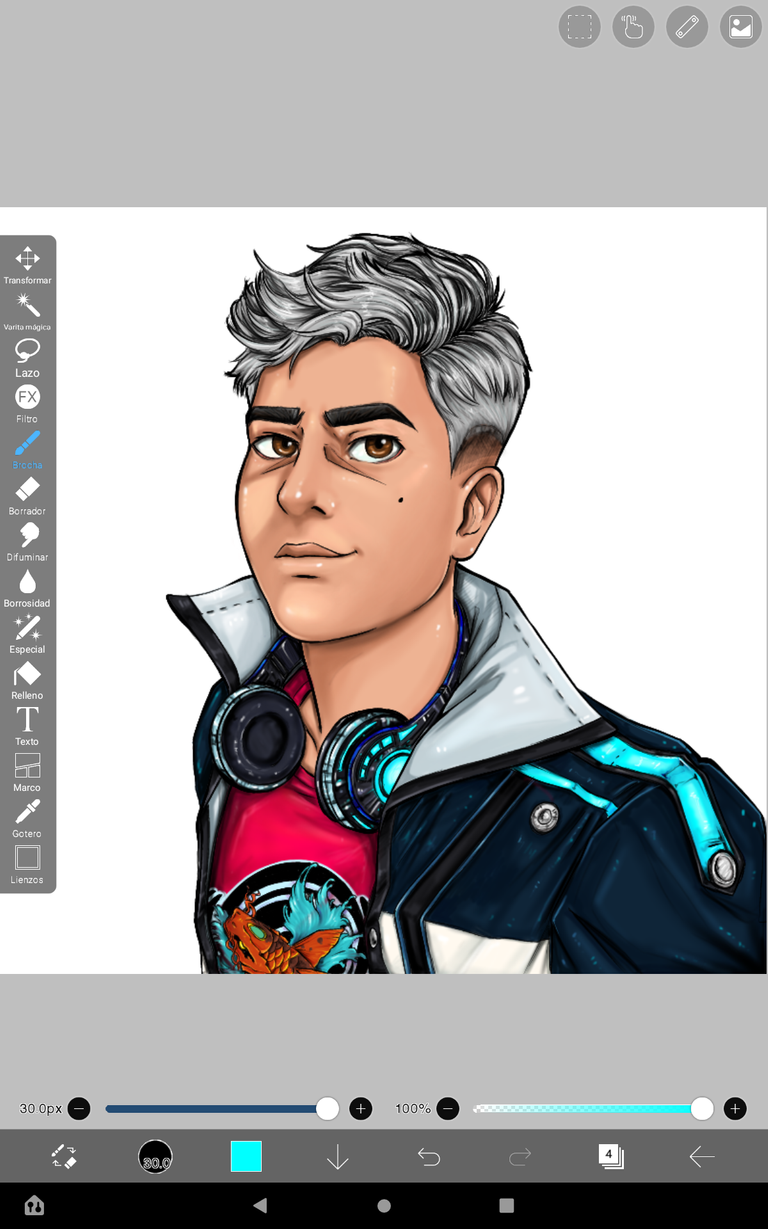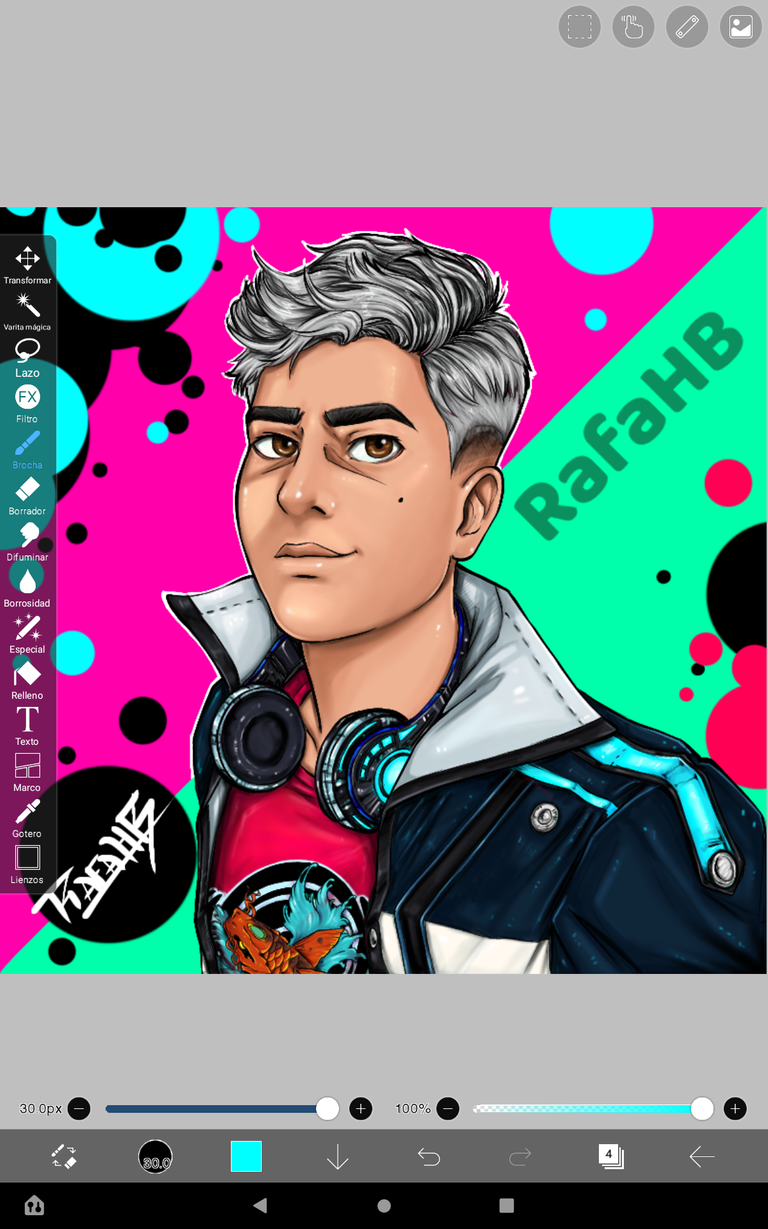 ---

Estoy muy feliz de haber realizado esta ilustración, tenía mucho tiempo diciendo que la haría, pero no me sentía listo, ya que este es un gran paso para mi, porque es una forma de demostrar que si me empiezo a tomar cada vez más en serio ser ilustrador, y cada vez buscar seguir mejorando y aprendiendo más. Me encantó como quedó, especialmente porque es una idea que tenía desde hace tiempo y por fin la logré plasmar y hacerla real. Espero les haya gustado mi dibujo y los invito a seguirme en mi perfil 👉🏼@afa.hb03, donde diariamente comparto los distintos dibujos e ilustraciones, además del distinto material que realizo por encargos.
I'm very happy to have done this illustration, I had been saying for a long time that I would do it, but I didn't feel ready, because this is a big step for me, because it's a way to show that I'm starting to take being an illustrator more and more seriously, and I'm looking to keep improving and learning more. I loved how it turned out, especially because it's an idea I had for a long time and I finally managed to capture it and make it real. I hope you liked my draw and I invite you to follow me on my profile 👉🏼@afa.hb03, where I daily share the different drawings and illustrations, in addition to the different material that I make by commissions.
📱Plataformas y Redes Sociales📲
📱Platforms and Social Networks📲
👇🏼👇🏼👇🏼👇🏼👇🏼
✨🌟✨
✨🌟✨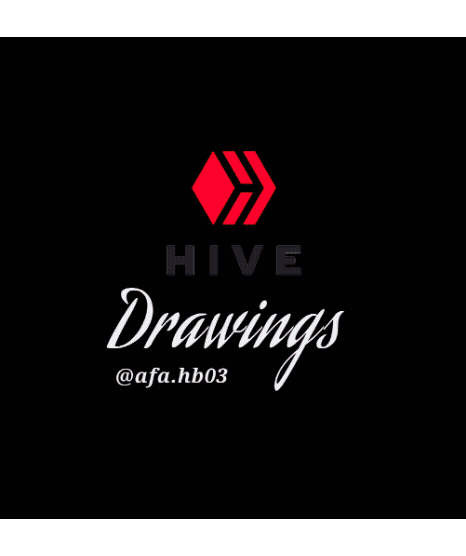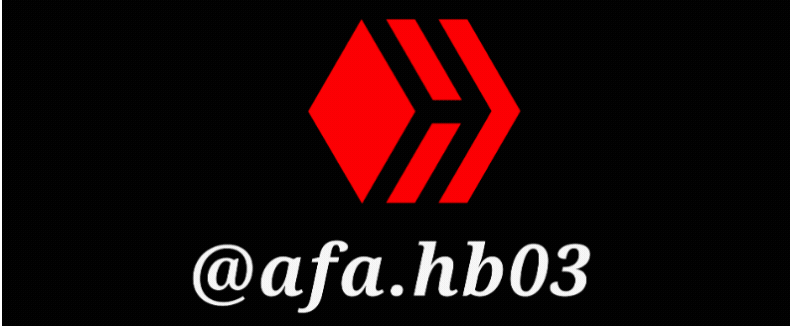 ✨🌟Gracias por leer, espero les guste y hasta una próxima publicación🌟✨
✨🌟Thanks for reading, I hope you like it and see you next time🌟✨
---
---