Prototyping the Create Screen on Steem-Engine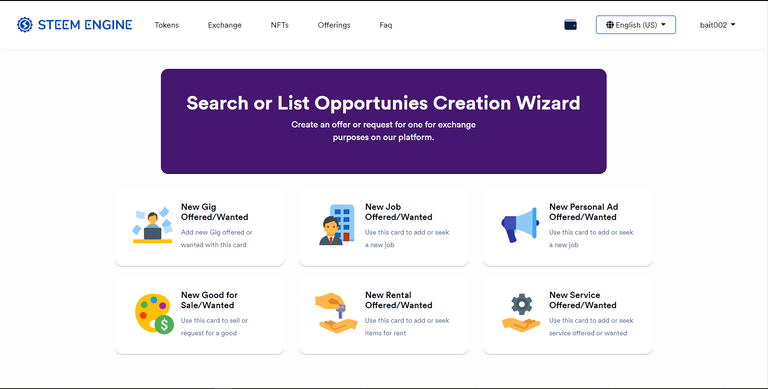 So, there's 3 major groups of things you'll be able to create.
Your Profile - Privately add pieces of info, then choose to share them with people or groups layer, or make entirely public for something like a directory
Groups/groups of groups - which include social groups, businesses, and fundraisers
Opportunities -
Gig - Short term Work
Job - Long term employment
Personal Ad - Looking for dates
Good for Sale - listing that you want to buy/sell something or using a NFT as a deed to buy/sell it directly
Service- Listing that you want/offer a service or use a NFT as a deed to buy/sell the service directly
Rental - Listing that you want to rent something or use a NFT as a deed to actually rent the thing
Directories
You'll be able to list yourself, your business, your group, your cause, your fundraiser, your whatever into the directory. People looking for you or groups or businesses will be able to find other like minded folks.
Store Fronts
You'll be able to have your own store fronts. Etsy is a pretty good example of this, but we're drawing from a lot of different sources.
NFTs
These things can literally represent anything. So, as we go I expect more and more to appear and go beyond what I can imagine. I mostly see ownership being tied to permissions. Programs will check first do you own the NFT and then give you access. Could be a unlocking a door, could streaming a video, could be entering a party.
NFTs in my mind are largely like a digital Deed or Title. I own this NFT so I can do X.
Getting Started
This is going to be the hardest part. But Steem did a bunch of work getting people here. So, now there's thousands of accounts that already hold steem-engine tokens, and tribes that already exist. If a marketplace site and marketplace platform has a chance to grow on Steem I'm betting it's this.
Should be fun and I hope to see you figuring out ways to make money from your time, labor, services, digital goods, and physical goods.
---
---