[En-Tr] HİVE POWER UP DAY - 01.12.2022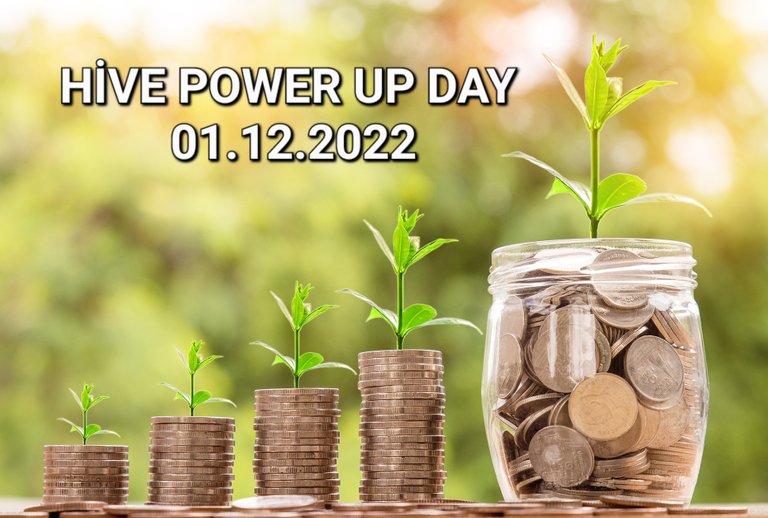 Original İmage Source
Hello everyone. Today is December 1, 2022. Today (if we keep the Trliste Hive Power Up Day event separately 😀) the last Hive Power Up Day event of the year is being held. I did not attend this event last month. I wanted to attend this month as it is the last event of 2022.
Herkese merhaba. Bugün 1 Aralık 2022. Bugün (Trliste Hive Power Up Day etkinliğini ayrı tutarsak 😀) yılın son Hive Power Up Day etkinliği icra ediliyor. Geçen ay bu etkinliğe katılmamıştım. Bu ay, 2022 yılının son etkinliği olması nedeniyle katılmak istedim.
About Hive Power Up Day by @traciyork from this post You can find all the necessary information. If I tell you briefly; this event is done to keep Hive stronger. As the name suggests, more Hive is staked by making at least 10 Hive Power Ups. Each staked Hive makes the Hive ecosystem stronger. Today, the Power Down process is canceled, giving support to the Hive ecosystem. On another issue, Hive sell orders on crypto currency exchanges are canceled and the decrease in Hive's value is prevented to some extent.
Hive Power Up Day ile ilgili @traciyork'un şu paylaşımından gerekli tüm bilgilere ulaşabilirsiniz. Ben kısaca söyleyecek olursam; bu etkinlik Hive'yi daha güçlü tutmak adına yapılıyor. Adından da anlaşılacağı üzere en az 10 Hive Power Up yapılarak daha fazla Hive stake edilmiş oluyor. Stake edilen her Hive, Hive ekosistemini daha güçlü kılıyor. Bugün Power Down işlemi iptal edilerek Hive ekosistemine destek verilmiş oluyor. Bir diğer konuda kripto para borsalarındaki Hive satış emirleri iptal edilerek Hive'nin değerinin düşüşü bir miktar da olsa engellenmiş oluyor...
I participate in this HPUD event by Power Up 11 Hive. My Hive Power amount, which was 4,067 before this process, will have increased to 4,078. In this way, I will be a little closer to my 4.200 Hive Power target for the end of 2022.
Ben bu HPUD etkinliğine 11 Hive'yi Power Up yaparak katılıyorum. Bu işlemden önce 4.067 olan Hive Power miktarım, 4.078'e yükselmiş olacak. Bu sayede 2022 sonu için koymuş olduğum 4.200 Hive Power hedefime biraz daha yaklaşmış olacağım.

To reach my Hive Power goal for the end of 2022, I need to publish more content. If nothing goes wrong in this regard, the Triliste HPUD to be held on December 19 will be a good opportunity for me. I see every Hive Power I collect as a great power for me in the future. I don't have a guess as to the future value of Hive. It could be 10 dollars, it could be 10 cents. Since March 5, 2021, I've seen the Hive cost 17 cents and $3.41. I don't mind this issue at all. I think the important thing will be the amount of Hive and Hive Power we will accumulate...
2022 sonu için koyduğum Hive Power hedefime ulaşmak için daha fazla içerik yayınlamam gerekiyor. Bu konuda büyük bir aksilik olmazsa 19 Aralık'ta düzenlenecek olan Trliste HPUD benim için iyi bir fırsat olacaktır. Biriktireceğim her bir Hive Power'i benim için ileride büyük bir güç olarak görüyorum. Hive'nin gelecekteki değeri ile ilgili bir tahminim yok. 10 dolar da olabilir 10 cent de olabilir. 5 Mart 2021'den bu yana Hive'nin 17 cent olduğunu da gördüm, 3.41 dolar olduğunu da. Bu konuyu hiç sorun etmiyorum. Önemli olan bizim biriktireceğimiz Hive ve Hive Power miktarı olacaktır diye düşünüyorum...
Although I am a little late in publishing this content, I invite everyone who reads to participate in this event. You still have approximately 5 hours to participate in the December 1st Hive Power Up Day event. 😀
Bu içeriği yayınlama konusunda biraz gecikmiş olsam da okuyan herkesi bu etkinliğe katılmaya davet ediyorum. Hala 1 Aralık Hive Power Up Day etkinliğine katılmak için yaklaşık 5 saat vaktiniz var. 😀
See you again.
Take care of yourself and your hive.
Tekrar görüşmek üzere.
Kendinize ve kovanınıza iyi bakın.
---
---