[Eng/Esp] Family recreation and school bag shopping for our son Santiago.
Hello! Happy day my #Hive people, I hope everyone here in the #Family&Friend community is doing great. Back to school is coming and at home we are happy because our little son Santiago is going to attend kindergarten for the first time, his dad and I have had some savings that we have obtained thanks to #Hive and we have allocated them for the cost of his school bag or backpack. Of course, the list of school supplies and materials is even longer and we will be making the missing purchases for her school uniform next time. However, this weekend we went out eager and motivated, in search of a bag and lunch box that would be chosen by our little one.
¡Hola! Feliz día mi gente de #Hive, espero que todos por acá en la comunidad de #Family&Friend se encuentren fenomenalmente bien. Se acerca el regreso a clases y en casa estamos felices porque nuestro pequeño hijo Santiago va a asistir por primera vez al maternal, su papá y yo hemos dispuesto de algunos ahorros que hemos obtenido gracias a #Hive y que los hemos destinado para el gasto de su bolso o morral escolar. Por supuesto, la lista de materiales y útiles escolares es aún mayor y en una próxima ocasión estaremos realizando las compras faltantes para su uniforme escolar. Sin embargo, este fin de semana salimos ansiosos y motivados, en búsqueda de un bolso y una lonchera que fuera escogida por nuestro pequeño.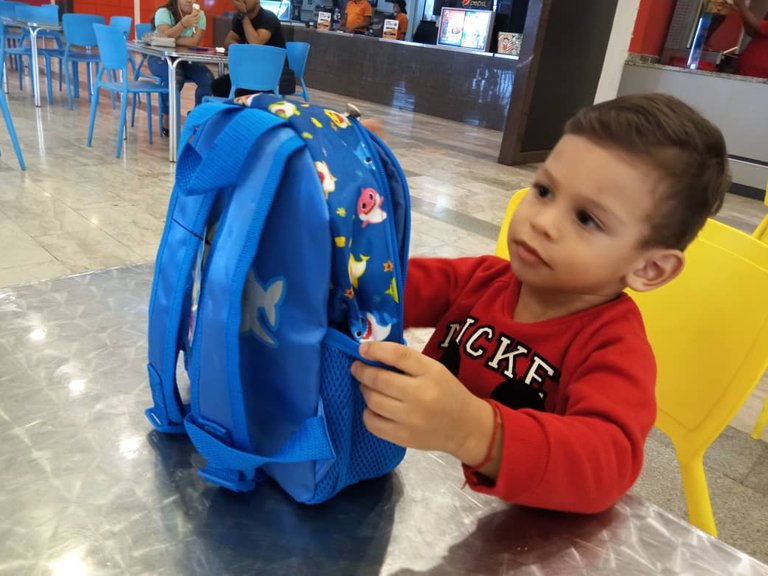 Before leaving home on Saturday, my husband told us that he had a surprise for us and that he would not cook lunch at all, so I did. Our first visit was to a commercial establishment that is located in the center of the city of Cumaná, and upon arrival my husband invited us to the local food fair to taste a delicious Chinese food, these days I have been trying to take a little more care of my health and my body weight, but it became impossible to resist a delicious fried rice with chicken and shrimp (my favorite), my son also loved it and my husband ordered for him some pork ribs, with lumpias and Chinese salad with a soda. Everything was very good and our son ate a lot, so much that I was surprised.
Antes de salir de casa el día sábado, mi esposo nos dijo que nos tenía una sorpresa y que para nada cocinará el almuerzo, así lo hice. Nuestra primera visita fue a un establecimiento comercial que se encuentra en el centro de la ciudad de Cumaná, y al llegar mi esposo nos invitó a la feria de comida local para degustar una deliciosa comida China, en estos días he estado tratando de cuidar un poco más mis salud y mi peso corporal, pero se hizo imposible resistirme a un delicioso arroz frito con pollos y camarones (mi preferido), a mi hijo también le encantó y mi esposo pidió para el unas costillas de cerdos, con lumpias y ensalada China con una gaseosa. Todo estaba muy bueno y nuestro hijo comió muchísimo, tanto que me dejó sorprendida.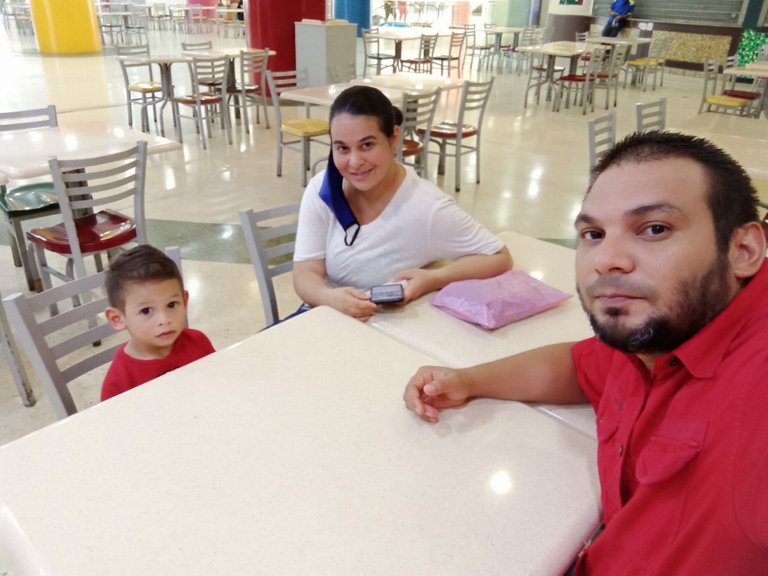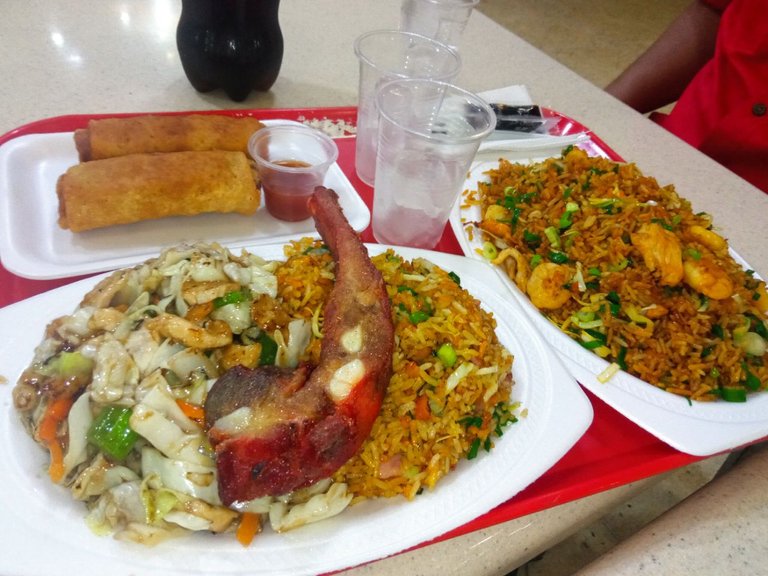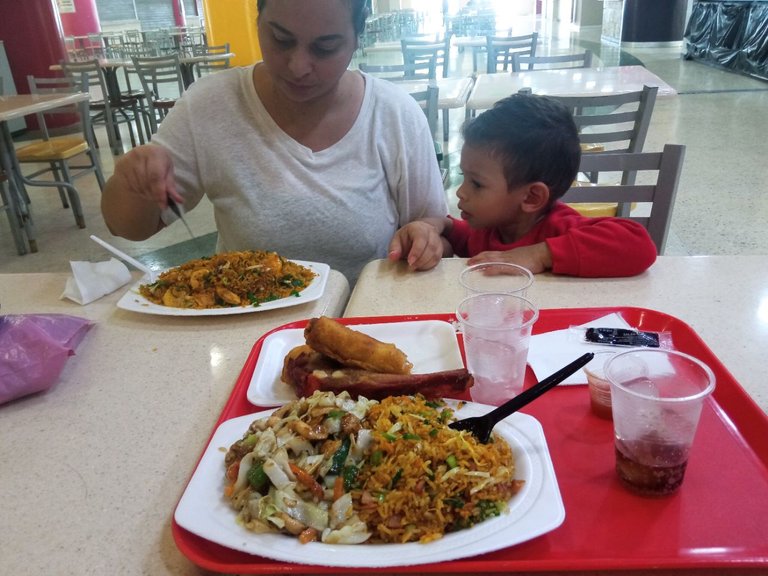 Once we had our fill, we walked around the mall and found no small bags, ideal for our little one's height and comfortable. Then, we went to another commercial establishment and found a multi store, very famous where they sell all kinds of appliances and also shoes, bags and toys. This type of store is very good because it has a lot of variety and you can even find hardware. We entered and continued to the final aisle, however, the bags and backpacks were at the entrance of the store and Santiago when he saw the bags went immediately to the shelf.
Ya saciados, caminamos por todo el centro comercial y no encontramos bolsos pequeños, ideales para la estatura de nuestro pequeño y cómodos. Entonces, fuimos a otro establecimiento comercial y encontramos una multi tienda, muy famosa donde venden todo tipo electrodomésticos y también zapatos, bolsos y juguetes. Este tipo de tienda son muy buenas porque tiene muchísima variedad y te puedes encontrar hasta con materiales de ferretería. Nosotros entramos y continuamos hasta el pasillo final, sin embargo, los bolsos y mochilas se encontraban en la entrada de la tienda y Santiago al ver los bolsos se dirigió inmediatamente al estante.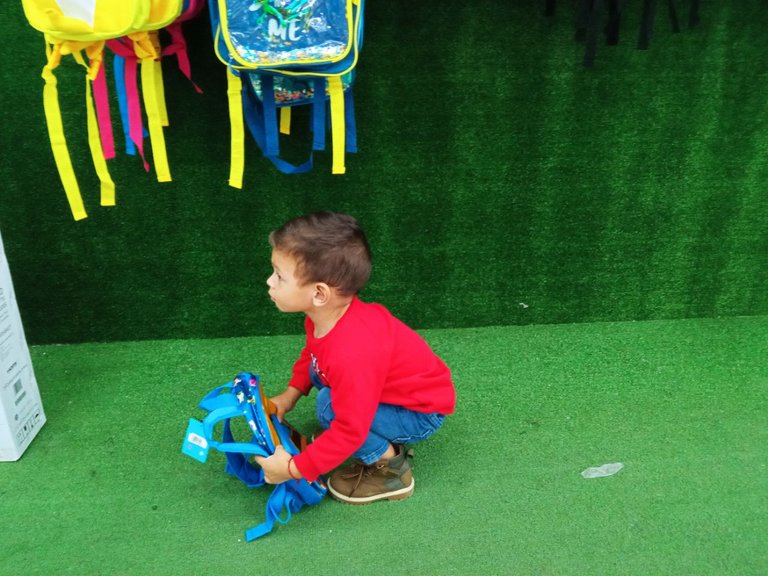 His dad and I had decided that Santiago would be the one to choose his own bag, according to the cartoon of his preference and depending on the versatility, comfort for him and cost, we would give him the go ahead. Among so many bags, there were some models with his favorite cartoon "baby shark" and at that moment my husband and I already knew the bag that our son would choose, because he loves the baby shark, and so it was. Our little boy chose the perfect bag for his height with the "baby shark" cartoon. We could tell he was very happy, our son couldn't stop looking at his first school bag and we even tried it on to see how it looked.
Su papá y yo habíamos decidido que Santiago sería quien escogiera su propio bolso, según la caricatura de su preferencia y que dependiendo de la versatilidad, la comodidad para el y el costo, nosotros le daríamos el visto bueno. Entre tantos bolsos, habían unos modelos con su caricatura favorita "baby shark" y en ese momento mi esposo y yo ya sabíamos el bolso que escogería nuestro hijo, pues es el adora al bebé tiburón, y así fue. Nuestro pequeño escogió un bolso ideal para su estatura con la caricatura de "baby shark". Le podíamos notar muy feliz, nuestro hijo no dejaba de observar su primer bolso escolar y hasta se lo probamos a ver como me quedaba.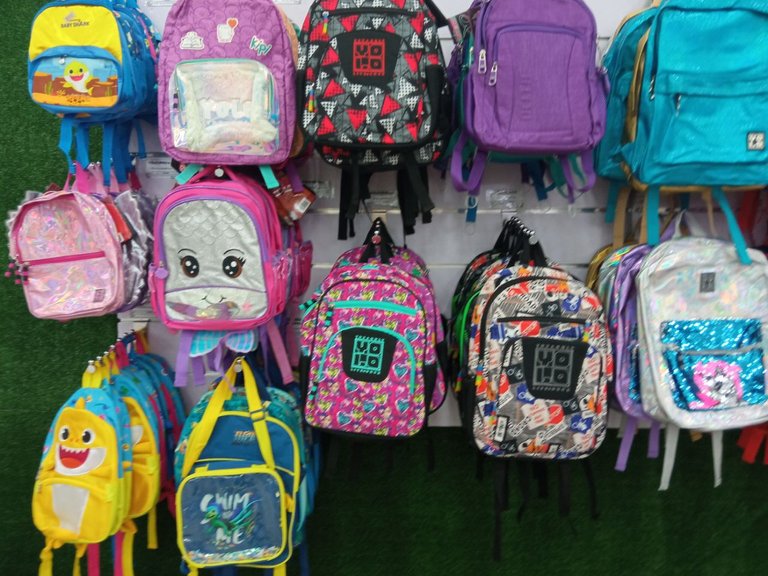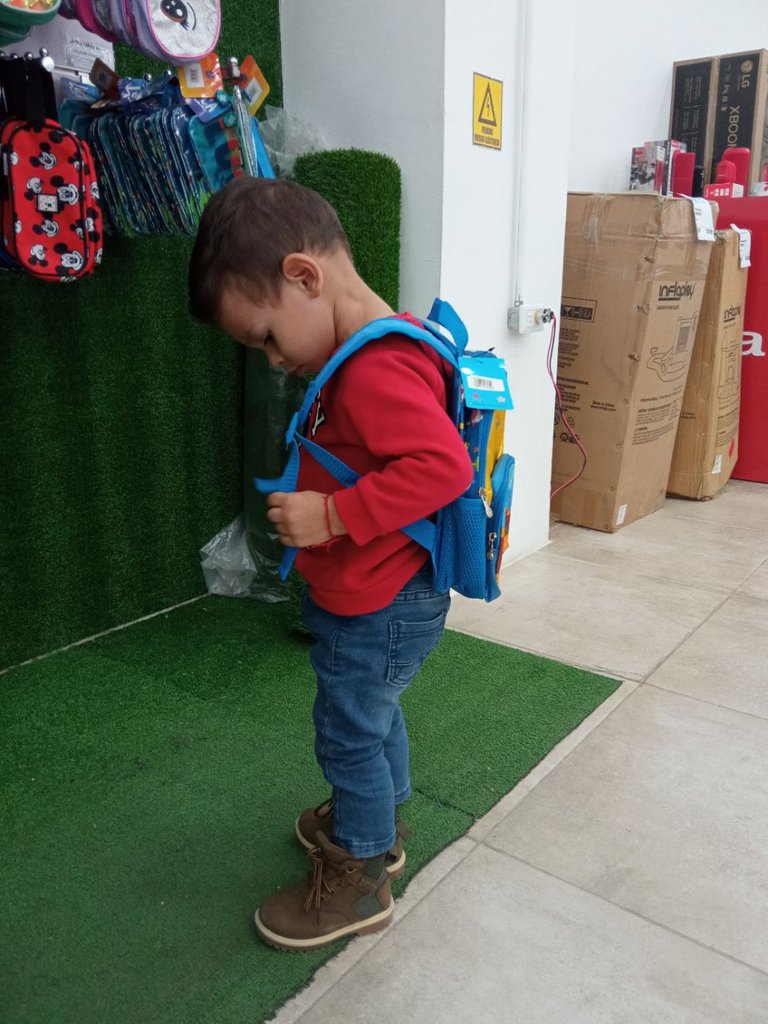 This bag was ideal for our little one and it fit perfectly to our 10$USD budget, the next detail was to try to take the backpack to go to cancel it. Santiago did not want to get rid of his bag easily, we had to talk a couple of times with him to make him understand that we had to go to cancel the backpack to be able to take it. Then, he himself has given the bag to the girl who was taking care of us to check it in. When we left the store and all the time after the purchase, Santiago never left his bag. We went to the fair for some refreshments and Santiago only wanted to be with his bag.
Este bolso era ideal para nuestro pequeño y se ajustaba perfectamente a nuestro presupuesto de 10$USD, el detalle siguiente, fue tratar de tomar la mochila para ir a cancelarla. Santiago no se quería desprender de su bolso con facilidad, tuvimos que hablar un par de veces con el, para hacerle comprender que debíamos ir a cancelar la mochila para poderla llevar. Entonces, el mismo le ha entregado el bolso a la chica que nos atendía para facturarlo. Al salir de la tienda y en todo momento luego de haber realizado la compra, Santiago jamás se desprendió de su bolso. Fuimos a la feria por unos refrescos y Santiago solo quería estar con su bolso.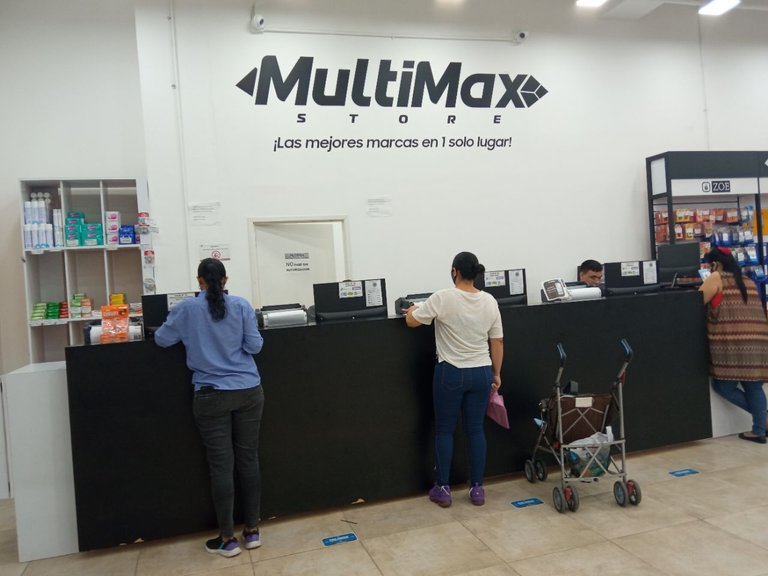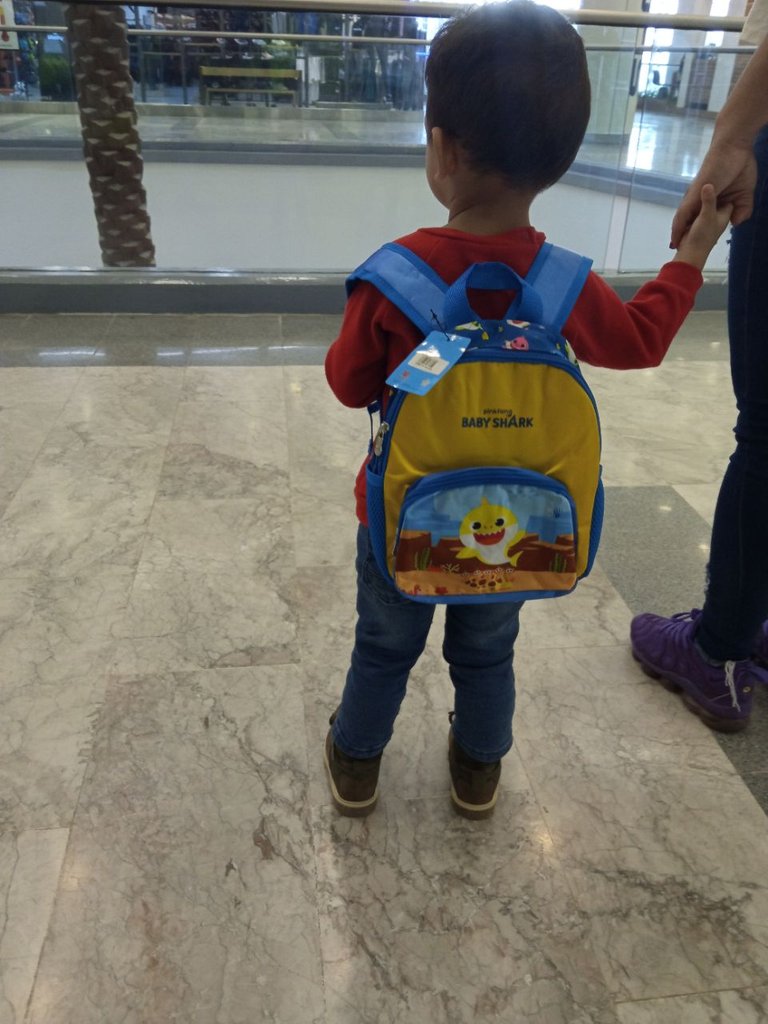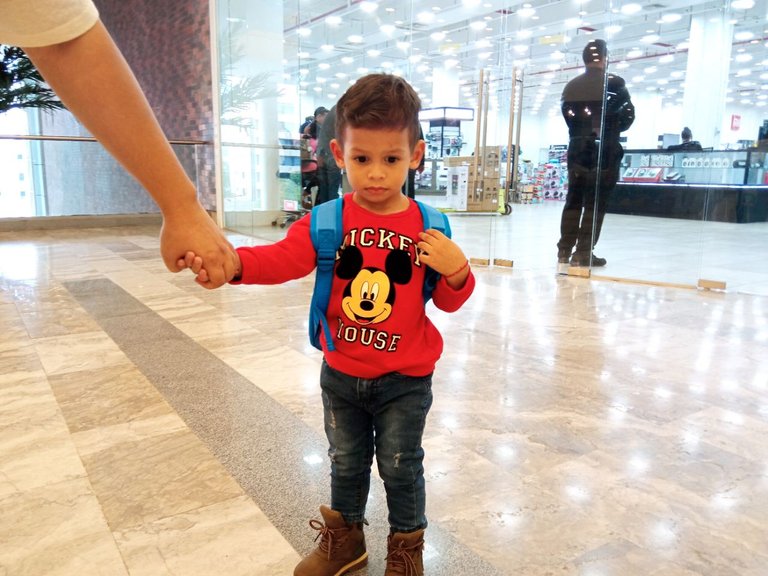 While we were having the refreshments, Santiago was checking every compartment of his new bag, and we as parents were happy that our little boy was happy and enjoying his bag. I asked my husband to buy some chips for Santiago (his favorite) and our son was so entertained and so distracted with his new bag, that he didn't pay attention to the French fries, he just wanted to check completely what his new acquisition was carrying.
Mientras tomábamos los refrescos, Santiago revisaba cada compartimiento de su nuevo bolso, y nosotros como padres estábamos felices de que nuestro pequeño se sintiera feliz y estuviera disfrutando de su bolso. Le pedí a mi esposo que comprara algunas papas fritas para Santiago (sus preferidas) y nuestro hijo estaba tan entretenido y tan distraigo con su nuevo bolso, que no le prestó a atención a las papas fritas, el solo quería revisar por completo que traía su nueva adquisición.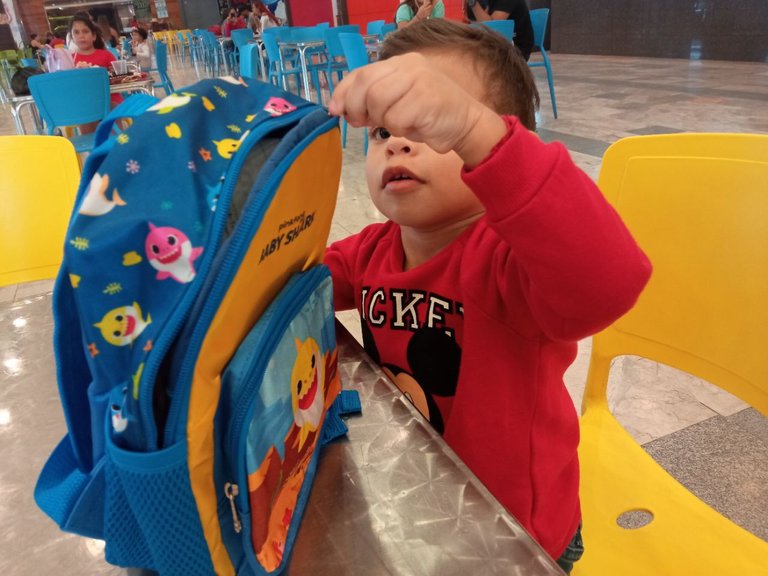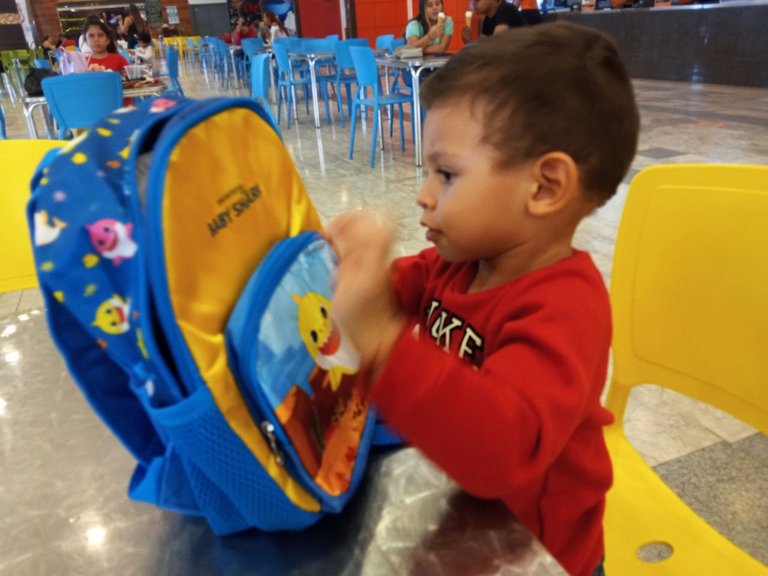 Perhaps, there are many, many ways to be happy. But, for us parents, there is no other happiness than the happiness of our children, and no matter how much or how little we have, it is always important to share as a family and give our children smiles through these magical moments that will always remain engraved in their memories.
Tal vez, existan muchísimas formas de ser felices. Pero, para nosotros los padres, no existe más felicidad alguna que la propia felicidad de nuestro hijos, y con lo mucho o poco que se tenga, siempre es importante compartir en familia y regalar a nuestros hijos sonrisas a través de estos momentos mágicos que quedarán siempre grabados en sus recuerdos.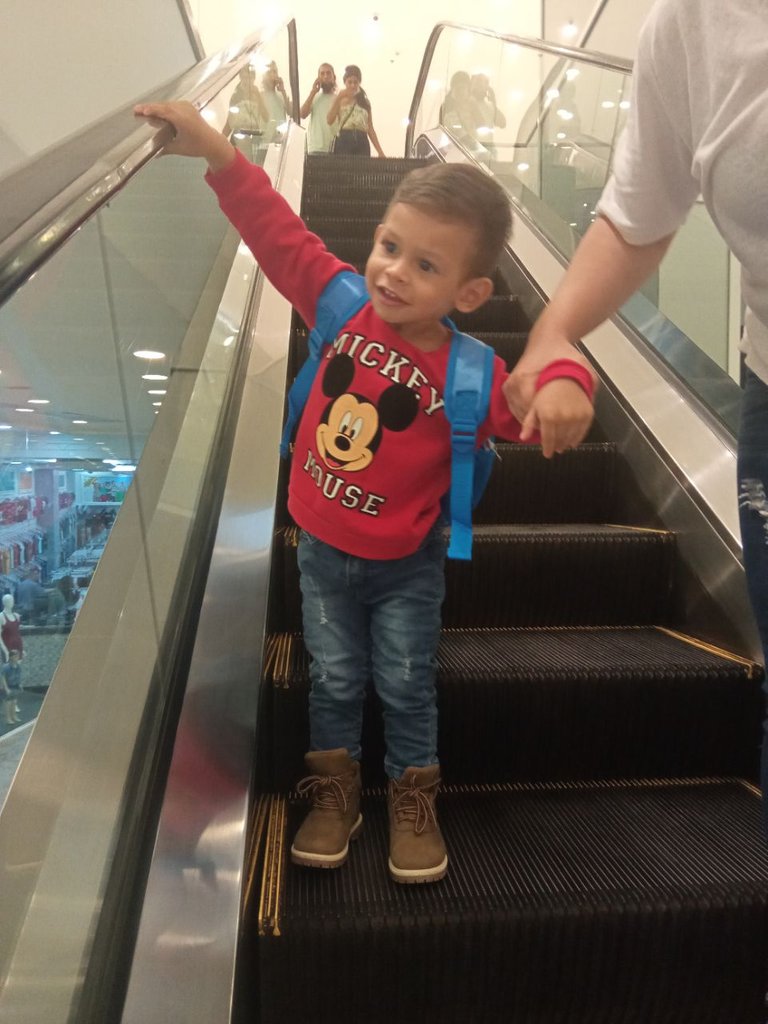 The Original text of @aksurevm89 // El texto Original de @aksurevm89
Xiaomi Redmi 9 Camera // Cámara Xiaomi Redmi 9
All photos are my property // Todas las fotos son de mi propiedad.
Text translated in Deepl free version. // Texto traducido en Deepl versión gratuita.
The collages were made with GridArt. // Los collage fueron realizado con GridArt.
Banner and text separator Made in background eraser // Banner y Separador de texto Realizado en background eraser.

---
---