[Eng/Esp] Family snack: Delicious homemade guava jam.
Greetings, good night my beautiful people from #hive and colleagues from #Foodies, I hope everyone here is healthy, healthy and happy. Recently I went to the market in search of provisions and some fruits and vegetables, at one point I passed by a shelf and I was ready to take a canned guava jam, I wanted to buy it because at home I have some flour and yeast, and it is ideal for preparing bread stuffed with guava. However, the cost of the jam stopped me, 3$USD for 200g of guava jam, and the value of a kg of fruit 0.5$USD, so I took a kilo of guavas and set out to prepare my own guava jam. homemade. The result was a total delight, although preparing guava jam has its tips and also its care to obtain the desired texture, and here I want to share with you how to prepare a delicious homemade guava jam and save you some money.
Saludos, muy buenas noches mi gente bonita de #hive y compañeros de #Foodies, espero que todos acá se encuentren sanos, saludables y felices. Hace poco fui al mercado en busca de provisiones y de algunas frutas y vegetales, en un momento pasé por un estante y me dispuse a tomar una mermelada de guayaba envasa, la quería comprar porque en casa tengo algo de harina y de levadura, y es ideal para preparar unos panes rellenos de guayaba. Sin embargo, el costo de la mermelada me detuvo, 3$USD unos 200gr de mermelada de guayaba, y el valor del kg de la fruta 0.5$USD, así que tome un kilo de guayabas y me dispuse a preparar mi propia mermelada de guayaba casera. El resultado fue una total delicia, aunque preparar meelada de guayaba tiene sus tips y también su cuidado para obtener la textura desear, y acá te quiero compartir como preparar una deliciosa mermelada de guayaba casera y ahorrarte algo de dinero.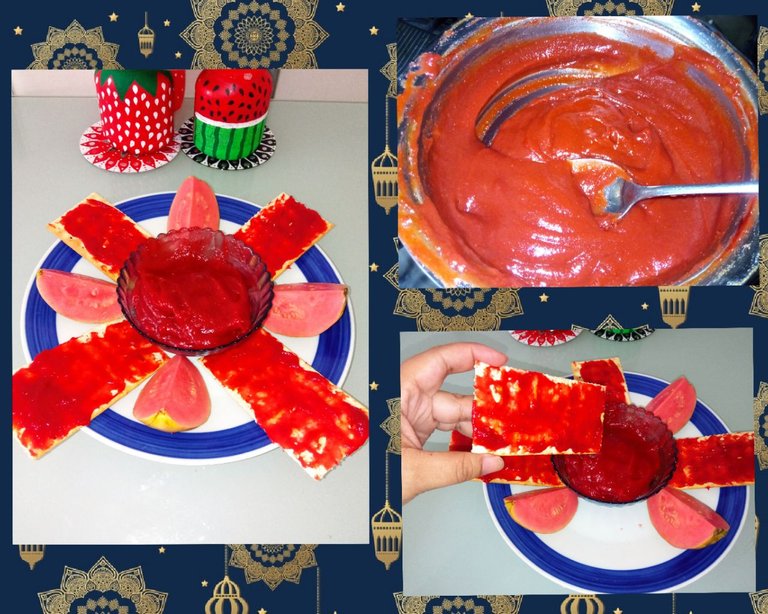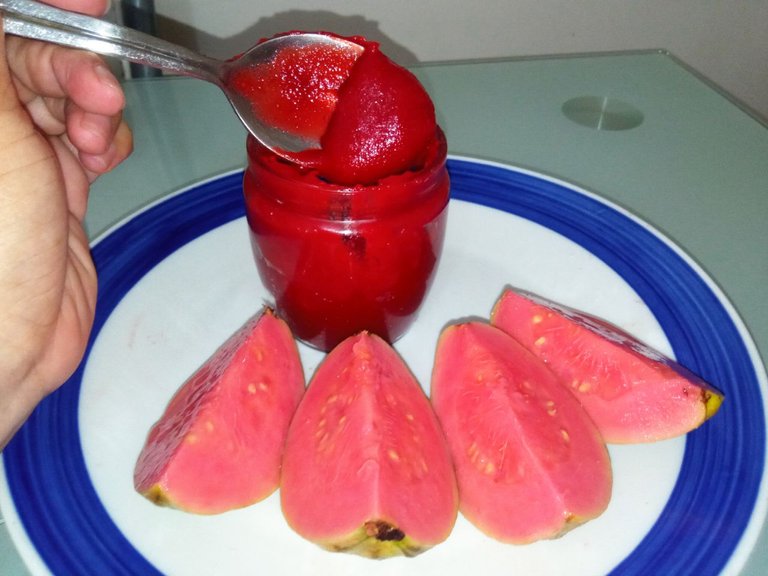 Ingredients for this preparation:
✓ 250gr of ripe guavas.
✓ 1 cup of granulated sugar.
✓ 2 cups of water.
✓ 1/4 teaspoon of baking soda.
✓ Spices: 6 cloves and cinnamon sticks.
✓ Crackers or bread spreads.
Ingredientes para esta preparación:
✓ 250gr de guayabas maduras.
✓ 1 taza de azúcar granulada.
✓ 2 tazas de agua.
✓ 1/4 de cucharadita de bicarbonato de sodio.
✓ Especias: 6 clavos de olor y canela en rama.
✓ Galletas o panes para untar.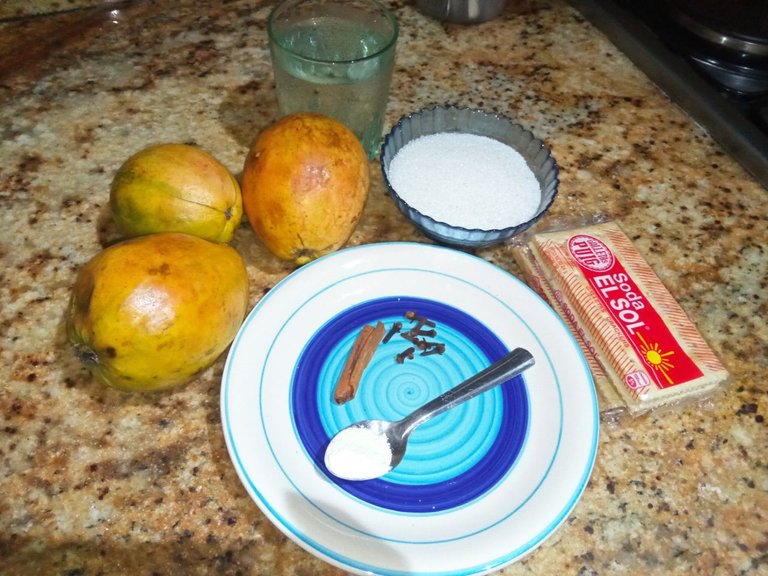 We start our preparation:
Wash and chop the guavas into squares, add them in a jar together with the two cups of water. Add the cinnamon and cloves and cook them over medium heat until they come to a boil.
Iniciamos nuestra preparación:
Lava y pica las guayabas en cuadros, agregalas en una carelo junto con las dos tazas de agua. Colocala la canela y los clavos de olor y cocinarlas a fuego medio hasta que rompan en hervor.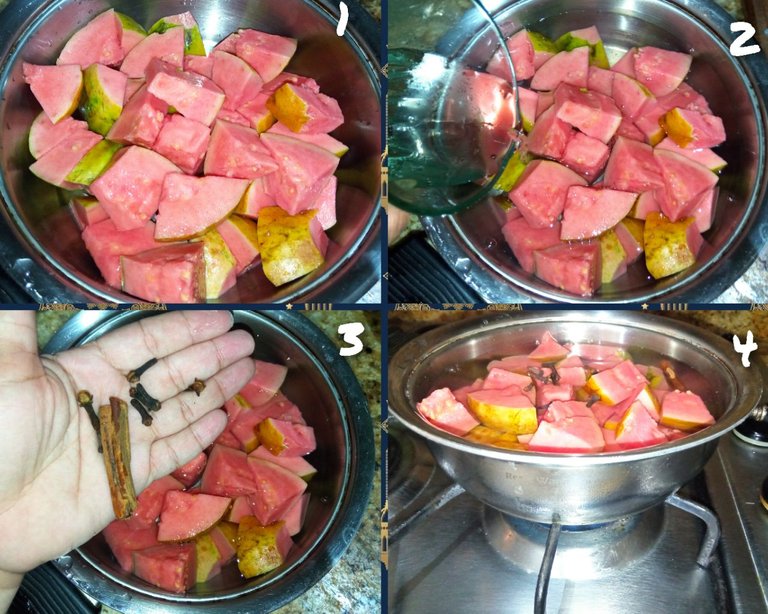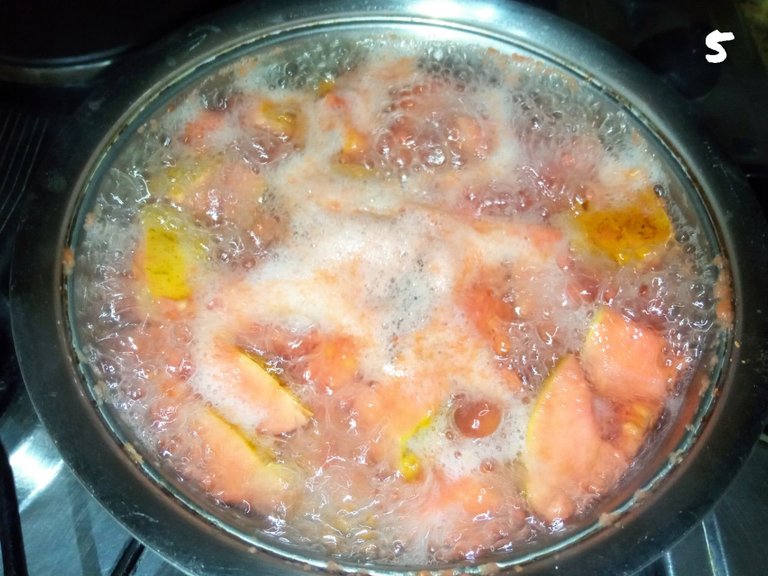 Turn off the heat, let the guava rest in its liquid and remove the cloves and cinnamon. When the guavas have rested in their liquid, place them in the blender glass and blend for approximately 5 minutes or until the guavas are completely crushed. Strain your guava to extract the seeds and place the guava juice in a saucepan.
Apaga el fuego, deja reposar la guayaba en su líquido y retira los clavos de olor y la canela. Cuando hayan reposado las guayabas en su líquido, colocalas en el vaso de la licuadora y licua por aproximadamente 5 minutos o hasta que las guayabas estén completamente trituradas. Cuela tu guayaba para extraer las semillas y coloca el jugo de la guayaba en una cacerola.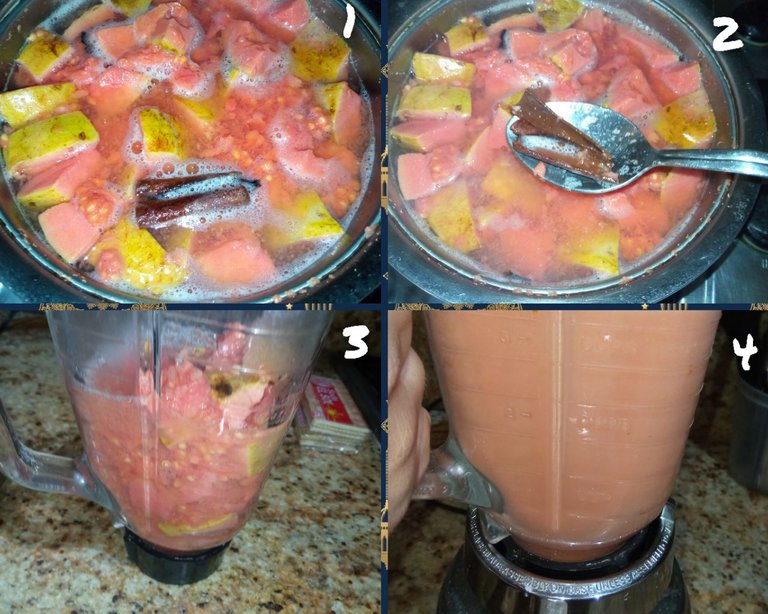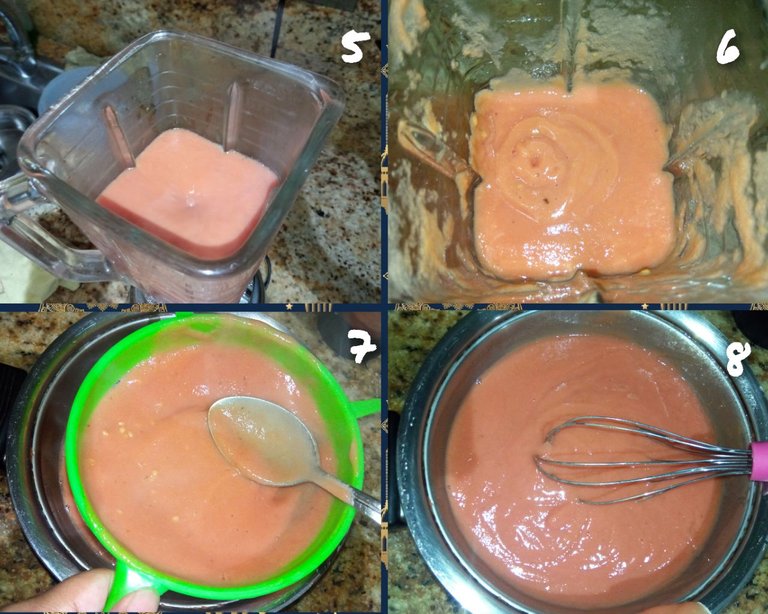 Next add the sugar to your preparation, and also add the baking soda (the baking soda will give your jam that beautiful burnt red color), dissolve very well and place over very low heat.
Seguidamente agrega el azúcar a tu preparación, y también agrega el bicarbonato de sodio (el bicarbonato le dará ese hermoso color rojo quemado a tu mermelada), disuelve muy bien y coloca a fuego muy bajo.
Make sure you have the heat very low, and with a hand mixer or a long paddle constantly move your preparation, this process takes time for the jam to take on that texture. It will take approximately 40 minutes beating and stirring so that your guava jam does not burn and also so that when the liquids evaporate they do not splash and burn you with the preparation.
This is how my jam looked after 15 minutes of constant stirring, you can see how it gradually changes color, and that is initially due to the gregarious bicarbonate.
Asegúrate de tener el fuego muy bajo, y con un batidor manual o una paleta larga mueve constantemente tu preparación, este proceso lleva su tiempo para que la mermelada tome esa textura. Vas a tardar aproximadamente unos 40 minutos batiendo y removiendo para que tú mermelada de guayaba no se queme y también para que cuando los líquidos se vayan evaporando no te salpiquen y te quemes con la preparación.
Así estaba mi mermelada luego de 15 minutos removiendo constantemente, ya ves como de a poco va cambiando de colorby eso se debe al bicarbonato gregario inicialmente.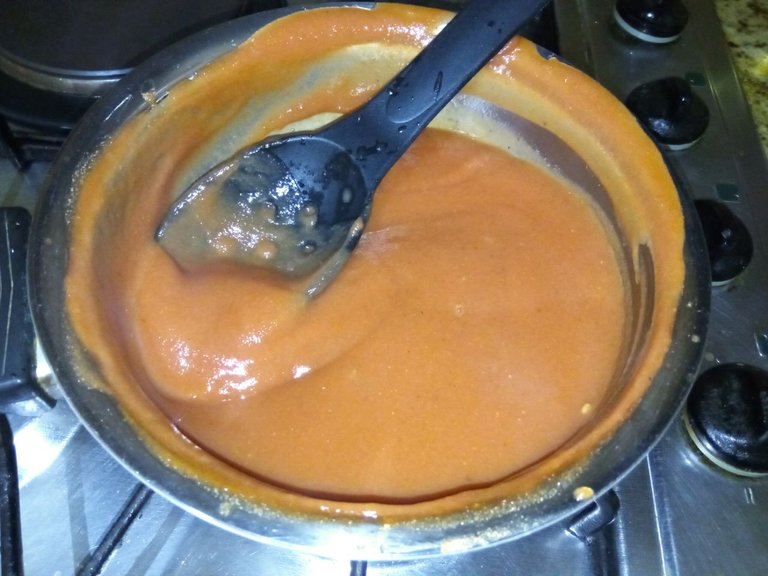 So was my preparation over the course of another 15 minutes.
Así estaba mi preparación en el transcurso de 15 minutos más.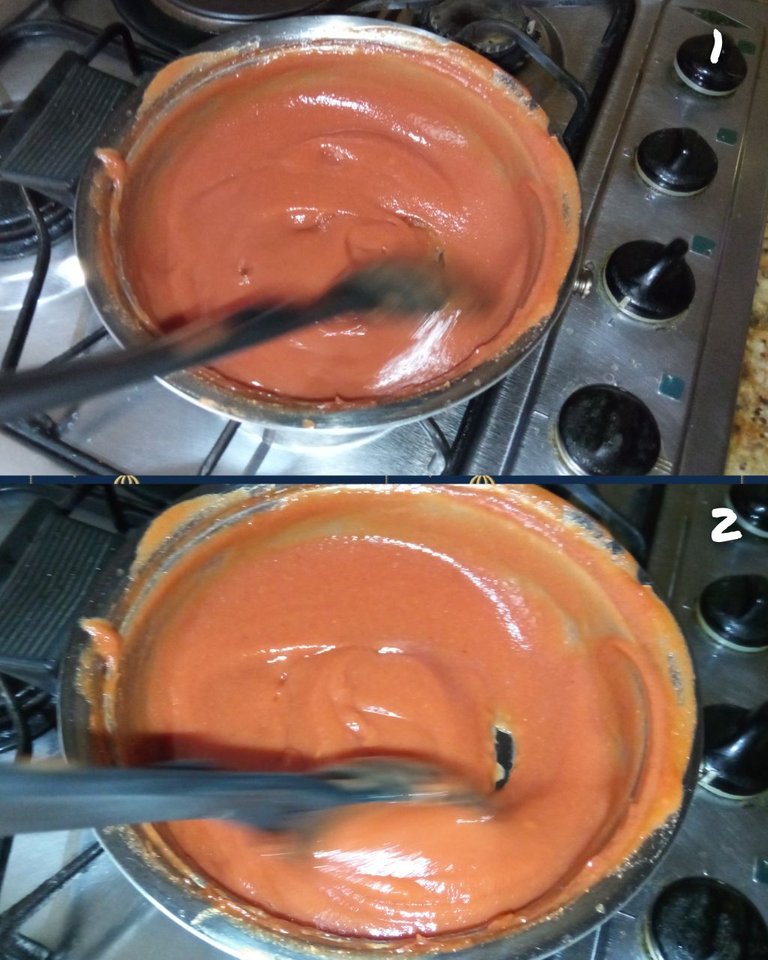 So after 10 minutes stirring (my arms were already tired, but it's part of the process). Here already most of the liquid had evaporated and that jam texture was left.
Así luego de 10 minutos removiendo (ya tenía los brazos cansados, pero es parte del proceso). Aquí ya la mayor cantidad del líquido se había evaporado y estaba quedando esa textura de mermelada.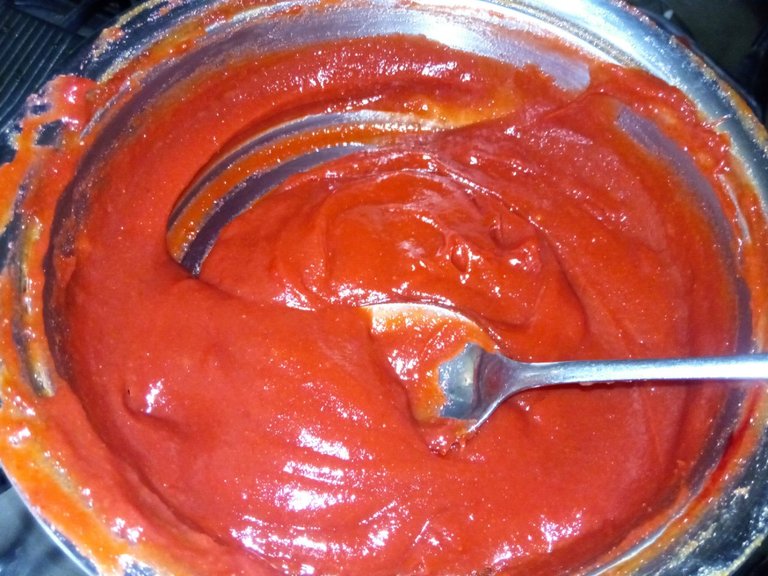 Here my guava jam was ready. I know, because I was able to run a teaspoon into the center of the pan and I could see its bottom at all times. Turn off the heat and let it cool.
Acá ya mi mermelada de guayaba estaba lista. Lo sé, porque pude pasar una cucharilla en el centro de la cacerola y pude ver su fondo en todo momento. Apague el fuego y la dejé enfriar.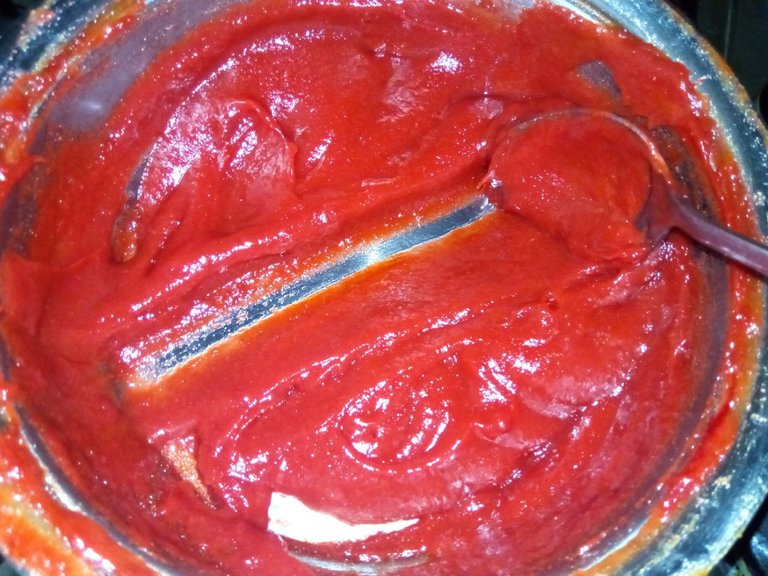 We pack this delicacy when it cools down and enjoy it on bread or crackers. Bon Appetite!
Envasamos esta delicia cuando se enfríe y disfrutamos con pan o galletas. ¡Buen provecho!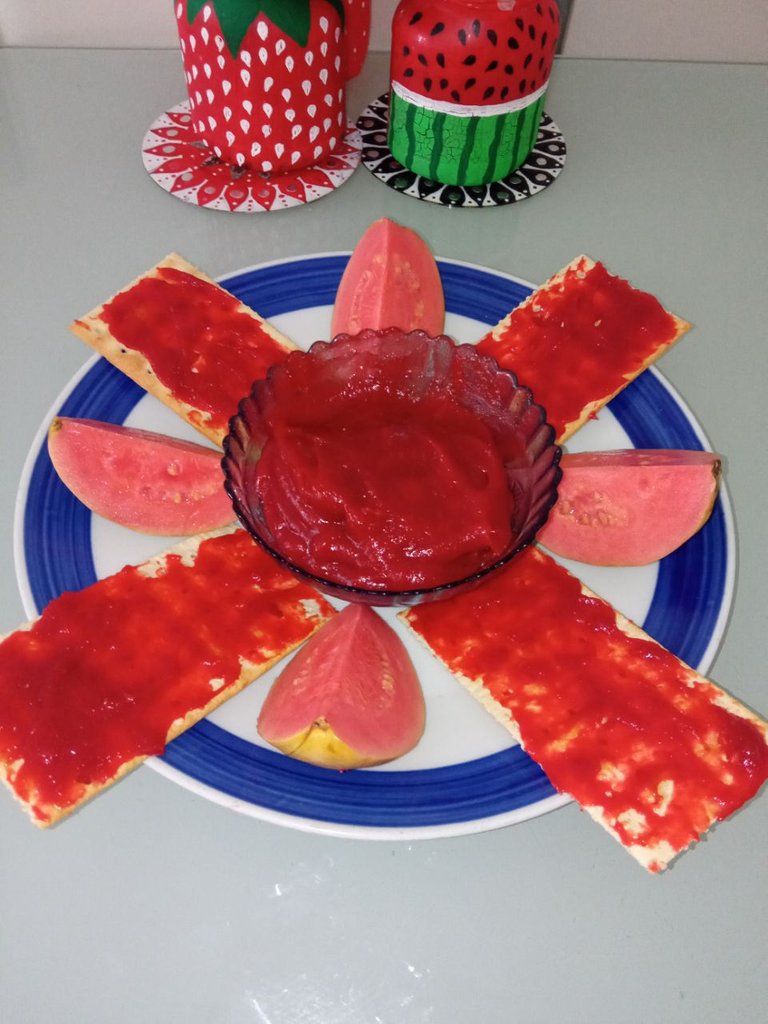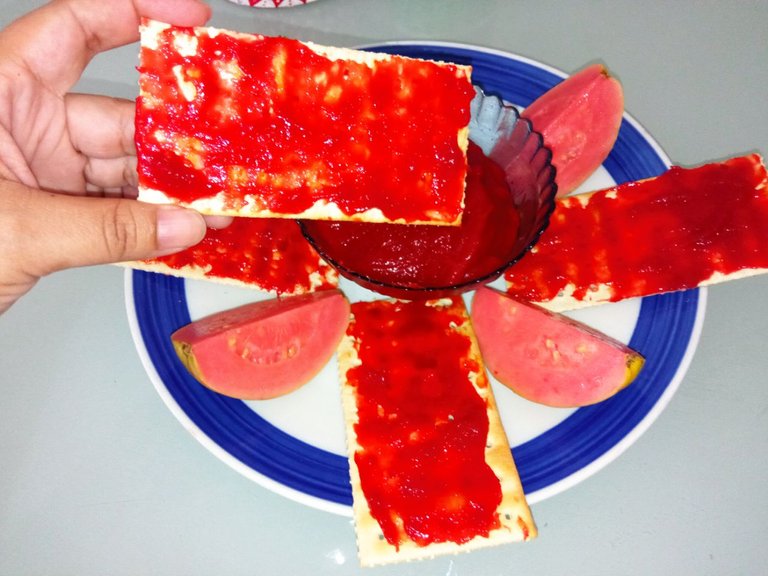 THANKS FOR READING ME // GRACIAS POR LEERME.
Translated by: google translator // Traducido por: google traductor.
All photos are my property // Todas las fotos son de mi propiedad.
The collage were made with the collage maker android app // Los collage fueron realizado con la app para android collage maker.
---
---