[Eng/Esp] Family snack: I put inverted from oranges, a citrus delight.
Greetings, good night, my pretty people of #Hive and #Foodies colleagues, which is good to share with you one more of my homemade recipes, grateful to God for promising me with a wonderful day full of joy. I hope that all of you are also healthy, happy and enjoying the company of your beloved beings. Today I am very sweet, but with a fresh touch and in turn citrus how the orange, because I tell them that my husband brought home some criollas oranges that there were nothing sweet, I thought about making a play, but the strong cirrica flavor made me change his mind and I used my oranges to prepare a delicious inverted oranges, it is a recipe is sweet and at the same time its citric touch makes you explode from taste your palate. To Compassion and prepare at home this delicious put inverted oranges.
Saludos, buenas noches mi gente bonita de #Hive y compañeros de #Foodies, que bueno es poder compartir con ustedes una más de mis recetas caseras, agradecida de Dios por promiarme con un día maravilloso lleno de alegría. Espero que todos ustedes también se encuentren sanos, felices y disfrutando de la compañía de sus seres amados. Hoy estoy muy dulce, pero con un toque fresco y a su vez cítrico cómo la naranja, pues les cuento que mi esposo trajo a casa unas naranjas criollas que no estaban nada dulces, inmedimante pensé en hacer un juguito, pero el fuerte sabor cirtrico me hizo cambiar de parecer y he utilizado mis naranjas para preparar un delicioso Ponqué invertido de naranjas, está receta es dulce y a la vez su toque cítrico hace que explote de sabor tu paladar. A compañame y preparemos en casa este delicioso Ponqué invertido de naranjas.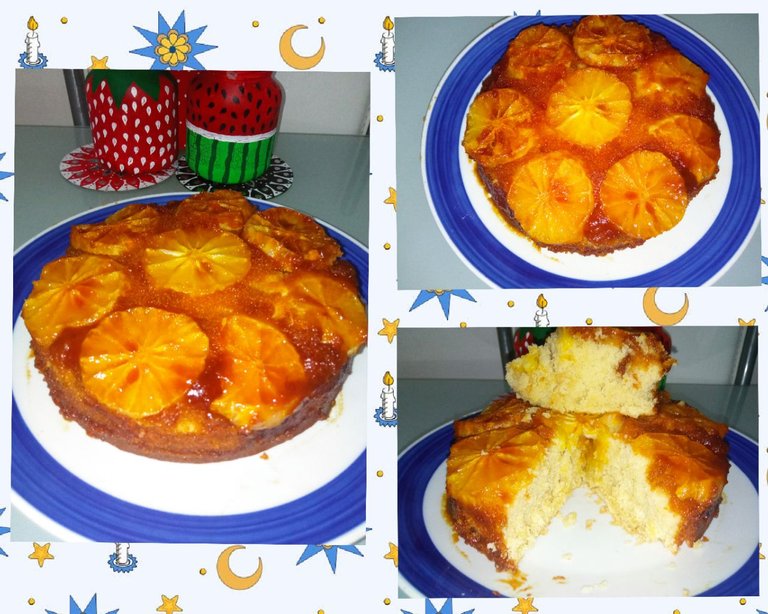 Ingredients for this preparation:
For the orange cake:
✓ 120gr of self-rising wheat flour.
✓ 60gr of creamed butter.
✓ 2 medium eggs.
✓ 100gr of granulated sugar.
✓ 80ml of orange juice.
✓ 1 teaspoon grated orange peel.
For the orange flip:
✓ 40gr of granulated sugar.
✓ Orange slices as needed.
✓ 1 teaspoon of butter.
Ingredientes para esta preparación:
Para el ponqué de naranjas:
✓ 120gr de harina de trigo leudante.
✓ 60gr de mantequilla en pomada.
✓ 2 huevos medianos.
✓ 100gr de azúcar granulada.
✓ 80ml de jugo de naranjas.
✓ 1 cucharadita de cáscara de naranja rallada.
Para el volteado de naranja:
✓ 40gr de azúcar granulada.
✓ Rodajas de naranja cantidad necesaria.
✓ 1 cucharadita de mantequilla.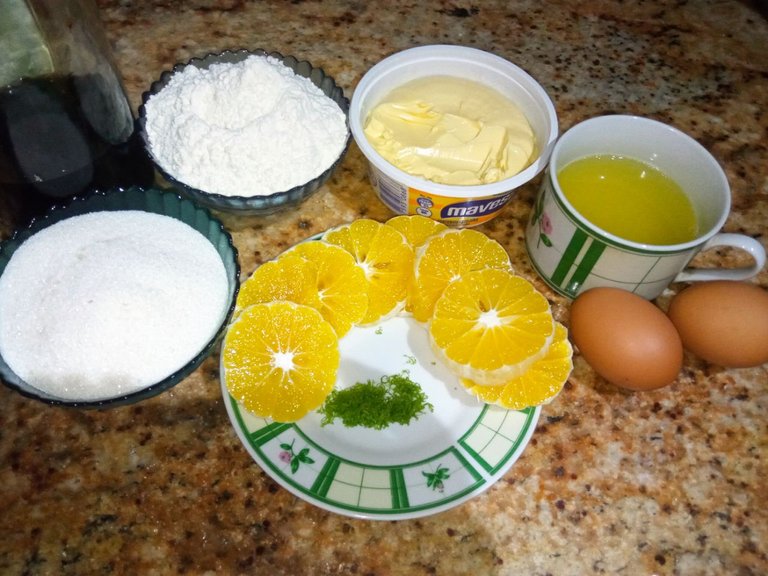 We start by preparing the orange flip:
In a 20x18cm cake mold, add the granulated sugar and place it over low heat, let the sugar begin to caramelize, stir the sugar if necessary with a spoon. When the intermediate colored caramel has formed, remove from the heat (carefully so you don't burn yourself) and spread all the caramel over the pan. Now, soak one side of the orange slices with the butter and place that side of the orange on the surface of the pan (this is so the oranges don't stick when you flip the cake). Booking.
Iniciamos preparando el volteado de naranjas:
En un molde para el ponqué de 20x18cm, agrega el azúcar granulada y colocala a fuego bajo, deja que el azúcar se comience a caramelizar, remueve el azúcar de ser necesario con una cuchara. Cuando se haya formado el caramelo color intermedio retira de fuego (con cuidado para que no te quemes) y esparce todo el caramelo por la tortera. Ahora, empapa un lado de las rodajas de naranja con la mantequilla y coloca ese lado de la naranja en la superficie de la tortera (esto para que no se peguen las naranjas al voltear el ponqué). Reserva.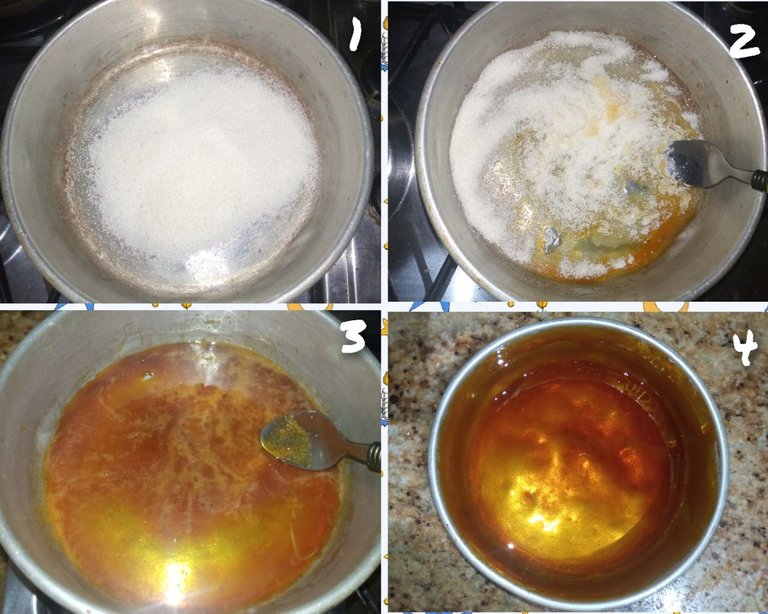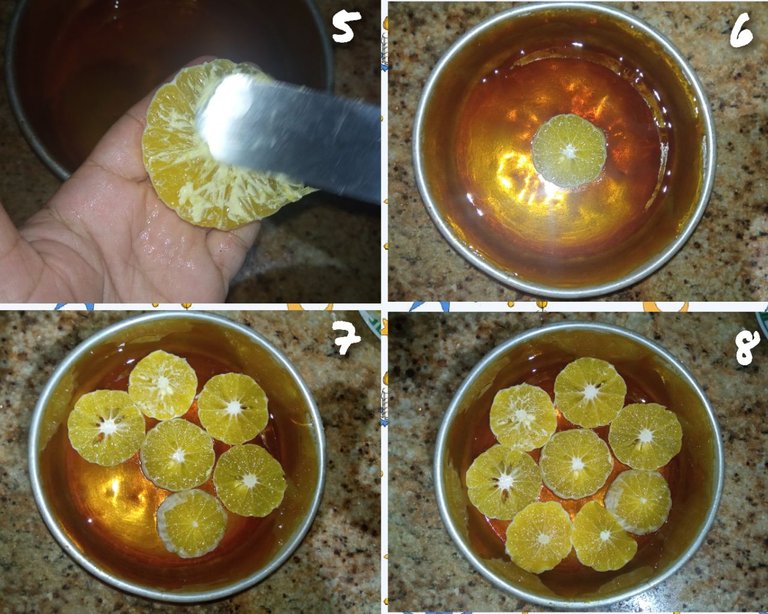 We then prepare our ponqué:
In a tray or cake pan where between the cake pan add water up to half, turn on the oven at about 180° and place that tray with water, there the cake will be cooked in a bain-marie. Preheat for about 15 minutes.
Preparamos seguidamemte nuestro ponqué:
En una bandeja o tortera dónde entre la tortera del ponqué agrega agua hasta la mitad, enciende el horno a unos 180° y coloca esa bandeja con agua, ahí se cocinará el ponqué a baño de María. Precalienta por unos 15 minutos.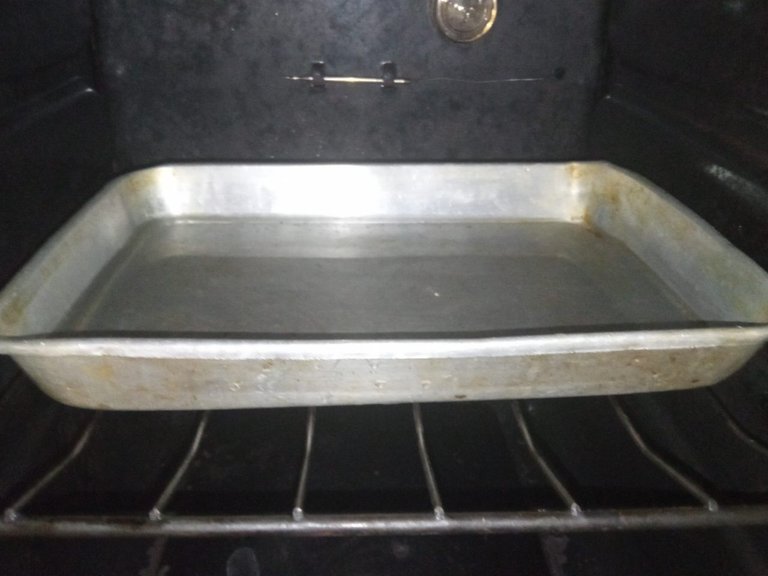 Now we are going to prepare our orange cake:
In a bowl, add the melted butter and sugar, beat with an electric whisk until creamy, the butter will take on a light yellow color. Add the eggs to the mixture one at a time and beat to integrate, add a teaspoon of vanilla and continue beating your mixture.
Ahora sí vamos a preparar nuestro ponqué de naranjas:
En un bol, agrega la mantequilla en pomada y el azúcar, bate con una varillas eléctricas hasta cremar, la mantequilla tomara un color amarillo claro. Añade a la mezcla los huevos de uno en uno y bate para integrar, agrega una cucharadita de vainilla y continúa batiendo tu mezcla.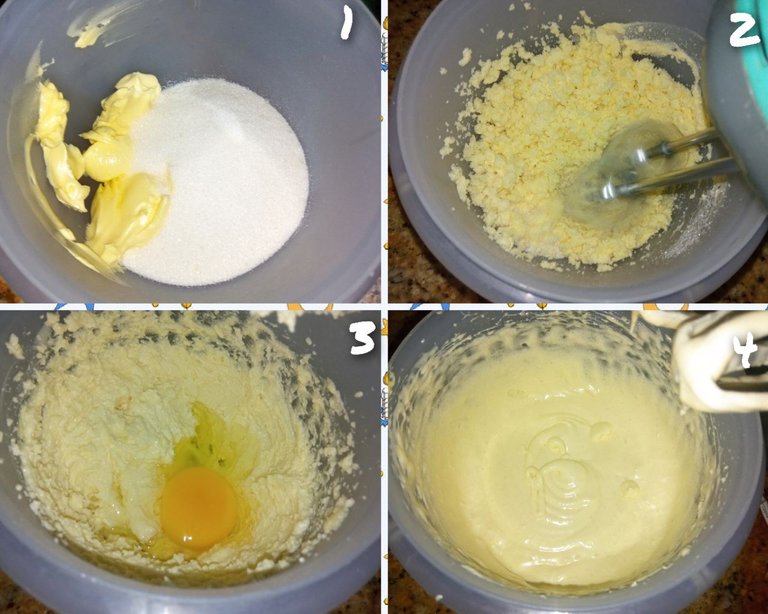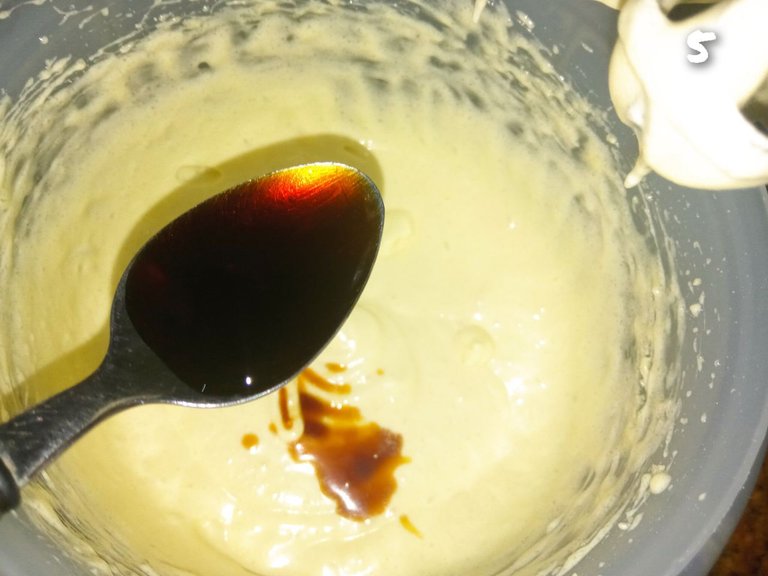 Incorporate the orange peel and orange juice into your mixture and mix again. Now, with a color of juice, sift the flour little by little and mix it with the electric rods until it is completely incorporated and you have a soft and very creamy dough. If you don't have electric rods it doesn't matter, you can do it with a balloon-type whisk and it works just as well.
Incorpora a tu mezcla la cáscara de la naranja y el juego de naranja y mezcla nuevamente. Ahora, con un color de jugo tamiza la harina de a poco y ve mezclandola con las varillas eléctricas hasta incorporar por completo y que te quede una masa suave y muy cremosa. Si no tienes varillas eléctricas no importa, puedes hacerla con un batidor tipo globo y queda igual de bien.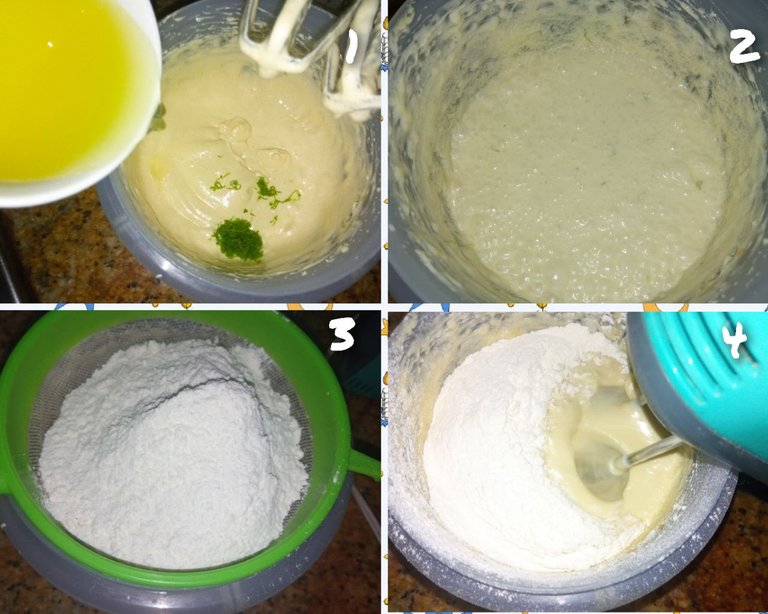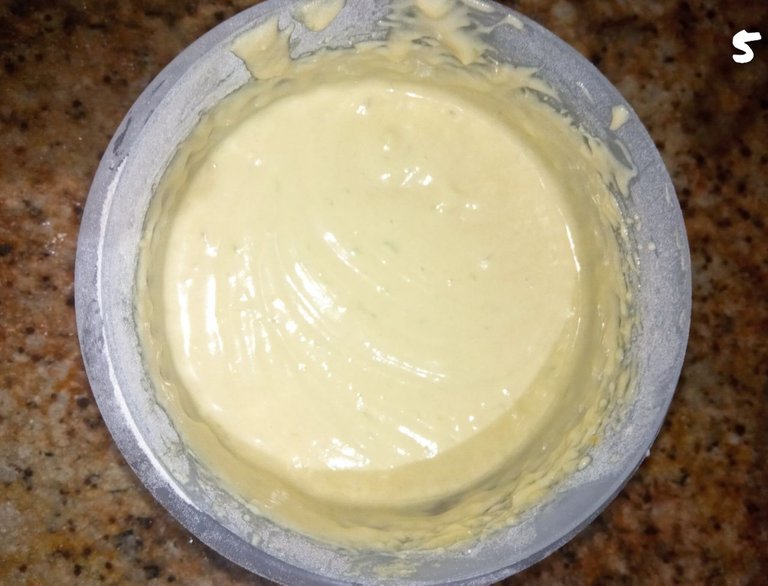 Add the orange cake mixture to the previously caramelized tray and with the orange slices on the bottom, add the mixture little by little so that the slices do not move, the mixture should not exceed 60% of the height of the mold and when You have it ready, take it to the oven and place it on the tray prepared for the bain-marie. Bake for approximately 40 minutes or until when you click the cake it comes out clean.
Agrega la mezcla de ponqué de naranja en la bandeja previamente caramelizada y con las rodajas de naranja en fondo, agrega la mezcla de a poco para que no se muevan las rodajas, la mezcla no debe superar el 60% de la altura del molde y cuando la tengas lista lleva al horno y coloca en la bandeja dispuesta para el baño de María. Hornea por 40 minutos aproximadamente o hasta que al pinchar el ponqué este salga limpio.
Let the cake cool and invert onto a plate or cake pan. You will be left with this lovely super fluffy treat that melts easily on your palate and has that sweet and sour taste. This is how my flipped orange cake turned out. Bon appetite!
Deja enfriar el ponqué y voltea en un plato o bandeja para tortas. Te quedará esta delicia encantadora súper esponjosa que se debarata con facilidad en tu paladar y tiene ese sabor dulce amargo. Así ha quedó mi ponqué volteado de naranjas ¡Buen provecho!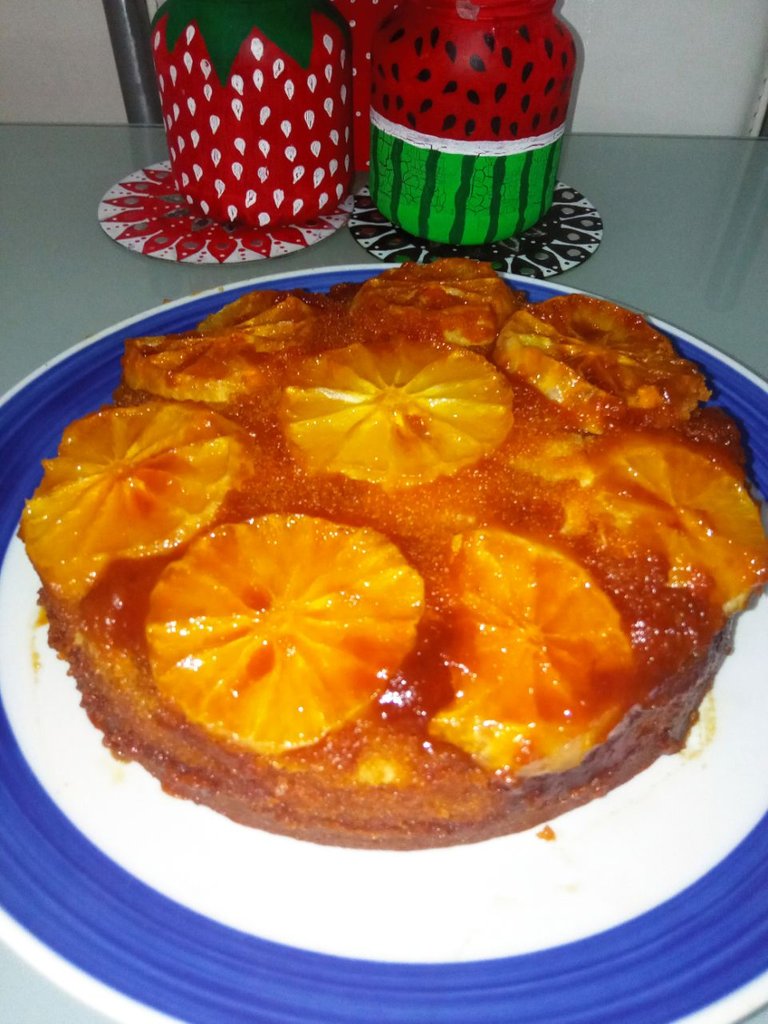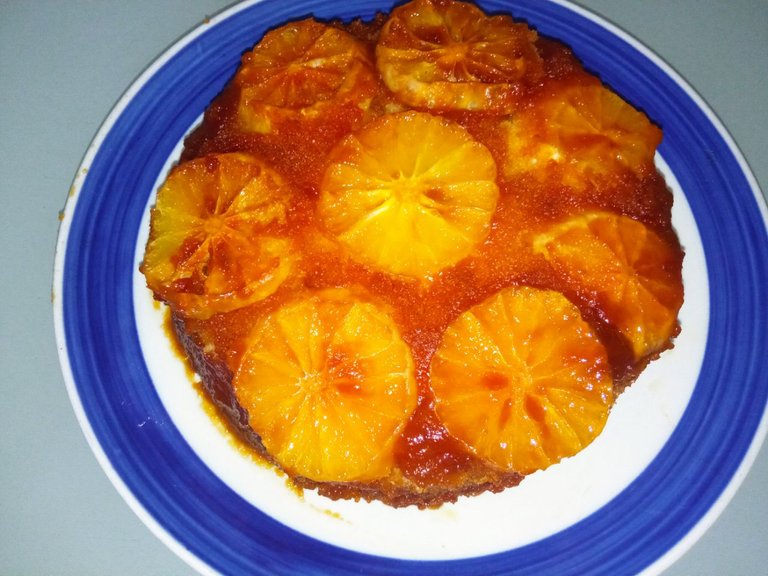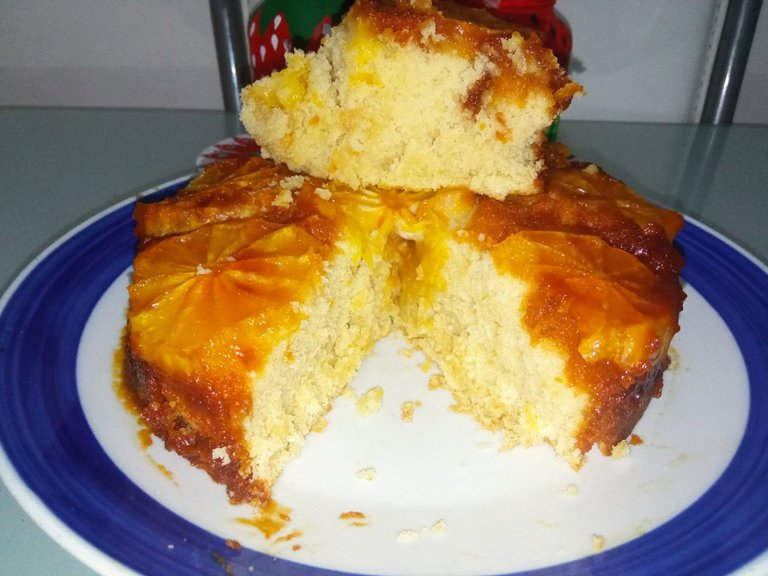 THANKS FOR READING ME // GRACIAS POR LEERME.
Translated by: google translator // Traducido por: google traductor.
All photos are my property // Todas las fotos son de mi propiedad.
The collage were made with the collage maker android app // Los collage fueron realizado con la app para android collage maker.
---
---