A Day At The Eye Clinic: The Eyes and Light.
It's been a while, close to two years, since my mom began complaining about her right eye.
Someone accidentally hit her in the eye and the cascade of complaint ensued.
Recently, I invited her over to my residence and in turn, my work place and scheduled an appointment with an Opthalmologist for her.
On Wednesday, we set out to the eye clinic.
I had a pass as a co worker, although I got it from my consultant who is the wife to the Eye Doctor.
Started out with opening a folder and paying the charges for consultation.
My mum was made to "read" by the health worker.
I honestly don't know what that meant as it isn't my field of study.
Next, she had refraction of eyes done by an optometrist.
Afterwards, she went in to see the opthalmologist who asked a few questions and went ahead to examine her eyes.
Series of light and liquids going into the eyes..
She was asked to get her eyes dilated by the nurse for close to an hour.
This tells of the division of labor and the importance of every one member of the health team, of course, with the Doctor as the team leader.
All these while, I was with her, couldn't go over to my clinic. I was the patient relative this time, not the doctor.
After the dilatation, I could see the opaque figure in her right eye, the problematic eye.
It was a bit cringy to look at. My mom said when she got home, she couldn't look herself in the mirror as it looked weird.
We went back to the Doctor for the final analysis and he made a diagnosis of Cataract of the right eye, full quadrant.
I got colleague privilege and the cataract extraction surgery was scheduled in a week (this coming week).
My mom was fascinated at all the equipments used to examine her eyes, however, she got discomfort from the amount of light and fluids that had to be dropped into her eye.
She went back home, while I went back to my clinic. And by the time I returned home, she had all the lights turned off as it was affecting her. She recovered a few hours later.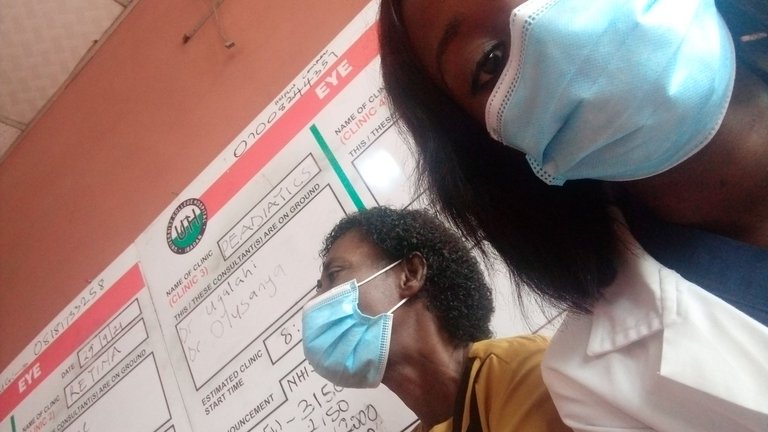 ---
This got me wondering on the uniqueness of the eye and how it's the light of the body.
If an eyesight is gone, the body has shifted into a level of darkness, and if the two is gone, how will one enjoy the graciousness of light and life?
---
---