Bad Shoe Day
I was born a shakara girl, a catwalk Queen.
With all that elegance, I walk on heels. I even opined to wear heels to work.. I'm a House officer and hence run lots of errands for my seniors, plus I stand a lot to perform procedures. So, for the life of me, I advised myself against that.
My point is, I love to wear heels.
---
Have I had Bad Shoe Days?
Yes. With all types of shoes; flats, heels, sandals and even slippers.
But, I'll share my bad heel story.
---
It's a certain Sunday morning and the not-so-organized me didn't think to check out all my outfits the day before.
I quickly got out what I could and definitely, it's going with a heel.
When I took out the heel to wear, I noticed the left foot had begin to have a little fault.
Well, it's little. I had written it off.
I put them on and off I went to church. I trekked, actually.
---
A Little About The Shoe
This black heel has survived ages and has probably been passed down to me by someone. Can't remember who.
It had pointed heels and and open toe. I wasn't quite fascinated by it but a babe got to wear heels anyway.
The tip of the heel already had it's metallic component exposed and as you walk with it on Sandy areas, you'll be sinking... basically struggling to walk against the sand.
However, if you walk on cemented floor, it made the loudest noise and announces your presence in a crowd.
It has to be the worst pair of shoes I've owned.
---
The thing about me is, I don't put slippers in a sac to accompany me, I go all out to slay. Never should I be caught off-heels when I've been seen on them 😁
I got to church, worshipped and at the end of service, I was elegantly walking home when it happened. The sole with the heel had separated. Eweeeeee.
In all my glory and elegance, how will I walk home now?
And due to my pride, I didn't carry flats as adjunct.
I had to deflate my pride, pulled off the remaining part of the left foot shoe and walked with the other on. That's right, I was limping 🤣
I could care less.
Held the bad shoe in hand and walked with the other, and my left foot on bare floor😩
---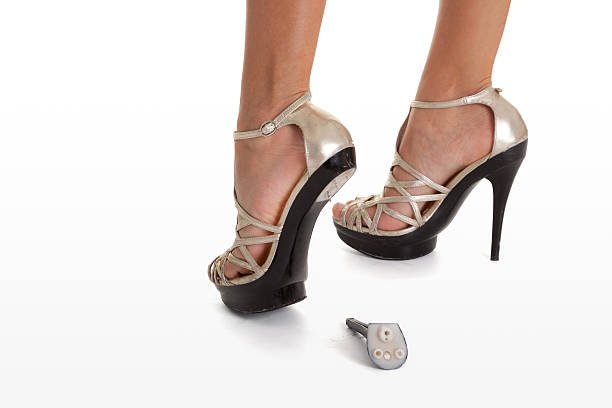 Pixabay
---
Did I still learn my lesson of taking flats along when wearing heels?
Not all the time 👀
I get coconut head, I no dey hear word
This is my entry for the #LadiesofHive community contest #48.
I nominate @sylviaijay to describe her worst pair of shoes 😃
---
---