BATTLE MAGE SECRETS "HEADLES OUT" - Splinterlands [ES/EN]

Muy buen día, comunidad Hive NFTGame Latino
Good day, community Hive NFTGame Latino
---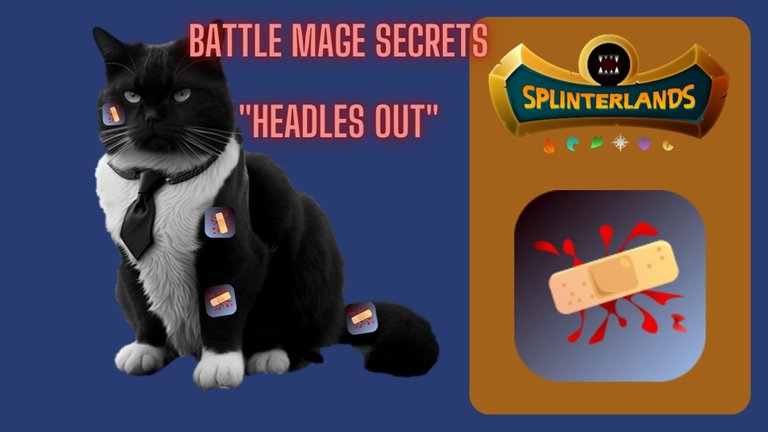 ---
Image designed in canva with elements from the Splinterlands game.
---

Esta es mi participación en BATTLE MAGE SECRETS Weekly Challenge! de la comunidad de Splinterlands.
En esta ocasión toca realizar una batalla con la condición HEADLES OUT.
---
This is my participation in the BATTLE MAGE SECRETS Weekly Challenge!community of Splinterlands.
This time it's time to carry out a battle with the HEADLES OUT condition.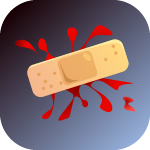 ---
HEADLES OUT
---
Descripción:
Se eliminan todas las habilidades de curación.
Esto también se aplica a los invocadores.
Las habilidades de curación incluyen Heal, Tank Heal y Triage.
HEADLES OUT
---
Description:
All healing abilities are removed.
This applies to summoners as well.
Healing abilities include Heal, Tank Heal, and Triage.

Hablemos sobre esta condición de batalla.
---
Esta condición es particular, pues en los mazos actuales siempre está presente la curación, y en muchos de ellos se usan cartas con curación propia y una carta adicional con curación, y no hace más que tener un tanque inmortal, lo cual no es resignarse a perder si no se tiene cartas con daño alto o que puedan atacar a cartas en segunda posición.
No la considero una condición aburrida, pues te da la opción de poder usar otros mazos enfocados a solo daño ya sea físico mágico o a distancia, así mismo da la prioridad a usar cartas con mucha velocidad, habilidades para esquivar o que reduzcan el daño físico o mágico.
Cartas con habilidades de reflejo de daño son muy adecuados para esta condición lo recomiendo mucho, ya que es un no parar de quien hace más daño.
Let's talk about this battle condition.
---
This condition is particular, because in current decks healing is always present, and in many of them cards with their own healing and an additional card with healing are used, and they do nothing more than have an immortal tank, which is not resign yourself to losing if you don't have cards with high damage or that can attack cards in second position.
I don't consider it a boring condition, since it gives you the option of being able to use other decks focused on only damage, be it magical physical or ranged, likewise it gives priority to using cards with a lot of speed, abilities to dodge or that reduce damage physical or magical.
Cards with damage reflection abilities are very suitable for this condition, I highly recommend it, since it is a non-stop of whoever does more damage.


Ventajas:
---
Nuestro mazo está enfocado en el retraso, para evitar el daño, pues al tener una limitante algo baja de maná, no podemos tener un buen tanque.
Contamos con un alto daño mágico, así como su potenciador con el invocador.
En muchos de los casos el uso de la carta que está en la penúltima posición, es muy útil, ya que la mayoría de los mazos con los que uno se enfrenta es de daño físico o a distancia.
La reducción de velocidad enemiga también es un plus adecuado, ya que nos permite la prioridad de daño, y mucho más si nuestro mazo se enfoca en el retraso.
Nuestro "tanque", tiene una habilidad que le permite esquivar ataques, lo cual lo hace como un tanque provisional, aunque puede haber mejores.
La otra condición de batalla nos da la facilidad que no recibamos daño físico, aunque estoy solo significa que estamos obligados a usar daño mágico o a distancia.
Advantages:
---
Our deck is focused on delay, to avoid damage, because having a somewhat low mana limitation, we cannot have a good tank.
We have high magic damage, as well as its enhancer with the summoner.
In many cases, the use of the card that is in the penultimate position is very useful, since most of the decks that one faces deal with physical or ranged damage.
The enemy speed reduction is also a suitable plus, since it allows us damage priority, and much more if our deck focuses on the delay.
Our "tank" has an ability that allows it to dodge attacks, which makes it a temporary tank, although there may be better ones.
The other battle condition makes it easier for us not to receive physical damage, although this only means that we are forced to use magical or ranged damage.


Desventajas:
---
Cuenta con un aumento de velocidad, el cual anula a una de mis cartas, y al morir esta, tendrá una gran ventaja.
Su tanque principal hace que el daño que realicemos sea bajo, así también que cuenta con una gran velocidad.
Parece que su combo es el de usar la carta de beneficio de muerte, el cual es uno muy adecuado para el aumento de estadísticas, y más si hubiera usado cartas de daño a distancia, ya que suelen tener poca vida.
Su carta de daño a distancia es una muy buena, para enfrentarse a daño físico aunque no es el caso, pero su daño me parece adecuado para este tipo de mazos, y si se usaba daño a distancia de mi parte, este le restauraría la armadura de forma continua.
Disadvantages:
---
It has a speed increase, which cancels one of my cards, and when it dies, it will have a great advantage.
His main tank makes the damage we deal low, as well as having great speed.
It seems that his combo is to use the death benefit card, which is a very suitable one for increasing statistics, and more if he had used ranged damage cards, since they usually have little life.
His distance damage card is a very good one, to deal with physical damage although it is not the case, but his damage seems adequate for this type of deck, and if distance damage was used on my part, this would would continuously restore armor.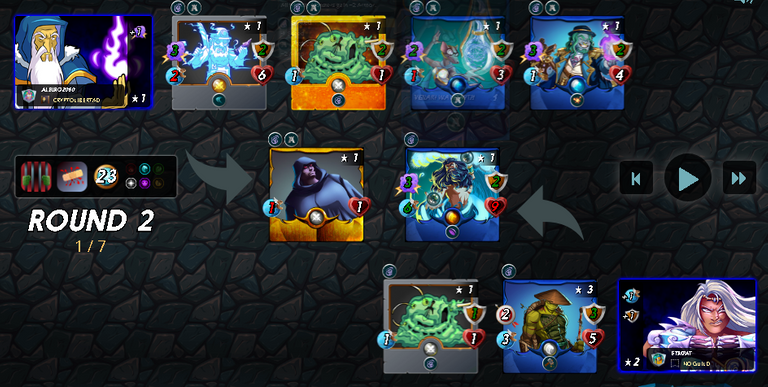 Como podemos observar, el combo del equipo enemigo se realizó, pero en mi lado no perdimos daño importante, así también, será una batalla de aguante solamente, en la que es muy probable que todo se decida en sí falla o no el daño a distancia enemigo.
---
As we can see, the combo of the enemy team was done, but on my side we didn't lose important damage, likewise, it will be a battle of endurance only, in which it is very likely that everything will be decided by whether or not the damage fails ranged enemy.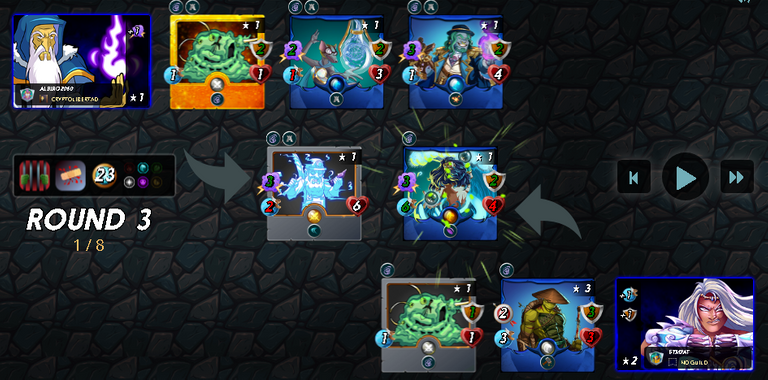 Tenemos toda la ventaja y la victoria es notoria, solo por la diferencia de daño y que el daño mágico no se puede esquivar, aunque hay cartas con esta habilidad.
---
We have all the advantage and the victory is notorious, only because of the difference in damage and that magic damage cannot be dodged, although there are cards with this ability.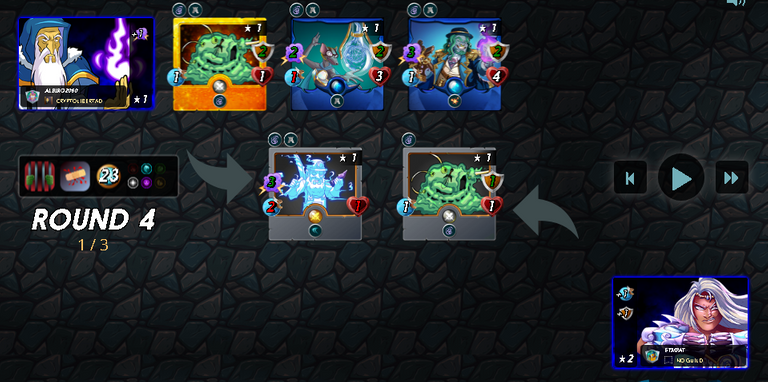 Como vemos ya tengo la victoria, pero considero que si no tuviéramos la condición de no poder usar cartas con regeneración hubiera sido otro el resultado.
Así también si hubiera visto mi historial de batalla, el cual casi está enfocado a daño mágico, hubiera usado alguna carta con reflejo de la misma o usar cartas enfocadas a daño y retraso.
---
As we can see, I already have the victory, but I consider that if we did not have the condition of not being able to use cards with regeneration, the result would have been different.

So if I had seen my battle history, which is almost focused on magic damage, I would have used a card with a reflection of it or used cards focused on damage and delay.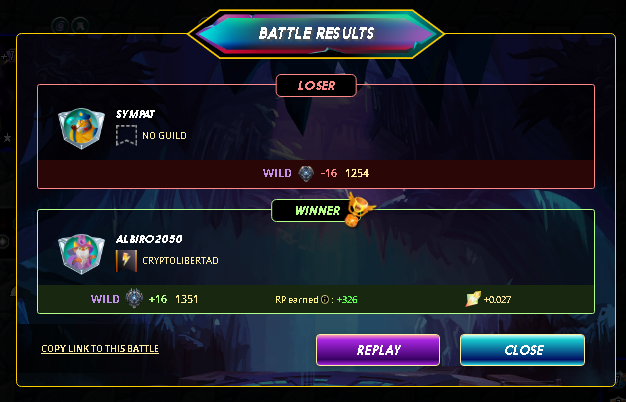 ---
Sin nada mas que decir, gracias por su atención, mucha suerte a todos y que un X10 llegue a sus vidas.
With nothing more to say, thank you for your attention, good luck to all and may an X10 come into your lives.

Todos elementos de las imágenes tomados de la página oficial splinterlands.com.. Los divisores tomados del Discord oficial de Splinterlands.
Para ver la batalla click aqui
---
All elements of the images taken from the official page splinterlands.com.. The dividers taken from Official Splinterlands Discord.
To see the battle click here

Referido aqui
Referred here

---
---