A Week Later: Post Art Show Reflection and Analysis
The Monday/Tuesday following an arts and crafts show weekend I always have what I like to call "conference brain." This time around, it actually lasted till Wednesday...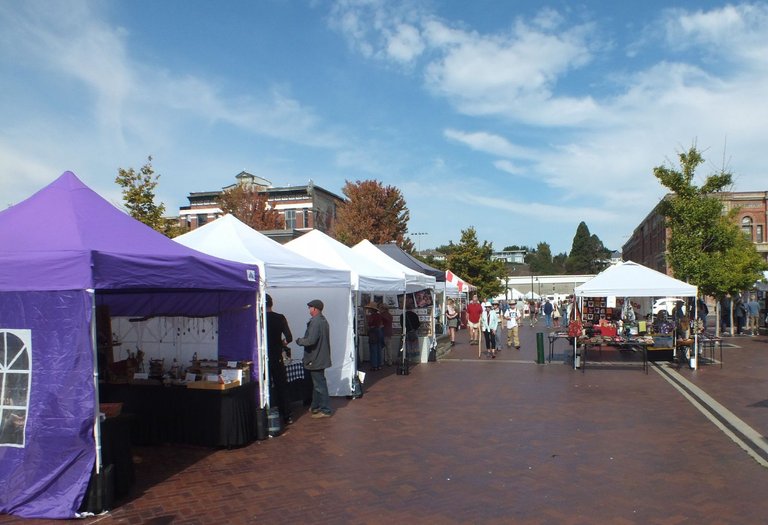 A view down the event aisles; ours is the purple tent!
It's basically the sort of "come down" that follows working really hard and hectically for a week of preparations, followed by two days of an event and then you're home and there's just a pile of messy boxes sitting in your house. Oh, and having to do bookkeeping, banking, and all that good stuff.
So there's a point at which your personal energy tank is pretty much empty and the only thing you really want to do is sit and stare at the wall!
I didn't really get into putting stuff away until Thursday/Friday, and then it was another weekend, filled with other demands and obligations.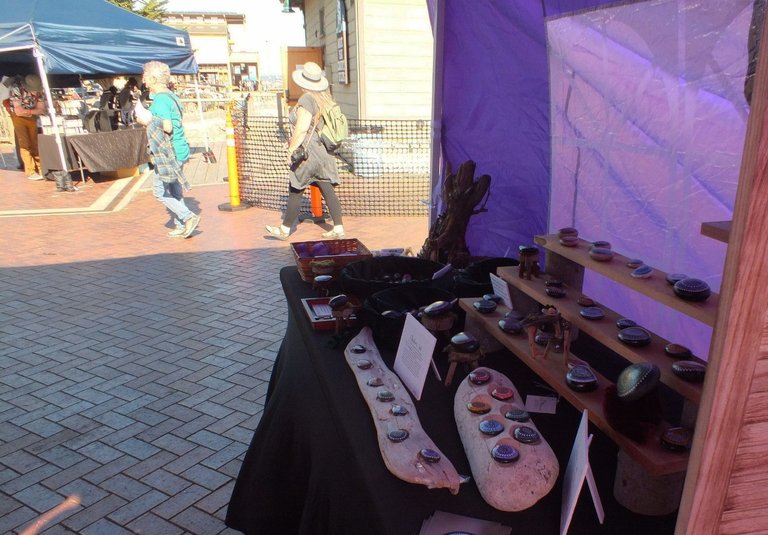 Looking out at the world...
So, How Did it Go?
Anyway, now that the worst of the dust has settled — but I have not yet forgotten everything — I'm going to take a little time to just share some reflections on how these shows (and this one, in particular) end up going.
All in all, this particular event ended up falling a little bit towards the "disappointing" end of the scale, at least as far as sales goes. We only took in about $630.00 which — after a vendor fee of $205 — leaves us having made well below minimum wage for all our efforts.
Sounds sad, but on the other hand, it's hard to really quantify something like an arts and crafts show, and the bottom line is that we ended up with a net gain of $400 we wouldn't have had otherwise.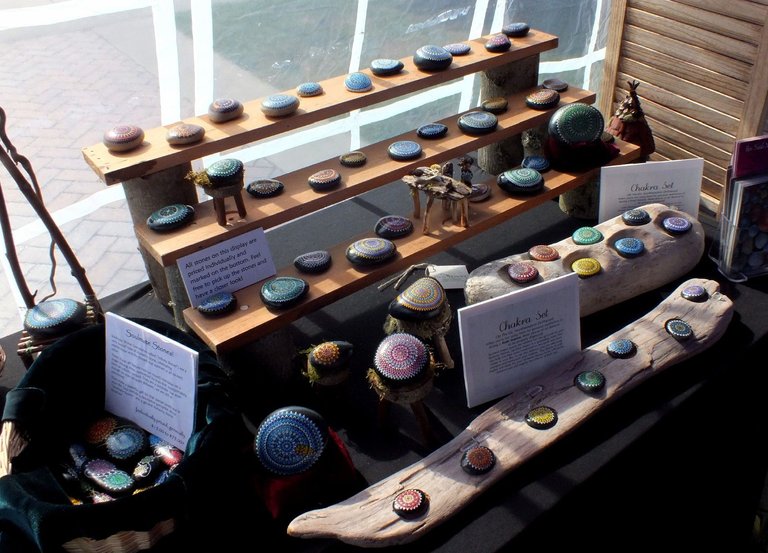 Display in the tent
In addition to that, we got to hand out hundreds of cards with our website and our information on it, and so hopefully there will be a residual effect for a while, in addition to the fact that it also represented just getting out there and getting our creative work put in front of people and perhaps even sticking in a few people's memories.
But reflecting on the "success" of a show is about more than just how many people were there and how much money you made. It's also about how well the booth set-up worked and how well our displays and certain new products were received.
Even after more than 10 years of doing this, we're always in the process of learning how to make things work better and flow more smoothly. Without a doubt our recently updated booth setup and display setups worked out well, both in terms of saving time and being more convenient to use.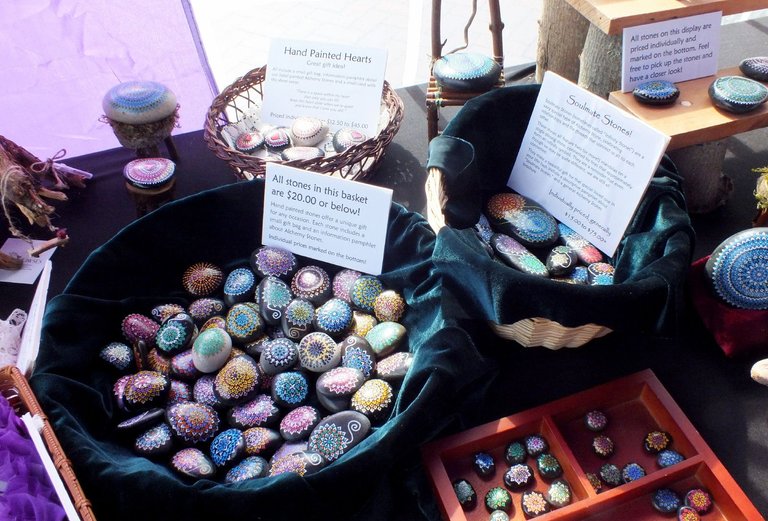 Having stock organized in baskets was definitely an improvement. Previously, we just used various risers.
Things That Worked!
On the whole, there are several things there that we're going to take forward and some of the new kinds of stone painting that I introduced for this particular event will well received as well.
On the whole, because this was a "general" event that drew all kinds of people to town for different reasons there was considerable success with the low price "impulse" items and almost no success with middle and higher priced items. In the end that means we had a large number of individual sales but they were not very big. That stands in contrast to some of the more focused audience events where we generally have fewer sales but they amount to a larger number of dollars.
We were grateful that the weather cooperated and we had sunny to slightly filtered sun for two days and only light breezes... so even though we have heavy (45lb/20kg) anchors on each of the legs of our canopy tent, working outside in a high wind is no fun!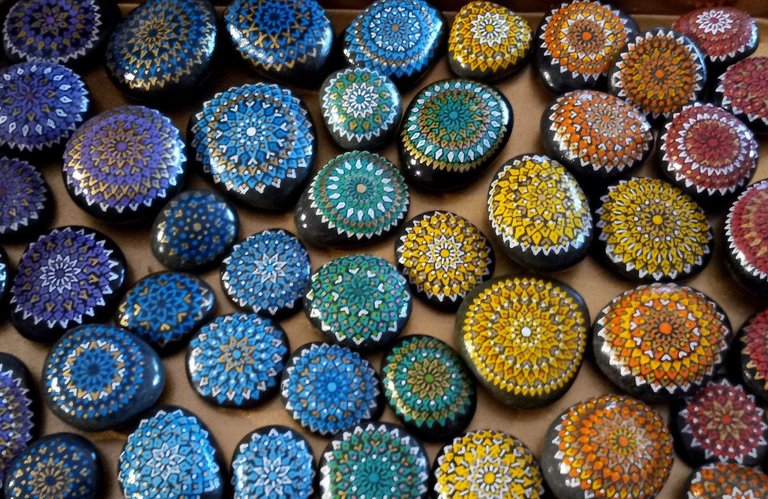 Much of last three days went with kind of a quiet "housekeeping" at home in which all the things we took to the show get completely dismantled and then largely replaced back into their appropriate storage boxes at home. This is an important (and time consuming) part of the gig because we have our home inventory arranged by the web site on which they are for sale (Etsy, eBay, Amazon, etc.)
Why such a tedious process? Well, breakdown at the end of a show usually is something that happens in a considerable hurry because vendors typically have to be off site by a certain time, as a result of which not everything gets put away quite as neatly as you would like to, and could do if you had more time. So that's what part of the post-show sorting process is about.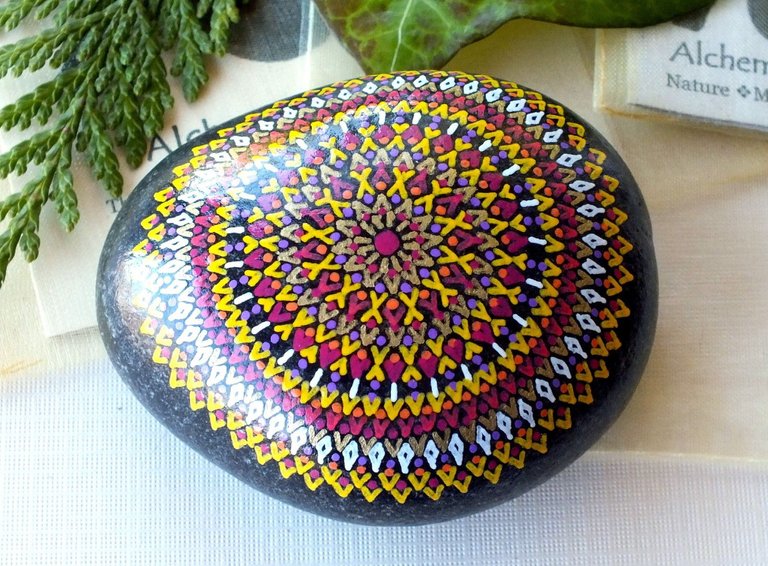 As I mentioned, there's also the process of going through all the inventory and getting it back into it appropriate storage areas in my studio, and part of this also includes looking at all the sales records, going online and pulling any items that are currently listed for sale on venues like Etsy, eBay, Facebook and Amazon. Because we don't want to run the risk of double selling something that already sold at the show!
And yes, there is a process of doing some bookkeeping and making sure that everything actually adds up at the end. I'm not particularly fond of bookkeeping but I know it's something that has to be done.
Making Notes for the Next Event!
Once everything is put away and squared away we take a moment to sit down and look forward towards our next event, which is going to take place during the second weekend in November. This is when we start in earnest on the holiday shows. We like to sit down and make some plans and write some notes now, while what happened at the previous event is still fresh in our mind rather than trying to do so four or five weeks from now when passing time has made our memories a little less clear.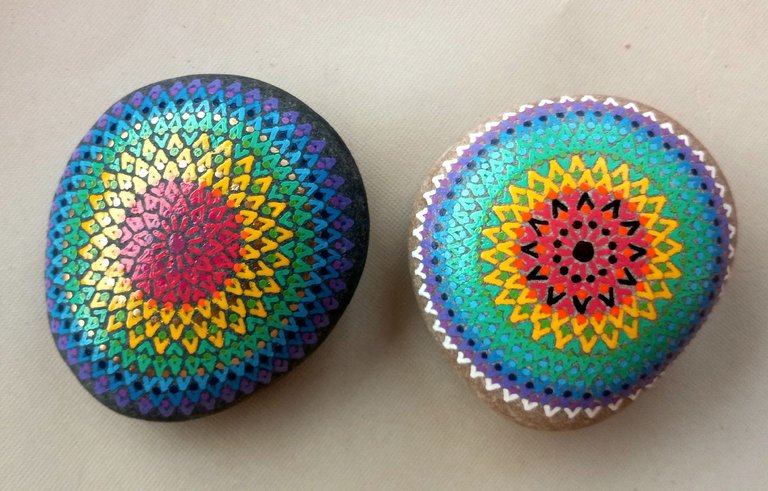 Our next event is a 3-day Ghost and Paranormal Conference at a location somewhat closer to Seattle, so this will be one of our "targeted audience" events so we have to prepare our booth presentation and our stock to cater to that.
To that end, one of the things that worked out particularly well for us at this last show is the way we remerchandised all the different types of stones I paint and displayed them in their own baskets with a descriptive board. The baskets can be stored filled and then we simply grab those most relevant to a venue and put them in our travel bins as needed and we can leave the ones that are not relevant to a particularly event at home.
The basket system also works well from a work scheduling angle because I can easily pull out all of them, set them on a table and get a quick overview of what needs to be refilled with new pieces, and what I already have plenty of on hand. And that's definitely a benefit because I am traditionally guilty of not being terribly well organized! A bi-product of that creative mind, I suppose?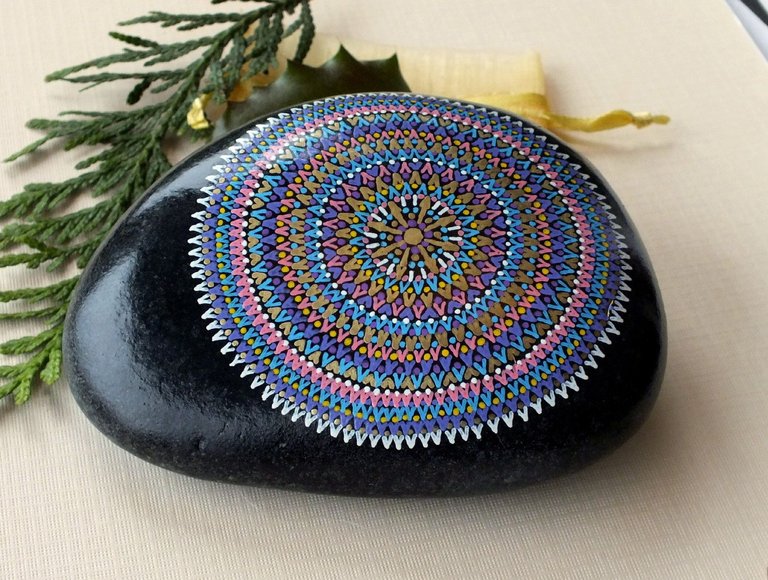 Maybe this all sounds a bit "structured" and "mechanical" for talking about ART, but I was having a memory the other day about the days when we had a physical store... and what our most commercially successful artists had in common was their ability to be highly creative while also treating their art like a business.
One of the eye-openers was that our single most successful artist back then made the bulk of her sales by attending ComicCons, not by attending arts and crafts shows! Commercial success as an artist is often a matter of truly understanding where your niche is...
Anyway, some notes were made, some ideas penciled in... and now we have about 8 weeks to get ready for the next event. But that part will be the subject of future posts!
Feel free to leave a comment, if you feel so inspired... engagement is part of what makes Hive such a cool venue!

If you enjoy painted rocks, do check out The Hive Rocks Project and help spread the word about Hive, while also being creative!
Because I am trying to make some semblance of income — a part time living, even — I now add this footer to all my posts, in the hope that someone, somewhere, might decide to take a further look at my work, and perhaps consider supporting independent art.
Thank you, in advance, for your consideration and support!
My Alchemy Stones Patreon appeal
Alchemy Stones web site and blog
Regardless, your upvotes and comments are always appreciated!
Thank you for supporting independent art!
2023.09.17 AS-TXT-174/142
---
---