Work in Progress: The First of the Painted Pendant Stones!
After a few "false starts," I finally managed to get started on painting the pendant stones, last night.
Once I "got into it" a bit, I actually managed to complete three designs before a glance at the clock told me it was already way past my normal quitting time!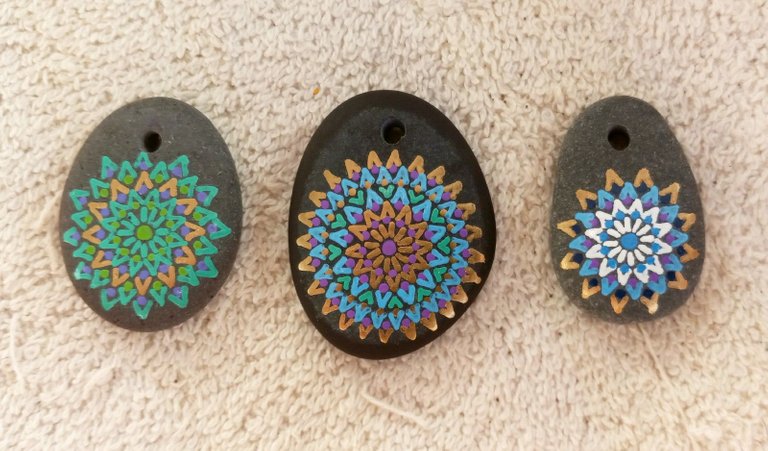 I'm fairly happy with the way these turned out; particularly like the center design, which just seemed to come together really well.
As I mentioned previously, I tend to have to practice a bit before doing these. Being designed as jewelry, more eyes will be focused on the piece at close range, so it becomes especially important that the design is well-centered and "crisp."
Keep in mind that I do paint these entirely free hand, these are not stencils, or drawn out in pencil, ahead of time.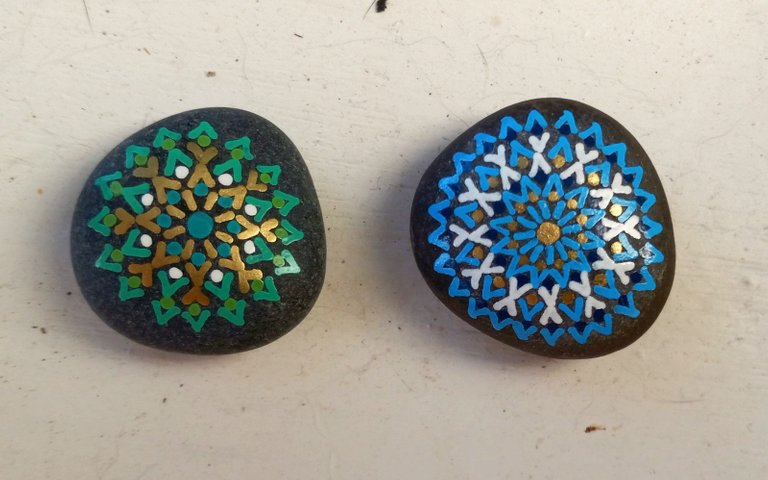 Because pendants you wear are also fairly small compared to a desktop decorative item, I am also trying to put more detail into a smaller footprint.
That's why I practice on small stones, before switching to the pendant stones. The photo above shows the "normal" miniature stones we sell at arts and crafts shows (at left) and a stone I practiced on before making pendants (at right).
Maybe the difference isn't super evident, but to me it is... and I also know that the stone on the right took almost three times longer to create.
These will, of course, become far more color intensive and rich once the protective clear coat is applied during the next step.
It's good to get started... only 10 days till showtime, so cutting it a bit close!
Thanks for stopping by! Do leave me a comment if you feel so inspired — interaction and engagement are always welcome!

If you enjoy painted rocks, do check out The Hive Rocks Project and help spread the word about Hive, while also being creative!
Because I am trying to make some semblance of income — a part time living, even — I now add this footer to all my posts, in the hope that someone, somewhere, might decide to take a further look at my work, and perhaps consider supporting independent art.
Thank you, in advance, for your consideration and support!
My Alchemy Stones Patreon appeal
Alchemy Stones web site and blog
Regardless, your upvotes and comments are always appreciated!
Thank you for supporting independent art!
2022.07.11 AS-TXT-108/074
---
---