And the Winner is.... NFT Giveaway | Eos - Eosio Crypto Stamp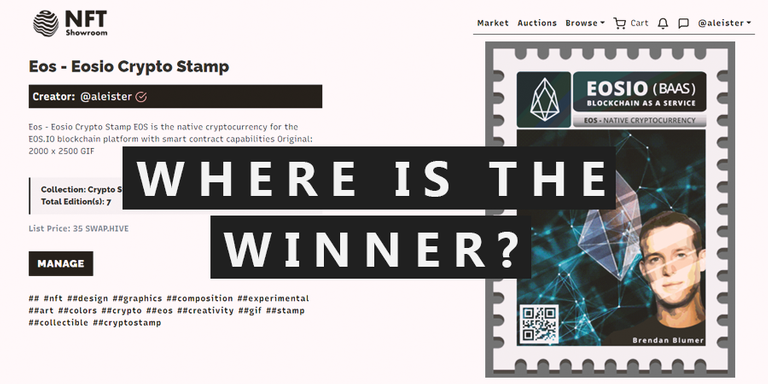 Hi everyone
Let´s announce the winner of this giveaway that was opened for the last 7 days, for a chance to win a stamp that is part of a collection of NFTs launched on the NFT Showroom platform.
So guess what! there´s no winner, not even a single user tried the chance.
Could be many the reasons, lack of visibility, lack of awareness, the Stamp does not worth the time, Eos is not an appetizing crypto and people trend to run away :P i just don´t know the reason, but the truth is that this one will return to the place where it belongs.
Check in here the Giveaway post:
https://peakd.com/hive-167922/@aleister/nft-giveaway-or-eos-eosio-crypto-stamp
Feel free to check Binance official platform below and join through my link if you are not there yet ;)
https://accounts.binance.com/pt-BR/register?ref=FH3D9Q1X
Below, you can find a direct link to my page, where among other pieces, you can view the entire collection produced so far, and which i think is not yet finished... no, actually it's not :P
I'm certainly not going to highlight all the cryptos that exist, but i intend to refer a few more that deserve some attention.
The best way to filter all those already produced, will be to look in the collectibles folder.
If you still question yourself about what is this NFT trend all over the net, let me make a quick brief:
A non-fungible token (NFT) is a type of cryptographic token that represents something unique and can be used to create verifiable digital scarcity.
They are mainly useful in applications that require exclusive and digital items, such as digital art, collectible cards and in-game items etc.
Now a days there are a few NFT platforms were you can tokenize your digital works, but in my case i´m been using NFT Showroom, a digital art marketplace built on Hive.
Also, feel free to check out my NFT gallery here: https://nftshowroom.com/aleister/gallery
Thanks for following me and support my work!
That´s all for today :)

See you soon
Thank you for watching :)
Posted Using LeoFinance Beta
---
---