Surrealism | Banished from heaven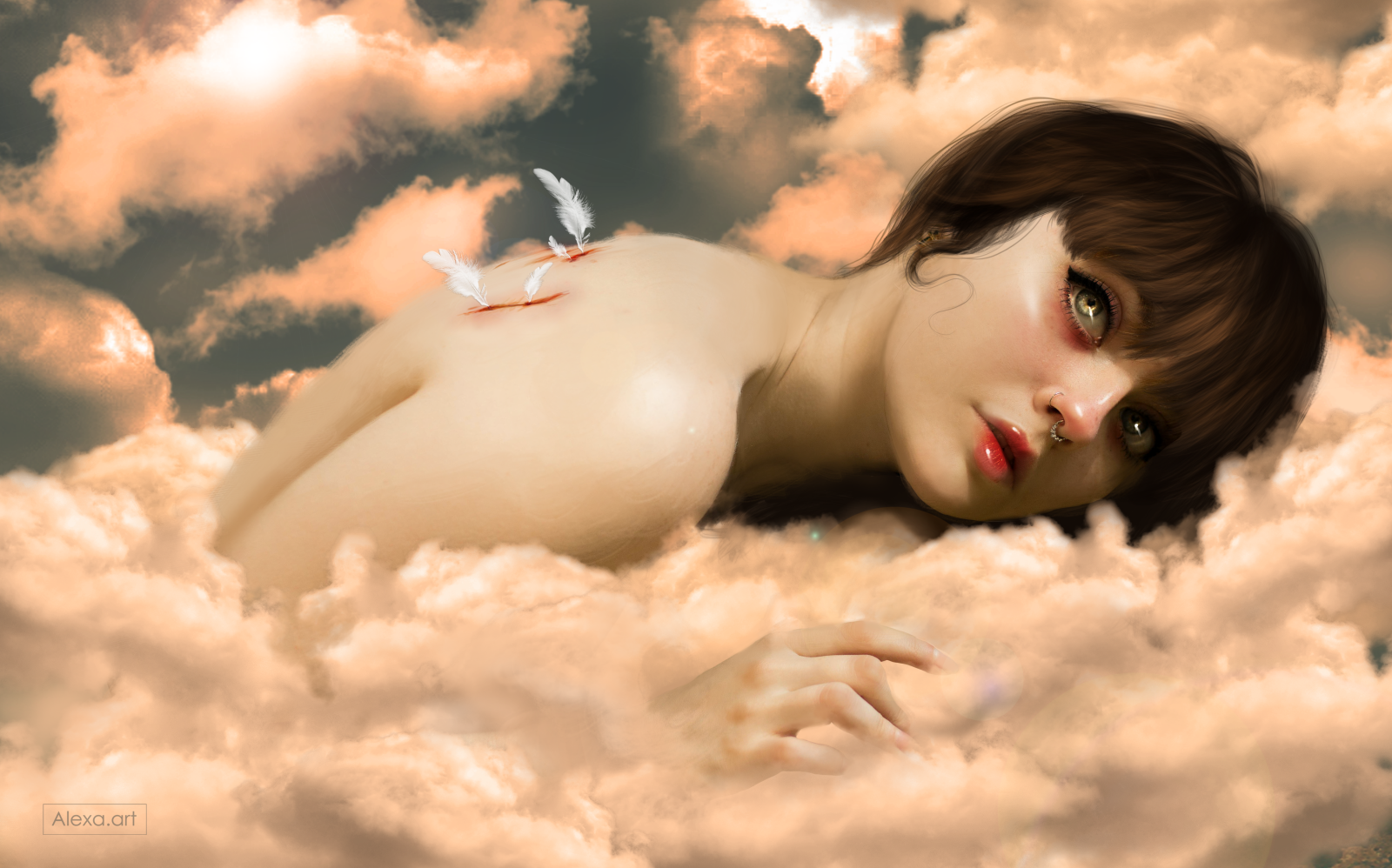 Hola amigos, espero que se encuentren muy bien, hace muchos meses que no hacia arte con fotomontajes y hoy tenia muchas ganas de retomar nuevamente, me gusta hacer esto porque siento que es un poco mas libre aunque a veces si existen bloqueos mentales, me gusta mucho en mis dibujos pintar el cielo y nubes, esta vez quise hacerlo con este fotomontaje también, para realizar este trabajo me ayude con una fotografía stock de PEXELS el resto de los elementos son archivos png de uso libre, además también pinte algunas partes para rellenar su cuerpo y cabeza, ya que la imagen original esta un poco recortada.
Hello friends, I hope you are very well, it has been many months since I made art with photomontages and today I really wanted to return again, I like to do this because I feel that it is a little freer although sometimes there are mental blocks, I like it a lot in my drawings to paint the sky and clouds, this time I wanted to do it with this photomontage too, to do this work help me with a stock photo of PEXELS the rest of the elements are png files for free use, also I also painted some parts to fill his body and head, since the original image is a bit cropped.
Imagen original | original photo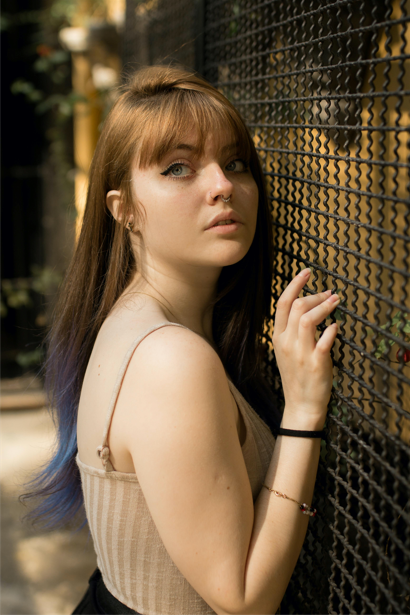 Proceso/Process
Siempre soy un desastre en estos procesos de fotomontaje pero realmente vale la pena el resultado final jajaja, desde que vi su rostro me gustaron algunos rasgos que tenia pero modifique un poco ciertas cosas durante el proceso, primero con la herramienta de licuar agrande un poquito mas sus ojos, luego ubique la imagen en el ángulo donde quería que ella estuviese posicionada, con la herramienta de selección de sujeto me ayude un poco, sin embargo, tuve que arreglar algunos bordes que estaban mal recortados, aun asi no los deje perfectos ya que igual la idea que tenia seria de una chica flotando en las nubes. Utilice estas nubes png y las multiplique modificando su forma y tamaño para realizar estas lindas nubes alrededor de ella, su cabello no me gustaba mucho de ese color además de que su cabeza no se veía completa, asi que decidí pintar un nuevo cabello usando un color marrón oscuro.
I am always a disaster in these photomontage processes but the final result is really worth it hahaha, since I saw his face I liked some features that he had but I modified certain things a little during the process, first with the liquify tool I enlarged it a little more her eyes, then place the image in the angle where I wanted her to be positioned, with the subject selection tool it helped me a bit, however, I had to fix some edges that were badly cropped, even so I did not make them perfect since maybe the idea I had would be of a girl floating in the clouds. Use these png clouds and multiply them by modifying their shape and size to make these cute clouds around her, I didn't like her hair that color very much and her head didn't look complete, so I decided to paint a new hair using a color dark brown.

El fondo también en una imagen png con un cielo lleno de nubes, la imagen original es azul así que use un filtro de fotografía con tono naranja, recorte parte de su cuerpo sobre ella y comencé a pintar, quería que no tuviese ropa, le añadí mas detalles al cabello como sombras y luces para que se viese mas real, continuo agregando nubes que cubran parte de su brazo y solo dejen ver parte de su mano, en el rostro añadí mas color y edite sus labios para hacer un pequeño degradado y agregar mas intensidad en el centro de ellos usando un rojo oscuro y una capa con efecto overlay, añadí luces en sus labios y ojos y también pinte una especie de herida en su espalda, sobre esas heridas coloque unas plumas que también son png, las modifique para que no se viesen iguales aplicándole un poco de transformación.
The background is also in a png image with a sky full of clouds, the original image is blue so I used a photo filter with an orange tone, cut out part of her body on it and started painting, I wanted her to have no clothes, I added more details to the hair such as shadows and lights to make it look more real, I continue adding clouds that cover part of her arm and only show part of her hand, on the face I added more color and edited her lips to make a small gradient and add more intensity in the center of them using a dark red and a layer with an overlay effect, I added lights on his lips and eyes and also painted a kind of wound on his back, on those wounds I placed some feathers that are also png, I modified them to that they did not look the same by applying a little transformation.

Solo quedaba agregar mas intensidad a las luces porque me gusta siempre exagerar esa parte, así como también aumentar un poco la intensidad de toda la imagen en general.
It only remained to add more intensity to the lights because I always like to exaggerate that part, as well as increase the intensity of the whole image in general.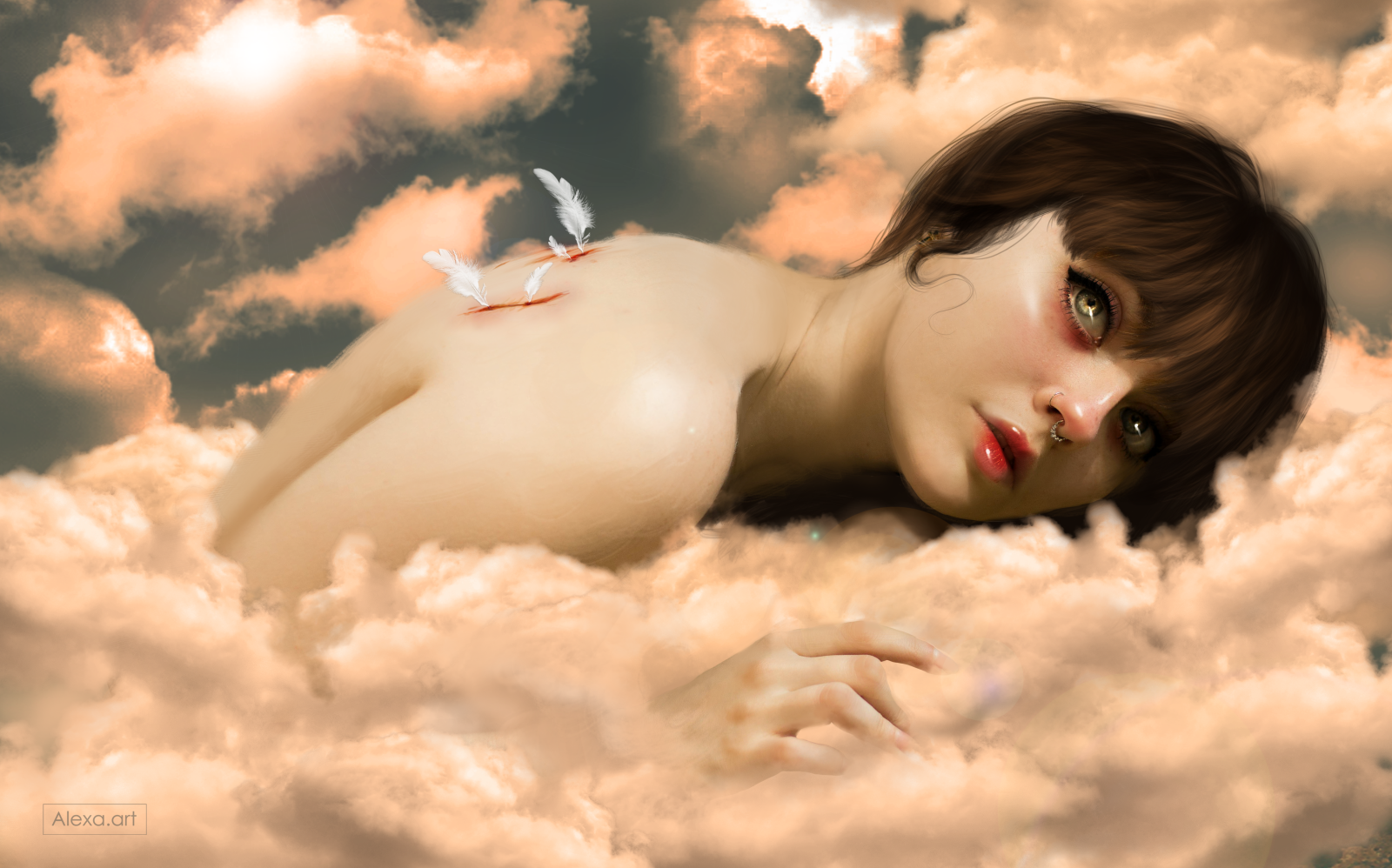 Tools:
Photoshop CC 2019
XP-PEN deco 01 v2
Herramientas:
Photoshop CC 2019
XP- PEN DECO 01 V2
Foundation: alexa-artx
Rarible : alexaart
KnownOrigin: alexaart
Terra Virtua: AlexaArt
Opensea: alexa-art
Makersplace: alexaartx
Ghostmarket : alexa
NFT Showroom: alexa.art
Twitter: Alexa_Ys
Instagram : alexa.artx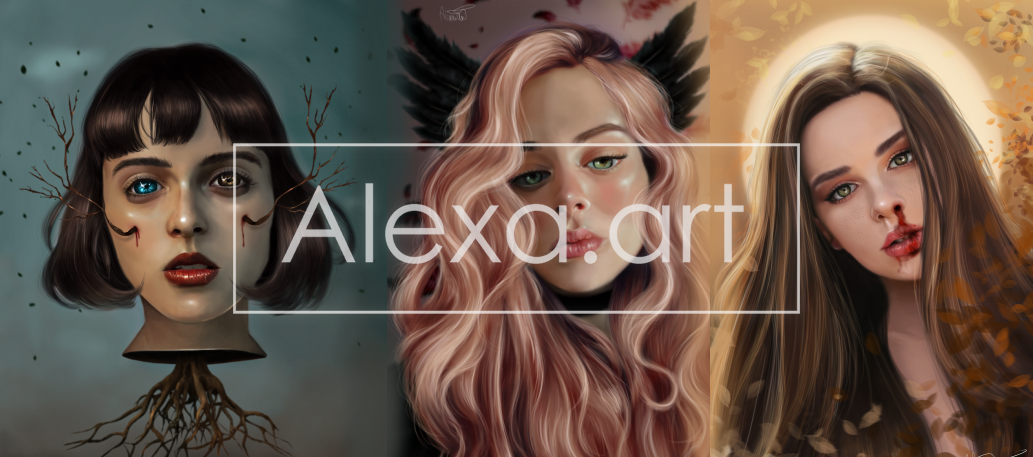 ---
---