Entrenando en un Entorno Diferente | Training in a Different Environment [ ESP | ENG ]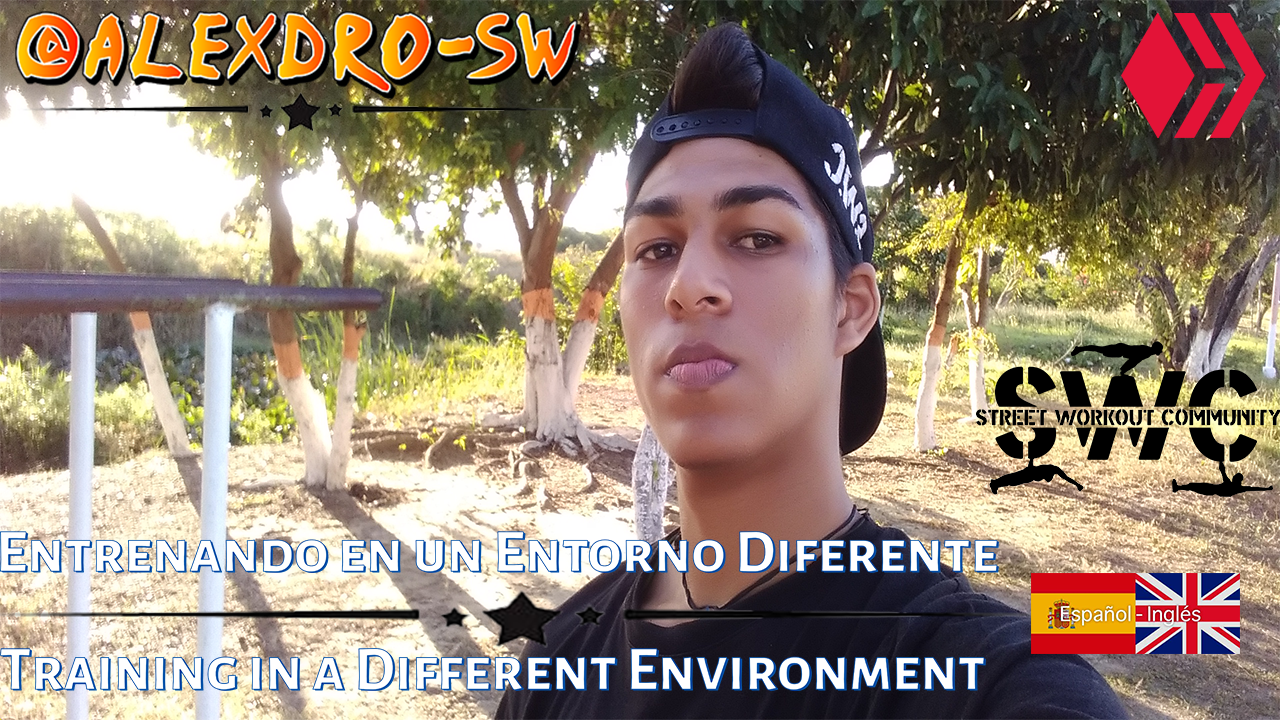 ⋆ 𝓑𝓲𝓮𝓷𝓿𝓮𝓷𝓲𝓭𝓸𝓼 𝓪 𝓶𝓲 𝓫𝓵𝓸𝓰 𝓟𝓸𝓼𝓽 𝓗𝓲𝓿𝓮⋆

⋆𝓦𝓮𝓵𝓬𝓸𝓶𝓮 𝓽𝓸 𝓶𝔂 𝓫𝓵𝓸𝓰 𝓟𝓸𝓼𝓽 𝓗𝓲𝓿𝓮⋆

¡S𝕒𝕝𝕦𝕕𝕠𝕤 SWC! ... ¡Greetings SWC!

Entrenando en un Entorno Diferente
Training in a Different Environment

| ·Desarrollo del Tema· | ·Development of the topic· |
| --- | --- |
---
---
Muy buenas a todos amigos de la comunidad de Hive y SWC, en esta ocacion les vengo a compartir esta vivencia
Good morning to all friends of the Hive and SWC community, on this occasion I come to share this experience
---
Debido a inconvenientes en nuestro parque, tuvimos que buscar otro sitio de entrenamiento por que nada nos detendra en nuestra meta la cual es llegar cada vez mas lejos en nuestro deporte dando a demostrar que a pesar de todas las inconveniestes nuestro espiritu de Street Workout podra mas que cualquier cosa que se nos atraviese en nuestro camino por eso le doy gracias a Dios por aver nacido un un estado luchador y fuerte estoy hablando de ser orgulloso de ser de San Fernando Estado Apure. bueno sin mas que decir les mostrare algunas imagenes entrenando en otros entornos.
Due to inconveniences in our park, we had to find another training site because nothing will stop us in our goal, which is to go further and further in our sport, showing that despite all the inconveniences, our Street Workout spirit It will be able to do more than anything that comes our way, that is why I thank God for having been born a fighting and strong state. I am talking about being proud to be from San Fernando, Estado Apure. well without more to say I will show you some images training in other environments.
---

---
---
| Parque ubicado en Urbanización San Fernando 2000 | Park located in Urbanization San Fernando 2000 |
| --- | --- |
---
---
---
| Nota: Esto Fue Antes de ir al otro Parque | Note: This was before going to the other Park |
| --- | --- |
---
---
---
---
---
---
---
---
---
---
---
| Muchas Gracias por ver mi Contenido | Thank you very much for viewing my content. |
| --- | --- |
---
| 𝓒𝓞𝓝𝓣𝓔𝓝𝓘𝓓𝓞 𝓞𝓡𝓘𝓖𝓘𝓝𝓐𝓛 | 𝓞𝓡𝓘𝓖𝓘𝓝𝓐𝓛 𝓒𝓞𝓝𝓣𝓔𝓝𝓣 |
| --- | --- |
---
---

| Producción | Production |
| --- | --- |
| Càmara | Camera |
| Imagenes Captadas por mi | Images Captured by me |
| Edición | Edition |
| Por mi | For me |

-Datos de edición-
Dispositivo: Samsung Galaxy A01
Banner: PHOTOSHOP CS6
Traductor: google traductor
Logos: @threespeak , @hiveio,
-Edition data-
Device: Samsung Galaxy A01
Banner: PHOTOSHOP CS6
Translator: google traductor
Logos: @threespeak , @hiveio


---
---
---
Contenido original por alexdro-sw
Original content for alexdro-sw
---
---