¿Qué implica la verdadera amistad? ¿Esp/Eng)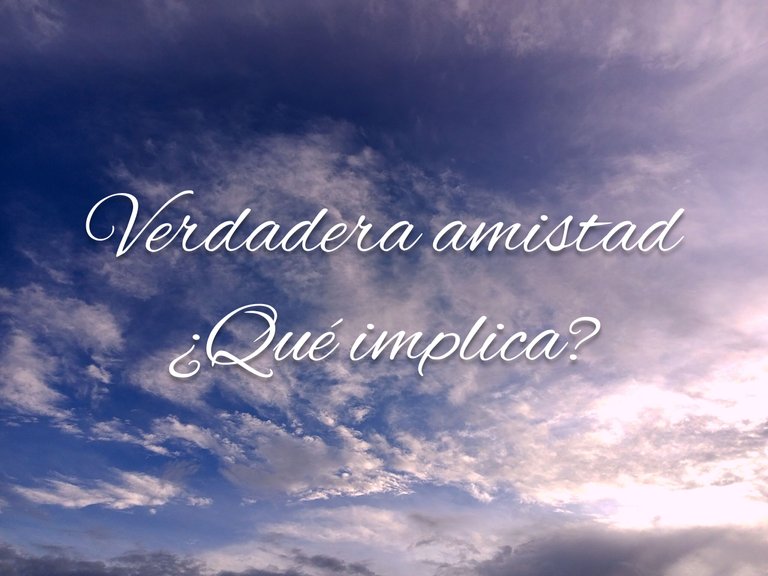 Qué bonito es tener amigos, pero cuando hablo de amigos no me refiero a esas personas que están a nuestro alrededor por sencilla obligación, es decir, porque tenemos que vernos en el trabajo todos los días, o en el colegio o porque vivimos cerca y vale más tener buenas relaciones por si acaso necesitamos alguna ayuda.
How nice it is to have friends, but when I talk about friends I don't mean those people who are around us out of simple obligation, that is, because we have to see each other at work every day, or at school or because we live nearby and okay more to have good relations in case we need some help.
Me refiero a la amistad verdadera, esa que no ve que beneficio uno puede sacar de la otra persona, sino, más bien busca maneras de ayudar o que la otra persona esté bien, ahora bien, en vista de que existen muchas opiniones referente a este tema, en esta ocasión les mostraré mi punto de vista al respecto.
I am referring to true friendship, the one that does not see what benefit one can get from the other person, but rather looks for ways to help or that the other person is well, now, since there are many opinions regarding this topic, this time I will show you my point of view about it.
¿Qué implica la verdadera amistad?
What does true friendship entail?
La amistad es un vínculo muy fuerte que nos une a otra persona, lejos de sacar algún beneficio de tal amistad, busca de ayudar sin esperar nada a cambio.
Un verdadero amigo, no te envidia, más bien te admira y trata de comprar lo mejor de ti, y si ve algo en lo que debas mejorar o estás a punto de pisar en falso, te aconsejará con cariño.
Friendship is a very strong bond that unites us to another person, far from getting any benefit from such friendship, seeking to help without expecting anything in return.
A true friend does not envy you, rather he admires you and tries to buy the best of you, and if he sees something you need to improve on or you are about to step on the wrong foot, he will advise you with love.
Un verdadero amigo no pasará todo el día hablando de si mismo, sino, te hará preguntas para saber cómo te encuentras.
Un verdadero amigo no se burlaría de ti, más bien te protegerá de quedar avergonzado.
El verdadero amigo estará contigo para reír y disfrutar de la vida, pero también estará para llorar las penas y afrontar las luchas de la vida.
A true friend will not spend all day talking about himself, but will ask you questions to find out how you feel.
A true friend would not make fun of you, rather he will protect you from being embarrassed.
The true friend will be with you to laugh and enjoy life, but will also be with you to mourn the sorrows and face the struggles of life.
Sin embargo hay un detalle importante y difícil para todos y es cuando tenemos que perdonar, no somos perfectos así es que en algún momento nos equivocaremos, es por eso que vale la pena preguntarnos ¿qué pasaría si mi amigo o amiga me ofende o hiciera algo que me moleste? ¿Y si por el contrario quien se equivoca soy yo? ¿Haría lo posible por recuperar mi amistad con la otra persona?
However, there is an important and difficult detail for everyone and that is when we have to forgive, we are not perfect so at some point we will make mistakes, that is why it is worth asking ourselves what would happen if my friend offended me or did something what bothers me? What if, on the contrary, the one who is wrong is me? Would I do my best to recover my friendship with the other person?
Todos estos aspectos son muy importantes y sin duda hay muchos. Aspecto de la amistad de los cuales podemos seguir hablando largo y tendido. Entonces ¿Qué cree usted que hace falta para mantener una buen amistad?
All these aspects are very important and there are certainly many. Aspect of friendship that we can continue to talk about at length. So what do you think it takes to maintain a good friendship?

Gracias por visitar mi Blog. ¡Saludos!
Thank you for visiting my blog. Greetings!
Todas las imágenes son propias
All images are my own

---
---