Bridging Ethereum NFTs to the Bitcoin Blockchain
BRC-721E launch will bridge Ethereum NFTs to the Bitcoin network. To date, 10 million Ordinals have been inscribed.
A new Ethereum protocol should help the blockchain scale. Roger Ver, aka Bitcoin Jesus, says Ethereum is the leader in global crypto adoption. As true as this may be, Ethereum gas fees are still out of reach for a lot of people.
Ripple has bought shares in Bitstamp. Ripple is making moves to relocate from the U.S. to Europe if they lose the SEC securities lawsuit that has boiling for over two years. Personally, I can't blame them. Even if they win the case, expanding outside the U.S. makes a lot of sense.
Unlock DAO to release protocol on Goerli and Mumbai testnets. A welcome development.
Zora, the NFT marketplace on the Ethereum blockchain, is launching its own Layer-2 solution.
Metaverse properties have declined 90 percent. The top 3 contenders for leading the metaverse rebound.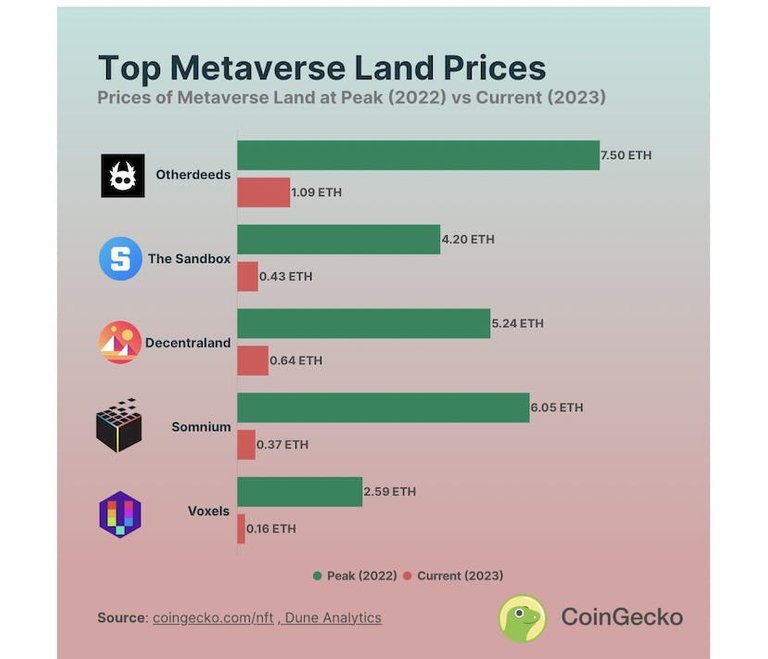 The value of NFTs are down 95 percent while the number of holders is up 90 percent. This is an interesting dynamic in the NFT market. If you expect the prices to go back up, you'll buy right now. It seems a lot of NFT investors expect just that.
10 incredible governance tools for DAOs. These are all must-know tools.
Why IPFS alone isn't sound Web3 infrastructure.
How token unlocks affect crypto prices. How to create your own token. Unfortunately, this guide doesn't get very deep into specifics.
Dr. Craig Wright discusses how to create a bill of lading utilizing NFTs. This is a very interesting read.
Friends With Benefits is holding a mayoral election.
The dynamic power of non-fungibles.
The metaverse and janky capitalism.
Mercedes Benz to create NFT collection with Fingerprints DAO.
How cryptocurrency, artificial intelligence, metaverse, and Web3 are related.
Why InfiniGods laughs at AAA Web3 games.
CoinSwitch facilitates $25 million in Web3 startup funding.
All Nippon Airways launches aeronautical NFTs. In the future, NFTs will be valuable brand assets for companies in virtually every industry.
China Telecom, Conflux partner on Web3 SIM card.
Nanjing launches metaverse platform.
Beijing releases a Web3 whitepaper.
This interview of Colin Armstrong, founder of Paragraph, is a must-llisten-to. It is the first interview in a new podcast called Humans of Farcaster. I can hardly wait to listen to future interviews.
Hot Reads From Web3 Social Media
The following links are taken from my favorite Web3 social media platforms, including Paragraph, Mirror, Hive, and Publish0x. Each week, I scour these platforms and share the best content posted to them.
From Paragraph
@kazani introduces you to WorldCoin. You should know there are two Worldcoins. The one he is talking about is the eye-scanning WorldCoin that wants to entice you to get intimate with its orb in exchange for Universal Basic Income (UBI). For the record, I'm okay with UBI, but eye scanning seems invasive. On the other hand, in order to prevent duplicate UBI accounts, such measures may be necessary. I have mixed feelings about this.
From Hive
@ecency announces the release of Decks and Waves. This is huge news for the Hive blockchain. I've played with Decks and really like that I can view Ecency Waves (Ecency's microblogging alternative to D.Buzz and Leo Threads) as well as D.Buzz and Leo Threads. Think of Decks as the Hive blockchain's version of TweetDeck. You can manipulate Decks in several ways to create content streams from communities or based on certain tags. This improves Ecency by leaps and bounds. Ecency was already my favorite Hive front end. This solidifies as the most valuable front end on the Hive blockchain. @UnkleBonehead and I will make Ecency the topic of our next Defluenced podcast, which we will record later today.
@taskmaster4450 is a veteran Hive user and asks the community where Hive will be in five years. There's a lot to like about this post, but I disagree with one premise. Hive does not bitcoin, though I appreciate the direction that thought was going.
@khaleelkazi discusses the value of Threading. Leo Threads is a new microblogging platform on the Hive blockchain. I like how Khaleel breaks down the value of microblogging in this post into dollars and cents. I have just one beef: Leo Threads is not the "only" microblogging platform where users can "scalably" post short-form content and earn tokens. D.Buzz preexisted Leo Threads, and now there's Ecency Waves. Both are on the Hive blockchain. You'd think Khaleel would know that.
@yahuzah compares Web2 microblogging with Web3 microblogging. This is a great long-form post about short-form content, but it tilts toward Leo Threads and doesn't even mention D.Buzz or Ecency Waves.
@anomadsoul discusses calendar threading. This post is also about Leo Threads and discusses the feature called calendar threading. It's actually a useful feature, but not as cool Ecency's Decks.
@arcange shares some Hive financial statistics.
@tarazkp tells fan fiction writers how to protect their content using blockchain technology. Excellent advice too.
My post from 7 days ago managed to get over $6.00 in upvotes. Of course, the value of Hive has declined since then, so it's under $6.00 now. Still, 73 votes.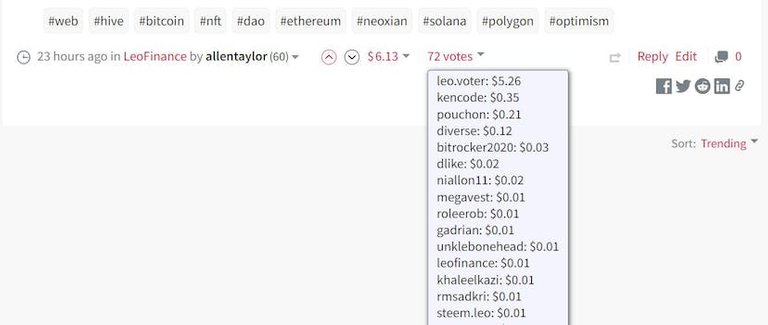 From Mirror
BanklessDAO highlights the 3 Pillars of Discord, which make it the perfect Web2 tool for Web3 publishers. HINT: It's all about community. And, to be honest, it wouldn't be much of a stretch to turn Discord into a Web3 tech app.
Jon Charbonneau has written a brilliant post about how rollups really work. This is the longest read of the day. It's also the best read of the day. Better set aside some time. Like, I mean 15 minutes. At least. But it is well worth the time.
From Publish0x
@SirGerardthe1st (a great user name, by the way) discusses bitcoin and triple-entry bookkeeping. An excellent post with some history on accounting best practices.
@Vladan-Lausevic discusses monetary freedom and CBDCs.
My Most Recent Web3 Activity
On Mirror, I recently blogged 5 Reasons to Re-Launch a Book. I confess there is something underhanded about this post. I had an ulterior motive. I'm relaunching a multi-author anthology series I edited and published a few years ago called Biblical Legends Anthology Series. If you like the post, you can collect it to commemorate this re-launch.
This post on Paragraph is a call for volunteers to help me re-launch the Biblical Legends Anthology Series. Click the link and learn all about it.
Diamonds and Pearls: The History of the Top 10 Cryptocurrencies is completed and token-gated at Paragraph. To gain access, you must collect this Mirror post. Do so today and I could win a contest.
Hip hip hooray! I sold two more copies of my NFT book Web3 Social: How Creators Are Changing the World Wide Web (And You Can Too!) this week. That means there are only 2 more copies left at the current price. When they sell out, the price will go up. Better snatch them up before someone else does.
Show Me Some Love!
If you like this post, show me some love. There are three ways to show me that you enjoyed reading this issue of Web3 Writings.
Share this post with your friends
Follow me on Hive or subscribe on Paragraph
Collect this post on Paragraph (only 3 mints available)
---
---