Hive Announces Support for Ledger Hardware Wallets
Every once in a while, I get a client who wants me to write a press release. In this case, it was the Hive blockchain. They've authorized me to distribute the press release as I see fit, so I'm sharing it with you all.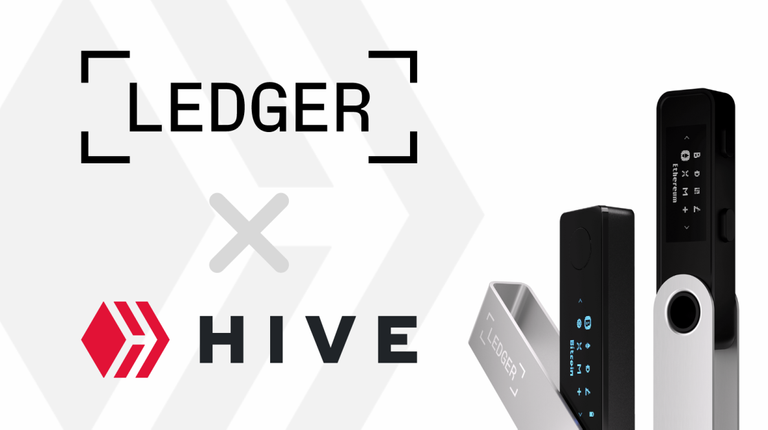 FOR IMMEDIATE RELEASE
November 1, 2022 – Hive blockchain and leading Web3 platform, announced integration with Ledger Nano S, Nano S Plus, and Nano X hardware wallets effective November 1, 2022.
"Ledger wallets are secure, trusted, and widely available," Hive developer Bartłomiej G. said. "That makes them the perfect partner for the Hive decentralized blockchain."
Hive does not use the unspent transaction output (UTXO) protocol model. The Ledger implementation for Hive utilizes the SLIP-0048: Deterministic Key Hierarchy for Graphene-based Networks standard, which extends BIP-44 to match a role-based model.
The Hive-Ledger implementation allows users to view and manage public keys using a special Hive Ledger Wallet companion application. It facilitates the review of transaction properties such as transfers and staking amounts, HIVE and Hive-Backed Dollars (HBD) recipients, derivation paths, delegation, governance voting, and much more. All operations and their properties are visible on a device screen. Users must approve transactions with a digital signature issued by the device.
"Ledger hardware wallets allow Hive to utilize an unlimited set of private and public key pairs to secure multiple Hive accounts with the same device," Bartłomiej G. said.
The Hive ecosystem is expanding, and recent development ensures it will continue to grow. HardFork 26 introduced the One-Block Irreversibility protocol, which solidifies Hive's market lead among Delegated Proof of Stake (DPoS) blockchains.
Hardware wallets are devices that keep users' private keys secure on a physical chip that does not expose it to the computer or the internet and which makes it almost impossible to compromise when used daily. Integration with Ledger will introduce Hive to a broader international audience who will gain access to the blockchain's industry-leading 20 percent APR on HBD savings accounts.
For more information on the Hive-Ledger integration, check out these links on the Hive blockchain:
· How to use Hive Ledger Wallet
· How to create a cold storage wallet with Ledger Nano and earn 20 percent interest on an HBD stablecoin account
++About Ledger++
Founded in 2014, Ledger is a global digital asset and Web3 platform. More than 20 percent of the world's crypto assets are secured through Ledger Nano wallets. Headquartered in Paris and Vierzon, France, with offices in London, New York, Singapore, and Portland, Ledger has a team of more than 700 professionals developing a variety of products and services to enable individuals and companies to securely buy, store, swap, and manage crypto assets. Devices include Ledger hardware wallets with more than 5 million units sold in more than 180 countries.
Ledger combines a hardware wallet—Nano S Plus or Nano X—and the Ledger Live app to offer consumers an easy start in their crypto journey while maintaining full control over their digital assets.
With its ease of use, Ledger allows a user to begin investing in digital assets while achieving financial freedom in a safe and stress-free environment The Ledger Academy is a content portal that provides customers with education on the emerging Web3 ecosystem. Ledger has also developed Ledger Enterprise, a digital asset custody and security solution for institutional investors and financial players.
++About Hive++
Hive is a decentralized information-sharing network with a blockchain-based financial ledger built on the Delegated Proof of Stake (DPoS) protocol. Hive supports many types of information-sharing applications including a myriad of dapps, APIs, and front ends contributing to the accessibility of data on the Hive blockchain.
Hive was developed to store vast amounts of content and to make it easily available for time-based monetization. Use cases include social media with monetized rewards for content producers, interactive games, identity management, polling systems, and microloans. The performance of the blockchain is designed to scale with the widespread adoption of cryptocurrencies and crypto platforms. By combining lightning-fast processing times and fee-less transactions, Hive is positioned to become one of the leading blockchain technologies worldwide.
Learn more about Hive and sign up today at https://hive.io.
Media Contact:
Reese K
[email protected]
Would you like a press release for your blockchain-or crypto-based company or project? Look me up at Taylored Content or CryptoBloggers. I can also write blog decentralized blog posts that are distributed among my Web3 social accounts and reach 25,000 or more readers. With 16 years of full-time online writing experience, my knowledge of search engine optimization, social media optimization, and content marketing can be a big boon to your business or project. Let me know which platform you saw me on and I'll make it worth your while.
---
---