Splintershards (SPS) in-game staking with 24% APR- My Road to 100K SPS
Splintershards (SPS) is one of the coins that I have been accumulating since the beginning of its launch because I expect significant growth in the next few years. This coin was provided free of cost to every player in the game as part of the long-term airdrop that continued for the entire year. Since it is free money so I am sure many people have tried to book the profit but still a big chunk of people tried holding coins for the long term which I think is a good decision. I am also the one who has been accumulating from day 1 and I am still doing the same because my goal is for the long term. Earlier I wanted to have 50k tokens in my account but then I increase the goal and made it to 100K.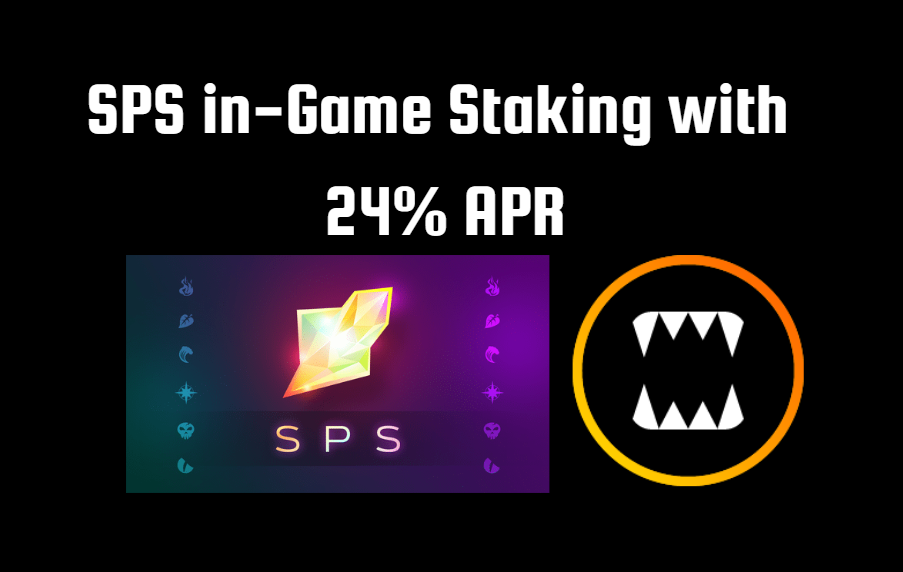 I know that accumulating 100 k tokens is not easy but it is not that difficult because I am focused on this and I am sure that I will be able to make it in the next couple of months. I could have done it before if I did not invest in other states in the game. I have invested in cards, packs, and even sps validator node license so for some time I was not able to buy SPS from the market how now I am back again and trying to buy as much as I can file reinvesting my game rewards. I stay all my rewards every day in the game so that I can earn an apr of 24% which I think is very good.
Currently, I hold a balance of more than 84k SPS in my account and this is helping me or approximately 30 SPS in a day. So on average, I am earning about 800 to 900 SPS in a month through my SPS holding. I also earn SPS through the battle rewards and even though some other assets holding including node license. I am happy to grow my SPS stake further and try to reach the milestone of 100k as soon as possible. I did buy a good amount of SPS tokens last month but now I am running short of money so unable to do this.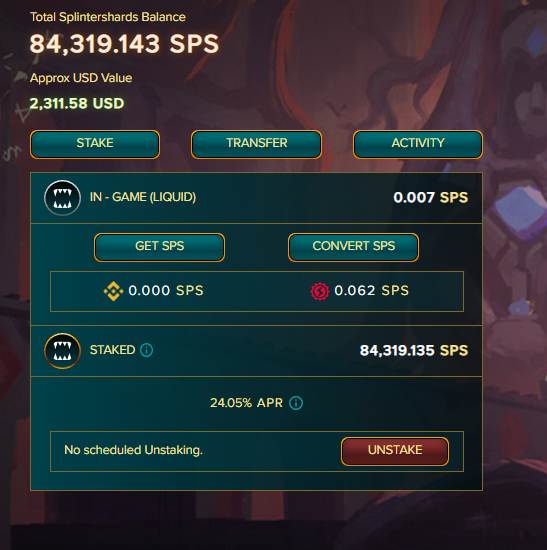 Whenever I get some funds in my account then I try to buy and put it back in the game account so that it starts earning apr for me. I usually place an order with the lower price and there have been instances when my order was filled. It always feels great when my order is filled with the price that I want and even last week my order for 700 SPS was filled at an even lower price. I have added these to come to my mistake that I usually do and again place another order to buy with an even lower price. Now I will be waiting to see if it is getting field or not and if it happens then again I will stay some more tokens at my price. I am not worried about the current price for SPS because I know that this is because of the market effect.
There are two benefits of buying SPS now and even if you are not mine and already hold a bunch of tokens then also you can avail of one. The first region is that we can buy SPS at the lowest price and I am not sure if it will drop further but I see that the current price is a good opportunity to buy. Secondly, we can earn an apr of 24% which I think is very high as compared to what we can earn in the traditional investment options. Even if the price does not go in the next year then also the invested amount will go at the same rate of 24%. On top of it, you're also getting GLX which is like a bonus and you should not ignore it because that also carries a decent value and once the game is live then hopefully it will be even more.
There are multiple assets in the game that I own but still, I am trying my best to grow the overall holding of assets and I buy them in parts as and when possible depending on the market scenario and my fund's availability.
Thank you
Posted Using LeoFinance Beta
---
---