SPS Price Less than $0.10 and APR 25% is buying Opportunity
Splintershards (SPS) is one of the tokens for which I am bullish and trying my ways to accumulate as much as I can. It's not that this is the only coin I am bullish about but for this, I believe once the airdrop is over then we will see a good spike in the price. I did buy a few thousand tokens in the last few months and the last purchases I did 2 weeks back when the price was approx $0.14 and that time I did not expect that price will go less than 10 cents else I would have waited for some time because for the same amount I can get more tokens. Everyone likes to buy this and this dip is really good so I think that this is the right time to buy more and put on staking to start earning 24% apr.
Here is the price chart for SPS and now it has broken the price mark of $0.10. I can't say if this will drop further however I believe that the current price is an opportunity to buy the tokens. It's like the token is available for a 90% discount and possibly there would be no time to get it back since the airdrop is also approaching the end.

The ongoing SPS airdrop is left for 79 days only which is like slightly more than 2 months and once this is over then the price is likely to increase. I am on my goal to achieve 50k SPS and currently, I am much closer to making it 38k SPS. I will be able to earn about 7k SPS in the remaining period and to make it 50k I will need 5k more tokens that I will buy from the market.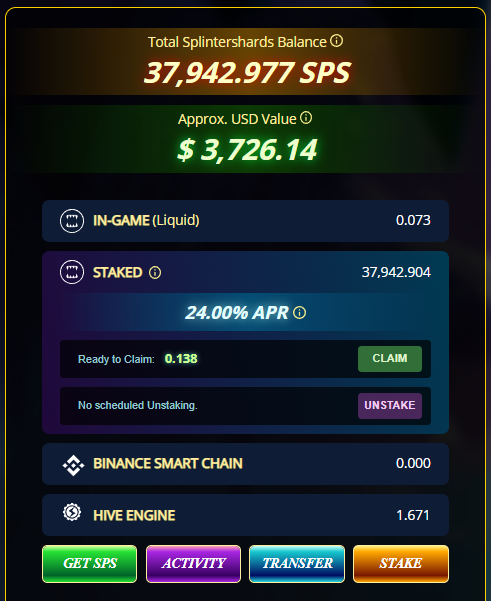 As of now buying SPS at this cheap price and staking it to earn 24% of APR seems a great deal to me. It's not financial advice anyways however if you believe in the project then you can surely think of doing this. Soon there will be a pool for SPS and that can be another great option to choose for enhanced earning by staking the tokens. Although SPS will be offering many benefits in the future even now there are 2 benefits. The first is to earn 24% which earns SPS tokens and additionally earning voucher tokens that are dropped daily and this token price is also around 2 Hive. So, if we add both then this is a profitable deal and worth going for it without giving it a second thought.
I will continue to keep my stake in the game account and once the SPS pool is launched on polycub then I would prefer to give it a shot to see how much it will make me earn. Although there is no update that when the pool will be launched and what would be the initial APR but I 3expect that it will bring great rewards as we have got with pHBD and pHIVE pools.
I have been accumulating DEC tokens as well and now I have got 1 million DEC tokens in my account. DEC is one of the tokens that help to earn more SPS and even the token price is down these days but I see more of its benefits to earn SPS and I am not considering it as a log.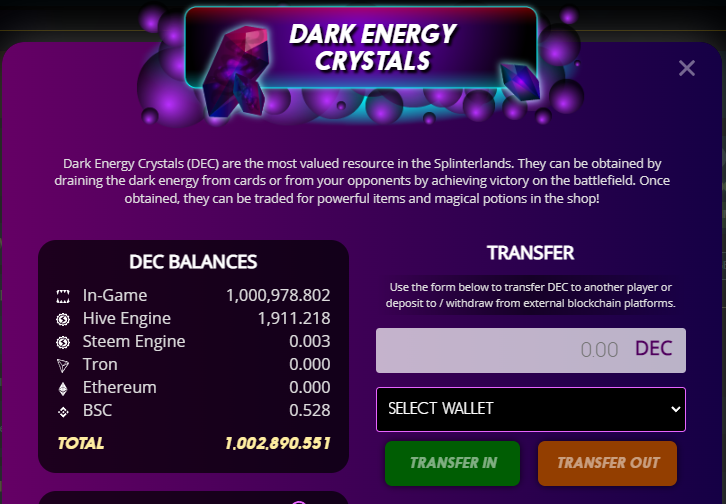 DEC is the currency of the game once the airdrop is over then probably the price will drop further however I will keep the hold on the balance as this can be used anytime to buy assets in the game. I am in accumulation mode and not just tokens but also, but I try to accumulate more cards to increase my collection power and this will help me improve my gaming experience as well as enhance rewards and league in the game.
Thank you.
Posted Using LeoFinance Beta
---
---