Time to Build on Splinterlands this bear market
People often like to have a bull market all the time which is practically not possible but still, they expect it. It is because the prices are high for almost everything in the market, which helps people earn a lot of money. While we expect that the market will be going up but the reality is that after a certain point of time it needs to come down to balance the market. Anything that keeps on going all the time then it is not sustainable because up and down is the essential nature of any market including crypto and others.
Splinterlands is the game but it also gets affected by the market. Currently, the prices for almost every coin have dropped and because of this, this game project has also been affected. Because it runs on the token economy and crypto prices are important to plan further development. Being a player and investor in the game I think now is a good time to build a decent portfolio for the long term in this game. It is not just about focusing on a single type of asset instead we can focus on a variety of assets in the ecosystem and project as the prices are quite low. It's not that anything has been changed in the game but it is the result of the market crash and it may last long this time.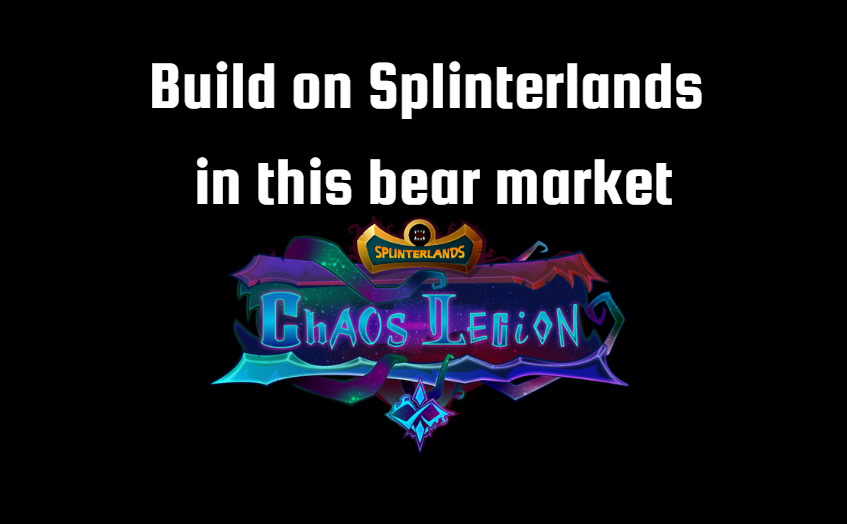 It is difficult to predict when we can see the spike in the market as well as the value appreciation for splinterlands assets. I believe that we just need to be long-term believers and keep on building every day for the next couple of years. Once things will be back to normal then I'm sure we can see a great price and value appreciation on the investment or the period. I am focused on it and trying to build My Portfolio in crypto as well as on the play-to-earn game built on the blockchain. I always believe that we need to keep our portfolio diversified and because I am mostly in crypto so this way I am also trying to keep My Portfolio diversified through blockchain gaming.
Oil buying some leading coins like Bitcoin and ethereum is a good idea but at the same time, we should also park some funds in altcoins and many other kinds of stuff in the crypto space. This is my opinion and not financial advice anyway so please do your research before you decide to invest or follow any change in your trading behavior. Every individual has a different mindset and people try various ways to make money in crypto which I think is fair but when it comes to losing money then I think we need to be careful and do the proper research first. Whatever I'm investing in the crypto and the game is for the long term and I expect that after 2025 I can expect a very good return on my investment in splinterlands.
While my main focus is on buying cards, I also buy other stuff like- tokens, packs, licenses, lands, and even promo cards. Two days back I purchased a card through the promotional sale which was very limited in quantity and I got it for 500 dollars along with 500 voucher tokens. I use 500k dec tokens which are worth 500 U.S. dollars. I played multiple battles with this car today I'm very happy with my decision of investing in this unique card. This is the only card of its type in the game and I believe because of this it will not just make my gameplay better but also it is a great investment that can bring nice returns in the future.
Thank you.
Posted Using LeoFinance Beta
---
---