work to make the door of the dream house that we have dreamed of for a long time.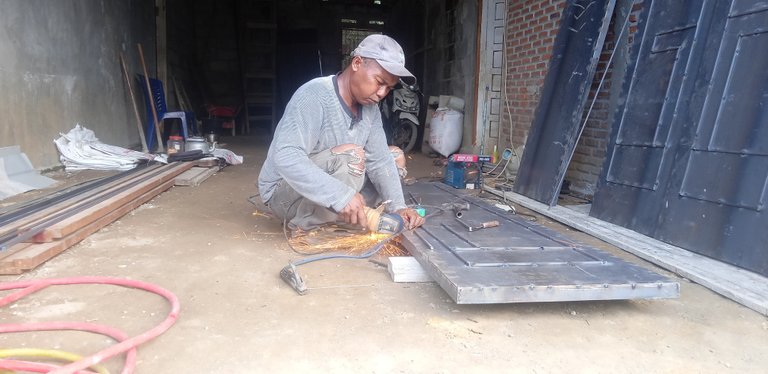 eh you friends how are you all today...hopefully you guys are fine there....
today I will tell you about my work when I made the door of the house and I designed the design myself, the only thing I can do as well as the idea that comes out of my mind is only that much and that's the result that comes out of my brain..
for the process of making the door there must be subsequent stages,,,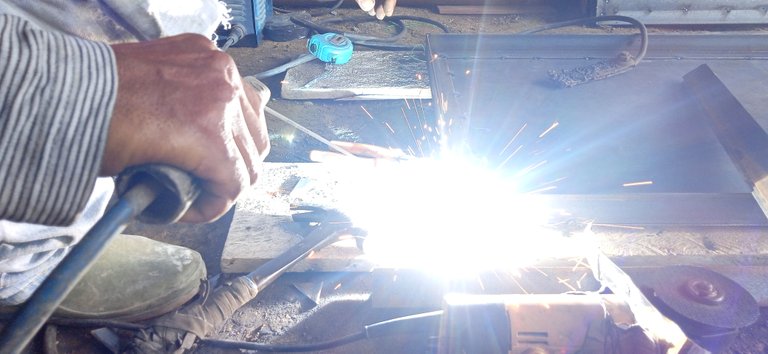 the first step I took when making the door of the house, of course the door of the house itself was made of iron plate,, at first I bought 4 pieces of iron plate, I bought it at the nearest building store, after I finished I bought 4 iron plates and I brought home the iron plate as much as 4 pieces using a tricycle rickshaw..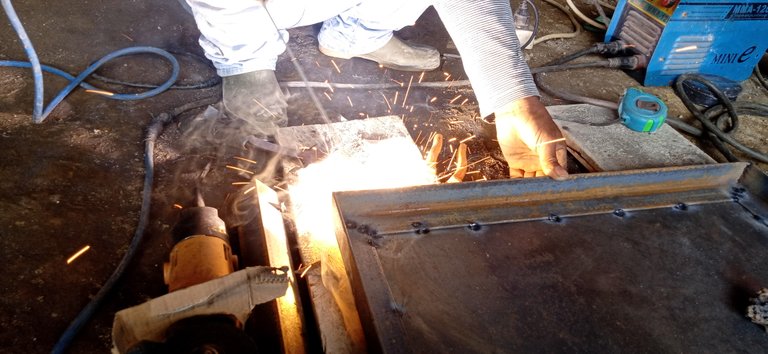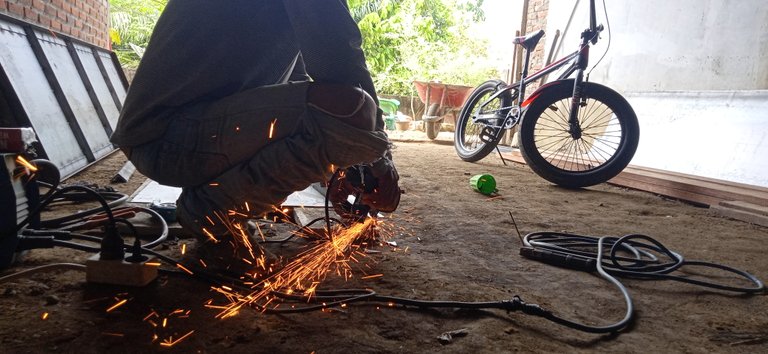 as soon as the iron plate arrived at my house I took it home with a tricycle, I immediately prepared the equipment that I would use to make the door, after I measured the width of the door as wide as 4 m and the height of 2 m and a half, after I measured it I immediately started working to split the plate The iron uses a cutting machine, namely a grinding machine,
Of course, after I first measure the size correctly, then I start cutting the iron plate..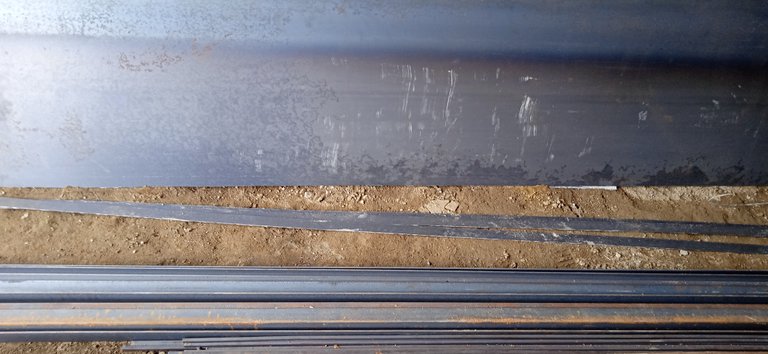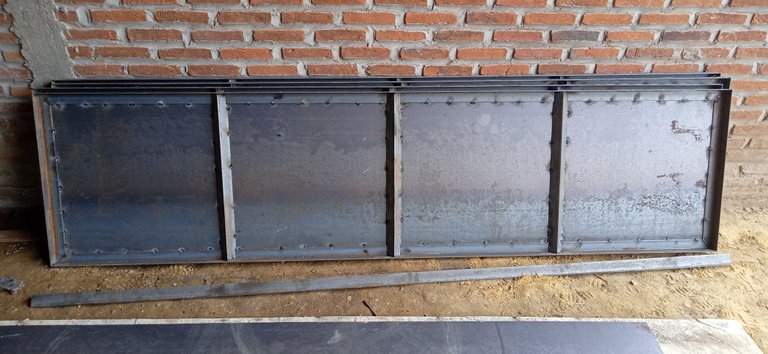 after I cut all the iron plates and the size was right I started to install them using a welding machine, step by step I installed it of course it took a little patience and thoughts that were constantly spinning... because this is my own design, not someone else's design...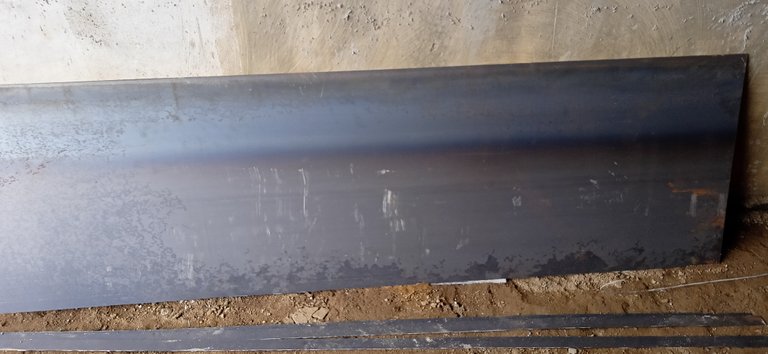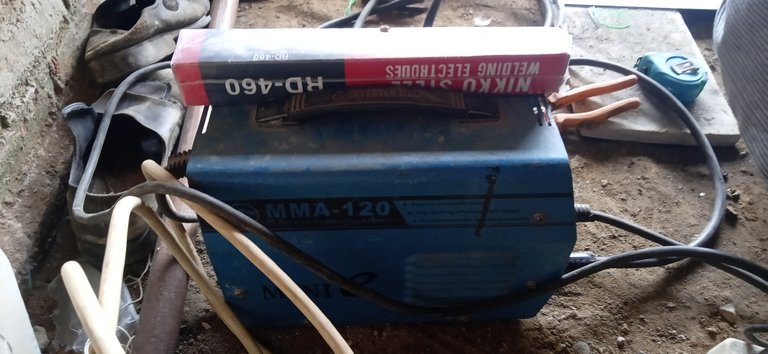 while working and my mind was spinning, I forgot to explain earlier about the price of iron plate in one sheet, the price is one million rupiah per sheet, because I bought 4 pieces the total price is four million rupiah..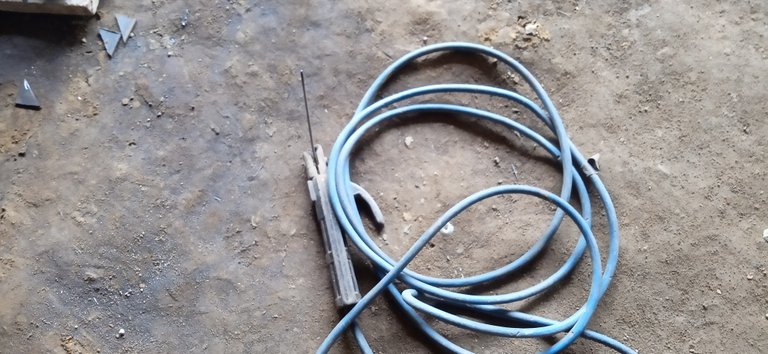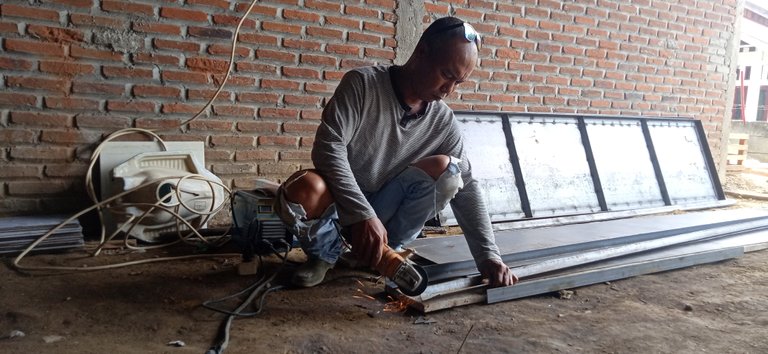 on the sidelines of my work, my wife came to say hello,,,, and belittled me a little,,,, she began to say and ask,, what will the door you make later look like or what it looks like,, I answered, just wait for the results later,, my wife asked again when the door would be ready which you made,, I also answered maybe this takes a long time,, because this is the first time I design my own door,, before that I have never done it,, why I dare to do it because this is a door my own house so answer dear,,
and my wife rebuked me a little,, she said to me don't use your imagination when you work on the iron plate door, but use your common sense and your clear mind, in you design something,, you could say focus like you focus or details like you take pictures of the types of insects,, as my wife said,, a little additional knowledge for me from my beloved wife,, my passion for work was passionate at that time..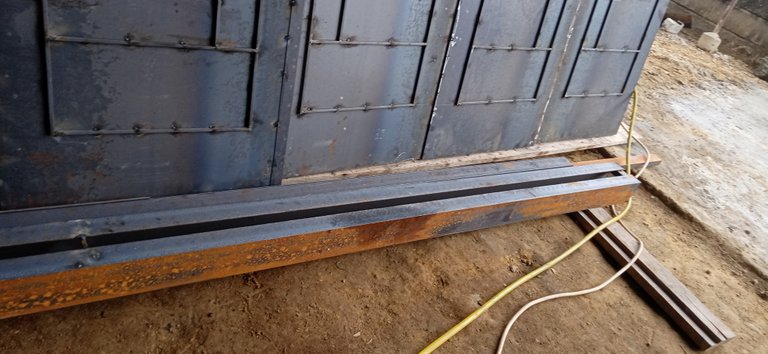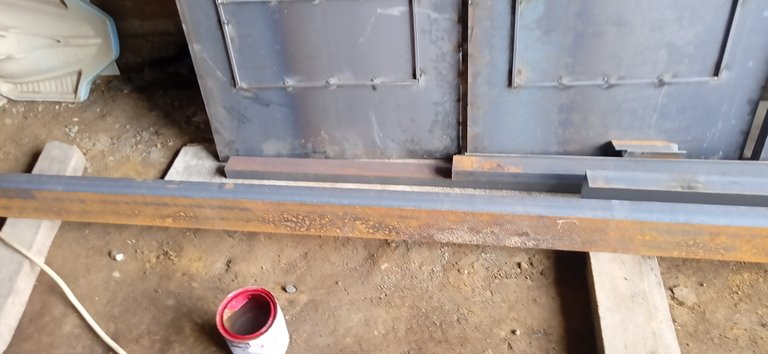 Step by step I was working on it at that time, a lot of iron was used up and a lot of iron welding wires were also running out,, my mouth was working, I didn't forget to wear dark sunglasses, in anticipation so that my eyes wouldn't hurt,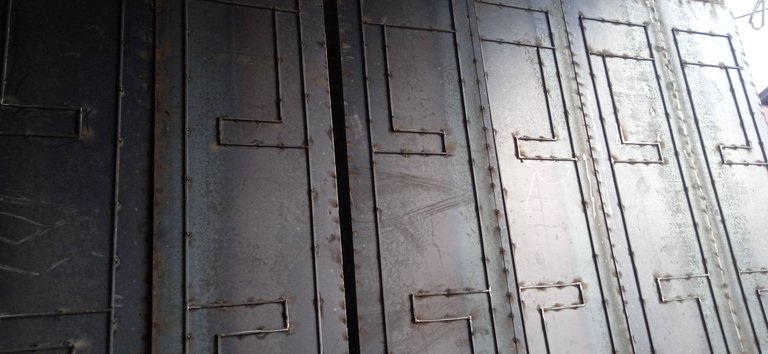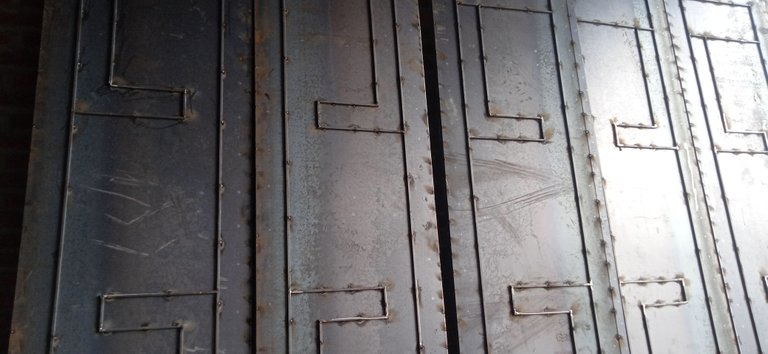 to work on making the door it took me a few days to do it, after the door started to be installed one by one I set it up near the wall neatly and I tried to install the hinges, as well as other materials such as paint too after I bought it first, so that later if I want to finish installing the door then I start painting the door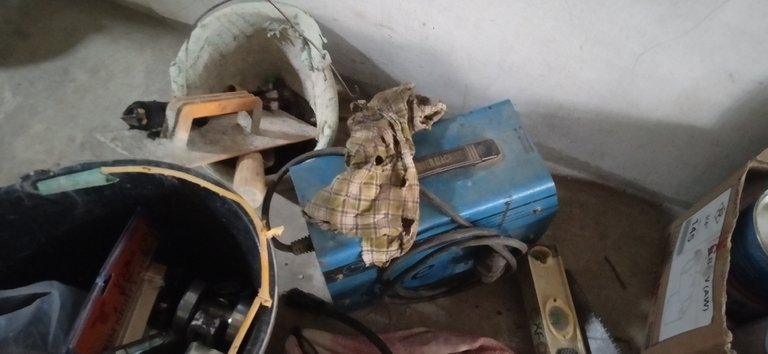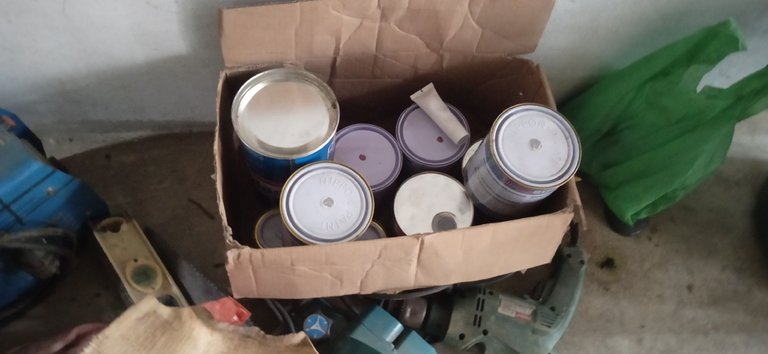 this is what the first stage of the door looks like that i have made in the last few days, and i have erected it near the wall to experiment with installing the hinges as well as some other materials,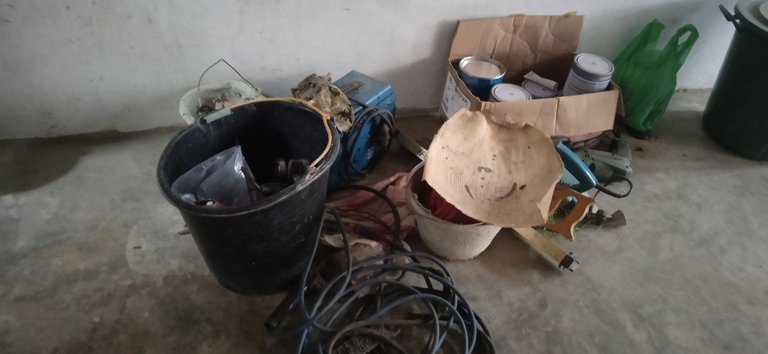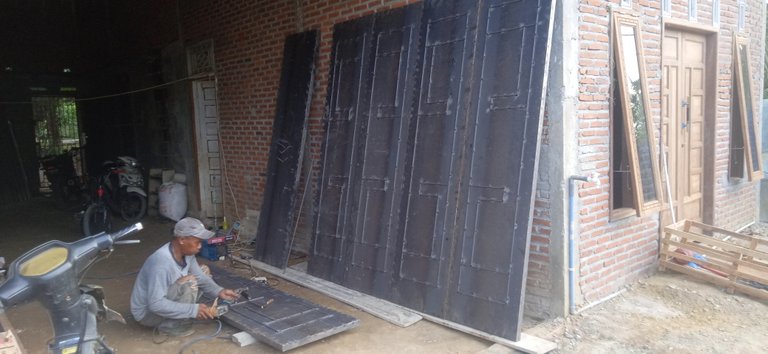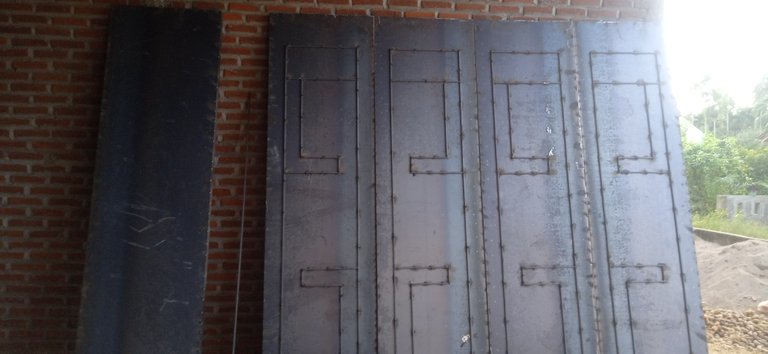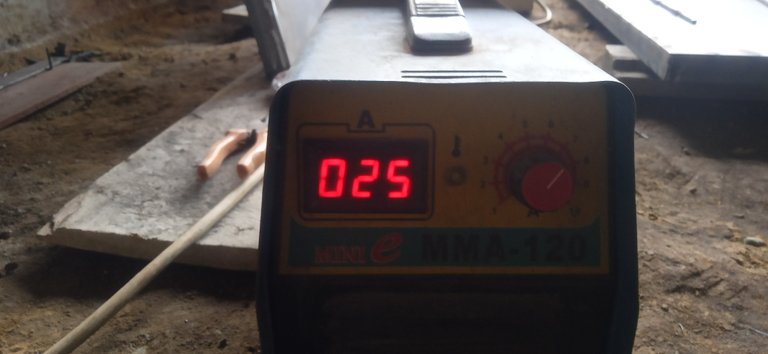 this is the appearance of the picture from inside the house, I just tested it if the size was right, as well as the temperature of the transformer power that I used, of course, using an electric transformer with a temperature level or electrical strength of about 0.25,
I thought a little when I tried to cook or test the door, when I got confused my wife reprimanded me again at that time, what have you done, you have to be responsible, he said, if I was responsible, I was ready but what came to mind in my mind whether my work will have good results,, if I pass at this stage when I make my own door, it means I have passed the test,, my wife said...oooooohh.. it doesn't necessarily pass.. because the door itself what you are making now is not finished, it means you have not graduated so my wife said... my mind increased at that time...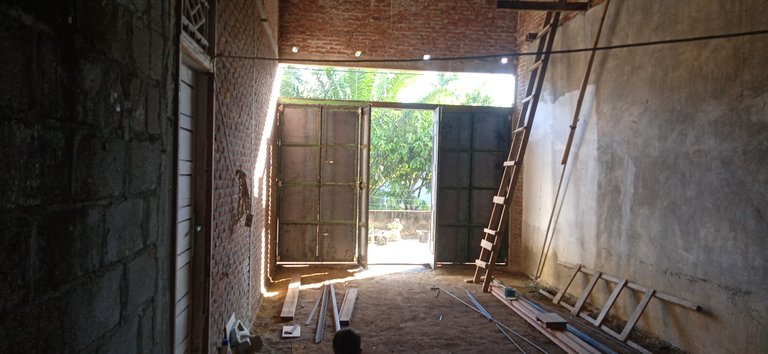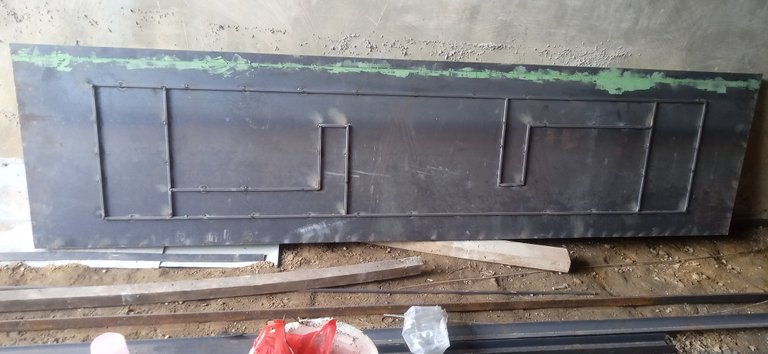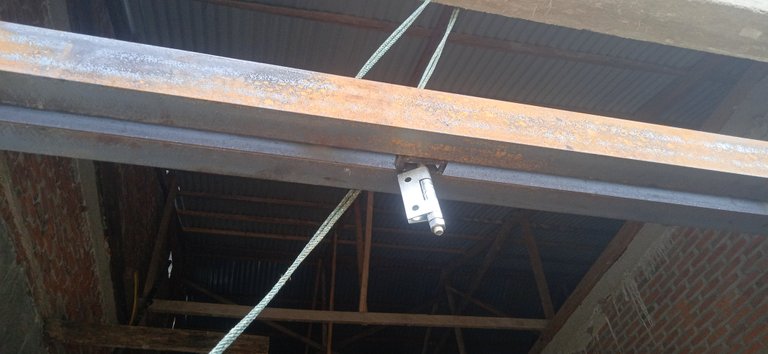 This is the testing stage for the door installation, it hasn't been installed yet, just testing, whether what I have made is neat or not,,
I tried to install one by one the doors that I had made,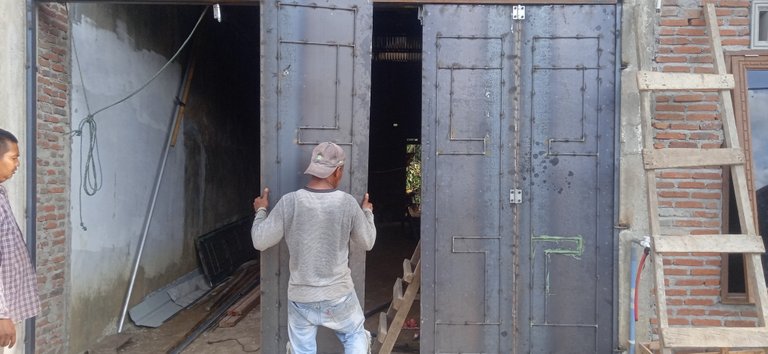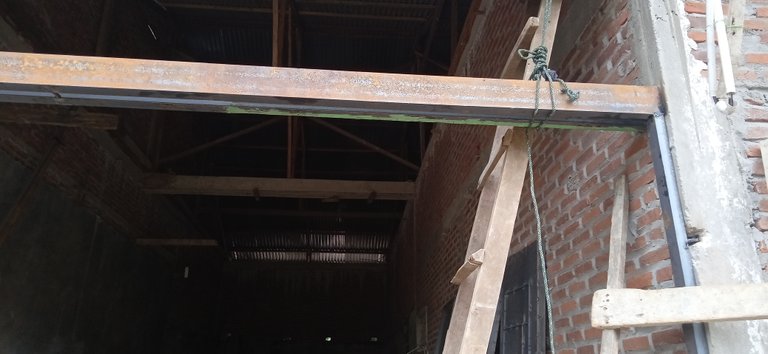 this is the only door that I have made and it's only finished that much,, for the first stage, this is just the story, maybe I will tell you more about the door design that I made myself in the next episode,,
if the next steps are ready I will definitely tell the story again here with all of you, I just ask for your prayers that I will always be healthy when I work and there are no things we don't want to happen,,
why do I say that, because to work on the door using an electric welding or grinding machine I face many obstacles, therefore I ask for prayers from you, hopefully I will always be healthy while working,,
our dream house has been almost finished,, I once shared a story a few months ago when I was building a house,, maybe my friends who have stopped by my post already know, so for this stage, all you have to do is install the door from the iron plate after that on a few more steps that I will do,,,
why the house construction was delayed for a few months, because of the tight economic conditions, because yesterday just finished the rice harvest... And we had a little extra land and in the end we made the door of the house out of iron plate...
that's all I can describe, if the next stage I have finished working on I will definitely share again..
our best regards from the big family @alvonsohiver so much and thank you...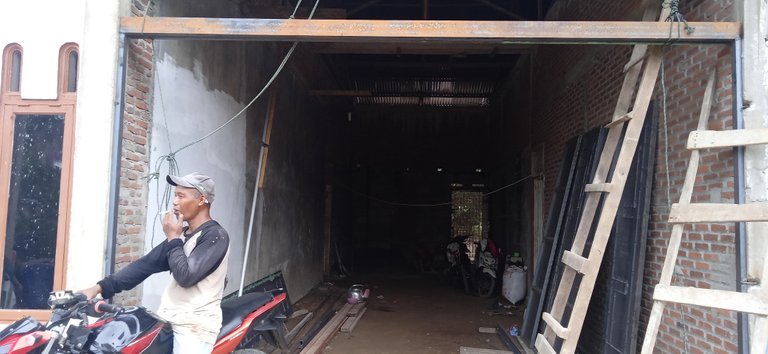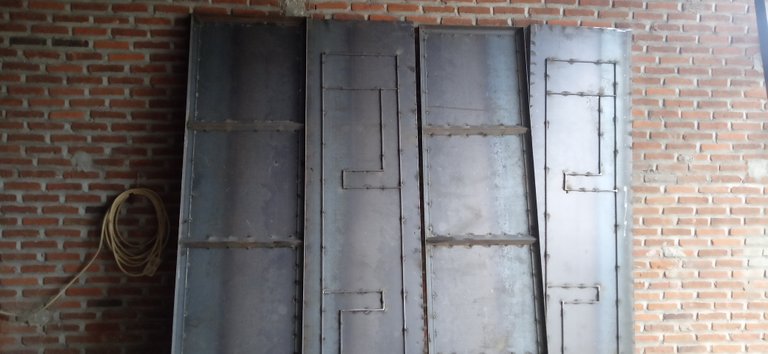 ---
---